The shipping industry and world fleet are continuously growing. According to UNCTAD data, in 2021 the total deadweight of ships over 100 GRT reached 2,134,640,000 tons.
The world's fleet of dry bulk carriers contributes the biggest part with its 913,032 thousand tons and represents almost 43% of the world's fleet deadweight.
The top 10 largest dry bulk shipping companies operate 13,14% of the dry bulker's fleet deadweight with only 1297 ships. Oldendorff Carriers is the world leader in dry bulk shipping with 180 owned and 570 time-chartered ships with an impressive 65 million tons deadweight.
We have collected open-source data from major payers on the worldwide market of dry bulk cargo transportation and summarized the number of owned and chartered vessels and its deadweight.
Here is the list of the top 10 largest dry bulk shipping companies by fleet deadweight operated:
| | | |
| --- | --- | --- |
| Company Name | Number of vessels | Fleet deadweight, tons |
| Oldendorff Carriers | 750 | 65000000 |
| Star Bulk Carriers | 130 | 14177307 |
| Golden Ocean Group | 92 | 13277531 |
| UltraBulk | 160 | 11555572 |
| Pacific Basin Shipping | 256 | 6534058 |
| Navios Maritime Partners | 49 | 5299947 |
| Diana Shipping | 35 | 4500000 |
| Genco Shipping & Trading | 44 | 4308743 |
| Safe Bulkers | 40 | 3900000 |
| Fed Nav | 87 | 3719345 |
| Eagle Bulk Shipping Inc. | 53 | 3191661 |
The list of top 10 largest Dry Bulk shipping companies
These figures include only the company's fleet of dry bulkers, their fleet of oil tankers and containers excluded and summarized in the top 10 largest oil tanker companies and top container shipping companies accordingly.
1. Oldendorff Carriers GmbH & Co. KG
Oldendorff Carriers is by far the leader, however, we have to mention that the majority of the fleet is time chartered, but even excluding operated vessels that are not owned it will remain the leader. Worth noting that Oldendorff Carriers operate 25 Newcastlemax class dry bulk carriers that contribute to the fleet with 5,2 million tons of deadweight.
The focus of the company is dry bulkers, but this would be hardly achieved without their wide capabilities of transshipment fleet that started in 2001 in Turkey. Today their investment exceeded 600 million dollars and the division includes 2 transshipment platforms, 1 jack-up dock, 4 floating cranes, 26 barges, 13 tugboats, 8 crew boats, and 7 transloaders. All this made it possible to transship over 200 million mt in shallow waters.
Oldendorff Carriers transship about 40 million tons every year in 11 locations, coal in Turkey, Vietnam, and Bangladesh, iron ore in UAE, Bahrein, Saudi Arabia, and Qatar, bauxite in Guyana, and all of the above-mentioned dry cargoes in Trinidad.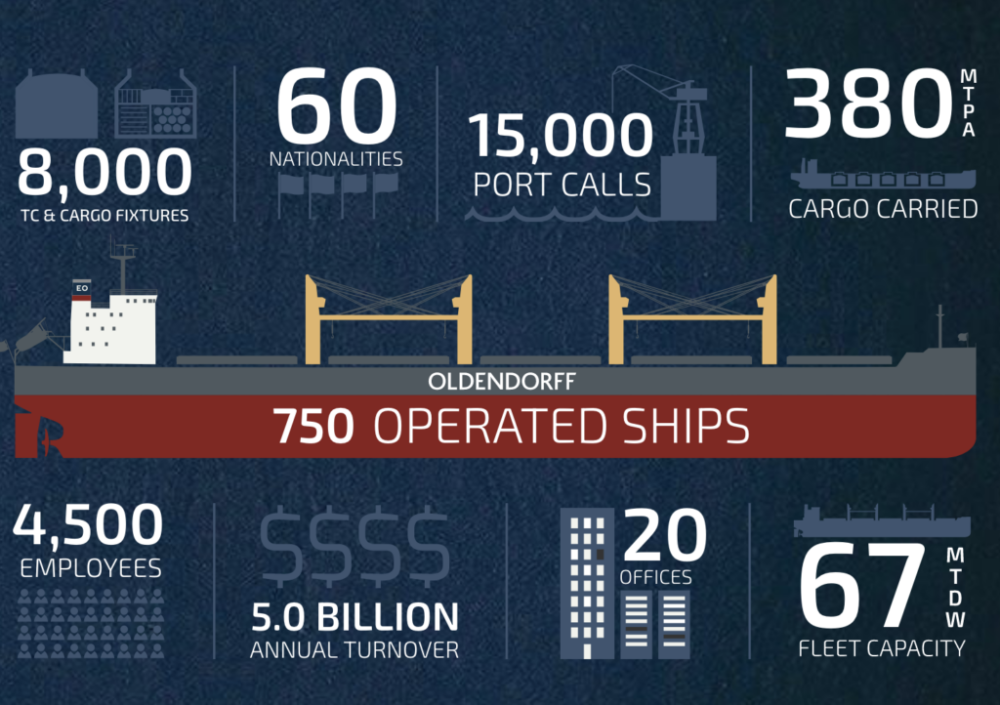 2. Star Bulk Carriers
The second-largest dry bulk shipping company is Star Bulk with its huge fleet of 128 modern and diverse bulkers. The flagship of the Star Bulk is Gargantua, the 300-meter long Newcastlemax type Bulk Carrier with 209,529 tons deadweight that is bigger than any of Oldendorff Carrier's bulkers.
Star Bulk fleet list contains another 2 Newcastlemax class bulkers with more than 209,000 tons dwt – MV Star Gina 2GR and MV Maharaj as a part of their fleet of 17 Newcastlemax. The diversity of the fleet is provided by 24 Capesize, 7 Post Panamax, 41 Kamsarmax, 2 Panamax, 20 Ultramax, and 17 Supramax class bulkers.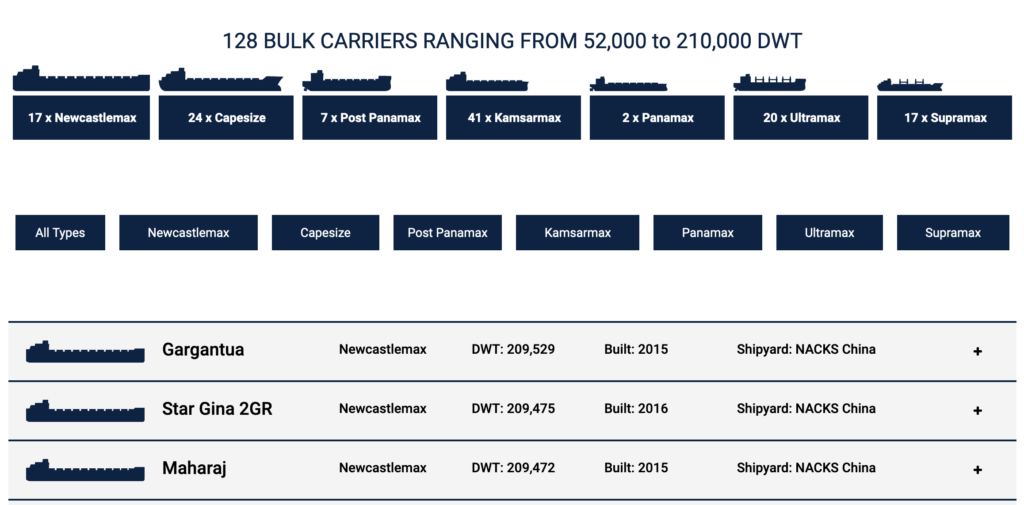 Such a variety of sizes allows for completing carriage of more than 60 million metric tons of iron ore, grains, bauxites, and fertilizers across the world for their clients.
3. Golden Ocean Group Ltd.
Another leading dry bulk shipping company is Golden Ocean Group Limited. Today their fleet includes 56 Capsize, 40 Panamax, and 3 Ultramax class bulkers. Recently the company sold 3 Panamax vessels and reduced their fleet deadweight down to 13,277,531 tons.
Here is the Golden Ocean Group fleet list headed by six 210,000 dwt Capesize bulkers delivered by the Buhai shipyard – Bohai Shipbuilding Heavy Industry Co., Ltd.

To improve their position in the top 3 and extend its fleet of modern and fuel-efficient vessels, the company ordered 7 newbuilds of Kamsarmax class ECO-type that will allow reducing the emission profile of the fleet. 85000 mt deadweight dry bulkers are expected to be delivered in 2023.
According to Ulrik Andersen, CEO of Golden Ocean Management AS, after the delivery of newbuilding that are under construction in China, the company will have a more fuel-efficient fleet with greater carrying capacity and earnings potential.
4. Ultrabulk
Ultrabulk is a part of Chilian Ultranav that through a large number of subsidiaries has built up a fleet of owned and chartered vessels which totals 308 ships. The company has started operations in 1960 with a single ship – the smallest gas carrier ever build, just 23 meters long with 90 cubic meters capacity.
Fleet composition is diversified in terms of type and size and at present moment the bulk carrier fleet contains 47 Panamax, 66 Supramax, and 91 Handymax class bulkers.

Navios Partners operates an impressive 142 vessels with a carrying capacity of 14.6 million dwt which would place the company in second or third place, but their fleet is diversified with a fleet of containerships and oil tankers.
In 2022, the company planned the delivery of 5 Capesize and 2 Panamax class vessels that will increase their fleet deadweight by more the 1 million tons.
At present moment the dry bulk fleet list contains 21 Capesize 21 Panamax, and 4 Ultra-Handymax class bulkers, but worth paying attention to the fleet of containerships with 215,222 TEU capacity and 11 VLCC with chartered MT Erbil with 313,486 dwt.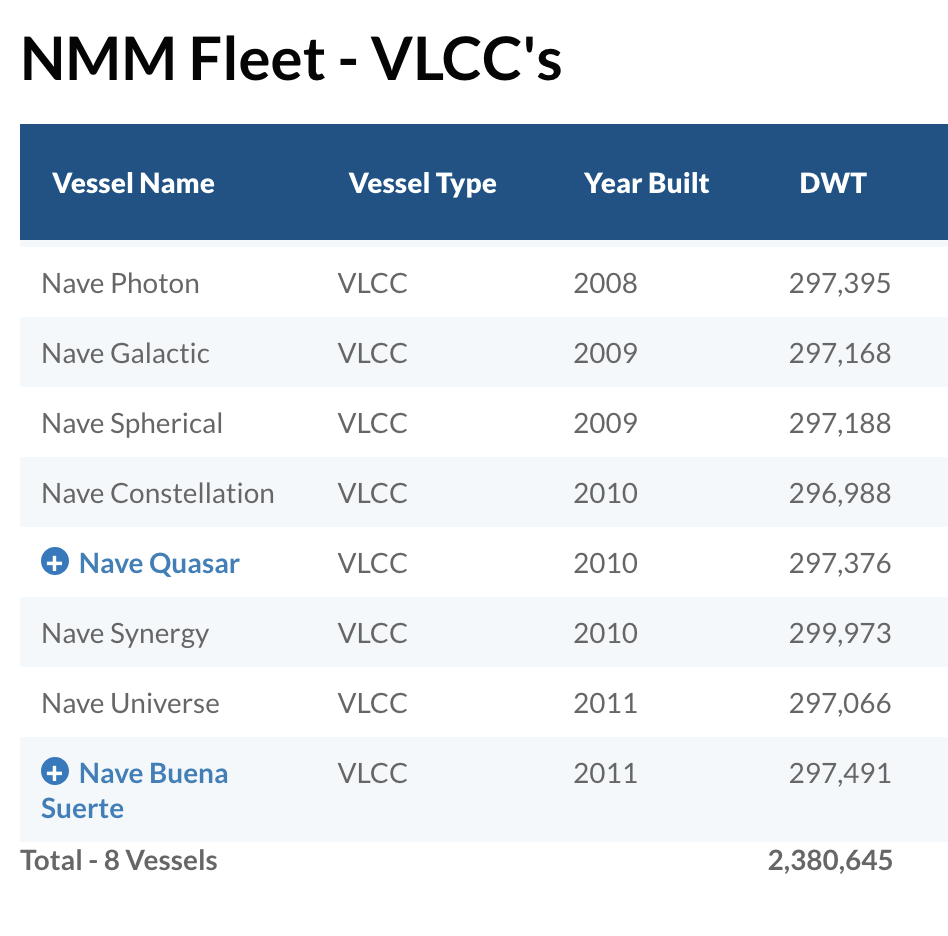 6. Pacific Basin Shipping Limited
Maritime transport company with headquarter in Hong Kong and headed by Martin Fruergaard since Jul 31, 2021, operates a fleet of Handysize and Supramax vessels.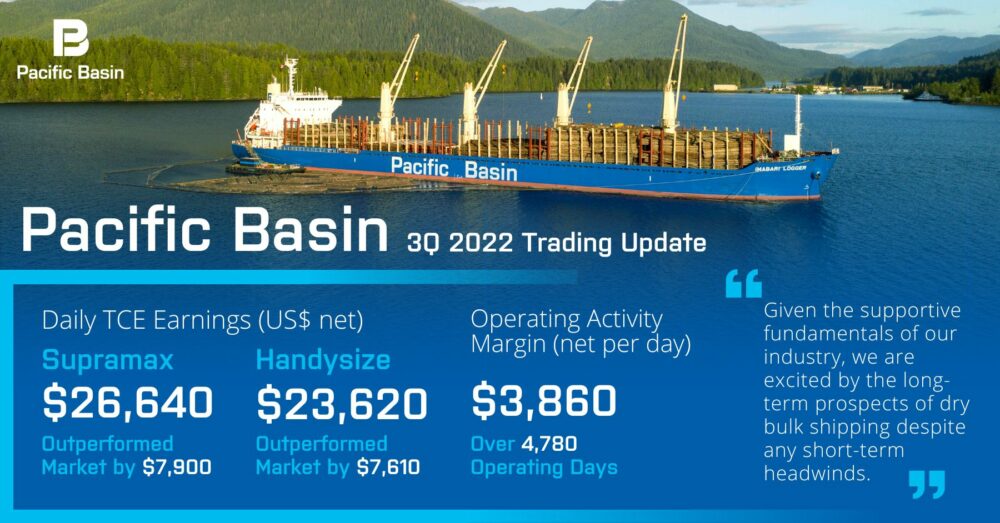 Pacific Basin Shipping core fleet is log or grabs fitted which makes the operation of the fleet very versatile and reduces the amount of ballast voyages. Recent updates from this dry bulk shipping company state that the fleet outperforms the spot market indices by 30-32%.

Pacific Basin continues the strategic growth of its fleet and awaiting completion and delivery of two 40,000MT dry bulk carried from Imabari shipyard in 2nd half of 2023 and holds purchase options on several Handysize and Supramax vessels.
7. Diana Shipping
Greek dry bulk shipping company is listed on The New York Stock Exchange and builds its strategy on the market and expansion of the fleet in a manner that will enhance shareholder value.
Today, Diana Shipping operates a modern and high-quality fleet of 4 Newcastlemax, 12 Capesize, 5 Post-Panamax, 6 Kamsarmax, and 8 Panamax class bulkers with a carrying capacity of 4,5 million tons.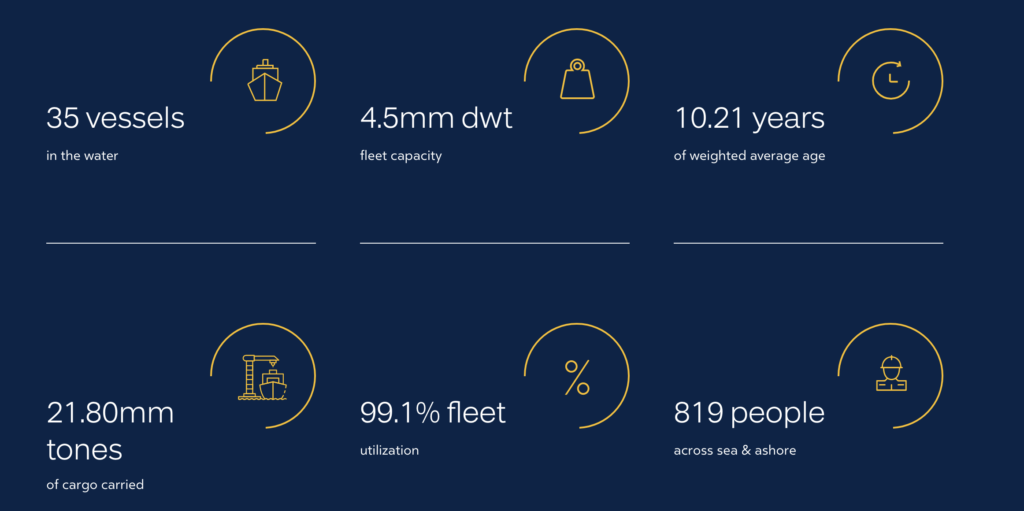 8. Genco Shipping & Trading Ltd.
Company runner-up and the main candidate to be included in the top 5 largest dry bulk companies.
In 2022, their fleet recap consisted of 44 dry bulk carriers including 17 Capesize, 15 Ultramax, and 12 Supramax class vessels with a total deadweight of 4,308,743 tons.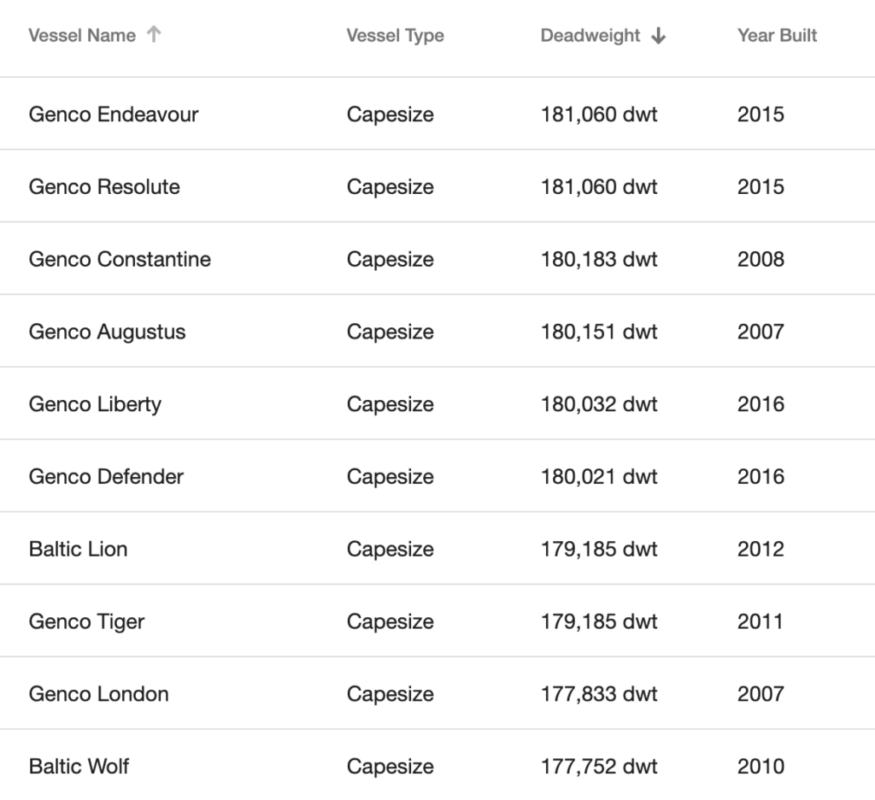 9. Safe Bulkers Inc.
Safe Bulkers specializes in dry bulk vessels and in early 2022 operated High Quality and Well-Maintained Fleet that included 40 dry bulk vessels consisting of 12 Panamax, 7 Kamsarmax, 15 Post-Panamax, and 6 Capesize class vessels with a total deadweight of 3.9 million dwt.

The orderbook of the Safe Bulkers consists of 9 dry bulk vessels: 6 Kamsarmax class and 3 Post-Panamax class vessels with an aggregate carrying capacity of 0.8 million dwt.
The first of the vessels in the orderbook is already named MV Vassos and is expected to be delivered in the second quarter of 2022. This is a MARPOL NOx-Tier III newbuilding designed according to the Phase 3 requirements of the Energy Efficiency Design Index related to the reduction of greenhouse gas emissions.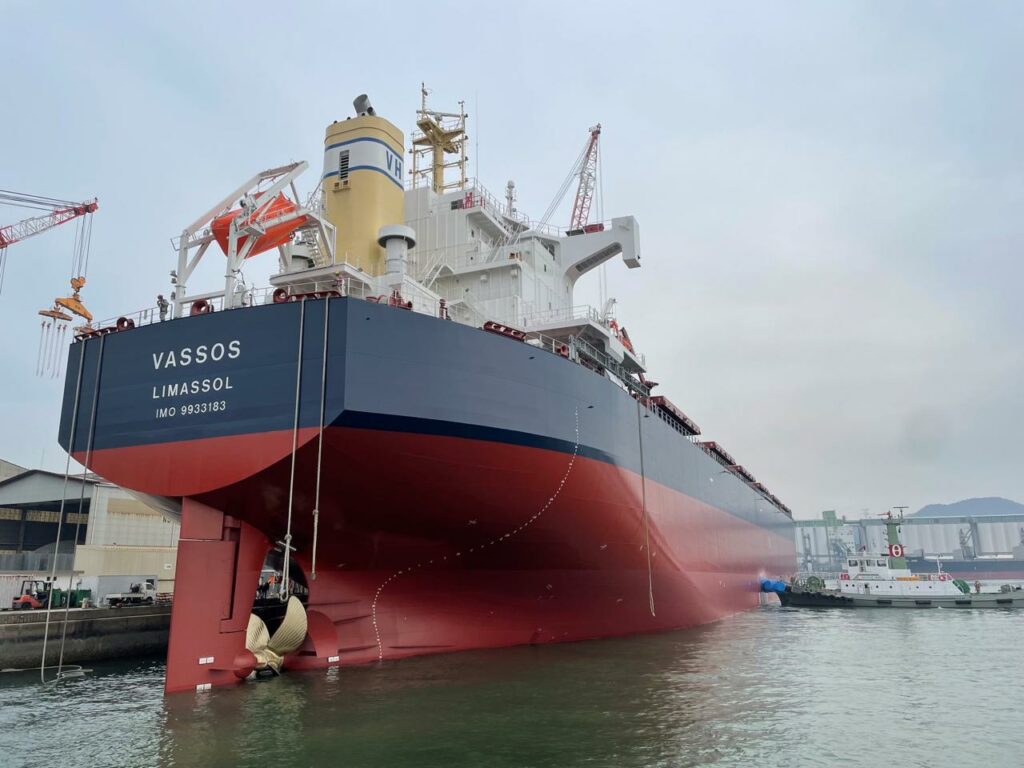 Fednav deserves a special place in the list of the largest dry bulk shipping companies. Being in 8th place on the list as an international leader in ocean shipping, Fednav operates in key areas – the Great Lakes and the Canadian Arctic that have ice navigation, therefore their fleet has various ice classes.
Look at the conditions these vessels have to sail in the arctic region and proceed to the terminal for berthing and further loading. This timelapse video was made on the 200 meters long bulker Federal Kumano.
The FedNav fleet consists of a number of lakers as well as Handysize, Supramax, and Ultramax class dry bulk carriers with a total deadweight of 3,7 million tons.
Runner Up 1. Eagle Bulk Shipping Inc.
Eagle Bulk Shipping Inc. is a US-based fully integrated shipowner-operator with headquarters in Stamford, Connecticut, and offices in Singapore and Copenhagen.
Eagle focuses exclusively on the mid-size dry bulk vessel segment and owns 26 Ultramax and 27 Supramax class bulkers and claims the status of one of the largest fleets of Supramax and Ultramax class ships in the world. Today, the fleet of Eagle Bulk Shipping lists a total of 53 bulkers with 3.2 million tons of deadweight.

Supramax/Ultramax vessels are considered to be the most versatile among the various dry bulk ship types due to both their size and specifications.
In its industry analysis, the company clearly displays that its market choice is data-driven. Eagle Bulk Shipping highlights the benefits of the dry bulk cargo transportation market volume and Supramax/Ultramax class bulker fleet flexibility.
Runner Up 2. Seanergy Maritime Holdings
Seanergy Maritime Holdings is another great example of a company focused on one class of bulkers in its fleet. The fleet consists of 17 Capesize dry bulk carriers, but a total deadweight of 3,011,083 tons lets them be included in the list of top 10 of the largest dry bulk shipping companies.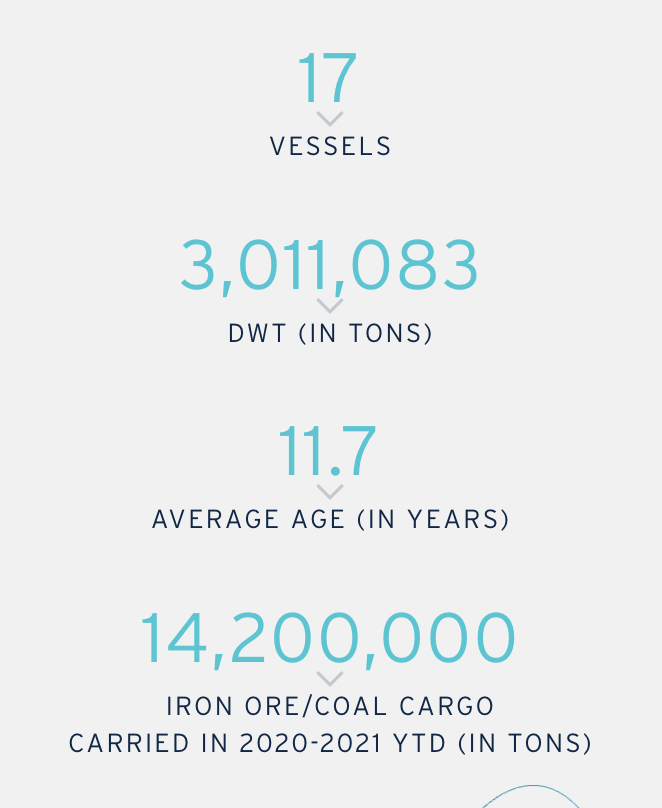 This company has two "flagships" – Capesize class bulker MV Flagship with 176387 tons deadweight and their flagship by size – MV Patriptship with 181709 dwt capacity.
Runner Up 3. Saga Welco
A unique offer on the market is provided by Norwegian shipowner Saga Welco. A global shipping company operates a modern fleet of 49 open-hatch gantry crane vessels for the transportation of forest products, breakbulk and bulk cargoes.
Each vessel is equipped with 2 sets of traveling gantry cranes with weather protection with a capacity from 40 to 70 tons.
Final words
The list was made based on open-source data, mostly provided by the companies themselves, however, it is clear that not all the shipowners make their fleet details public.
This mostly applies to privately owned and state companies, for instance, Vale, the Brazilian mining company, the world's largest producer of iron ore, pellets, and nickel. In addition to mining, the company works with logistics and owns the world's largest dry bulk carrier – Valemax class, 402,347 DWT MS "Ore Brazil".
Another great example is China Merchants Energy Shipping Company. They claim the title of the world's leading fleets of VLCC (Very Large Crude Carrier) and VLOC (Very Large Ore Carrier) and mentioned a total capacity of 333 ships (including orders) with a total DWT of 45.42 million.
Recently, in April 2022, China Merchants Energy Shipping Company signed a general arrangement agreement of LNG Shipping Contracts for CNOOC Mid- and Long-Term transportation, shipbuilding, and chartering agreements of six LNG carriers. Soon China giant shipowners may appear in list of top LNG carrier operators and shipowners. However, we were not able to find a fleet list and summarize the capacity of the bulkers fleet, and include it in the list accordingly.