Maritime trade often includes high-value or delicate items that can easily suffer damage during transport. Shipping containers, automated machinery and other technologies are doing their part to improve the quality of overseas deliveries, but one solution has stood out above the rest — white glove shipping.
Although white glove shipping often applies to air and ground operations, it can be just as impactful in a maritime environment. Here's how white glove shipping is used to protect precious cargo and improve industry standards as a whole.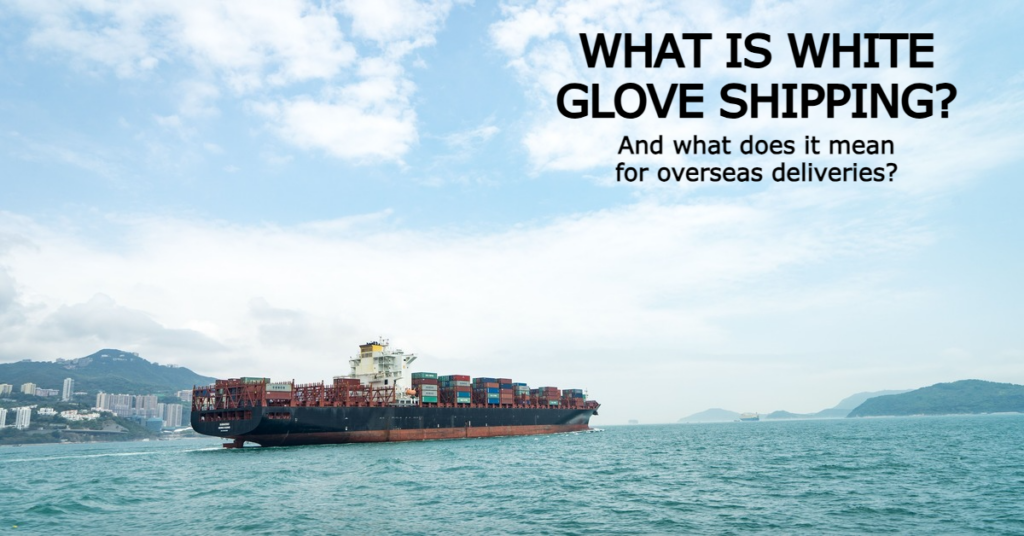 What Is White Glove Shipping?
White glove shipping refers to an elevated level of responsibility with product deliveries. The term originates from workers in luxury homes or businesses who traditionally wore white gloves when touching expensive items such as jewelry or silverware. White glove shipping employees wear white gloves in a metaphorical sense, handling items with great care at all times.
In the context of overseas deliveries, white glove shipping goes beyond the basic pick-up and drop-off requirements. Companies go the extra mile and provide a range of additional offerings such as specialized packaging materials, free inspections or assemblies, flexible delivery times and post-delivery cleanups.
White glove shipping often requires employees to undergo more extensive training to improve their delivery knowledge and attention to detail. Although there are no special certifications, these workers are held to a higher standard than the average cargo handler. Here's why white glove shipping can be so beneficial for overseas deliveries.
Breaking Down the White Glove Shipping Process
White glove shipping is the closest thing to a guarantee that businesses can ask for when getting products delivered overseas. Companies that provide white glove shipping services deploy their best workers to handle valuable items with the utmost caution, ensuring that they reach their destination safely.
Here's how they do it:
Initial assessment and consultation: The shipping service provides an initial assessment of the cargo to determine the best container type and best method of transportation. They also fill out any necessary documentation with special handling instructions for the port that will receive the shipment.
Customized shipping solutions: The service offers customized shipping solutions to meet the client's specific requests, including 24/7 scheduling options, specialized handling and unique storage requirements. The company might use climate-controlled vehicles, air-ride suspension systems or lift gates to keep the cargo secure.
Packing and loading: The cargo goes through a meticulous packing and loading process, as the company selects the most optimal material and utilizes creative stabilization methods to safeguard items during overseas travel. This process usually involves stacking the cargo a certain way or grouping similar products together to save space, which is known as less-than-container loading.
Documentation and customs clearance: Workers carefully document every step of the journey, keeping all parties in the loop through commercial invoices, export permits and customs declarations. Getting through customs might be more challenging if the product has unique packaging.
Secure transportation and tracking: White glove service providers ensure the cargo's security through GPS tracking systems and predictive monitoring software, which helps ship employees identify obstacles before they cause damage or delays.
Final delivery: Finally, the providers deliver the cargo to the specified location, help the port get the packages off the ship, inspect them for damage, then load them into the delivery vehicle to be transported by land to the customer.
As an extra precaution, white glove shipping services will often provide comprehensive insurance coverage so clients don't have to pay for damage out of their own pockets. Although they take every possible precaution when handling the products, there is always a chance that the cargo gets lost at sea or the ship gets into an accident.
Benefits of White Glove Shipping
White glove shipping might be more labor and resource-intensive, but it's a mutually beneficial arrangement for both the provider and customer. Here are the greatest benefits that this high-standard delivery service can bring to maritime trade.
Long-Term Savings
White glove service can lead to big cost savings on both sides because the provider spends less on resolving customer complaints and the customer spends less on replacements, repairs and delivery delays. Although white glove shipping is more expensive at first, it saves money at every subsequent step in the delivery process.
The size and dimensions of the products are the biggest factors that influence delivery prices. Heavy or oddly shaped goods are more challenging to safely package and transport, so they incur higher fees. However, these items are also typically expensive to maintain or repair, so spending extra on special packaging materials makes more financial sense in the long run.
The pickup and delivery locations can also cause the price to fluctuate. If the delivery crew has to navigate a busy loading dock or warehouse, the extra labor factors into the bottom line.
The accessibility of these locations also comes into play. If the drop-off site is near a major city or airport, the delivery will cost less because of its convenient location.
In other words, white glove shipping is like a long-term investment for businesses. They might have to pay a premium for the special services, but they will save money over time as they avoid damaged items, delivery delays and other common issues that occur with standard shipments. Even the vessels that transport the cargo save money on fuel costs thanks to quicker journeys and better loading efficiency.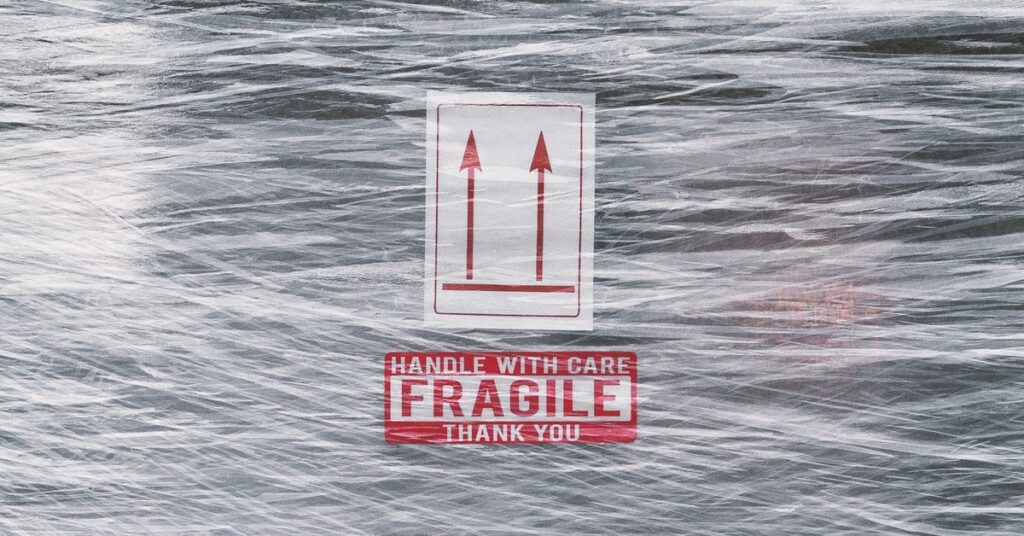 Expert Handling of Fragile Items
White glove shipping is especially important for handling fragile items that are prone to breaking during overseas travel. These products in particular often have strict shipping requirements to ensure they remain in good condition:
Food and beverages: Food and drink companies might need white glove shipping for their frozen or refrigerated products. Companies can provide insulated packaging with temperature control settings and extra-durable plastic or metal crates instead of traditional wooden crates.
Electronics: Phones, tablets, computers and other electronics require special foam and thermoformed plastic to avoid getting damaged. Customers will often order these items straight to their homes or businesses, which also allows white glove shipping providers to help them assemble electronics upon request.
Healthcare supplies: Medical equipment and pharmaceuticals must stay in perfect condition to work properly. Manufacturers or distributors of these products almost always rely on white glove shipping to carefully handle the cargo and store it in temperature-sensitive containers.
Construction equipment and materials: Delicate construction items such as handheld tools and glass light fixtures require tightly packed containers with extra padding, which white glove services can easily provide. Specially trained workers might also be necessary to operate and move large equipment.
Legal documents: White glove shipping can act as an overseas courier service, helping legal teams transport private paperwork such as passports, contracts, case information and tax documents.
Luxury goods: Expensive furniture, antiques, artwork and other luxury goods are ideal products for white glove services. Buyers usually have ultra-specific shipping and handling demands for these items.
While these are the most common types of cargo associated with white glove shipping, customers can make specific requests for any overseas deliveries. For example, a company might not need help tracking the delivery, but it could still use assistance with the unloading and clean-up phases.
Sometimes the receiver doesn't have a loading dock or the proper equipment on site to handle their deliveries. In these instances, a white glove service provider will unload the products from the vessel, bring them inside the building, unpackage them, assemble them as necessary and remove all of the used packaging materials.
Tracking High-Value Goods
Tracking overseas shipments has always been a challenge due to the long distances and unpredictable travel conditions. White glove shipping providers can help with this task by implementing advanced tracking systems that cargo vessels might not have. Real-time monitoring is the most straightforward way to keep deliveries on schedule.
These tracking systems also play a key role in preventing theft, damage and loss of valuable goods. They help ship captains enforce maritime industry standards on long voyages and ensure that the employees handle the cargo with great care. If someone happens to mishandle a white glove product, they will face consequences and the customer will get reimbursement.
Smooth Customs Clearance
Getting a shipment through customs is one of the longest parts of a commercial overseas voyage. White glove services can ensure smooth customs clearance by providing knowledge and guidance in navigating complex procedures. Some companies even have a dedicated customs clearance team to ensure proper documentation and vessel compliance.
Cargo ships have to follow many international maritime trade laws to deliver products to different countries. They also have complex taxes, import and export fees and other duties that might lead to unexpected costs or delays. White glove shipping providers can step in to make customs declarations and organize all of the necessary paperwork.
White Glove Shipping Optimizes Overseas Deliveries
White glove shipping isn't a necessity for every single product that travels overseas, but it can optimize the most high-value or high-risk deliveries every step of the way. From packaging the items to unloading them at the delivery site, white glove services handle their clients' items with great care and attention to detail.
Businesses that get frequent deliveries from other countries should strongly consider white glove shipping to ensure the protection of their most valuable goods.
Frequently Asked Questions
What does white glove shipping mean?
White glove shipping is a high-standard method of shipping in which employees are trained to handle products with the utmost caution. The name "white glove" refers to the white gloves that workers used to wear when handling luxury items such as jewelry or silverware.
What services does white glove shipping offer?
White glove shipping offers many services to ensure the protection of their clients' products, including pre-delivery consultations, premium packaging materials, tracking solutions, customs clearance, loading and unloading, and even assembly and disassembly.
Which types of products are most likely to require white glove protection?
The main products that require white glove protection are highly sensitive and have specific storage requirements. Food, drinks, electronics, medical equipment, pharmaceuticals, construction materials, legal documents and expensive furniture are a handful of examples.
Is white glove shipping more expensive than standard shipping?
Yes, white glove shipping is more expensive than standard shipping at first. However, customers save money in the long run by avoiding costly repairs and delays that otherwise would have occurred with regular shipping.
How can white glove services benefit maritime trade?
White glove services benefit maritime trade by protecting fragile and expensive items, tracking those items in real time and ensuring smooth customs clearance. They can also help vessels cut back on fuel costs by shortening the voyages and loading the cargo more efficiently.