Pontoon boats have changed their perception from being humble float-boat to high-speed vessels that can reach speeds up to over 70 mph. Fastest production pontoon boats also have other exciting features, such as smartphone controls, tow sports packages, and joystick docking, to name a few.
Such features have made pontoon boats a good choice for entertainment, as they can execute carving turns and achieve high speeds. However, there have been numerous pontoon boat entries recently, and choosing the best and fastest one can be hectic.
This is because various distinction factors, such as price, performance, and course speed, influence its overall attributes. Below is a jargon-free guide that enlightens you on the five world's fastest pontoon boats in 2023 and their unique features.
1. PlayCraft PowerToon X-treme 3000
As the name suggests, this is one of the most powerful and fastest pontoon boats you will encounter today. PlayCraft PowerToon is equipped with a pair of Mercury Racing 450 outboard motors, which boost its kick and attain top speeds of up to 78 miles per hour.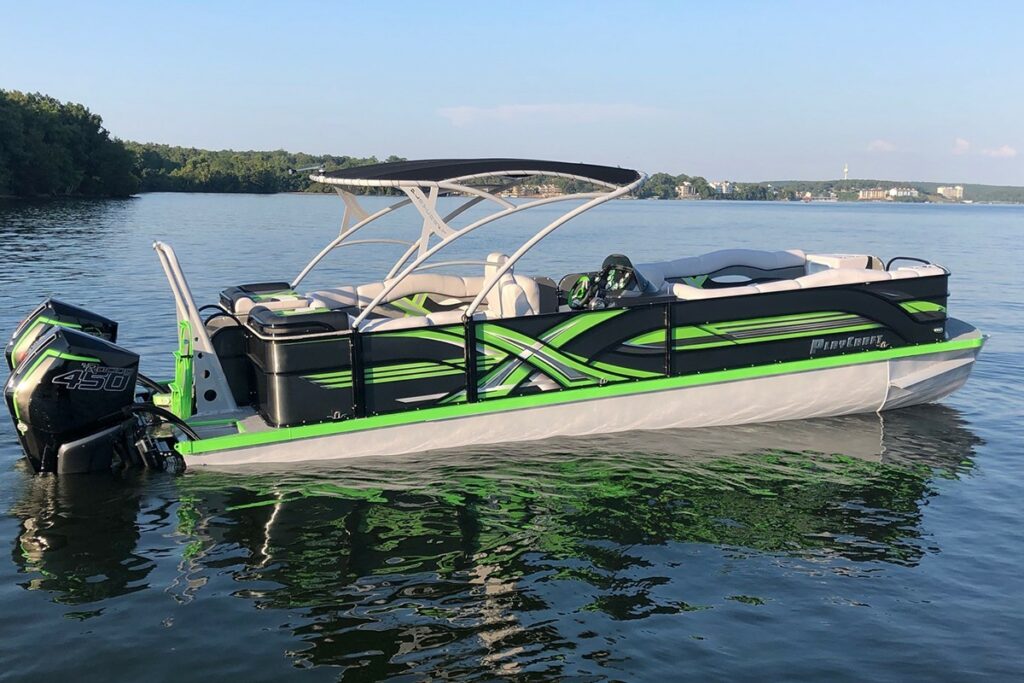 The manufacturer highly considered aerodynamics in the construction of the boat as it has a smooth Bikini top. Underneath the PlayCraft PowerToon are three tubes that help speed up while minimizing drag. It ensures your pontoon has a fast and smooth ride. A blend of aerodynamics and hydrodynamics is essential in manufacturing speed boats, and PlayCraft PowerToon adheres to all.
With only 5 seconds, the ship will clock at a comfortable speed of 30 mph. Another exciting feature is that the boat will take on tight turns comfortably without losing its course even after surpassing 40 mph.
The boat focuses on not only speed but also the utmost comfort. Its interior has been furnished using UV-protected vinyl on the shoulder cushions and the desk. There are also vast options for color combinations.
Its manufacture is executed by Jim Dorris, a racer renowned for producing the best and most speedy boats. Jim has adequate knowledge about hulls, propellers, and rigging, which gives him an edge when designing fast boats.
The boat is ideal for high speeds as it has a raised helm station that provides a better view than the people on board. It also has electronic throttles and power steering, which elevate the whole riding experience.
2. Manitou 25 X-Plode XT SHP
The Manitou 25 X-Plode has unique design features which improve its ability to hit high speeds up to 62 mph. It has a larger center tube for additional stability and smaller side tubes that are slightly smaller and mounted higher. Such features make handling the Manitou 25 X-Plode smoother than most pontoons, even at top-level speeds.
This model differs from other pontoons in the market as it has contoured bottoms. The bottom has reinforced nose cones that resemble a sharp knife to provide a sharper penetrating end. It utilizes V-Toon technology to ensure your rides are smooth and stable, even when cruising through harsh conditions.
The V-Toon technology aids in properly positioning the center tube and positive angle lifting for the exact degree of deadrise.
The boat's single engine has a 400 Max HP rating, while the dual engine has a 900 Max HP rating. It also features six positive angle lifting strakes, power steering, and maximum comfort and control.
Its manufacturer did not forget about the aesthetics, as its sides are fitted with painted fiberglass, giving your ride a distinctive look. Manitou 25 X-Plode is the craftsmanship of the digital revolution, as every control is executed by pressing a button. Such controls include:
Power on and off
Diagnostics
Dim lights
Smartphone controls
Comfort was essential when manufacturing the ride as it has cool touch in every seating area. It also has an incline chair to suit anyone's sitting preferences. Controls are top-notch, making navigating your dashboard easier, such as setting an interface, switching chats location, and other customizable options.
3. Harris Crowne 270 SL TE
Harris Crowne 270 is a sleek-lined boat design that surpasses every boat owner's dreams about technology, luxury, and performance. The Crowne series is prominent for producing top-notch pontoons, and the Harris Crowne 270 boasts of being the best. It is powered by two 400 HP Mercury engines and clocks a speed of up to 61 mph. Such power allows the Harris Crowne 270 to take only 3.6 seconds to plane.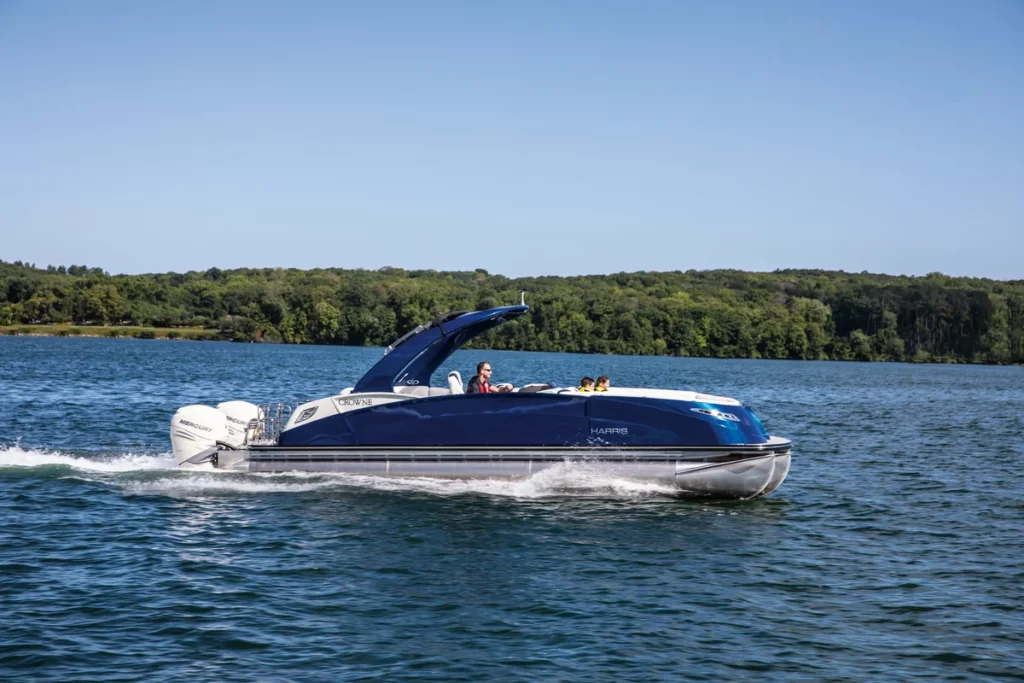 Its design has curvy and glossy fiberglass modules in every corner, which make the boat quite versatile. The vessel is equipped with a triple-tube pontoon with strakes that favor twin-engine boat designs.
The helm has a stainless-steel spoke wheel, a dash touchscreen, and another touchscreen for better controls. Harris Crowne 270 has an L-shaped seat that comes with a flip-flop backrest. The seat bottom profile is more open and spacious and has comfy pillows that keep you comfortable all day long. An optional joystick control allows you to control with effortless pleasure and cruise through tight and harsh areas.
The Harris Crowne 270 guarantees longevity due to its premium construction, dramatic power, and remarkable detailing. It is also equipped with contemporary boat amenities and floorplans for the utmost entertainment in every ride.
Its manufacturer, Harris, won an award from the National Marine Manufacturers Association Innovation Award due to the boat's design. Even up to date, the pontoon has utilized a similar design since 2013 but is still considered high-end compared to recent models. Limitless entertainment is offered using JL Zone Control Stereo, which has fusion speakers and a head unit.
4. South Bay 925 Super Sport
This model has a unique pontoon style and features that suit people who love skiing and other sports, as it can reach high speeds of up to 59 mph. Every aspect of the South Bay 925 clearly illustrates a speedy dream pontoon. It has the twin Mercury Verado 300 outboards and a wake sports tower that is foldable for storage.
The vessel has a distinct helm console and large fiberglass that offers good looks and unprecedented comfort. There is also a Mercury joystick docking control which suits drivers who love performing unreal moves on the water. South Bay 925 has a polished stainless-steel wheel and a flush-mounted display that keeps all tabs in one area for the best controls.
There are twin rear-facing recliners behind the chairs that resemble a U-lounge that aids in turning the stern. Its twin chaise lounges offer ample legroom, and the boat has numerous color choices. It has a fast time to plane of about 2.4 seconds while time to 30 mph requires only 5.8 seconds. The supercharged 600 HP of Mercury executes its controls.
Its transoms are angled 10 degrees outward to maximize the effectiveness of the mercury joystick piloting system. In addition, the South Bay's Trifecta performance package works with interior lifting strakes that enhance movability and plane. The vessel has contoured fiberglass panels, and you can choose from a list of six colors. This boat comes with other additional features, including:
Optional hardtop
Built-in speakers
LED lights
It has a one-of-a-kind technology system with a 7-inch mercury vessel view that allows the driver to control onboard systems, monitors, the engine, and a GPS chart plotter.
5. PlayCraft Scorpion Extreme 2800
This is another edition of the PlayCraft series that is worth a try. The PlayCraft Scorpion Extreme 2800 favors people who love go-fast speed vessels with living room comfort. Its twin 400 hp 383 Scorpion engines provide adequate power to propel the boat up to speeds of 70 mph. Their prices are slightly lower than the 3000 because they have been in the market for a long duration.
PlayCraft Scorpion Extreme 2800 has triple-tube bottom slices that aid in cutting through the waters seamlessly for a soft and stable ride. Its manufacturer enhanced comfort using Flexsteel helm seats, adjustable armrests, reclining seats, and cushions that help absorb any vibration.
The boat has strakes at the bottom, giving it an additional lift. It also has a hook-up that minimizes the outward lean, as witnessed in most standard pontoons. PlayCraft Scorpion Extreme upgrades and changes color and designs for a fresh look every year. You can also incorporate other features to spice up your rides, such as a premium stereo that allows you to play your tunes through an iPod, CD, or MP3 interface.
The helm is based around the NASCAR theme as it utilizes the e-type racing controls. A long seat at the back utilizes all rotocast seat frames and has storage compartments underneath that you can use to store ropes and bumpers.
Final Thoughts
Pontoons have evolved to become people's favorite speed vessels as they offer the utmost speed, stability, and comfort in one package. Their speeding nature is enhanced by lifting strakes, less weight, and ideal weight distribution. On average, the fastest pontoons clock 60 mph, which is relatively faster than other water vessels.
They are also easy to handle, as discussed in the above top-tier options. Nonetheless, keep in mind that safety is recommended when driving pontoons, especially at high speeds. Ensure also to check the state of the environment you are riding on before reaching high speeds.