Paperwork is essential to transport and trading, and shipping follows suit. A cargo manifest in shipping is used to keep track of everything, including a list of cargo, passengers, and the route taken by the vessel. It also provides details of the vessel's crew members and the bill of landing.
Goods shipped cannot be offloaded or loaded in their departure and destination ports without a cargo manifest. Read on to discover more about what is a cargo manifest, the details included in it, the types of cargo manifests, and why it is essential in shipping.
What Is a Cargo Manifest?
A cargo manifest is a necessary documentation in all ships that provides accurate information on the goods, passengers, crew, and shipping routes. They are also known as customs manifests as they are presented to customs authorities.
Having a cargo manifest ensures that carriers move from place to place with no issues. But remember that the cargo manifest should be very accurate, and double-checking is highly recommended in both the departure and destination ports.
Components of a Cargo Manifest
Here are essential details incorporated in a cargo manifest:
Name of the vessel and voyage number
Elements in the bill of landing
Operator name and details
Consignee details
Consignor details
Description of the cargo (type and quantity)
Shipping route
If you need a blank template of the cargo manifest in Word format, you can download it right here: cargo declaration, FAL Form 2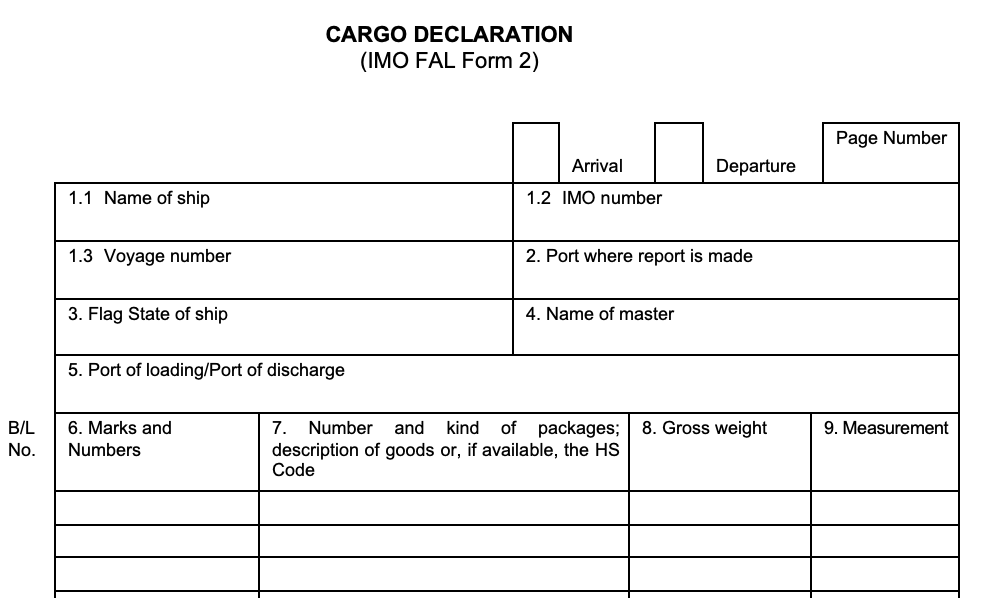 IMDG Dangerous goods manifest is a separate document and you described it in detail in this article: What Is IMDG Dangerous Cargo Manifest?
Importance of a Cargo Manifest
We have seen that a cargo manifest help ship goods from point X to Y seamlessly. But there are more benefits to having a cargo manifest. This is because, during international trade, numerous personnel are involved. For instance, when transporting delicate goods such as porcelain, there are clear directions on handling and transporting the cargo.
Nonetheless, losses may be witnessed if there are no clear directions in the manifest on how to handle the cargo. In most occasions, the one in charge will be responsible for the damages witnessed during the shipping.
Another occasion is when your cargo manifest has an error on the arrival destination, and a large shipment experience delay. The importer will have to deal with the shipping delay costs and come up with a solution on how the cargo will arrive safely at the designated destination.
A cargo manifest helps eradicate such errors during shipping and ensures everything is up to par. It helps with information such as special care instructions, delivery dates, and destination.
This aids in protecting everyone involved in the shipping of the cargo. In addition, if any mistake is recorded during the shipping, a manifest corrector is used to clarify the wrong entry and generate the accurate one.
Types of Cargo Manifest
An endless list of cargo can be shipped, which also dictates the type of cargo manifest available. Despite the kind of manifest used, accuracy must be utmost, and details must be clearly outlined. Below are the main types of cargo manifest used in shipping:
Cargo/Freight Manifest
A cargo manifest indicates the item name, type, quantity/weight, and name and address of the consigner and consignee. It also indicates the prepaid freight amount, any cash on delivery payable at the destination port, and other charges in the freight manifest, including pre-carriage, container stuffing, and storage.
Hazardous Cargo Manifest
For hazardous materials (HAZMAT) to be incorporated into the ship, the shipper must adhere to a hazardous cargo manifest. It must also contain precise details of what is contained in the cargo. It is also referred to as a dangerous cargo manifest and has extra requirements such as:
Accessibility of emergency personnel
Name, number, and nationality of the shipping vessel
It should be accessible to enforcement officers
Type, amount, and weight of the cargo
Failure to follow the stipulated regulations and documentation poses a threat to the crew in charge of transporting the cargo and the shipping vessel. Read more in the article we wrote about IMDG Dangerous Cargo Manifest.
Out of Gauge Manifest
Also referred to as an abnormal invisible load, an out of gauge cargo cannot be confined in a regular packing box. They have unusual shapes and sizes and probably protrusions, necessitating special packaging and stacking. Such include construction machinery, wind turbines, and trailers, to name a few.
An out of gauge manifest provides cargo details, such as description, weight, and dimensions. You may also find other details, such as lifting points, loading/unloading instructions, and images describing the center of gravity. Having such requirements makes out of gauge cargo more costly than standard shipping.
Reefer Manifest
This refrigerated container is used to ship cargo sensitive to specific temperature parameters and includes items such as pharmaceuticals, food, and electronic items. These goods have to be monitored at a specific temperature, humidity, and the designated temperature variance.
A reefer manifest ensures that such goods are transported as required without incurring any losses. Due to such conditions, a reefer manifest has higher freight charges. It also contains information on all the refrigerated containers, the vessel of delivery, different consignees, and destinations.
Can You Change a Cargo Manifest?
Although there are numerous instances where certain customers need to change the details of their cargo, cargo manifest changes are very strict. This is because there can be changes in customs duties.
In this regard, changes in the type of items, quantities, rates, and HS codes, to name a few, may be quite difficult. Moreover, most customs authorities may fine if changes are made in the cargo manifest.
Cargo manifest changes have deadline dates to which further changes cannot be made thereafter. In case of any changes, one can use a cargo manifest corrector option, available online or offline (sometimes).
Such changes are executed by a carrier agent in the loading port and transferred to the destination port agent before being transmitted to the customs authorities.
Bottom Line
Although numerous changes have been witnessed in international trade, cargo manifest and bills of landing are still dominant. They provide clear and precise documentation, which ensures everything is executed as required.
In addition, drafting accurate cargo manifests saves time and resources. The above article has discussed all you need to know about a cargo manifest, why it is essential, and the types of cargo manifest.
Latest posts by Dmitry Shafran
(see all)