Although LEGO sets were initially known to be popular construction toys for kids, most adults have fallen in love with them. You can use them during your spare time, relieving stress, relaxing, and during breaks at work or duty.
LEGO sets have gained immense popularity recently, even among older people, and come in various themes that bring sheer joy when building.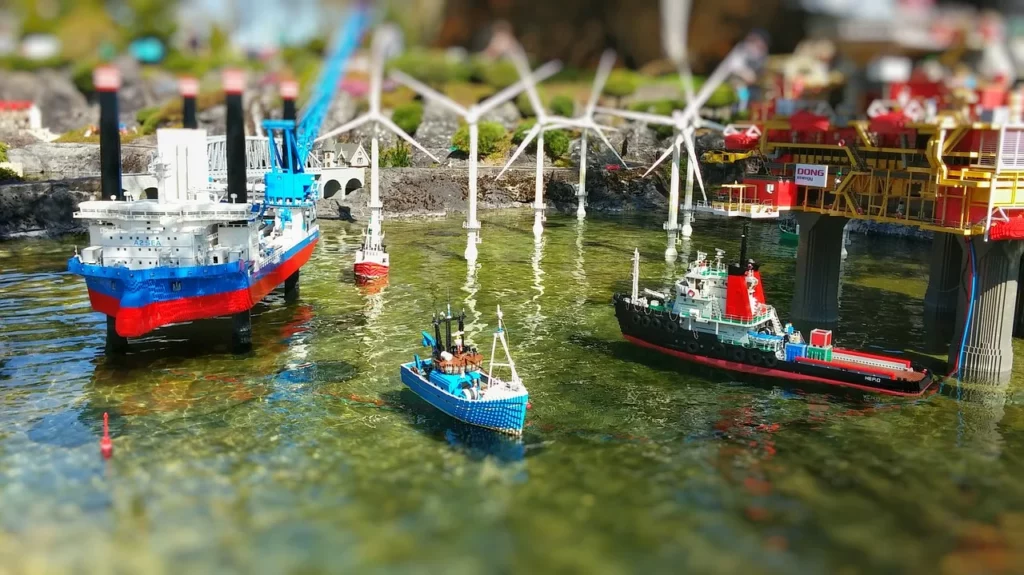 There is a variety of toys that LEGO sets can construct, such as robots, cities, and trains. Ships and boat construction is also a perfect toy that has interesting ideas. They are more fun for maritime fanatics, and here are the 11 coolest LEGO ship sets for mariners and adults. If the boating world is more attractive to you check these Lego boat sets as well.
1. LEGO Ship Set – Maersk Line Triple-E Container Ship
The construction is for one of the largest ships in the world, and LEGO Creator Set allows you to bring the image of the Maersk Triple-E container ship to reality. It is built with over 1,500 bricks, and the bricks allow you to fine-tune the vessel with outstanding detail. This is one of the best Lego ships ever made for retail sales. The ship set is available in rare colors such as:
Medium Azur
Sand blue
Dark red
Sand green
It presents authentic details that allow you to customize the ship, such as adding and removing containers. The ship's windows allow you to view the rotating gold-colored screw blades that connect to the twin 8-cylinder propeller engines. Other features include:
Adjustable rudders
Display stand
Fact plaque
Rotating crane arms
Detachable lifeboats
A 'special good luck' coin
LEGO Creator Set #10241 Maersk Line Triple-E
Build the famous Maersk Triple-E (EEE) container ship in Lego form
At 25 inch (65cm) in length, the final model will impress you and your guests alike
Features include rotating gold-colored propeller blades, brick-built twin 8-cylinder engines, viewing window into the engine compartment, adjustable rudders, detachable lifeboats, removable containers, rotating crane arms and a special 'good luck' coin
Includes rare medium azur, dark red, sand blue and sand green colored elements
2. LEGO Pirates of the Caribbean Silent Mary
This set presents the magic of the Disney Pirates of the Caribbean in real time. With over 2,000 pieces, LEGO Pirates of the Caribbean replicates the Silent Mary Ghost pirate ship with a preference for great details, including:
Hinged bow section
Movable rudder
Opening skeleton hull with decay
Long bowsprit
Collapsible main mast
Tattered sails
A rowboat with two oars
Several weapons
Two extra masts
Accessory components
The set offers a one-of-a-kind play experience, and its integrated stand makes sit an ideal display option at home and in offices. LEGO Pirates of the Caribbean features 8 mini-figures, and they include:
Captain Jack Sparrow
Henry
Captain Salazar
Carina
Officer Magda
Lieutenant Lesaro
Officer Santos
The Silent Mary Masthead
LEGO Pirates of The Caribbean Silent Mary 71042 Building Kit Ship, 168 months to 252 months
Features a hinged bow section, opening skeleton hull with decay and destruction detailing, movable rudder, three masts including a collapsible main mast, long bowsprit with crow's nest and mast, tattered sails, detailed quarterdeck, plus a rowboat with two oars
Includes eight minifigures: Captain Jack Sparrow, Henry, Carina, Lieutenant Lesaro, Captain Salazar, Officer Magda, Officer Santos and the Silent Mary Masthead, plus two detachable ghost sharks
Pirate ship accessory elements include a compass, sextant, monocular, two brooms and a ship-in-a-bottle,Care and Cleaning: Wipe Clean with a Damp Cloth
Special elements include Captain Salazar's hairpiece and a decorated Galileo Diary with printed cover and astronomy page
3. LEGO Ideas Ship in a Bottle
The LEGO Ideas Ship in a Bottle has attention to details such as the captain's quarters, masts, cannons, printed sail elements, and a crow's nest. During the construction, the ship is positioned in a LEGO brick-built bottle and has elements such as:
Buildable cork
Water-style elements
Wax seal elements
Built-in compass
Globe elements
Its sturdy stand makes it ideal for display and has authentic touches, which boosts the ship's aesthetics. The toy also has a booklet about the fan creator and has over 962 pieces that favor boys, girls, and people of all ages. Another good thing is that the set allows creative construction as it can be integrated with all other original LEGO sets and bricks.
LEGO Ideas Ship in a Bottle 92177 Expert Building Kit, Snap Together Model Ship, Collectible Display Set and Toy for Adults (962 Pieces),Multicolor
Build a ship in a bottle featuring a brick-built cork and wax seal, ship with a captain's quarters, cannons, mast, crow's nest, sails, flag, display stand with a nameplate and 'compass'!
This LEGO Ideas ship in a bottle model kit comes with an instruction booklet including information about the set's fan creator and LEGO designers
The bottle on stand measures over 3″ (10cm) high, 12" (31cm) wide and 3" (10cm) deep; Ship measures over 3″ (8cm) high, 5" (14cm) long and 1" (5cm) wide
962 pieces – Advanced building set for boys and girls aged 12+ and for fans and big kids of all ages
The LEGO Ideas Ship in a Bottle 92177 model kit can be built together with all other original LEGO sets and LEGO building bricks for creative building
4. LEGO Technic Rescue Hovercraft
LEGO Technic Rescue Hovercraft suits kids and people who are boat fanatics and enjoy playing with them. It resembles a real hovercraft and blends well with imaginative and creative plays. It has the utmost focus on details such as:
Control panel
Seats
Handlebar
Warning lights
Rotating fans
Such realistic features and functions allow you to discover more and venture into new challenges. This LEGO vessel set makes a perfect gift for holidays, birthdays, and regular gifting as well. All components in the set adhere to industry best standards, and they have been scrutinized under global safety standards. The set is ideal for people aged 8+ and a good option to engage the mind.
LEGO Technic Rescue Hovercraft 42120 Model Building Kit; This Awesome Toy Hovercraft Makes A Great Gift for Any Occasion, New 2021 (457 Pieces)
Give kids who love rescue vehicle toys a special treat with this awesome hovercraft toy. It's filled with authentic details, making it perfect for role-play adventures
Check out all the cool features, including the 'hover' effect, turning fans, cockpit and rotating warning light, just like on a real hovercraft air cushion vehicle (ACV)
The 2-in-1 design means more role-play fun for young heroes. Rebuild the model hovercraft to create a Twin-Engine Aircraft with moving rudders and ailerons
The LEGO Technic Rescue Hovercraft (42120) makes a great birthday, holiday or anytime gift for kids aged 8 and up who love rescue vehicle toys
This hovercraft toy model measures over 4.5 in. (12 cm) high, 9.5 in (24 cm) long and 5 in. (13 cm) wide
5. LEGO Pirates Imperial Flagship
Made using 1,664 pieces, the LEGO Pirates Imperial Flagship is a classic sail ship and its amazing details provide historical ship memories. The pieces provide a realistic toy with features such as:
Four firing cannons
Muskets
Torches
Ammunition crates
A moving rudder
A prison with a rat
A carrot
Turkey legs
Kitchen with fish
The toy allows you to raise and lower the working anchor and open the backhouse deck's doors to view the captain. LEGO Pirates Imperial Flagship has a treasure chest containing gold and jewels. The toy ship has three removable sections and nine Minifigure, including:
The Captain
Captain's daughter
A prisoner
A lieutenant
The cook
Four soldiers
LEGO Pirates Imperial Flagship (10210) (Discontinued by manufacturer)
Includes 9 minifigures: The ship's captain, his daughter, a pirate captain prisoner with shackles, the ship's cook, a lieutenant, and 4 soldiers; amazingly detailed and realistic ship features 3 removable sections
Main hull contains 4 firing cannons, ammunition crates, muskets, torches, cannonballs, prison with a rat, saw shark minifigurehead, a moving rudder and a fully-equipped ship?s kitchen with fish, turkey legs and a carrot
Raise and lower the working anchor; open the front deck's working doors and play inside; Imperial Flagship is equipped with masts and rigging
Open the back house deck's doors to reveal the captain?s chambers complete with a map, poison bottle, organ and even a treasure chest filled with jewels and gold; features 6 opening windows, a telescope and sextant as well as 3 deck lanterns
1,664 pieces
6. Creator Expert Titanic Building Set
The Titanic is an iconic ship, and the Creator Expert Titanic Building Set ensures you have a closer look at the legend. This toy is the biggest LEGO set ever, and its cross-section provides authentic interior details of the ship, such as:
First-class dining room
A boiler room
The grand staircase
Numerous cabins
It also brings back the historical boat's existence with details such as the promenade deck, the ship's bridge, the swimming pool, and the reading lounge.
The Creator Expert Titanic Building Set has over 9,000 pieces that require a lot of time when constructing it for the ultimate fun. It also ensures that builders experience a challenge with precise details of the historic Titanic.
LEGO Titanic
Biggest LEGO Set Ever
LEGO set 10294 Titanic is a 9,090 piece Creator Expert
Construct the ship's bridge, promenade deck and swimming pool
Raise the anchor and adjust tension line between masts
7. LEGO Technic Power Boat
As the name suggests, LEGO Technic Power Boat is a high-speed super boat with realistic features such as a moving piston engine and an aerodynamic design. It is a 2-in-1 model that is ideal for displays and playing with. Other features include:
Open cockpit with steering wheel
Tinted windshield
Red and black color scheme
Spinning propeller
Moving engine pistons
The toy set is easy to build as it utilizes 174 pieces. This makes it suitable for both boys and girls and people of all ages. In addition, the LEGO Technic Power Boat has racing stickers and is an impeccable racing boat model for an exciting experience. It has realistic movements and engineering principles for a satisfying building experience.
LEGO Technic Power Boat 42089 Building Kit (174 Pieces) (Discontinued by Manufacturer)
Build a realistic speedboat model with a sporty aerodynamic design, open cockpit with steering wheel, piston engine and tinted windshield, and a red and black color scheme with racing stickers!
2-in-1 LEGO Technic speed boat toy: rebuilds into a Hydroplane
Power Boat measures over 3" (9cm) high, 9" (23cm) long and 2" (7cm) wide Hydroplane measures over 2" (7cm) high, 7" (20cm) long and 3" (10cm) wide
174 pieces – For boys and girls aged 8+ and for fans and kids of all ages
This LEGO Technic Power Boat 42089 set can be built together with all other original LEGO sets and LEGO bricks for creative building
8. LEGO Marvel Super Heroes
The LEGO Marvel Super Heroes model encourages creative thinking and team-building skills. It is an enormous SHIELD Helicarrier that features the Super Heroes in the Avengers movie and has exciting features such as:
Three fighter jets
Three microscale quinjets
Two runways
Gasoline truck
Four road blockades
Two forklift trucks
Detailed interior
Armored exterior
12 decorated micro figures
Collector info plaque
This model is the best option for creative building as it is compatible with other LEGO building sets. You can also add lights and spinning rotors, and it has minifigures, including Captain America, Black Widow, Nick Fury, Maria Hill, and Hawkeye.
LEGO Marvel Super Heroes 76042 The Shield Helicarrier
Build the ultimate collector's vehicle from the Marvel Super Heroes universe – the gigantic SHIELD Helicarrier as featured in the Marvel's Avengers movies!
3 microscale Quinjets, 3 fighter jets, gasoline truck, 2 forklift trucks, 2 runways, 4 road blockades, armored exterior with translucent elements, detailed interior, 12 decorated microfigures, and collector info plaque!
Includes minifigures of Nick Fury, Black Widow, Captain America, Hawkeye, and Maria Hill, plus iconic SHIELD Eagle display stand
LEGO Marvel Super Heroes building toys are compatible with all LEGO construction sets for creative building
Add lights and spinning rotors to the Helicarrier with the 88000, 8883 and 8870 LEGO Power Functions sets (sold separately)
9. LEGO City Ice Breaker Ship
This LEGO City Ice Breaker Ship toy construction visualizes sailing through the chilly Arctic oceans and is stipulated for kids and people above six years. It also allows you to break through the Artic icebergs and has features such as:
Snow scooter
Helicopter
Snow plough
A laboratory
A polar bear
Seven LEGO minifigures
A husky dog sled
The Lego vessel floats well in water and the ship's hull is sold as one solid piece. There are also clear building instructions to ensure that builders have a seamless experience when constructing the toy.
10. LEGO City Coast Guard Patrol
The LEGO City Coast Guard Patrol toy has exciting features, such as launching a submarine and a helicopter to get fast to a couple stranded in a sinking dinghy. There are also three sharks swimming nearby, and one is required to rescue the couple, board them on the helicopter, and chase the sharks with water cannons. It also includes six minifigures:
Captain
Pilot
Rescuer
Crew member
Man
Woman
This toy is best suited for people above five years and has 449 pieces for creative construction. Other features in LEGO City Coast Guard Patrol include:
Two water cannons
A submarine with a turning propeller
Dinghy
Helicopter
Lighthouse with rocks
Radio antenna
Submarine launcher
Two life jackets
A dog
Crab
Hat with headphones
An ice cream
Walkie-talkie
Two life preservers
LEGO City Coast Guard Patrol 60014 (Discontinued by manufacturer)
Features 2 water cannons, submarine launcher and radio antenna, helicopter, submarine, dinghy, lighthouse with rocks and 3 sharks
Accessories include a dog, crab, 2 life preservers, 2 life jackets, walkie-talkie, hat with headphones and an ice cream
Coast Guard Patrol boat and dinghy really float; deploy the submarine with a turning propeller; submarine measures over 1″ high, 3″ long, 2″ wide
Lighthouse with rocks measures 6″ high, 5″ wide, 2″ long; dinghy measures 2″ high, 7″ long, 3″ wide; shark measures 2″ long, 1″ wide, approx. 1″ high
Coast Guard Patrol Boat measures over 7″ high, 15″ long, 3″ wide; helicopter measures over 2″ high, 6″ long, 2″ wide
11. LEGO City Ocean Exploration Ship
LEGO City Ocean Exploration Ship is an excellent option for imaginative play as it has story-inspiring features for fun and adventure. Its playset is feature-rich that offers multi-model ocean discoveries. There are also seabed features such as treasure, a pirate shipwreck, a shark, and a stingray for fun deep-sea discoveries. Other features of the toy include:
Shark cage
Working crane
Helicopter
Research submarine
Eight explorer minifigures
The toy has simple construction instructions that allow builders to enjoy action-packed escapades. LEGO City Ocean Exploration ship has an instruction app compatible with smartphones and tablets, which turns you into a master builder.
It has everything that a kid or adult would love in exploring the vast oceans, such as fun characters, realistic vehicles, feature-rich buildings, and a cool ocean playset.
LEGO City Ocean Exploration Ship 60266, Toy Exploration Vessel, Mini Helicopter, Submarine, Shipwreck with Treasure, Lifeboat, Stingray, Shark, Plus 8 Minifigures (745 Pieces)
This multi-model LEGO City Ocean Exploration Ship 60266 playset is a perfect gift for little explorers and has all kids need for a fun and rewarding play experience
What's In the box? A floating toy exploration ship with working crane, shark cage, dinghy, submarine and helicopter, 8 minifigures, including the LEGO City TV character Harl Hubbs, plus shark and stingray figures
Kids can use the floating toy ship's crane to lower the sub and shark cage, pilot the helicopter and sub, explore the treasure-filled shipwreck or take the play inside the captain's bridge with sleeping and research areas
This building set makes a great holiday, birthday or any-other-day gift for kids with a passion for ocean exploration and for fans of the LEGO City Adventures TV series
When built, the toy exploration ship measures over 7″ (18cm) high, 24″ (63cm) long and 6″ (17cm) wide, while the pirate shipwreck measures over 6″ (16cm) high, 5″ (13cm) long and 3″ (8cm) wide
Bottom Line
LEGO ship sets have become more prominent in recent years as they have become diverse and offer exciting toys for adults and maritime fanatics. These ship sets have vast options, such as historic water vessels, creative boats, ocean explorations, and an array of characters.
Lego ship models are excellent toys that are an excellent option to pass the time, offer playtime with kids and friends, are great for displays, and promote creative thinking. Some selective ship sets are also ideal in reflecting some iconic ships and what happened while in the vast seas.
The above post has articulated the 11 cool LEGO ship sets for mariners and adults, their features, accessories, and how best to build and use them.