A scanoe is a mix between a skiff and a canoe. This hybrid is often imitated, but the original was produced by Coleman.
Scanoes are broader than traditional canoes, and they've got a square back for mounting a trolling motor.
While there are many vessels that call themselves scanoes (and tend to be close to the original), Coleman haven't actually been making their scanoe since 2001.
Still, it's possible to find a used scanoe, but demand tends to be quite high, especially for a scanoe in great condition. Regardless, there's a lot of nostalgia for these vessels. But are they worth the hype?
Read on to learn all about the specs of the Coleman scanoe, as well as everything else you might need to know.
The Coleman Scanoe: A Brief History
The first Coleman scanoe was produced in the 1980s.
Eventually the brand was bought by Pelican International in 2001, but while their new parent company tried to keep the scanoe alive, production ceased just a few years after the acquisition.
These days, your best bet for finding an authentic Coleman scanoe tends to be via Craiglists or other auction sites.
And, while they may not have the appeal of the original scanoe, you can also find different renditions of this concept from other companies.
The Coleman Scanoe: Specs
Let's take a look at the specs of the Coleman Scanoe, specifically the 16 foot scanoe, otherwise known as the Scanoe DLX.
Its exact length is 16'3", and it weighed 130 pounds. Its beam measured 43 inches, and it had a maximum weight capacity of 950 pounds. Its cargo space was 53 cubic feet, and it could fit a maximum of two persons.
The hull design was tri-keeled, and made with Ram-X. Its motor mount was made from reinforced anodized aluminum, and the scanoe had four rod holders.
To get a better understanding of the weight of the scanoe, it helps to compare it to the weight of other canoes and skiffs.
A canoe made from polyethylene weighs roughly 50 pounds, while a canoe made with aluminum would weigh closer to between 60 to 75 pounds.
A skiff, on the other hand, tends to weigh around 163 pounds. As for the Coleman Scanoe, it weighs a little less than the average skiff, but a lot more than even the heaviest canoe, coming in at 130 pounds.
This means that it's heavy enough to support the weight of both the rider and the cargo, but lightweight enough to maneuver with ease.
The widest part of the canoe is the beam, and the width of the Coleman Scanoe's beam is 43 inches. This is largely the reason that the scanoe is so fast and steady.
The triple keel design of the hull also means it can handle varying water conditions. When it comes to cargo space, 53 cubic feet may not seem like a lot, but that's about as much as you're going to get when it comes to a boat of this size.
The material used for the hull of the scanoe is RAM-X, which is a single layer polyethylene.
This material is durable, but it's also heavy. Despite this, it's quite susceptible to premature wear if the scanoe isn't stored carefully.
The capacity of the boat is two people, and there's more than enough space to move around in there without feeling cramped.
The scanoe has an anodized aluminum mount for a transom motor. It's very durable because of its reinforced design, but it doesn't add much weight to the scanoe.
The Coleman scanoe is ideal for anglers, because it comes with four built in holders for your rods. This makes for a little more room inside the scanoe, without the added clutter of multiple rods.
The Pelican Scanoe (Scout Canoe)
When Pelican International acquired the Coleman Scanoe brand, they tried their hand at an updated version of the small boat.
It's a lot wider than the original, with a beam of 43 inches, and the Pelican scanoe is also longer, coming in at 16 feet and 6 inches.
It weighed 111 pounds and had a horsepower of five. It seated three people- one more than the original Coleman.
The main downside to the Pelican Scanoe compared to the original Coleman Scanoe is that the materials made it a lot bulkier.
You'll tend to feel more drag in the Pelican, but the plus side to its width is that there's far more room for gear.
Benefits and Downsides to the Coleman Scanoe
If you're up to the task of tracking down a Coleman Scanoe, you're going to want to know if it's actually worth it.
So, what are the benefits of the original scanoe, and what are the downsides?
Benefits
Durability: The Coleman Scanoe is made with polyethylene, a very durable material that can withstand quite the battering. The reinforced hull, with its triple keels, adds even more durability.
Stability: Lined with double ribs, this scanoe is just as stable as an aluminum canoe, if not more so. Standing in the scanoe is easy, with minimal risk of falling unless you're in rough waters.
Versatility: It probably goes without saying since it's literally a hybrid of two different boats, but the scanoe was designed with versatility in mind. It's best suited to calmer waters, but can be used in rougher waters too.
Optional Trolling Motor: You also have the option to add a trolling motor to the back of the scanoe, thanks to the aluminum mount. This is very beneficial when it comes to propelling the boat.
Comfort: The seats in the original scanoe are very ergonomic, and you'll even find it has moulded cavities for your knees. There's plenty of space for two people.
Little maintenance required for hull: The design of the hull, as well as the material it's made from, means there will be minimal need for maintenance.
Downsides
Quite Heavy: It's lighter than regular canoes, but it might still be a little heavy to some. Notoriously Hard To acquire: As we've said repeatedly, it is very hard to track down a Coleman Scanoe, never mind a scanoe in good condition. The best you're going to get, if you find anything at all, is a used scanoe online.
Alternatives To The Coleman Scanoe
Finding an original Coleman Scanoe can be tricky, but that doesn't mean the days of acquiring a brand new skiff-canoe hybrid are over.
The following are the most notable scanoe brands that have hit the market since the first scanoe.
EDITORS CHOICE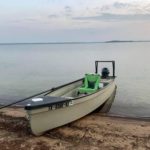 BEST VALUE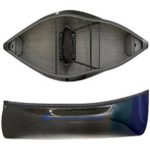 OUR TOP PICK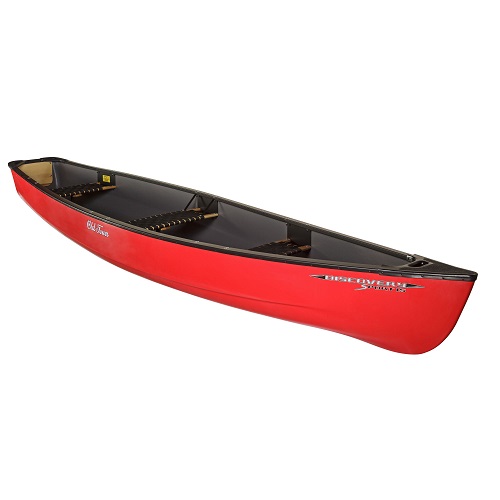 Possibly the most renowned scanoe brand after Coleman and Pelican International, the Old Town Discovery Sport 15 is still in production, so acquiring one of these would be a lot easier than tracking down a Coleman.
It's a pricey product, but considering how popular the Coleman Scanoe is, you'd likely be paying more for a used version of the latter.
You'll find it on the Old Town official website. It's listed on Amazon but is currently unavailable.
As for the specs, the length of the Discovery Sport 15 is 15 feet and three inches, while the width of the beam is 40 inches.
It's made with polyethylene and has a horsepower of four. It's a high-quality scanoe, but again, that's more than reflected in the price.
EDITORS CHOICE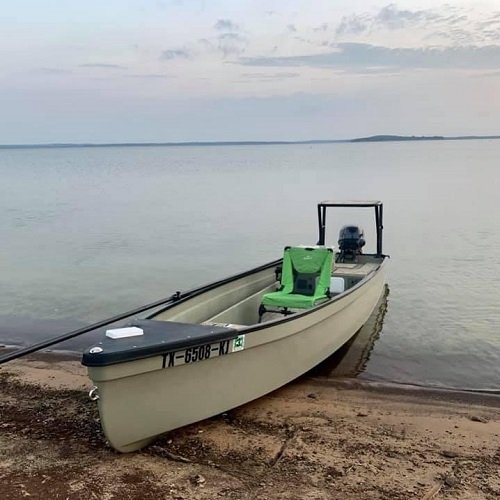 Closer to a skiff than a canoe but still a decent mix of both, this hybrid is remarkably stable, quiet, and can float with ease. Its hull is durable but lightweight, which is made by hand with fiberglass.
The skiff can hold three people at once and remain steady. Its deep strays make it ideal for rod storage, especially compared to traditional skiffs, which tend to use a gunnel-type system.
It's also not near-impossible to track down! You'll find it on the Towee official website.
Alternatives To The Scanoe: The Squareback Canoe Vs The Traditional Canoe
It's possible that, if you ask the staff at a store if they stock any scanoes, they'll have absolutely no idea what you're talking about.
This wouldn't be a huge surprise, considering the original scanoe isn't even in production anymore, and hasn't been for years.
So, it's unlikely stores will stock any variation of the scanoe, but the squareback canoe is fairly similar (in both their size and the fact you can add a trolling motor), and these are much more common.
The Squareback Canoe
The main difference between a scanoe/regular canoe and a squareback canoe is the square stern of the latter.
The front of the canoe, however, is still curved. Squareback canoes usually fit up to three people.
Compared to traditional canoes, the squareback tends to be heavier. They also sit lower at the stern than regular canoes, because they lack the curved point.
This can lead to more drag. They're designed for a motor, unlike normal canoes, meaning they're pretty fast.
They're not ideal for rough waters, but they're ideal as an alternative to the traditional canoe, if you're looking for something with a motor mount.
The Traditional Canoe
With the classic double ended point, this is what most people would envision when they hear the word 'canoe'.
While there's no motor mount, it is possible to add a trolling motor to many canoes. But the squareback canoe is a lot handier in this regard.
Even without a motor, traditional canoes can move through the water fairly quickly, although naturally you'll need to paddle.
They tend to be less stable than squareback canoes or scanoes, but they're very easy to maneuver.
The Best Canoes
If a scanoe doesn't appeal (or if you've given up trying to find one), traditional canoes are worth a look-in, as long as no motor mount isn't a dealbreaker.
Here are some of the best regular canoes on the market.
BEST VALUE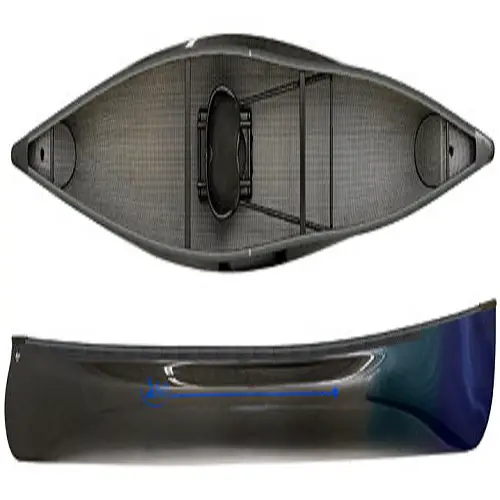 Perfect for fast travel, the Cruiser 14.8 canoe can reach the speeds of a touring kayak, but also offers the volume of any traditional solo canoe.
It's easily maneuverable and very stable, even in choppier waters. The Cruiser 14.8 is designed to be versatile, and that it is- although maybe not quite as versatile as the Coleman Scanoe.
RUNNER UP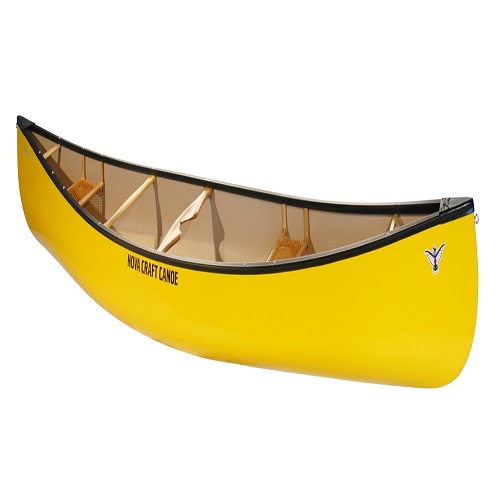 If you're looking for a classic canoe, the Prospector is the way to go. It's regarded as the workhouse of the Canadian north, and is best suited to wild rivers and lakes.
It's fairly versatile, and its hull is designed to be durable. The Prospector also comes in 15 foot, 17 foot, and 18 foot lengths.
The Best Skiffs
Alternatively, you might be in the market for a skiff. Here are some of the best skiffs currently available.
RUNNER UP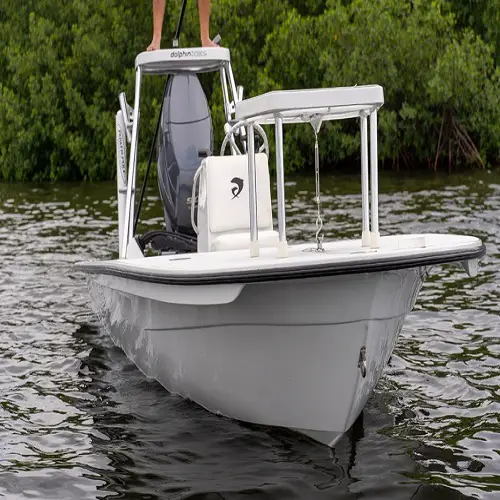 This is one of the best skiffs available. Its hull is solid, made with specific composite materials that maximise both strength and durability.
Its casting platform at the front deck is huge, and there's an abundance of inside storage. It also comes with built-in under-gunwale racks for your fishing rods.
There's a 32-gallon livewell, gas shocks on each hatch, push-pole holders, and hydraulic steering.
RUNNER UP
This is the best skiff when it comes to rough waters. It's just over 19 feet long, which is perfect for hopping waves.
Its stability is unmatched, you'll stay dry even in very choppy waters, and it comes with a number of fishing accessories.
There's an abundance of storage space, too, both in the front and in the rear. The livewell at the back of the skiff boasts even more space.
Its only real flaw is that it doesn't offer much protection against the elements, if any.
Conclusion: Coleman Scanoe Specs And Review
Taking all of its specifications into account, the Coleman Scanoe is (or was) an ideal alternative to the canoe and the skiff.
User friendly, durable, versatile, comfortable, plenty of storage space for your gear- you couldn't ask for much more.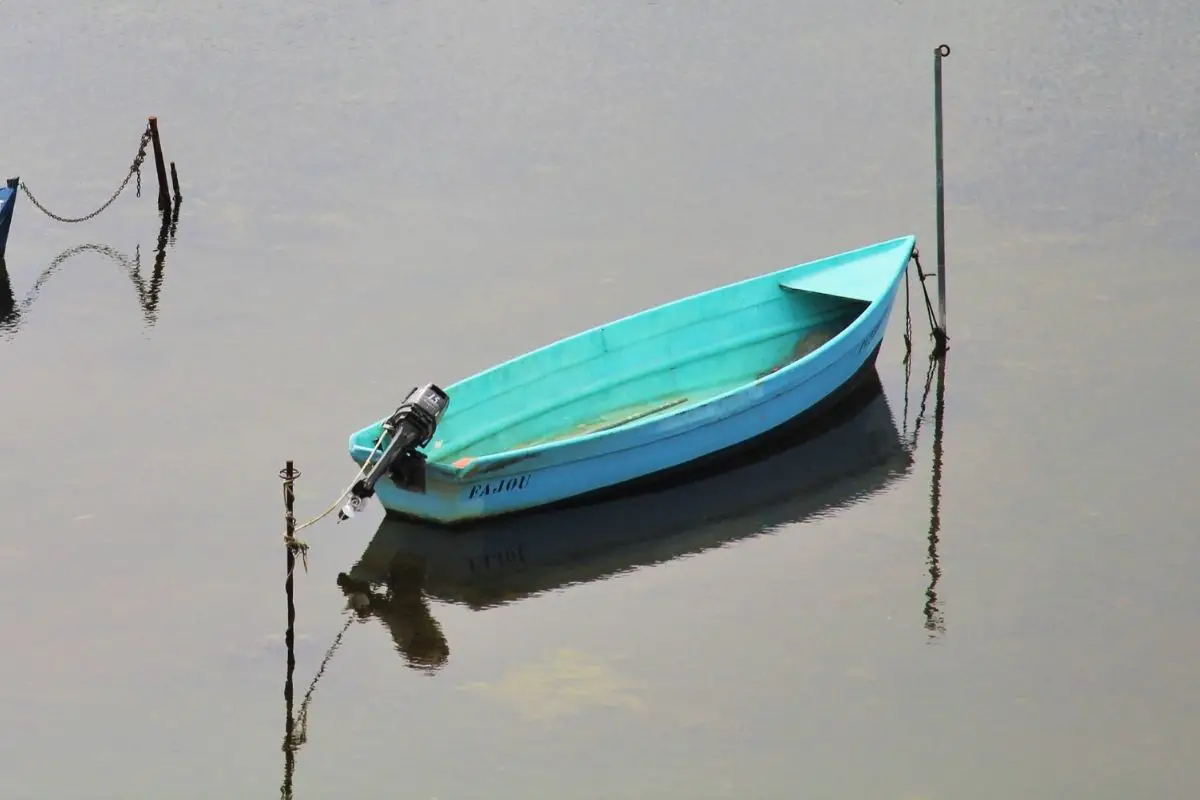 The only thing some might consider a downside is that it's not very lightweight.
And, of course, it's very hard to track down. Depending on your location though, you might be able to find a second-hand Coleman Scanoe if you're willing to do a lot of digging.
If not, there are still some companies producing similar boats, most notably Old Town.
Frequently Asked Questions Regarding The Scanoe, The Canoe, And The Skiff
Where Should I Take My Scanoe / Canoe?
There are lakes and rivers all over the United States that are perfect for canoe trips. Tuolumne River in California is a great choice for thrill seekers.
This river runs through forests and gorges, from the Sierra Nevadas all the way to the Central Valley. This route boasts plenty of wildlife, as well as prime trout fishing.
Despite the 149-mile stretch of water being so close to tourist hotspot Yosemite, you won't have to worry about much traffic.
Another great location for a canoe trip is Idaho's Salmon River, also known as The River of No Return.
The initial recreational river trail is 46 miles long, which leads to 79 miles of wild river.
If you're only eager for the recreational trail, you can start at North Fork and finish at Corn Creek- otherwise you'll be heading on through the wild river.
The Northern Forest Canoe Trail is a 740 mile stretch from New York all the way to Maine, passing Vermont, Quebec, and New Hampshire on the way.
You can either take the entire trail over multiple days, or pick between the route's 23 streams and rivers, 59 lakes and ponds, and 65 portages.
Green River in Utah is another great location for a canoe trip, especially if you're new to canoeing. It's a wide and mellow river, with an abundance of both wildlife and scenery.
You'll start at the Green River State Park, and can either stop at Ruby Ranch or continue on to the Green and Colorado Rivers.
A few other canoe trips worth mentioning are the Buffalo National River in Arkansas, which runs through the Ozark Mountains, the Okefenokee National Wildlife Refuge in Georgia, and the Noatak River in Alaska, which is located above the Arctic Circle.
What Should You Wear On Your Feet While Canoeing?
If you're going canoeing, it's important to wear footwear that is designed to prevent your feet from getting wet.
These include water shoes, sandals, crocs, or any neoprene boots.
It's also worth noting that they're going to need to stay on your feet when you're in the water, so make sure your footwear is tight by design and the right size for your feet.
You'll want to take a pair of boots, too, for when you're walking on dry land (but you'd probably wear these to the water).