The international shipping industry has faced many new obstacles in recent years. Increasing geopolitical strife, the outbreak of COVID-19 in early 2020, increasing operational costs, fluctuating cargo demand and a global exodus of workers have created economic conditions that require unconventional shipping solutions. Here's how shipping companies are attempting to address these issues and improve the efficiency of their international shipping operations.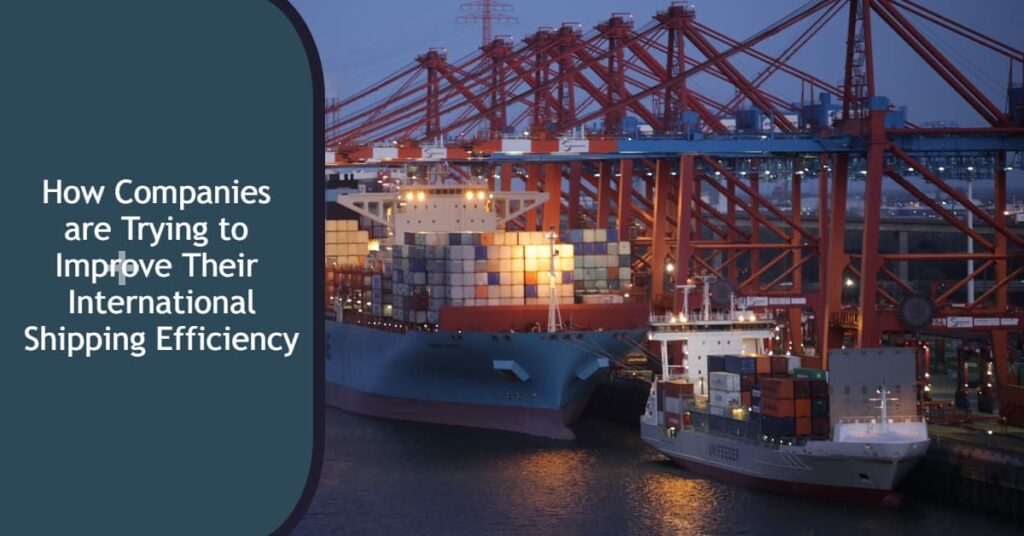 The Growing Role of Automation
Automated technology has been the most crucial advancement in streamlining international shipping. When operational costs are too high and there isn't enough skilled labor, various robotic devices can take over to keep expenses down and compensate for missing workers. Robots are already assisting with the following key shipping tasks.
Vessel Maintenance
Maintaining large commercial vessels and protecting them from the elements consumes more time and resources than any other part of the voyage. Employees previously had to clean the ship and inspect its various units all on their own. Now, they can rely on robots to complete some of these monotonous and laborious tasks.
For example, the robotic hull bio-inspired underwater grooming tool or HullBUG removes barnacles and other debris from the vessel's underside. Rather than hiring a team of divers to do the job, shipping companies can deploy the faster and more accurate HullBUG. Robots are especially valuable for dangerous jobs like these.
They're also taking over the process of ship inspections. This small robot from Gecko Robotics cruises around the ship on magnetic wheels and gathers data about the ship's condition to identify safety hazards and damaged parts. Automated maintenance can significantly reduce shipping delays and make voyages much more efficient.
Port Operations
Automated machinery is becoming more useful in daily port operations. The average day at a large high-traffic seaport consists of moving, picking, sorting and loading products onto ships for upcoming voyages. Shipping companies can make all these tasks more productive with various autonomous guided vehicles (AGVs):
Material handling
Packaging
Painting
Welding
Assembly
Inspection
Cutting
Dispensing
Loading and unloading
Palletizing and depalletizing
The most impactful AGVs have been more efficient versions of traditional port vehicles like forklifts and pallet jacks that can load containers onto ships with great precision. One popular replacement for these vehicles is the mother-daughter cart system, estimated to reduce traffic by 70% and speed up the loading process with no additional human labor.
Market analysts expect seaports to deploy more than 370,000 AGVs worldwide by 2030. If this estimation is correct, then AGVs can significantly reduce congestion in international shipping and keep deliveries on schedule.
Last-Mile Deliveries
Robotics are also taking over last-mile deliveries, which is the final step before a product reaches its destination. Shipping companies can deploy various self-driving robots to deliver items to clients. This technology can't help with massive cargo deliveries yet, but it can still help with smaller packages.
For example, if a shipping company needed to deliver a high-priority product to a partner across town, it could use a robot like the Kiwibot or Eliport specializing in navigating urban environments. Rather than wasting time and human resources on sending one product, businesses can use robots to take care of these small tasks more efficiently.
Route Optimization
Automated software powered by artificial intelligence (AI) can help shipping companies optimize their delivery routes with ease. This advanced software analyzes everything that might affect a shipment's schedule, including delivery addresses, delivery times, traffic patterns, ship maintenance requirements and weather conditions. No stone goes unturned.
Route optimization leads to minimal downtime, lower operational costs and greater client satisfaction. No extra labor or administrative effort is required. All organizations must do is invest in the right route optimization software that fits their unique needs.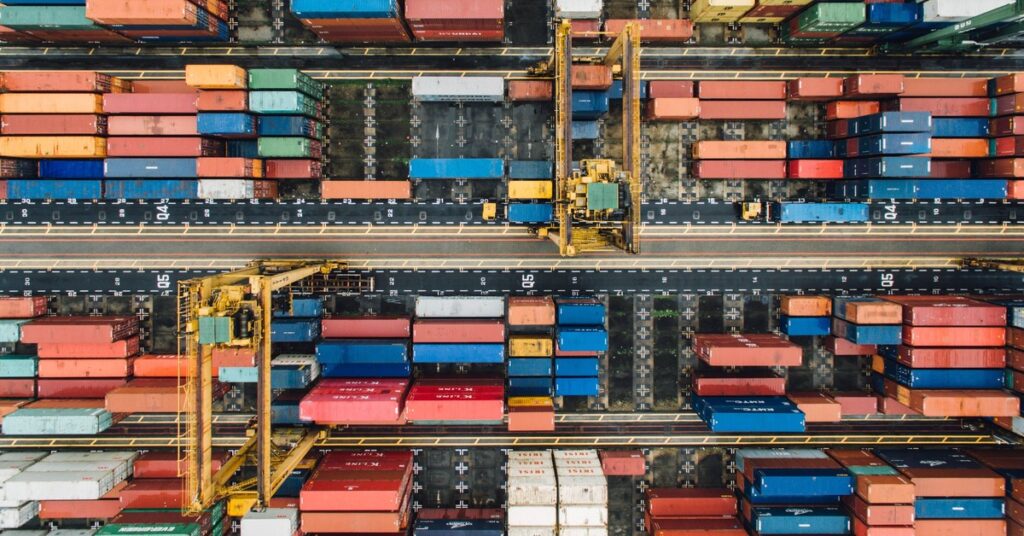 Infrastructural Changes
Along with adopting new technologies to optimize shipments, the international shipping industry as a whole is making some big infrastructural changes. These changes are necessary for continued compliance with maritime standards and regulations and keeping up with the constant influx of orders.
Port and Ship Improvements
Shipping companies are making many improvements to their port facilities and cargo vessels. A lot of ports are approaching their terminal container capacity limits in the near future, which has required them to expand their facilities to accommodate more containers. Unconventional container loading methods such as less-than-container load are also becoming more common.
Some port expansions have faced great environmental and labor opposition from local groups, but these projects are the most straightforward ways to increase operational capacity and efficiency. More space to move vessels and containers will lead to smoother loading and unloading, and thus smoother shipments.
Cargo ships are getting bigger, too. Ultra-large container vessels are growing in numbers and can carry up to 20,000 containers in some cases. More post-Panamax ships are also under construction so shipping companies can send more vessels through the Panama Canal and other major waterways with certain size restrictions.
Intermodal Transportation
Shipping companies are also moving toward more efficient shipping methods. Intermodal transportation is the most popular emerging shipping method, which involves shipping a load internationally or domestically with two or more vehicles by land, air, or sea.
Intermodal transportation lowers costs and improves efficiency by speeding up the shipping process. Shipping companies can partner to move containers to the next step in the supply chain more quickly. The cargo might make a few extra stops, but it's still faster than sending one ship on a long overseas voyage.
Another reason for intermodal transportation's success is the development of intermodal containers. They eliminate unnecessary repackaging and offloading as the cargo transfers from land to air to sea. It can stay in the same container for the entire trip, which lessens the time between each stop.
Embracing Sustainability
The maritime shipping industry has embraced sustainability in the 2020s, introducing new eco-friendly ship designs and adopting new practices to reduce emissions. These initiatives benefit the environment and improve the efficiency of international shipping by eliminating wastefulness.
Many cargo ships can now accommodate different fuels and power sources so they're not reliant on fossil fuels. Some cleaner alternatives include natural gas, liquified biogas, hydrogen, wind power and solar power. These sources have successfully accelerated maritime decarbonization and made vessels more versatile.
Eco-friendly packaging solutions have allowed shipping companies to keep their operations moving when traditional materials aren't available. Recycled plastics, biodegradable packing peanuts, corrugated cardboard and many other green materials are in circulation. They also reduce packaging waste so enterprises can spend less time and money on waste management.
The aforementioned route optimization efforts have also contributed to lower emissions and fuel consumption. Although the main goal is to speed up delivery times and stay on schedule, the marine environment also benefits because ships spend less time in the water. Making international shipping more logistically efficient also makes the industry more eco-friendly.
Improved Communication and Collaboration
Communication and collaboration are the final key components shipping companies are aiming to improve. Many delays are the result of simple miscommunication between vessels and ports. Safety and security incidents can also stem from a lack of thorough communication and cause shipments to miss their deadlines.
Leveraging Online Platforms
The transition to online tools instead of traditional communication methods has made the greatest impact. Everything takes place on a centralized digital platform, from booking orders to documenting the ship's voyage. Paper documentation has largely been phased out of the maritime industry in favor of electronic alternatives.
Using online communication tools allows businesses to share real-time information. A situation can change during a voyage in a matter of minutes, so there must be a constant connection between ships and the nearest ports. Satellite communication connects land and sea, while ship-to-ship contact occurs through VHF radio and digital selective calling.
Digital selective calling consists of remote control commands ships can use to transmit or receive messages. As per the Safety of Life at Sea convention, these commands can now integrate with VHF radio to ensure anyone using either platform is on the same page. These basic adjustments to international maritime communication will save vessels from avoidable disruptions and verify the cargo gets delivered on time.
Just-In-Time Inventory Management
The increased collaboration of shipping companies has led to the widespread adoption of just-in-time (JIT) inventory management. This strategy ensures organizations receive the exact amount of inventory they need right when they need it. In other words, it eliminates excess inventory and consolidates shipments so they're as cost-effective as possible.
JIT inventory management can slash operational expenses from cargo handling and storage, and get the most out of a vessel's carrying capacity. Most importantly, it helps enterprises avoid costly delays from dealing with extra products and waste. Every order meets an exact number, which reduces loading times, improves productivity and strengthens supplier relationships.
International Shipping is Going Through a Major Overhaul
The world of international shipping is going through a major overhaul in the mid-2020s. Companies are adopting many new technologies, the industry as a whole is reevaluating its infrastructure and new communication strategies are gaining momentum. These three pillars of change work toward the same goal of improving shipping efficiency and getting the global economy back on track.
Frequently Asked Questions
What are the keys to improving international shipping efficiency?
The main keys to improving international shipping efficiency are investing in automated technologies, reinforcing the shipping industry's physical infrastructure, and updating communication and collaboration strategies between companies.
Are any new tech advancements making an impact in international shipping yet?
Yes, technologies are already assisting businesses with vessel maintenance, port operations, last-mile deliveries and route optimization. Some of them are autonomous robots, while others are advanced software solutions with built-in artificial intelligence.
What infrastructural changes need to happen for the maritime industry to become more efficient?
Both ports and vessels need to get bigger so they can accommodate more cargo and alleviate supply chain backlogs. The industry must also rethink its transportation infrastructure and focus on intermodular solutions. Embracing sustainable practices will address the industry's underlying wastefulness and environmental hazards.
What role does sustainability play in shipping efficiency?
Sustainability indirectly makes shipping more efficient by making vessels less reliant on fossil fuels so they can avoid fuel-related delays. Using eco-friendly packaging materials will also prevent delays during the loading process by giving enterprises more options and ensuring they spend minimal time with waste disposal.
How can shipping companies improve communication and collaboration with each other?
Shipping companies can improve these two aspects of their operations by phasing out paper documentation and using strictly online platforms. They can also work together to execute just-in-time inventory management, which eliminates wasteful cargo handling and maximizes the space on each ship.