Imagine stepping off a cruise ship onto the sun-kissed shores of Puerto Progreso, the gateway to the enchanting Yucatan Peninsula. The warm breeze caresses your face, and the excitement of discovering new adventures fills your heart. Shore excursions in Puerto Progreso will show that Progreso is not only a tropical paradise with golden sands and turquoise waters but also a treasure trove of fascinating history, captivating culture, and awe-inspiring natural wonders.
In this article, we'll explore some of the most popular and unique experiences in Puerto Progreso that you shouldn't miss. From ancient Mayan ruins and mystical cenotes to vibrant wildlife encounters and idyllic beach clubs, get ready to embark on a once-in-a-lifetime adventure you'll never forget!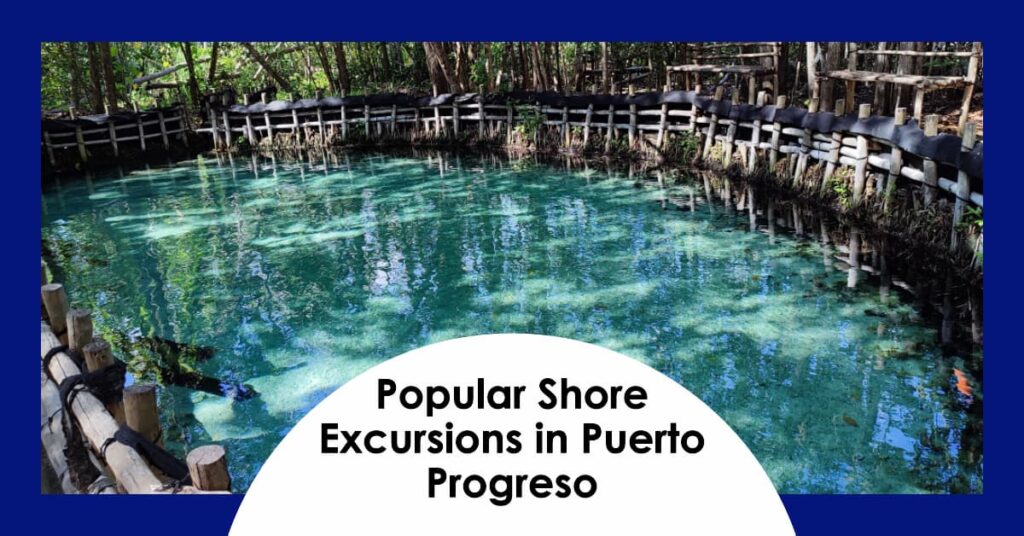 | Shore Excursion | Location/Attraction | Activity Type | Highlights/Features |
| --- | --- | --- | --- |
| Mayan Ruins Exploration | Chichen Itza, Uxmal | History, Culture, Sightseeing | Ancient pyramids, temples, and stunning carvings |
| Cenote Adventures | Cenote Xlacah, Cenote Ik Kil | Swimming, Nature | Unique natural swimming holes, lush surroundings |
| Wildlife Encounters | Celestun, Whale Shark Tours | Wildlife, Eco-tourism | Flamingos, whale sharks, and diverse ecosystems |
| Cultural Immersion | Merida City, Hacienda Tours | History, Culture, Sightseeing | Architecture, museums, and local markets |
| Beach Clubs and Relaxation | Technotel, Silcer, Coco Beach Clubs | Beach, Leisure, Water Sports | Swimming pools, food and drinks, water activities |
Discover the Ancient Mayan Ruins
One of the most popular shore excursions in Puerto Progreso is a visit to the ancient Mayan ruins. The Yucatan Peninsula is rich in history, and a trip to these archaeological sites will leave you in awe of the Mayan civilization.
Chichen Itza
Chichen Itza, one of the New Seven Wonders of the World, is the most famous Mayan site in the Yucatan. Its iconic pyramid, El Castillo, dominates the landscape and leaves a lasting impression on visitors. Besides the pyramid, you can also explore the Great Ball Court, the Temple of the Warriors, and the El Caracol observatory.
Uxmal
Uxmal is another fascinating Mayan site that's well worth a visit. The Pyramid of the Magician, the Nunnery Quadrangle, and the Governor's Palace are just a few of the structures you'll encounter during your tour. The intricate and detailed carvings in the stone buildings tell stories of ancient gods, rulers, and daily life.
Take a Dip in the Cenotes
Cenotes are natural sinkholes filled with crystal-clear freshwater, and they're found throughout the Yucatan Peninsula. These swimming holes were once considered sacred by the Mayans, and today they offer a refreshing break from the heat and a truly unique experience.
Cenote Xlacah
Located at the Dzibilchaltun archaeological site, Cenote Xlacah is a fantastic option for a shore excursion. After exploring the Mayan ruins, you can cool off by taking a dip in the cenote, which is surrounded by lush vegetation and offers a serene atmosphere.
Cenote Ik Kil
Cenote Ik Kil is another popular choice, particularly for those visiting Chichen Itza. This cenote is an impressive sight, with a circular opening at the top that lets sunlight filter through and illuminate the turquoise waters below. The cenote is surrounded by jungle, and visitors can jump or climb down a staircase to swim in the refreshing water.
Get Up Close with Wildlife
Puerto Progreso is home to a variety of unique wildlife species, making it the perfect destination for animal lovers.
Flamingo Watching in Celestun
Celestun, a small fishing village located west of Puerto Progreso, is famous for its large population of flamingos. Hop on a boat tour to witness these elegant pink birds in their natural habitat. The Celestun Biosphere Reserve is also home to other wildlife, including crocodiles, turtles, and a variety of bird species.
Swim with Whale Sharks
During the summer months, you can embark on an unforgettable adventure by swimming with whale sharks. These gentle giants migrate to the waters off the Yucatan Peninsula to feed on plankton, and several tour operators offer the chance to swim alongside them in a safe and respectful manner.
Explore the Local Culture
A visit to Puerto Progreso wouldn't be complete without immersing yourself in the local culture.
Merida City Tour
Merida, the capital of Yucatan, is a charming city rich in history and culture. Stroll along Paseo de Montejo, visit the impressive Merida Cathedral, and explore the colorful markets to get a taste of local life. The city also offers a variety of museums, such as the Gran Museo del Mundo Maya, where you can learn more about the region's fascinating history.
Hacienda Tour
Haciendas are large estates that were once the center of economic and social life in the Yucatan. Today, many have been converted into hotels, museums, and restaurants, but they still offer a glimpse into the region's past. Take a tour of one of these historic estates to learn about the history of the henequen (sisal) industry, which played a significant role in the development of the Yucatan Peninsula. Some popular haciendas to visit include Hacienda Yaxcopoil, Hacienda Sotuta de Peon, and Hacienda Temozon.
Savor the Local Cuisine
No trip to Puerto Progreso would be complete without sampling the delicious local cuisine. Yucatecan food is known for its bold flavors and unique ingredients, and there are plenty of opportunities to enjoy a memorable meal during your shore excursion.
Traditional Yucatecan Dishes
Some must-try dishes include cochinita pibil, a slow-roasted pork dish marinated in achiote and citrus juices; panuchos, fried tortillas filled with black beans and topped with shredded turkey or chicken, pickled onions, and avocado; and sopa de lima, a flavorful chicken and lime soup.
Seafood Delights
Being a coastal town, Puerto Progreso also offers an abundance of fresh seafood. Don't miss the opportunity to try ceviche, a dish made from raw fish marinated in lime juice, or tikin xic, a grilled fish dish seasoned with achiote and other spices.
Relax on the Beach
Finally, no list of popular shore excursions in Puerto Progreso would be complete without mentioning the beautiful beaches that line its coast. After a day of adventure, take some time to unwind on the soft sands and soak up the sun.
Progreso Beach
Progreso Beach is the main beach in town, and it's a great place to relax and enjoy the warm Gulf of Mexico waters. Along the beach, you'll find plenty of restaurants and bars where you can grab a bite to eat or a refreshing drink while taking in the beautiful views.
Chelem Beach
A short drive from Puerto Progreso, Chelem Beach offers a quieter atmosphere for those looking to escape the crowds. With its calm waters and serene setting, it's the perfect spot to unwind and enjoy the natural beauty of the Yucatan Peninsula.
Beach Clubs in Progreso: Sun, Sand, and Fun
A trip to Puerto Progreso wouldn't be complete without visiting one of its fantastic beach clubs. These establishments offer a range of amenities and services to make your beach day even more enjoyable. From comfortable loungers and umbrellas to delicious food and drinks, beach clubs are the perfect way to relax and have fun under the Yucatan sun.
Technotel Beach Club
Technotel Beach Club is a popular choice among visitors looking for a mix of relaxation and entertainment. With a beautiful beachfront location, this club offers a swimming pool, sun loungers, umbrellas, and even a playground for children. Guests can indulge in a variety of food and drink options, including fresh seafood and cold beverages. The club also offers a range of water sports and activities, such as kayaking and paddleboarding, for those seeking adventure.
Silcer Beach Club
Silcer Beach Club is another fantastic option for a day of fun in the sun. This beach club offers a more laid-back atmosphere, making it the perfect place to unwind and enjoy the beautiful views of the Gulf of Mexico. With its clean and well-maintained facilities, Silcer Beach Club provides guests with sun loungers, umbrellas, and a swimming pool. The on-site restaurant serves up delicious local cuisine and refreshing drinks, ensuring you have everything you need for a memorable beach day.
Coco Beach Club
Coco Beach Club is a family-friendly option that caters to visitors of all ages. With a large swimming pool, a splash pad for kids, and plenty of sun loungers and umbrellas, this beach club offers something for everyone. The on-site restaurant serves up tasty dishes, and the well-stocked bar ensures that you won't go thirsty during your visit. Coco Beach Club also offers a range of water sports and activities for those looking to add some excitement to their day.
Beach clubs in Puerto Progreso provide an excellent way to enjoy the beautiful coastal setting while taking advantage of various amenities and services. Whether you're seeking relaxation, entertainment, or a mix of both, these beach clubs offer something for everyone. So, be sure to include a visit to one of Progreso's fantastic beach clubs during your shore excursion for an unforgettable experience.
FAQ about Shore Excursions in Puerto Progreso
Puerto Progreso offers a wealth of exciting shore excursions that cater to a wide range of interests. From exploring ancient Mayan ruins and swimming in magical cenotes to getting up close with wildlife and savoring local cuisine, there's truly something for everyone in this charming destination. So, next time you find yourself in Puerto Progreso, be sure to make the most of your visit by embarking on one or more of these unforgettable adventures. Here are some FAQ:
What are the top historical shore excursions in Puerto Progreso?
Are there any unique water-based shore excursions in Puerto Progreso?
Yes, some unique water-based excursions include swimming in cenotes, such as Cenote Xlacah and Cenote Ik Kil, and swimming with whale sharks during the summer months.
What are the best shore excursions for wildlife lovers in Puerto Progreso?
Wildlife lovers will enjoy flamingo watching in Celestun and swimming with whale sharks in the waters off the Yucatan Peninsula.
What are some recommended beach clubs to visit during a shore excursion in Puerto Progreso?
Technotel Beach Club, Silcer Beach Club, and Coco Beach Club are some popular beach clubs offering amenities like swimming pools, sun loungers, and dining options.
How can I experience the local culture during a shore excursion in Puerto Progreso?
To experience the local culture, visit the city of Merida for its architecture, markets, and museums, or tour historic haciendas to learn about the region's past.