Everyone loves the times of the year when they can relax and venture out on the open road, heading towards their favorite open destinations.
And any boat owner could tell you how much fun it is to load a vessel, pack lots of drinks and snacks, and generally just prepare to have a lovely day on the water with family and friends.
However, the laws surrounding towing a boat using a trailer can be quite difficult to understand – especially if you are a new boat owner that loves to travel.
So, if you plan to maneuver your boat from state to state, it is absolutely essential to abide by and understand official laws and regulations so that you don't pose a risk to yourself or others on the road.
Granted, there is a lot to learn about how to tow a boat. But we're here to help you out! In this article, we'll cover all the most important information for you so that you don't have to fret.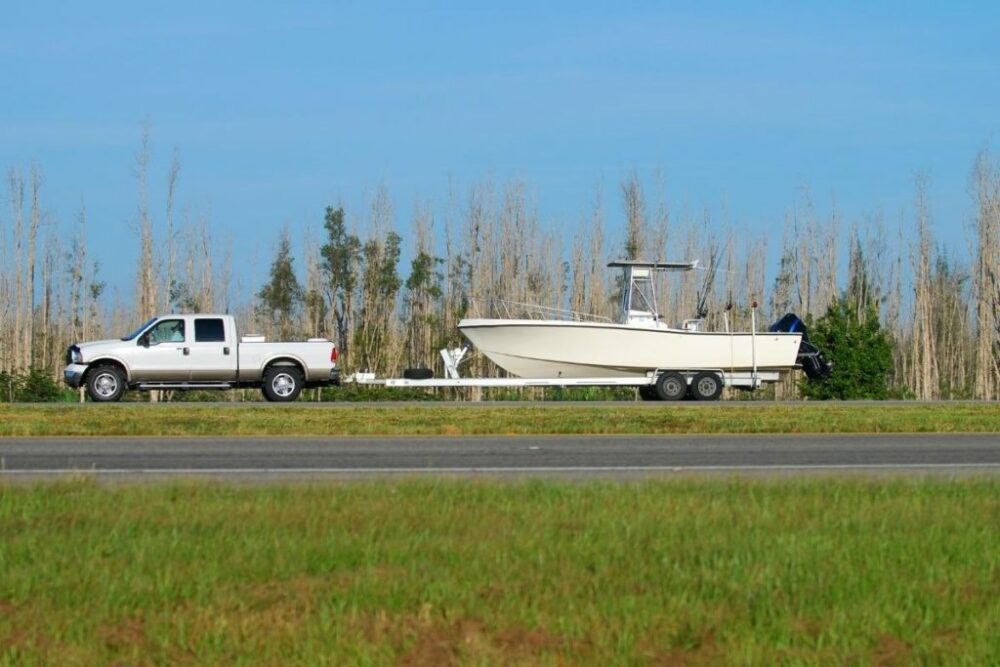 What Is A Boat Trailer?
A boat trailer is a wheeled frame that is manufactured to retrieve, transport, launch, and store boats. When it comes to looking for a new trailer you need to seek out great materials with a high-quality construction to ensure a smooth journey.
As a result, most of these trailers are made from durable materials including tube steel, aluminum I beam, or c channel steel. These do vary depending on the brand and the type of boat trailer.
What Does It Mean To Trailer A Boat?
Trailer boating involves towing a boat on either a truck or a trailer. There are many details to learn in order to successfully tow a boat. You can begin by learning the different truck and boat sizes that are compatible with one another.
This ensures that you have obtained the right documents and any required licenses to trailer and travel with a boat.
Moving a boat from place to place can be quite a difficult process, and there are many instances where you may have to tow your boat using a trailer. We have narrowed down several top scenarios here:
As a boat owner, you may decide to store your boat atop a trailer near your home. If this sounds like you, then it may be a little more inconvenient for you – not to mention also very time consuming – as you will have to tow the boat to a nearby boat ramp each time you want to utilize it.


You may also want to store your boat on top of a trailer located at a storage facility near a body of water, or a marina. This makes it easier on you, the boat owner, meaning all you'll have to do is launch your boat every time you or your loved ones want to use it.


Using a trailer is also popular with individuals who prioritize security for their vessels. You'll probably want to keep your vessel in the water throughout the boating season and then place it on a trailer to store in the off-season.

Though this may be more expensive, it is a highly convenient method of boat storage as you can tie your boat down to prevent others from being able to access it.


You may also be a large fan of traveling, in which case you and your boat will be spending a lot of time on the road. This may mean you are towing your boat between several destinations all through the boating season.

In this case, it's essential to understand how to correctly trailer a boat while preparing for inevitable state restrictions.


Boat trailers are also ideal if you have decided to buy a new boat but need to safely transport it between states for storage (or simply to use it in another area).

Towing your boat along main roads may seem overwhelming but as long as you have the correct documentation and equipment, it is possible to do so!
The Essentials Of Towing A Boat Using A Trailer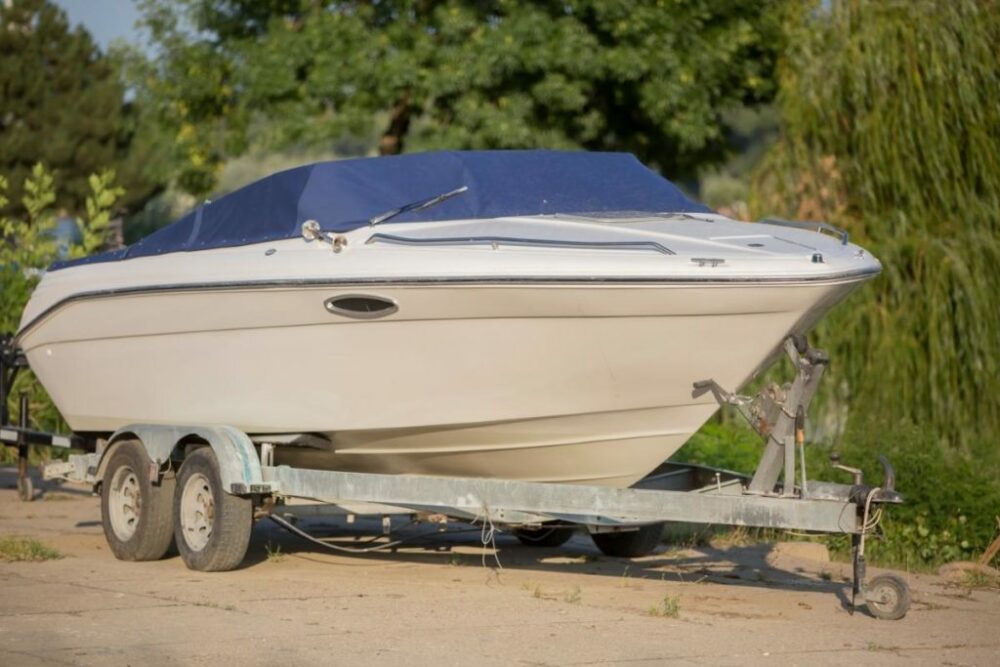 If you want to know more about the legalities of boat trailers then we've got you covered! Below, we have outlined some of the most important information for you to take a look at.
Do You Need A License?
To put it simply, some states have restrictions regarding the overall towing load that can be handled on the road, whereas other states remain liberal.
Despite this, you should keep in mind that you will have to follow set rules when towing that boat on your trailer. If you're unsure about the rules and regulations, you could always research it or discuss the details with the closest state licensing department!
Non-Commercial Towing Licenses
You will need to have obtained a full driver's license to tow any vehicle of substantial weight and size. This includes boats. And, by doing this, you'll have the legal clearance to trailer boats over 750 kg in weight!
You can use a non-commercial class license along with a state permit to trailer the boat in that particular area.
Non-Commercial License (Class A): By obtaining this license, you will have the authority to tow vehicles not exceeding 10,000 lbs. on a truck with a weight that is (or exceeds) 4000lbs.


Non-Commercial License (Class B): You will have obtained the authority to tow vehicles not exceeding 9000 lbs. on a trailer vehicle or a truck with an overall weight that is 4000lbs and above.
Commercial Towing License
A commercial driver's license (CDL) endorsement is a statewide requirement to be able to trailer a boat. This endorsement includes heavier vehicles that have a gross vehicle weight (GVW) average of 10,000 lbs maximum.
This rating varies between states, with stipulated GVW being 10,000 lbs in Alabama, and 26,000 lbs in Alaska.
We'd like to reiterate that each state has different licensing rules for towing a boat behind a truck, so it's important to understand the specific requirements for the state you are travelling in. This means you can prioritize the laws of one state at a time.
How Do You Gain A CDL Endorsement?
It is a simple process that remains similar in all states. You'll be expected to undertake various endorsement tests, each requiring a small fee of around $20 per test. In addition to this small fee, it is also a requirement that you have a valid DMV license and a straight, clean driving record.
You may be interested to know that there is no specified time frame in which you have to take the tests. But we'd strongly suggest preparing yourself for the test and arming yourself with the right kind of knowledge.
It may seem like a lot, but it will be worth the effort in the long run! After you pass, the CDL endorsement will be officially marked on your license.
In addition, you will also need an interstate endorsement on your DMV license for towing in different states which requires you to be 21 years old and over.
The Legalities Of Boat Trailer Width
Laws around using a boat trailer (size and width) differ between states. So if you plan on towing your boat through state lines, it would be wise to plan ahead and know every road you will be travelling so that you can comply with all state laws.
After all, knowing the legal limitations for boat trailers is an important factor in towing your boat!
To put it bluntly, legality demands precision. You don't need a permit for anything under 8.5 feet wide, but it is essential for boats exceeding this width. When towing boats with a wider beam, obtaining a permit for a wide load vehicle may make the experience far more difficult than it needs to be.
Though this is true, some individual boat owners have been known to get away with towing boats with wider-than-8.5 ft. beams on the road without a permit.
How Big Of A Boat Can You Trailer?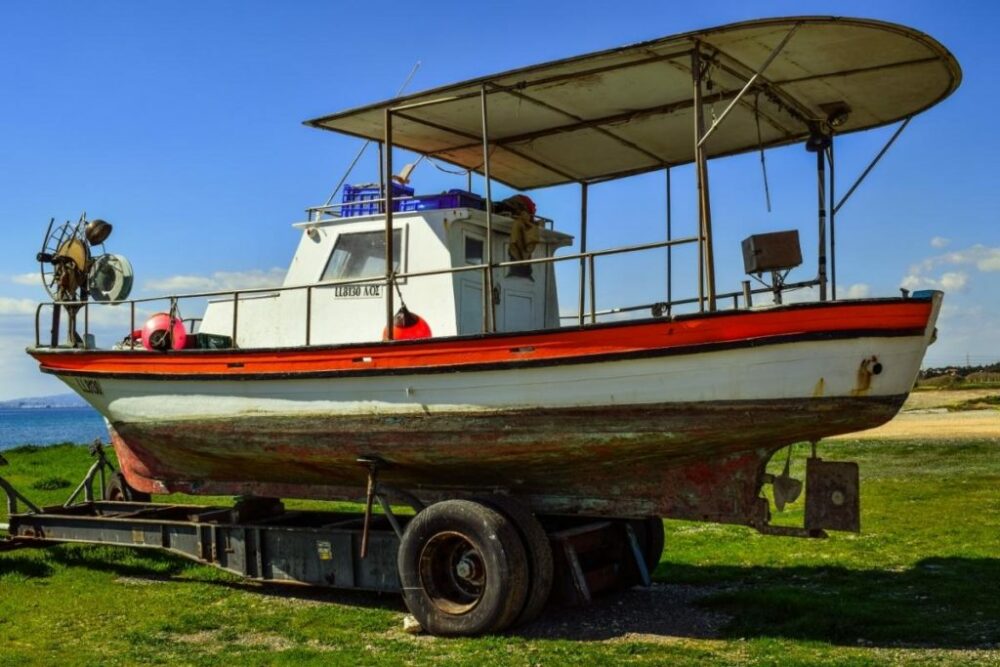 Width
As we have mentioned, the beam of the boat must have a width of 8 feet five inches (8'5″) wide or less to be used with a boat trailer. This rule applies to multiple states. But the overall answer to this question depends on many other factors.
This includes the terrain on which you will be towing your boat, the weight of the vehicle, and the level of the desired comfort. When thinking about the vehicle weight, the Gross Combined Vehicle Weight (GCWR) is an essential figure.
This figure is inclusive of the overall combined weight of the vehicle including an attached trailer, cargo in the tow vehicle and trailer, and the weight of all passengers.
Overall, the wider the boat, the more expenses you might encounter regarding permits and additional towing accessories.
It is not impossible to tow a 10-foot wide and 30-foot long cruiser, but you may encounter challenges revolving around budget (especially if you have to replace parts), travelling time, and general wear and tear of the vehicle and boat.
Wider boats also require a longer driving time on the road, meaning you need to be extremely patient if towing a larger vessel on a boat trailer.
Average Overall Weight
If you want to tow a boat, you'll need to have an understanding of the smaller details of a vessel. In fact, the combined weight of your vessel and tow vehicle is one of the most important factors that you absolutely need to know.
Though the average weight of a boat (with a trailer) is approximately 3700 pounds, it does vary according to different factors.
For example, you can consider the original size of the boat against its storage capacity, or even how much fuel is in the vessel. Fuel can weigh approximately 6.3 pounds per gallon, meaning it might be a wise idea to consider the weight of a full tank to the weight of your total setup to practice safe towing using a boat trailer.
After all, if you know how much you are towing, you will be able to adapt accordingly. This means that if you have to push the brakes of the tow vehicle a little harshly, then you will have more of an idea of how much pressure to apply to the brakes without having to worry yourself.
Plus, with the right accessories for towing and a durable tow hitch, there truly is no limit to the size of a boat you can tow. However, your vehicle must be up for the task!
Maximum Boat Height And Length
All states have their own maximum boat height. Michigan, for example, has one of the sternest restrictions with average boat height hovering around 12 ½ ft. But in other states, the maximum boat height may average around 13-14 ft.
You also need to consider the maximum overall length of your boat which includes the vessel itself, the trailer, and the actual vehicle towing it. Again, this varies depending on the state you are in. Mississippi, for instance, allows for a maximum length of 53 ft, while other states allow up to 75 ft.
Interstate Boat Trailer
The size limit of boats tends to vary between states. When towing a boat across multiple states, you must adhere to the different regulations presented by each area to avoid legal issues. Width stipulations may also include trailer guide post lengths.
In nearly all states the maximum width to tow sans permit is 8.5 ft. The exceptions are New York, New Jersey, and Hawaii – all bearing a limit of 8 ft. States like North Carolina have wider legal towing limits meaning you have the ability to tow 10ft wide boats without a permit!
It is also necessary to obtain this kind of boat trailer permit if you intend to travel via a state with narrower width restrictions than you are used to. These regulations have been put in place to enhance the safety of you and other drivers on the road.
This is because loads that are over 10 ft wide would take up more space on the road, limiting room for other drivers.
Can You Ride In A Boat Being Towed?
If you're looking for an exact answer – no, you cannot ride in a boat being towed. Not only is it unsafe, but it is also illegal! The law states that you cannot hitch a ride in any vehicle being towed, including boats.
The only exemptions include emergency situations or when the towing is being done at speeds below 15mph. However, in this case, the passenger must be 18 years of age or older. Generally, this rule helps to prevent imminent danger to personal safety when towing a boat using a trailer, regardless of its size.
Is It Difficult To Trailer A Larger Boat?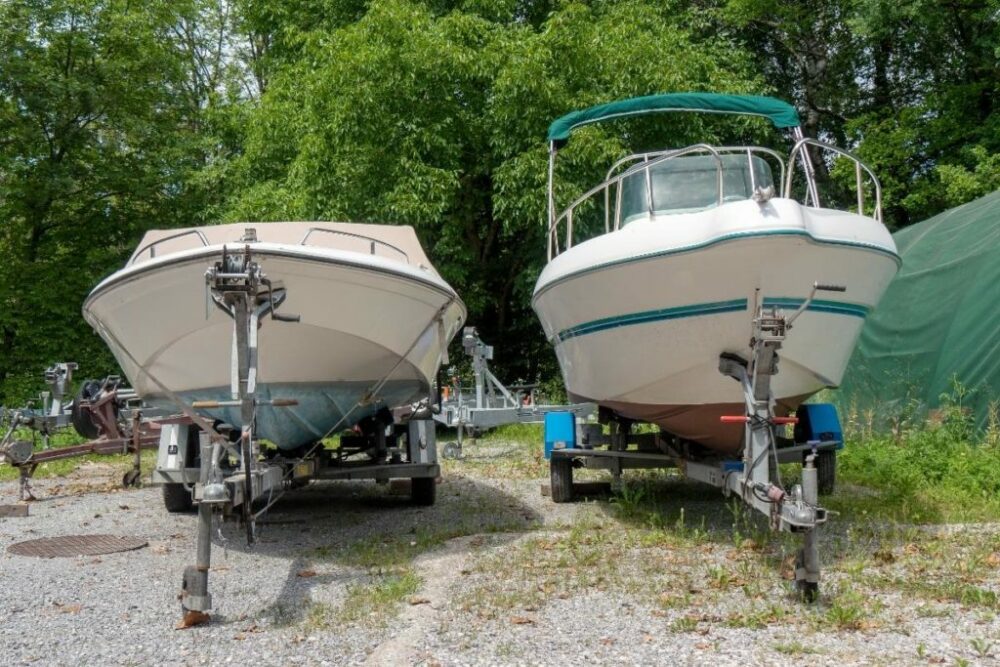 Yes, it is. Despite how easy it may look, towing a boat requires expert driving skills and is not an easy undertaking. Firstly, no matter the weather conditions, the trailer will sway when you switch between lanes because of the excess weight. Therefore, having the ability to remain in control is imperative!
Simple tasks such as braking, parking, navigating and reversing are made far more difficult with larger boats due to limited visibility and the sheer weight of the attached vessel.
How Long Can A Boat Be On The Road?
Exploring the legal lengths of boats and trailers while on the road is something that shouldn't be avoided. Although there isn't a specific figure, the maximum length for a boat while using a boat trailer adheres to a similar set of rules to that of the width.
To remain on the safe side, you should still check specific requirements surrounding this issue so that you are abiding by all legalities while driving around certain states.
Most states allow up to 40 feet (approximately 12.2 meters) or more, but some states including North Carolina can be quite strict with this rule. In this instance, boat length is capped at 35 feet (approximately 10.7 meters).
Legal Stipulations And Considerations
Towing a boat is quite the task, and can pose many potential hazards to yourself and other drivers if done incorrectly. So if you're thinking about towing your boat across state lines, or simply to another part of town, it's a good idea to read up about all legalities.
In addition to making sure your boat remains within the legal width and length measurements of your chosen state, you'll want to consider a few other things when preparing to haul your boat. Some of these include:
Inspection And Braking
Before towing your vessel, you will need to undertake a thorough safety inspection to ensure that it is suitable to be towed. In this instance, it's a great idea to consider your breaks.
Abrupt braking is even more difficult when you're towing a vessel weighing hundreds of pounds behind your car, and can cause many risks to your safety. Many states require the use of specially-made trailer brakes while hauling something that weighs more than a particular threshold, usually averaging around 1500 pounds.
Ensuring Visibility
When towing a boat using a trailer, you will need to be better equipped in terms of lights. Simply having taillights and headlights will not be sufficient. Instead, you will need to do the following:
Purchase and install a light that will illuminate the license plate of your trailer
Working brake lights located on your trailer
Ensure that reflectors and turn signals are up to par
You will also need to work with the side view mirror of your vehicle. This is because the bow of your boat will cause obstruction to your rear view.
Trailer Tongue
The weight of the trailer tongue should make up about 15 % of the boat. If it doesn't, then you may find that there is a large amount of swaying when towing your boat. In this case, it's wise to stop the towing vehicle and adjust your load accordingly.
Trailer Load
To prevent swaying from occurring, you need to create balance. You should make it a priority to ensure that your boat sits square and level on the trailer. And, if a strong gust of wind contributes to the swaying, you could simply try to reduce your speed.
In this situation, however, it's vital that you don't press the brake! Slowing down will help you to gain more control over your vehicle, and will reduce the risk of anything bad happening to you and other drivers on the road.
To increase your control and avoid obstructions when towing your boat along the highway, it also makes sense to make full turns.
Driving Distance
Regardless of the size of the boat you are towing, allowing sufficient room between your truck and the car in front of you is a great idea. This is because it is a heavy load, meaning that you will likely need a larger braking distance.
Practice
Before you prepare to trailer your boat, we'd strongly advise getting in some practice on an open field. This will give you the opportunity to practice maneuvers you may need to make on the road so that you know what to expect if something occurs. It may also help you to feel more comfortable with the overall driving process.
Conclusion
Overall, it is possible to trailer boats of varying sizes. In many states you will need a permit for boats that are over 8.5 ft wide – Additionally, some states will allow a maximum boat length of 53 ft, while other states may make exceptions for up to 75 ft.
These figures depend entirely on the narrowness of the roads in the state you are planning on visiting, alongside other laws that have been put in place in that area. As long as the state you are travelling in has room for your vessel, and you have the correct permits and documentation to go alongside it, you should be good to go!