Who isn't intrigued by the promise of a cruise? The serenity of the sea, the allure of distant horizons, and the grandeur of splendid ships create an experience like no other.
In this comprehensive guide, we will navigate the splendid seascape of the top 10 best cruise line companies, giving you a compass to the perfect vacation.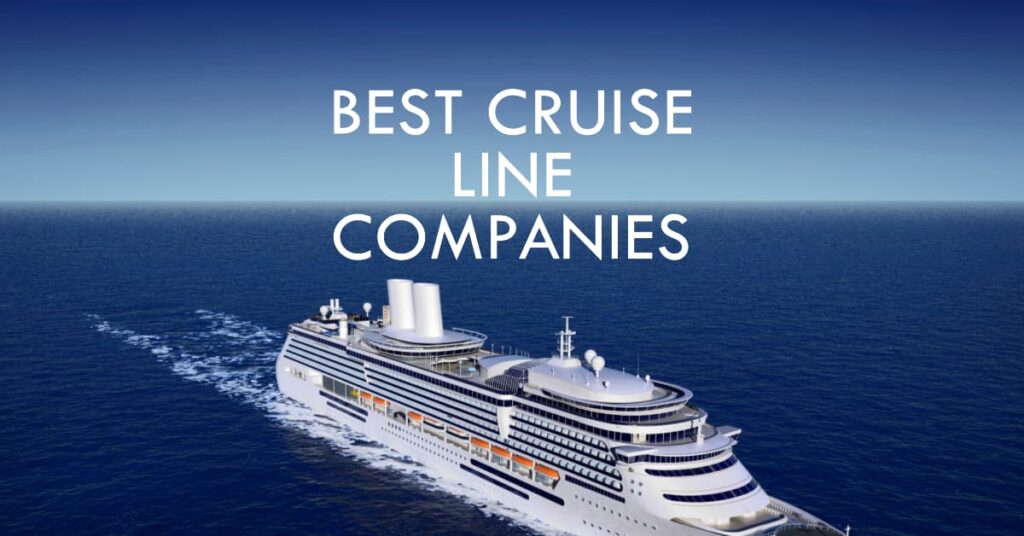 What Makes a Cruise Line Great?
Before we delve into our top 10 list, let's chart our course. What are the components that elevate a cruise line from good to great?
The facets that set the best cruise lines apart encompass a wide range of elements, from the size and luxury of the ships to the variety of destinations, the quality of the onboard entertainment, the dining experiences, and of course, the level of service.
| Cruise Line | Standout Feature |
| --- | --- |
| Royal Caribbean | Innovative Onboard Activities |
| Viking Cruises | Luxury and Cultural Immersion |
| Princess Cruises | Balance of Tradition and Innovation |
| Celebrity Cruises | Modern Luxury |
| Disney Cruise Line | Disney Magic |
| Norwegian Cruise Line | Freestyle Cruising |
| Holland America Line | Timeless Elegance |
| Carnival Cruise Line | Fun for Families |
| Crystal Cruises | Small-Ship Luxury |
| Seabourn Cruise Line | Intimate Luxury |
1. Royal Caribbean International: A Voyage Fit for Royalty
Diving deeper into the details, Royal Caribbean International consistently outdoes itself in offering unforgettable sea journeys. Widely known for its innovative fleet, this cruise line truly embodies the saying, "the ship is the destination." With a versatile range of ships, from the relatively small and charming Empress of the Seas to the groundbreaking Oasis Class giants, there's a vessel for every style of traveler.
In particular, the Oasis Class ships, including Oasis of the Seas, Allure of the Seas, Harmony of the Seas, and Symphony of the Seas, are nothing short of floating cities. Wonder of the Seas, currently the largest cruise ship in the world, is a testament to Royal Caribbean's boundary-pushing ethos. With a gross tonnage of 236,000 and a capacity of over 6,000 passengers at maximum occupancy, Wonder of the Seas offers a dizzying array of features that make it a destination in itself.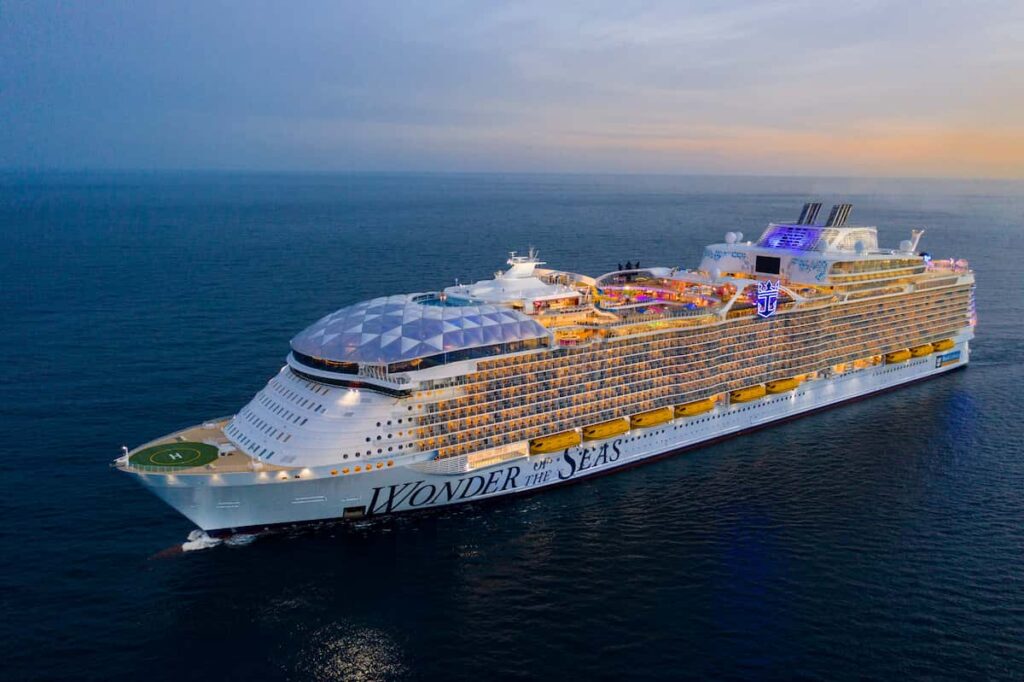 Recently the biggest cruise ship Symphony of the Seas is this marvel of maritime engineering houses seven distinct "neighborhoods," each boasting its unique character and experiences. From the verdant Central Park, filled with over 20,000 living plants, to the bustling Boardwalk, inspired by nostalgic seaside piers, the diversity is staggering.
The thrilling onboard amenities of Symphony of the Seas include the 10-story Ultimate Abyss slide – the tallest at sea, twin FlowRider surf simulators, a zipline that traverses nine decks, and a full-size basketball court. It also features the iconic AquaTheater, showcasing jaw-dropping high diving and acrobatics shows, and the Royal Theater, home to full-scale Broadway productions.
For food lovers, Symphony offers more than 20 dining options, including the unique 'Wonderland' which presents a whimsical approach to cuisine with a menu inspired by molecular gastronomy. On the luxury end, there's the 'Coastal Kitchen', exclusive to suite guests, which offers a fusion of Mediterranean influences and California's farm-fresh flavors.
For accommodations, Symphony boasts a wide range, from interior staterooms with 'virtual balconies' providing real-time sea views, to the luxurious two-level Ultimate Family Suite, complete with a slide from the kids-only bedroom down to the living area, a private 3D cinema, a floor-to-ceiling LEGO wall, and a balcony whirlpool.
Overall, Royal Caribbean's commitment to innovation, coupled with a high standard of service and a wide array of global itineraries, sets the bar for contemporary cruising. This voyage truly fits those who seek an eclectic mix of adventures and relaxation, as it crafts the perfect blend of experiences that capture the magic of travel by sea.
Stepping into the world of Viking Cruises is akin to embarking on a voyage of discovery. This cruise line has made a name for itself with its meticulously curated experiences, bringing travelers closer to the culture, history, and natural beauty of their chosen destinations.
Originally gaining recognition for its river cruises, Viking has since ventured into ocean cruising, earning numerous accolades for its exceptional service, sophisticated design, and destination-focused itineraries. The Viking Ocean Cruises fleet consists of relatively small, nearly identical ships that host just 930 passengers, a feature that fosters an intimate, relaxed atmosphere and allows for docking in ports that larger ships cannot access.
Each Viking ship, regardless of its itinerary, offers an array of luxuriously comfortable staterooms, a spa featuring the traditional Nordic bathing ritual, several high-quality dining venues, and ample spaces for relaxation and enjoyment. Yet, what truly sets Viking Cruises apart is the in-depth exploration of the destinations they serve.
The cruise line offers itineraries to an impressive array of destinations around the world. In Europe, passengers can traverse the romantic waterways of the Rhine, Danube, and Seine or marvel at the spectacular fjords of Scandinavia. Those with a taste for exotic locales might set their sights on the timeless landscapes of Egypt's Nile River or the vibrant cultures of Southeast Asia along the Mekong.
For ocean cruises, Viking offers itineraries encompassing the Mediterranean, Northern Europe, the Caribbean, Asia, Australia, and even full world cruises. In the Mediterranean, explore ancient civilizations with stops in Rome, Athens, and Jerusalem. In Northern Europe, visit the breathtaking Norwegian fjords, the imperial splendors of Russia, and the enchanting Baltic capitals. In the Caribbean, relax on pristine beaches and immerse yourself in the rich history of colonial ports.
What truly distinguishes Viking Cruises, though, is its emphasis on "destination immersion." This commitment to authentic exploration means longer stays in port, enriching cultural experiences, and onboard lectures that provide fascinating insights into the history, art, and cuisine of the destinations visited.
Moreover, each ocean cruise itinerary includes at least one complimentary shore excursion in each port, ensuring guests have ample opportunities to immerse themselves in the local culture. From intimate wine tastings in French chateaux to guided tours of UNESCO World Heritage Sites, these excursions add an unmatched depth to the cruising experience.
Viking Cruises, in essence, provides an enriching, destination-focused voyage that genuinely brings the world closer to you. It's not just about the places you visit but also about how the profound experiences and insights you gain along the way stir your soul. It's a journey that goes beyond conventional sightseeing, inviting you to immerse yourself in the traditions, cuisine, and stories that shape each unique region.
3. Princess Cruises: A Fairytale Adventure
Princess Cruises, with its signature logo of a majestic sea witch, carries a reputation that resonates with both seasoned and first-time cruisers. Striking the perfect balance between traditional cruising and innovative enhancements, this cruise line caters to a wide demographic, ranging from families to retirees.
One of the defining features of Princess Cruises is the impressive variety of their fleet. The line operates a mix of ships, from the smaller, more intimate vessels like the Pacific Princess, which carries just 670 passengers, to the larger Royal-class ships, such as the Royal Princess, Regal Princess, Majestic Princess, and the brand new Enchanted Princess, each accommodating more than 3,500 passengers.
One of the more unique offerings from Princess is the MedallionClass experience, available on an increasing number of their ships. This advanced technology, encapsulated in the wearable OceanMedallion, streamlines numerous aspects of the cruise experience. It provides expedited boarding, touchless stateroom entry, on-demand food and beverage delivery, easy navigation around the ship, and more. It's an example of how Princess Cruises skillfully marries tradition with innovation to enhance their passengers' experience.
While sailing to over 380 destinations worldwide, including the Caribbean, Alaska, Europe, Mexico, South America, Australia/New Zealand, the South Pacific, Hawaii, Asia, Canada/New England, Antarctica, and World Cruises, Princess Cruises enhances the cruise experience with its award-winning shore excursions. These carefully curated tours cater to a wide array of interests, whether you are a thrill-seeker, a food enthusiast, or a history buff.
Onboard, Princess Cruises excels at offering a rich tapestry of experiences. They pioneered the concept of "Movies Under the Stars," with their poolside outdoor theater showing latest-release movies, concerts, and even major sporting events. Princess also offers Discovery at SEA programs, in partnership with Discovery Channel, offering enriching experiences like stargazing, exclusive Discovery and Animal Planet shore excursions, and various onboard activities related to Discovery hit shows.
Dining on a Princess ship is an experience in itself, with a range of options from casual eateries to specialty restaurants. Collaborating with notable chefs like Curtis Stone and Ernesto Uchimura, the cruise line ensures a gourmet dining experience for its passengers. The line's Chef's Table Experience, where diners can enjoy a galley tour and a multi-course meal prepared by the ship's executive chef, is a particular highlight.
Princess Cruises creates an environment that feels both comfortably familiar and distinctly innovative. Its deep commitment to customer service, array of entertainment options, wide range of itineraries, and diverse dining experiences have cemented its place as a favorite among many cruisers. In essence, a journey with Princess Cruises is more than a holiday – it's a fairytale adventure on the high seas.
4. Celebrity Cruises: The Star Treatment
Celebrity Cruises stands out in the crowded sea of cruise lines by offering what they term as "modern luxury." Combining the best of both worlds – the excitement and adventure of a cruise voyage, and the comfort and amenities of a luxury vacation – Celebrity Cruises promises a cruising experience that's every bit as dazzling as its name implies.
The fleet of Celebrity Cruises is known for its sleek, modern design and outstanding level of service. The brand has been on an innovative streak with the introduction of the Edge Series ships – Celebrity Edge and Celebrity Apex – that have taken cruising design and experience to a whole new level. The most distinct feature is the 'Magic Carpet,' an impressive movable deck that serves various functions, from a specialty restaurant to a disembarkation platform.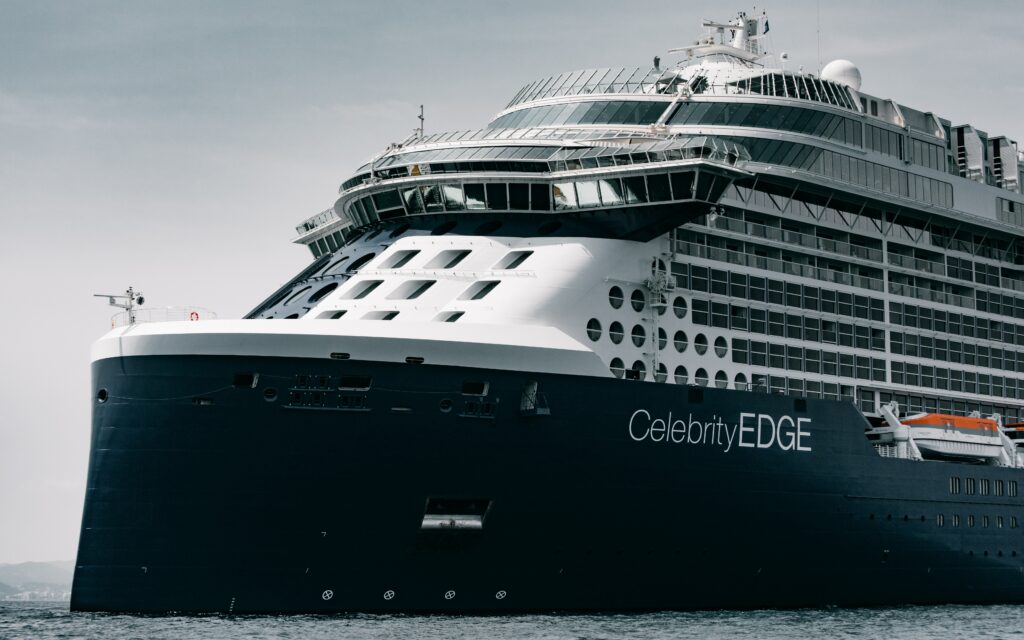 The onboard experience with Celebrity Cruises is top-notch, featuring a variety of entertainment and activities. Whether you wish to indulge in the sensory pleasures of a spa treatment at the Canyon Ranch SpaClub, or you prefer to challenge yourself at a fitness class, there's always something to keep you engaged. The line's partnership with American Ballet Theatre and production company Black Skull Creative further ensures world-class entertainment onboard.
A highlight of Celebrity Cruises is the exceptional culinary scene. They offer up to a dozen dining options on their ships, ranging from the main dining room to various specialty restaurants. For instance, Le Petit Chef at Qsine offers a fusion of entertainment and dining with its unique 3D table animation. Luminae, exclusive to suite guests, provides an exquisite menu crafted by a Michelin-starred chef.
The cruise line prides itself on its wine program, boasting one of the largest selections at sea and a team of sommeliers to provide expert advice. They've also collaborated with mixologists from around the world to enhance their onboard cocktail offerings.
Celebrity Cruises sails to over 300 destinations worldwide, including the Caribbean, Europe, Alaska, Asia, Australia, New Zealand, Canada, South America, and the Galapagos Islands. Their unique "Celebrity City Stay" vacation packages offer multi-night stays in the embarkation city prior to the cruise, allowing passengers to explore the city at a leisurely pace.
In the Galapagos, Celebrity Cruises offers a unique experience with their custom-built expedition ships, Celebrity Xpedition, Celebrity Xploration, Celebrity Xperience, and the new Celebrity Flora, the first ship built specifically for the Galapagos. These cruises, complying with strict ecological regulations, allow guests to explore this unique archipelago renowned for its biodiversity.
A journey with Celebrity Cruises is one that caters to your senses and preferences in every possible way. The line's dedication to providing an enriched voyage with a focus on destination immersion, culinary exploration, and intuitive service, makes Celebrity Cruises a star-studded voyage like none other.
5. Disney Cruise Line: Magic on the Seas
Disney Cruise Line transports its guests into a world where dreams come true and fairy tales become reality. Synonymous with family-friendly entertainment and unmatched service, Disney Cruise Line guarantees a unique and magical voyage filled with wonder and delight.
Disney's fleet comprises four ships – Disney Magic, Disney Wonder, Disney Dream, and Disney Fantasy. Each ship is meticulously designed to encapsulate the charm and adventure of Disney, with the company's signature attention to detail evident in every corner. The line is also expanding, with three new vessels, Disney Wish, Disney Spellbound, and Disney Enchantment, expected to launch in the coming years.
Disney Cruise Line stands out from other cruise lines primarily because of its immersive Disney-themed experience. The ships' interiors are adorned with art deco and art nouveau styles that reflect the golden age of cruising, while Disney's beloved characters, including Mickey Mouse, Cinderella, and Captain Marvel, roam the ship to meet and greet guests.
Onboard entertainment is where Disney truly shines. From Broadway-style Disney musicals and first-run Disney movies, some even in 3D, to deck parties and fireworks at sea, entertainment is at the heart of a Disney Cruise Line experience. Their themed cruises, like Halloween on the High Seas and Very Merrytime Cruises, add extra magic to the voyage.
For the younger guests, Disney Cruise Line offers age-specific clubs loaded with Disney-themed activities. The Oceaneer Club for kids, Edge for tweens, and Vibe for teenagers are filled with games, crafts, and Disney characters. For adults, Disney provides exclusive areas including adult-only pools, nightclubs, and spas, ensuring the cruise is enjoyable for all ages.
Dining aboard a Disney cruise ship is another memorable experience, featuring a unique rotational dining system where guests and their serving team rotate to a different dining room each night, each with its unique theme and menu. From Animator's Palate, where the dining room colorfully comes to life throughout the meal, to Rapunzel's Royal Table, which immerses guests in the world of the beloved princess, dining on a Disney ship is an experience in itself.
Disney Cruise Line offers itineraries to the Caribbean, Alaska, Europe, the Bahamas, and more. A standout destination is Disney's private island in the Bahamas, Castaway Cay, exclusively accessible to Disney Cruise Line guests. This island paradise offers pristine beaches, outdoor adventure activities, and even a private BBQ lunch.
A Disney cruise offers more than just a vacation; it delivers a journey filled with fantasy and adventure. With its unique blend of enchanting storytelling, beloved characters, and world-class service, Disney Cruise Line crafts an unforgettable voyage that leaves guests, both young and young at heart, with memories that will last a lifetime.
6. Norwegian Cruise Line: Freedom and Flexibility
Known for its innovative approach to cruising, Norwegian Cruise Line (NCL) has a clear message for all who step aboard its ships: "Feel Free." This mantra is reflective of the cruise line's dedication to providing a relaxed, resort-style cruise vacation with ample flexibility and freedom of choice.
NCL's fleet is made up of a diverse range of ships, each with its unique charm and appeal. The largest and most innovative among them are those in the Breakaway Plus class, which includes the Norwegian Escape, Norwegian Joy, Norwegian Bliss, and the flagship, Norwegian Encore. These ships have a capacity of nearly 4,000 passengers and are equipped with exciting features such as go-kart race tracks and virtual reality complexes, which are sure to keep guests of all ages entertained.
Norwegian Cruise Line was a pioneer in introducing the concept of "Freestyle Cruising," which disrupted traditional cruise dining norms. Gone are the days of fixed dining times and pre-assigned seating. With NCL, guests can dine when they wish, where they wish, and with whom they wish. They offer up to 30 dining options on their newest ships, ranging from main dining rooms to specialty restaurants offering international cuisines, including French, Italian, Asian, Brazilian, and more.
Entertainment aboard Norwegian ships is varied and of high caliber. Guests can enjoy Broadway-style productions, including the likes of "Rock of Ages," "Priscilla, Queen of the Desert," and "Kinky Boots." For music lovers, themed cruises like The Beatles-inspired "The Cavern Club" and "The Choir of Man" are sure to impress.
Norwegian Cruise Line sails to over 300 destinations around the world, with a wide array of itineraries spanning the Caribbean, Bahamas, Europe, Alaska, Bermuda, Hawaii, South America, Asia, and more. They also have a private island in the Bahamas, Great Stirrup Cay, providing an exclusive beach retreat to their Caribbean and Bahamas cruise guests.
One unique aspect of NCL's itineraries is their Overnight Stay and Extra Night Ashore offerings. These extended stays allow guests to experience the nightlife of select ports like Havana, Reykjavik, St. Petersburg, and more, further enhancing the destination's immersion.
Additionally, Norwegian Cruise Line caters to solo travelers with their award-winning Studio cabins designed and priced for the solo cruiser. They also offer a Studio Lounge, a shared private lounge for Studio guests to meet and socialize.
With a strong commitment to guest freedom and choice, Norwegian Cruise Line provides a relaxed and exciting cruise experience, from its dining and entertainment to its diverse range of itineraries. A journey with NCL is less about formality and more about personalizing your holiday to suit your style and pace, making it a voyage truly tailored to your desires.
7. Holland America Line: A Timeless Journey
Holland America Line boasts a proud and rich history of ocean travel, dating back to the late 19th century. This blend of deep-rooted maritime tradition with innovative and modern enhancements sets Holland America apart in the cruising industry. They offer a cruise experience that embraces both classic elegance and contemporary comfort.
Holland America's fleet is made up of 11 mid-sized ships, offering a more intimate and spacious feel compared to larger mega-ships. Their newest ships, the Pinnacle Class ships MS Koningsdam and MS Nieuw Statendam, along with the upcoming MS Ryndam, bring a fresh perspective to Holland America's historic legacy. The sophisticated design of these ships, coupled with modern amenities and innovations, makes them jewels in Holland America's crown.
Onboard experiences with Holland America are a blend of engaging activities and relaxing pursuits. They've introduced Music Walk, a collection of live music experiences across various venues on their ships. This includes B.B. King's Blues Club, Lincoln Center Stage offering chamber music, Billboard Onboard, and the Rolling Stone Rock Room, each catering to different musical tastes.
Holland America is also renowned for its culinary offerings, boasting a partnership with a council of world-renowned chefs. Dining options range from the elegant main dining room to a variety of specialty restaurants like Pinnacle Grill, Tamarind for pan-Asian flavors, and Canaletto for Italian cuisine. They also have cooking shows and workshops in partnership with America's Test Kitchen for the culinary enthusiast.
Cruising with Holland America means sailing to a wide array of destinations around the world, from the azure waters of the Caribbean and the scenic vistas of Alaska to the rich cultures of Europe and the enchanting landscapes of Asia, Australia, and New Zealand. Holland America is particularly known for its extensive Alaska itineraries, often combined with land-based tours to provide a comprehensive exploration of the region.
Their Explorations Central (EXC) program enhances the destination experience, providing onboard and shoreside activities that immerse guests in the culture, history, and cuisine of the destinations they visit. This could be through insightful talks, hands-on workshops, or guided tours that delve into the heart of the local culture.
Holland America Line, with its commitment to timeless elegance, extensive global itineraries, enriching onboard experiences, and world-class dining, offers a cruise experience that gracefully brings together the charm of tradition and the allure of innovation. Whether you're a first-time cruiser or a seasoned sailor, Holland America delivers a voyage that goes beyond the standard cruise vacation, turning it into an unforgettable journey of discovery.
8. Carnival Cruise Line: The Fun Ships
Carnival Cruise Line, also known as "The World's Most Popular Cruise Line," stands as a testament to their unwavering commitment to fun, affordable, and value-packed cruising. Boasting an impressive fleet of 24 "Fun Ships", Carnival delivers vacations that are brimming with laughter, adventure, and unforgettable memories.
The fleet of Carnival Cruise Line is diverse, with vessels of varying sizes and features. Among the fleet's stars is the Mardi Gras, the first in Carnival's Excellence-class and the largest in their fleet. This ship brought a new wave of innovation with features like the first roller coaster at sea, BOLT, and six themed zones packed with new experiences and dining options.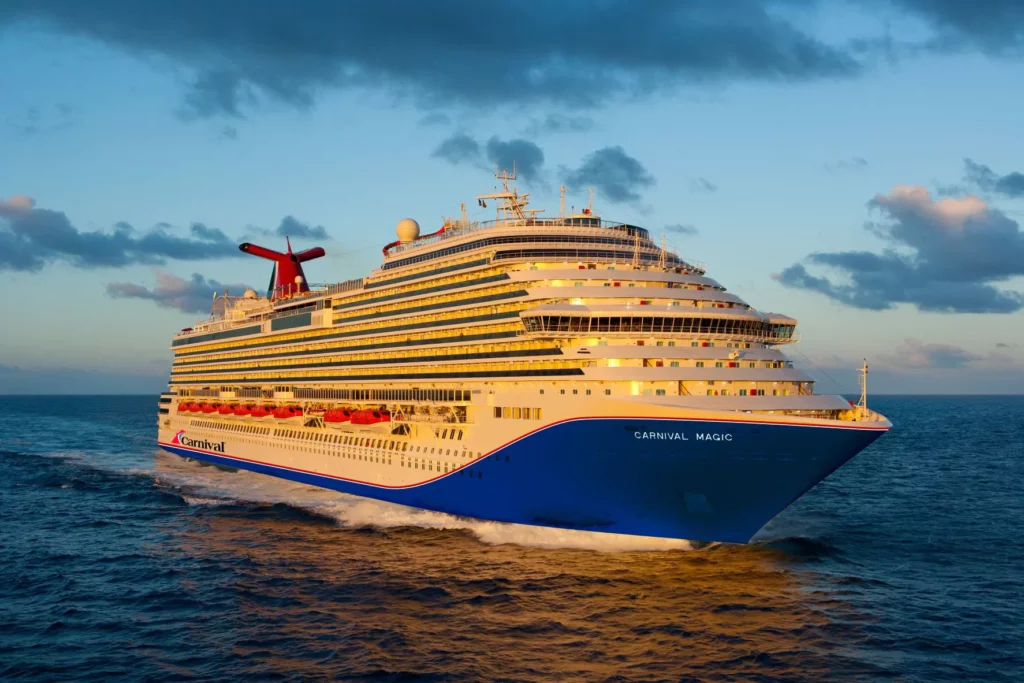 Carnival Cruise Line has built a reputation on its casual, laid-back ambiance and a plethora of activities that cater to all age groups. From thrilling waterslides and ropes courses at their WaterWorks and SportSquare, to comedy shows at The Punchliner Comedy Club and Playlist Productions' high-energy musical shows, Carnival ensures that there's never a dull moment.
When it comes to dining, Carnival delivers a wide variety of culinary choices. From the classic American-style dishes at the main dining room to the international cuisines at the specialty restaurants, including Italian at Cucina del Capitano, Japanese at Bonsai Sushi, and seafood at the Seafood Shack, there's a dining option for every palate. And let's not forget Guy's Burger Joint and Guy's Pig & Anchor Bar-B-Que, created in partnership with Food Network personality Guy Fieri.
Carnival Cruise Line sails to a broad range of sunny destinations, including the Caribbean, Bahamas, Mexico, Alaska, Hawaii, and even Panama Canal. Their private island destinations, Half Moon Cay and Princess Cays in the Bahamas, offer an exclusive beach day to their guests, complete with water sports, excursions, and a beachside BBQ.
A noteworthy feature of Carnival Cruise Line is their commitment to sustainability and environmental conservation. They've adopted green technology like Advanced Air Quality Systems, comprehensive recycling programs, and energy conservation practices.
Carnival also prioritizes social impact with programs like Carnival Foundation and partnerships with organizations like St. Jude Children's Research Hospital, highlighting their commitment to community service and giving back.
In essence, a voyage with Carnival Cruise Line is a journey where fun and value walk hand in hand. Their dedication to ensuring each guest has a memorable and joyful cruise vacation, coupled with their commitment to environmental and social responsibility, indeed makes Carnival Cruise Line a popular choice for families, first-time cruisers, and budget-conscious travelers alike.
9. Crystal Cruises: Crystalline Elegance
Crystal Cruises stands at the pinnacle of luxury cruising, known for its commitment to delivering unparalleled service, space, quality, and choices to its guests. With a fleet that includes ocean ships, river yachts, expedition vessels, and an upcoming luxury yacht, Crystal Cruises offers a diverse range of voyages, each carrying the line's signature touch of elegance and sophistication.
The ocean-going vessels of Crystal Cruises, Crystal Serenity, and Crystal Symphony, provide a boutique-hotel feel, featuring spacious staterooms, a high staff-to-guest ratio, and world-class amenities. Crystal's upcoming luxury yacht, Crystal Endeavor, further raises the bar of opulence, featuring all-verandah, butler-serviced suites, and a nearly one-to-one crew-to-guest ratio.
One distinctive feature of Crystal Cruises is its commitment to culinary excellence. The dining experience onboard Crystal ships is one of variety and fine quality, from the globally-inspired menus in the main dining room to the exquisite specialties at Nobu Matsuhisa's only sea-going restaurants. Complementing these are an array of other dining venues, including Italian at Prego, family-style dining at Churrascaria, and comfort-food favorites at Trident Grill.
Entertainment on Crystal Cruises is as diverse and refined as its dining. Guests can enjoy Broadway-style productions in the grand show lounges, try their luck at the onboard casino, or dance the night away in the ship's nightclub. For intellectual stimulation, Crystal's Creative Learning Institute offers enrichment classes and lectures on various subjects, including wellness, art, technology, and more.
Crystal Cruises' itineraries span the globe, sailing to destinations as varied as the sun-soaked Caribbean, the majestic Alaska, the vibrant cultures of Europe, and even full World Cruises. Their shore excursions are thoughtfully curated to provide immersive experiences, allowing guests to dive into the local culture, history, and natural beauty of each port of call.
Crystal's River Cruises and Yacht Expeditions offer more intimate and destination-focused voyages. Their river yachts sail through Europe's most beautiful waterways, while Crystal Esprit, their luxury yacht, and Crystal Endeavor, their expedition ship, take guests on adventurous itineraries to off-the-beaten-path destinations and remote locales.
Moreover, Crystal Cruises emphasizes health and wellbeing, featuring comprehensive fitness centers, yoga and Pilates classes, and luxurious spa experiences in partnership with the acclaimed wellness company, ESPA.
In essence, Crystal Cruises represents the epitome of luxury cruising, where personalized service, culinary delights, enriching experiences, and unrivaled quality form the core of the voyage. For the discerning traveler seeking a cruise vacation that transcends the ordinary and enters the realm of the extraordinary, Crystal Cruises delivers an experience that is truly exceptional.
10. Seabourn Cruise Line: The Epitome of Luxury
Seabourn Cruise Line stands as a beacon of luxury in the world of small-ship cruising, presenting an experience that combines personalized service, all-suite accommodations, and unique itineraries. Known for its intimate ships, culinary excellence, and enriching experiences, Seabourn truly embodies the essence of luxury cruising.
Seabourn's fleet consists of five intimate, all-suite ships, each carrying between 458 and 600 guests. This small-ship experience allows for high levels of personalized service, a relaxed social atmosphere, and access to less-traveled ports that larger ships cannot reach. Among the fleet, Seabourn Encore and Seabourn Ovation, the newest additions, offer an expanded array of amenities and enhancements while staying true to the line's intimate ambiance.
Cuisine on Seabourn is a celebration of global flavors and culinary artistry. Each ship offers a range of dining venues, including The Restaurant for fine dining, The Colonnade for regionally-themed dinners, and Earth & Ocean for innovative "global street food." They also have an exclusive partnership with world-renowned chef Thomas Keller, resulting in The Grill by Thomas Keller, where guests can indulge in classic American dishes in a sophisticated setting.
The onboard experiences with Seabourn are both enriching and entertaining. From the Seabourn Conversations program, where luminaries from various fields share insights and experiences, to the evening entertainment featuring musical performances and dance shows, there's something for every taste. Guests can also indulge in spa and wellness activities, thanks to a partnership with Dr. Andrew Weil, offering a holistic spa and wellness experience that integrates physical, social, environmental, and spiritual well-being.
In terms of itineraries, Seabourn offers a wide range of destinations, including the Mediterranean, Northern Europe, Antarctica and Patagonia, the Caribbean, Australia, Asia, and more. The line is particularly well-regarded for its Antarctica and Patagonia expeditions, offering a luxurious way to explore these remote landscapes. Seabourn's Ventures by Seabourn program further enhances the exploration experience, with expedition teams providing guided Zodiac and kayak tours in select destinations.
A noteworthy feature of Seabourn cruises is their unique marina platform, which allows guests to enjoy a variety of water sports activities directly from the ship. This marina platform is available in select warm-weather destinations and adds a fun and adventurous element to the cruise.
In summary, a voyage with Seabourn Cruise Line is a journey into the world of intimate luxury, where personalized service, culinary delights, engaging experiences, and the allure of the unknown come together to create an unforgettable cruise vacation. With Seabourn, the world is your oyster, ready to be explored from the comfort and elegance of their intimate ships.
Charting Your Course: Which Cruise Line is Best for You?
With the top 10 best cruise line companies charted out for you, your journey can begin. Each of these cruise lines offers a unique set of experiences, destinations, and onboard amenities. So, whether you're seeking a high-energy family vacation, a cultural immersion, or a luxury getaway, there's a perfect cruise line waiting to welcome you aboard.
One of the factors to consider when choosing a cruise line is the variety and quality of dining options they offer. If you follow a vegan lifestyle, you'll be pleased to know that several cruise line companies now cater to vegan cruisers. They provide a wide array of plant-based dishes and ensure that your dietary needs are met during your cruise. To explore the best cruise line companies for vegan travelers, check out our detailed article on vegan cruises.
Navigating the seascape of cruise lines can be as exciting as the voyage itself. By keeping this guide at hand, you'll find yourself well-prepared to make the best choice for your dream cruise. So, set sail and let the adventure begin. Safe voyages!