Imagine gliding across the ocean, soaking in the beauty of the sea, and savoring delicious, gourmet vegan dishes. Sounds like a dream, right?
Welcome to the captivating world of vegan cruising. A world where you can feast on culinary delights without compromising your vegan lifestyle. Ready to sail into the sunset while maintaining your plant-based diet? Stick around as we set sail into the exploration of vegan-friendly cruise lines.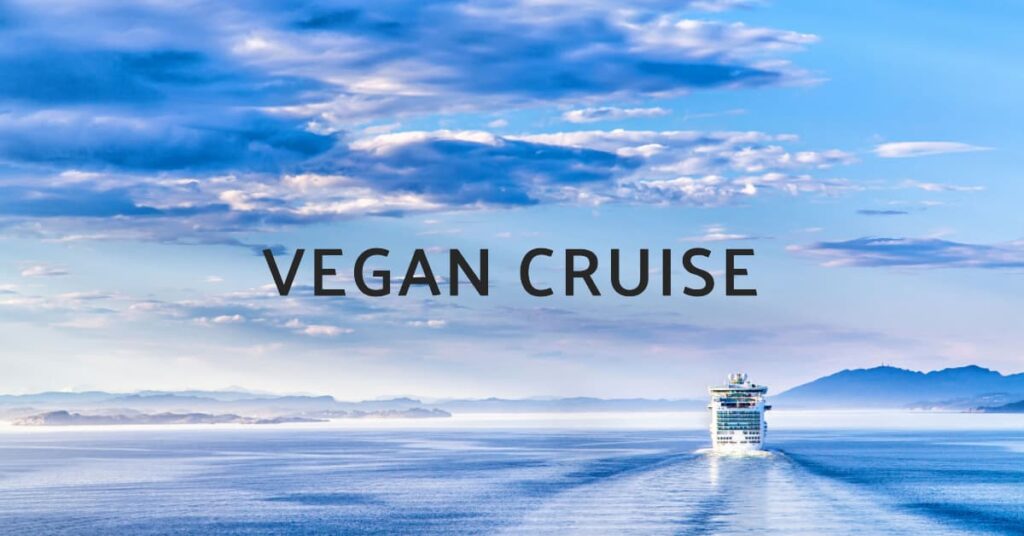 In recent years, the cruise industry has seen a significant surge in vegan-friendly options on board their ships. This shift can be attributed to a combination of factors such as a growing global trend towards plant-based diets, heightened awareness of animal welfare issues, and an increasing number of health-conscious travelers.
Gone are the days when vegans were limited to basic salads and fruit platters. Cruise lines are now recognizing the need to cater to vegan passengers by introducing creative and diverse plant-based menus. From luxury cruise lines like Oceania and Viking Cruises, which offer a wide range of vegan dishes in their dining venues, to mainstream operators like Royal Caribbean and Norwegian Cruise Line, which ensure that vegan options are available at each meal, the industry is steadily adapting to meet this demand.
The introduction of special vegan menus, vegan cooking classes, and even completely vegan cruises are among the developments seen in recent years. Cruise lines are not only offering vegan alternatives but are going above and beyond to ensure these options are as varied, flavorful, and satisfying as their non-vegan counterparts.
This change has resulted in a win-win situation, with cruise lines attracting a wider range of passengers and vegan travelers being able to enjoy the convenience and luxury of a cruise without compromising their dietary principles. The trend towards more vegan-friendly options in the cruise industry looks set to continue, with more lines likely to increase their plant-based offerings in the future.
Choosing a Vegan-Friendly Cruise Line
When planning a cruise as a vegan, the choice of the cruise line can make a significant difference in your overall experience. Here we'll delve into the offerings of various cruise lines, exploring their vegan options, special features, and even some personal experiences and testimonials to guide you in your choice.
Oceania Cruises: Known for their culinary excellence, Oceania Cruises launched a comprehensive vegan menu in 2019 with more than 200 dishes. These options span their entire dining venues, providing a diverse array of delicious, gourmet, plant-based cuisine. Whether it's a nutritious breakfast smoothie bowl or a four-course vegan dinner, Oceania has it covered. One passenger raved about their truffle-flavored parsnip soup and praised the staff's knowledge of vegan food.
Viking Cruises: Viking may not have a specific vegan menu, but they have a strong reputation for accommodating various dietary preferences. Their vegetarian menu boasts several vegan dishes, and the chefs are more than willing to adapt other dishes. A past guest recalled a delightful experience where the chef prepared a special vegan dessert just for her.
Holland America Line: While Holland America may not have a designated vegan menu, they provide an assortment of plant-based options throughout their dining venues. The line is known for its high-quality cuisine, and their staff is generally very willing to tailor dishes to meet your needs. One vegan traveler spoke highly of their vegan sushi and the crew's eagerness to ensure she had a wide variety of foods to choose from.
Royal Caribbean: With vegan options available at each meal, Royal Caribbean makes an effort to cater to their vegan guests. Their chefs are usually able to adjust dishes to suit dietary needs. An enthusiastic review from a recent vegan cruiser praised the line's vast array of fruit and vegetable options and loved the specially-prepared vegan meals in the main dining room.
Norwegian Cruise Line: Norwegian Cruise Line offers separate menus for different dietary preferences, including vegetarian and vegan options. Testimonials speak highly of the cruise line's ability to cater to different dietary needs, with one vegan passenger recounting their enjoyable dining experience with the extensive range of plant-based meals offered.
Regent Seven Seas Cruises: This cruise line offers an assortment of gourmet vegan options throughout their dining venues. They're known for their commitment to meet various dietary needs. One guest praised their vegan meals as some of the most delicious and creative they'd ever had.
Remember, while these cruise lines are leading the way in vegan-friendly options, it's still crucial to inform them of your dietary needs before booking and once onboard. It's also a good idea to check the most recent reviews and experiences from other vegan travelers, as offerings can change.
Doing Your Research of Vegan Cruises
Before setting sail on your cruise adventure, it's crucial to invest some time in research. The importance of researching vegan options before booking cannot be overstated – it ensures a smoother, more enjoyable voyage where your dietary needs are met with ease.
Importance of Researching Vegan Options Before Booking
The world of cruising has evolved significantly, with many cruise lines now catering to a variety of dietary preferences and restrictions. However, not all cruise lines are created equal when it comes to vegan options. Some lines have extensive plant-based menus, while others might only offer basic vegan dishes. By doing your research beforehand, you can identify which cruise lines align best with your dietary needs and expectations.
Contacting the Cruise Line or Travel Agent for Specific Information
Once you have a shortlist of potential cruise lines, reach out to them directly or speak with your travel agent to ask specific questions about their vegan offerings. Inquire about their plant-based menus, whether chefs can customize dishes, and if they provide vegan options across all dining venues, including main dining rooms, specialty restaurants, and room service. These inquiries can help ensure you're choosing a cruise line that will provide a satisfying culinary experience throughout your voyage.
Checking for Recent Updates or Changes in Menus
Cruise lines often update their menus and dining options to keep up with culinary trends and passenger feedback. So, before making a final decision, check their official websites or reach out to the cruise lines to get the most current information. Reviewing the latest updates and changes in menus can provide a clear picture of the current vegan dining scene on the ship.
Additionally, consider looking at online forums, blogs, and social media for recent reviews from other vegan cruisers. Their experiences can offer valuable insights into the quality, variety, and presentation of vegan dishes onboard different cruise lines.
Your voyage should be a stress-free experience where you can enjoy delicious meals without worrying about dietary restrictions. Therefore, doing comprehensive research before booking is essential to ensure your cruise is a delectable adventure on the high seas.
Booking Your Vegan Cruise
Once you have completed your research and chosen a cruise line that meets your vegan dietary needs, the next step is to book your cruise. This process involves communicating your dietary restrictions to the cruise line and confirming that your needs can be met onboard. Here's how to go about it:
Informing the Cruise Line of Your Dietary Restrictions at the Time of Booking
As you're making your booking, it's crucial to inform the cruise line about your vegan dietary requirements. This can typically be done online when booking your cruise, or you can call the cruise line's customer service directly. This step ensures your needs are communicated clearly and are known from the start.
Some cruise lines have a section in their online booking system where you can specify dietary requirements. If this option is not available, reach out via phone or email to relay your needs. Be as specific as possible about your diet – state clearly that you are vegan and avoid all animal-derived products.
Confirming That Your Dietary Needs Can Be Met Onboard
Once you've informed the cruise line of your dietary restrictions, the next step is to confirm that they can indeed meet your needs onboard. While most modern cruise lines are equipped to handle a variety of diets, it's always wise to double-check.
Reaching out to the cruise line or your travel agent a week or two before your departure date is a good idea. Confirm that your dietary restrictions have been noted and ask any additional questions you might have about the vegan options available. For example, you may want to find out if there will be vegan options at every meal and in every dining venue, or if there will be vegan snacks available throughout the day.
Remember, your comfort and enjoyment of the cruise depend on your needs being met. By informing the cruise line about your dietary restrictions at the time of booking and confirming that they can accommodate you, you're setting the stage for a carefree, delicious journey.
Stepping aboard a cruise ship can be both exciting and overwhelming, especially when it comes to navigating the vast array of dining options. Here's a guide to help vegan travelers make the most of their culinary experiences onboard:
Tips for Communicating with Dining Staff
Effective communication with the dining staff can significantly enhance your cruise experience. On the first day of your cruise, make a point of meeting the maitre d'hotel or dining room manager to discuss your vegan requirements. Dining staff are typically trained to accommodate dietary needs, and they'll relay this information to the chefs.
When ordering your meals, don't hesitate to ask questions about the dishes. The more the staff understands your needs, the better they can serve you. If language is a barrier, consider bringing a dietary needs card in multiple languages, clearly stating that you're vegan and the kinds of foods you avoid.
Overview of Typical Onboard Dining Venues and Their Vegan Options
Cruise ships offer a variety of dining venues, each providing unique culinary experiences. Let's navigate through them:
Main Dining Room: This is where you'll likely have most of your meals. While the majority of dishes are typically omnivorous, many cruise lines include vegetarian and vegan options in their menus. If a vegan option isn't explicitly listed, the chef can often prepare a vegan dish upon request.
Specialty Restaurants: These venues often focus on a specific type of cuisine, like Italian or Asian. Vegan options might vary, so it's good to inquire ahead of time.
Buffets: Buffets usually offer a wide array of fruits, salads, vegetables, grains, and sometimes even dedicated vegan sections. However, watch out for cross-contamination and don't hesitate to ask staff about the ingredients.
Room Service: Many cruise lines offer room service menus that cater to various dietary restrictions. It's worthwhile checking if vegan options are available.
Insights on Requesting Custom Vegan Dishes
If the menu doesn't have a vegan option, or if you want something a bit different, don't hesitate to request a custom vegan dish. Chefs onboard are often quite accommodating and can whip up a meal that suits your taste. This might be easier in the main dining room or specialty restaurants, where chefs typically have more flexibility with ingredients and preparation methods.
Don't forget, it's always best to make your request well in advance, ideally at the start of the day or even the day before. This gives the kitchen staff time to plan and prepare your meal.
Navigating the dining options as a vegan on a cruise can seem daunting, but with effective communication, knowledge about the available venues, and a bit of planning, you can enjoy a wide variety of delicious vegan meals throughout your journey.
Vegan Options on Shore Excursions
When your cruise ship docks at various ports, it's time to explore new sights, sounds, and flavors. Navigating vegan dining options during shore excursions can be a new adventure. Here are some tips and resources to help you discover vegan options during your shore excursions.
Tips for Finding Vegan Options During Shore Excursions
Research Ahead: Before leaving the ship, do some research on the port city you're visiting. Look for vegan-friendly restaurants, health food stores, and markets where you could find fresh fruits and vegetables. This research not only saves you time but also ensures you know where to head once you disembark.
Carry Snacks: Regardless of your research, there might be times when vegan options are scarce or if a restaurant is unexpectedly closed. In such situations, having some vegan snacks on hand can be a lifesaver. Pack some trail mix, granola bars, or fruit for quick and easy nourishment.
Communicate: If you're dining out, communicate your dietary needs clearly to the restaurant staff. Some local cuisines might have vegan dishes or ones that can be easily adjusted to suit a vegan diet.
Join a Vegan Tour: Some ports of call might offer vegan food tours, where a local guide takes you to the best vegan-friendly restaurants, cafes, and stores in the city. This can be a great way to sample a variety of local vegan foods without the hassle of researching and planning.
Recommendations for Apps or Resources to Find Vegan Restaurants in Various Ports of Call
In the digital age, there are numerous apps and online resources that make finding vegan options in a foreign city easier than ever. Here are a few recommendations:
HappyCow: This is a comprehensive resource for finding vegan and vegetarian restaurants worldwide. The app features user reviews and allows you to filter options based on location and dietary preferences.
Vegan Maps: This app specifically focuses on vegan dining options and can help you locate vegan restaurants or food stores near you.
TripAdvisor: While not specifically vegan, this popular travel app allows you to filter restaurant searches for 'vegan options,' making it a useful resource.
Local Vegan Blogs: Don't overlook local vegan blogs or food bloggers from the cities you're visiting. They often provide updated information about the best vegan spots in town.
Exploring vegan options during shore excursions is part of the fun of your cruise journey. With a little planning and some helpful digital resources, you can enjoy a variety of delicious, plant-based meals wherever you dock.
The Joy of Cruising as a Vegan
As our journey draws to a close, it's clear that cruising as a vegan is not just feasible but also increasingly enjoyable. With an array of vegan-friendly options springing up onboard cruise lines and in ports worldwide, the horizon has never looked more promising for vegan cruisers.
Encouragement about the Increasing Ease of Vegan Cruising
Veganism is on the rise, and the travel industry, including the cruise sector, is catching up. More cruise lines are recognizing the need to cater to a broader range of dietary requirements, with vegan options becoming more widespread. Today, it's not uncommon to find specially curated vegan menus, custom meal options, and even cooking classes onboard.
Furthermore, the global rise of veganism means more restaurants and food outlets in ports of call are offering vegan options, making your shore excursions a delight.
In short, the world of vegan cruising has evolved drastically, ensuring a delicious journey across the seas. So, whether you're a seasoned vegan traveler or embarking on your first vegan cruise adventure, you can set sail with confidence, knowing that your dietary preferences are acknowledged and catered to.
Closing Thoughts and Advice
Cruising as a vegan undoubtedly requires a bit of planning, but the rewards are plentiful. From exploring diverse vegan dishes onboard to sampling local vegan cuisine in various ports, the experiences are worth the preparation.
Remember, clear communication is key—inform the cruise line of your dietary needs as early as possible and reiterate them to the dining staff onboard. Don't shy away from asking questions or requesting custom vegan dishes. After all, this is your vacation, and you should be able to enjoy it to the fullest.
As the cruise industry continues to embrace veganism, your options will only increase. So, set your worries aside and look forward to the delight of exploring the high seas and indulging in culinary adventures while adhering to a vegan lifestyle.
Vegan-friendly Cruise Line Profiles
Choosing the right cruise line can make all the difference to your vegan cruising experience. Below are profiles of a few cruise lines known for their vegan-friendly offerings, showcasing their menus, dining venues, and some testimonials from satisfied vegan cruisers.
1. Oceania Cruises
Recognized for its culinary focus, Oceania Cruises recently introduced an extensive vegan menu across its fleet.
Menus: Oceania's vegan offerings span across breakfast, lunch, and dinner, featuring dishes like Quinoa Salad with Vegetable Tartare, Vegan Tortilla Española, and Thai Red Vegan Curry. They also offer an impressive vegan dessert selection, including a Lemon and Thyme Sorbet.
Dining Venues: From the main dining room, Grand Dining Room, to specialty restaurants like Toscana and Red Ginger, vegan options are readily available.
Testimonials: One cruiser mentioned, "Oceania made my vegan journey a delight, with their vast offerings and the willingness to tweak dishes to suit my preference."
2. Royal Caribbean
Royal Caribbean has made significant strides in accommodating vegan passengers with dedicated menus across its fleet.
Menus: The vegan menu offers a variety of options, from Edamame-stuffed Portobello Mushrooms to Orzo Pasta Primavera and Vegan Bread and Butter Pudding.
Dining Venues: Vegan dishes can be found in the main dining room and at the Windjammer Café, the buffet-style restaurant. At specialty restaurants, chefs are often willing to adjust dishes to be vegan-friendly.
Testimonials: A vegan passenger shared, "The breadth of vegan options on Royal Caribbean was truly impressive. The staff was very understanding of my dietary needs."
3. Celebrity Cruises
Celebrity Cruises offers a separate vegan menu and vegan dishes on the main menu.
Menus: The dedicated vegan menu includes options like the Vegan Lentil Patty, Truffle Braised Parsnips and Vegan Peach Cobbler.
Dining Venues: The main dining room, Oceanview Café, and specialty restaurants, like the Blu Restaurant (exclusive for AquaClass guests), offer vegan dishes.
Testimonials: "The vegan menu on Celebrity Cruises was fantastic. I had a new dish to try every night," a cruiser commented.
4. Viking Ocean Cruises
Viking offers vegan breakfast, lunch, and dinner options, ensuring their vegan guests are well catered to throughout the day.
Menus: The vegan menu features a variety of dishes such as Vegan Tofu Scramble for breakfast, Vegan Tomato and Roasted Butternut Squash Soup for lunch, and Grilled Portobello Steak for dinner.
Dining Venues: Vegan options are available at the main dining room, The Restaurant, as well as the World Café buffet and The Chef's Table, a specialty dining venue.
Testimonials: A satisfied guest remarked, "Viking Ocean Cruises exceeded my vegan expectations. The array of vegan dishes available throughout the day was truly outstanding."
Remember, offerings can vary between individual ships within a cruise line, and menus often change, so it's a good idea to confirm the current options when you book your cruise.
Latest posts by Dmitry Shafran
(see all)