If a vehicle treads water, it's a boat. That's why boats can come in so many shapes, sizes, and types, each having its own weights and weight capacities.
With so many varieties out there, we have created this page to explain the average boat weight for the most popular boat types available on the market.
Boat weight metrics can be difficult to understand, especially if you're new to boating, so learning how it works with several boat types can help.
While each individual boat will weigh differently, we can estimate the dry weight of each boat to some success. We have included examples of boat models throughout the page to show that these weights are found in the wild.
Side note: the weights mentioned in this guide are dry weights – the weight of the boat without having fuel and leisure gear stored aboard.
This means that a fully-kitted boat will be heavier. With fuel, interior equipment, and a trailer attached, you can increase the total weight by approximately 2,000 pounds.
We have broken down each boat type and their average weights below, including details about the vehicles you'll need to tow each boat category.
If you want a quick rundown, here's a convenient table that should have the answers you seek:
| | | |
| --- | --- | --- |
| Boat Type | Avg. Dry Weight | Can Be Towed By |
| Personal Watercrafts | 850 lbs. | Cars, SUVs, Vans, Trucks |
| Sailboats | 8,800 lbs. | SUVs, Trucks |
| Ski Boats | 3,500 lbs. | SUVs, Trucks |
| Cabin Cruisers | 8,700 lbs. | Trucks |
| Speed Boats | 8,000 lbs. | Trucks |
| Pontoon Boats | 3,100 lbs. | SUVs, Trucks |
| Small Fishing Boats | 1,700 lbs. | SUVs, Trucks |
Boat Weight Estimates
There's only so much a table can communicate, so let's go into more detail about each boat type and how much they weigh. We have seven different types of boats below, ranging from under 1,000 pounds to over 30,000 pounds!
1. Personal Watercrafts (PWCs) – 850 Pounds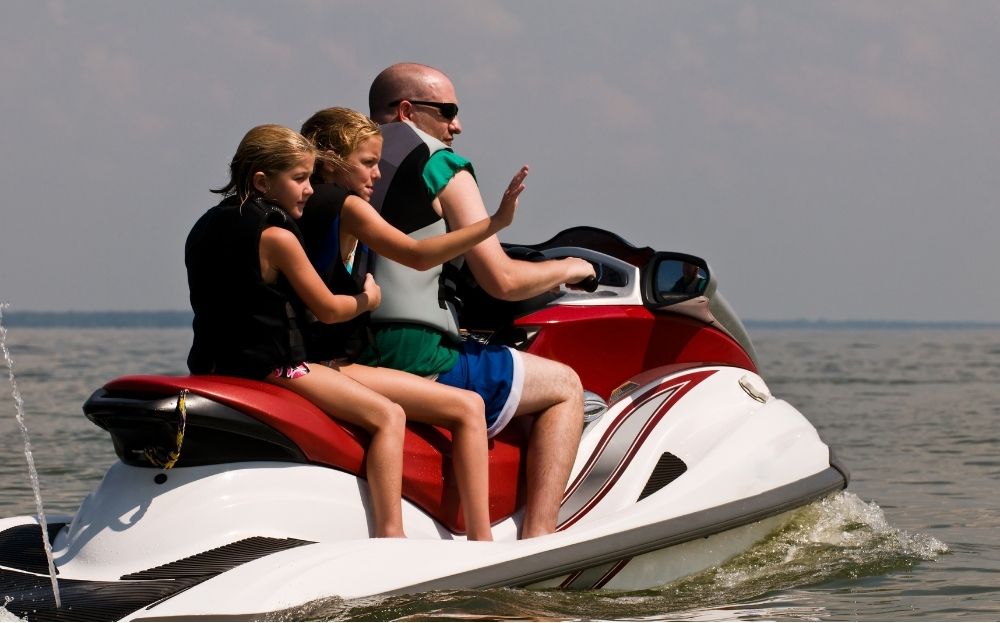 First, there are personal watercraft. PWCs are the smallest boats that we have covered on this page, though some would argue they aren't boats at all.
They are also more affordable for the average person and so they are a very popular choice, so it's better to include them for those that need weight information on PWCs.
Naturally, their small size means they have an average dry weight of just 850 pounds.
This can vary by a few hundred, as demonstrated by PWC models like the Sea-Doo Spark (450 pounds) and the Kawasaki Ultra 310 LX (1,074 pounds).
So, while the average PWC is 800-850 pounds, you can find many other small water-treading vehicles that weigh a little more or less.
In this case "a little" is a few hundred pounds but, when you see the hefty boats we're covering on this page, that's a relatively small difference.
Where towing is concerned, PWCs can be towed by cars, which is another reason that they are so accessible.
Some cars can even pull two personal watercraft at once, as can larger vehicles like SUVs and trucks for those who have families. Needless to say, anything larger and stronger than a car can also pull a PWC with ease.
2. Sailboats – 8,800 Pounds
Sailboats are the most varied kind of boat, being made up of personal vessels that don't fit into other categories.
Go to your local port and scope out the marina, you'll see that the boats there vary wildly in size, shape, and weight, and most of them will be sailboats with sails.
Our average sailboat was 8,000 to 8,800 pounds, though some popular boat models like the Sunfish are technically sailboats despite weighing just 120 pounds.
They look and weigh more like a dinghy boats or a kayak than the larger sailboats out there, and you'd probably mistake them for one at a glance, but they are the smallest sailboats.
As for the heavier boats, you have smaller models like the C&C 27 at approximately 5,000 pounds and then larger ones like the Swan 48, which is 36,000 pounds.
That makes the Swan 48 the single largest boat mentioned on today's page.
With such variety between sailboats and how large they can be. Those smaller 120-pound sailboats are much easier to tow than a 30,000-pound monstrosity, for example.
An SUV can tackle smaller boats but you'll obviously need something more substantial for larger boats, and some are so large that they just cannot be towed and are better off stored in the water, ready to go.
3. Ski Boats – 3,500 Pounds
Where personal boats don't have sails, they are usually ski boats that use a motor to get around. Unlike sailboats, it's much easier to estimate how heavy a ski boat will be.
The average is 3,500 pounds but it can be below 3,000 pounds in some cases and, with large boats like the Malibu Wakesetter 2017 24MXZ, up to 4,800 pounds. Larger models can touch 6,000 pounds, too.
Ski boats have become more popular in recent years, especially as water sports have become more popular.
You can wakeboard or water ski from a ski boat that can travel at faster speeds, not from a sailboat that gently follows the wind.
As such, ski boats tend to be the favorite of those in warmer climates where water sports are more accessible and fun to perform.
As for how towable they are, most ski boats can get towed by SUVs and trucks though you should always check beforehand.
It'll vary between boat types and what vehicle you have, obviously, so maybe your vehicle isn't up to it. In those cases, you can get a larger vehicle to cater to your needs.
4. Cabin Cruisers – 8,700 Pounds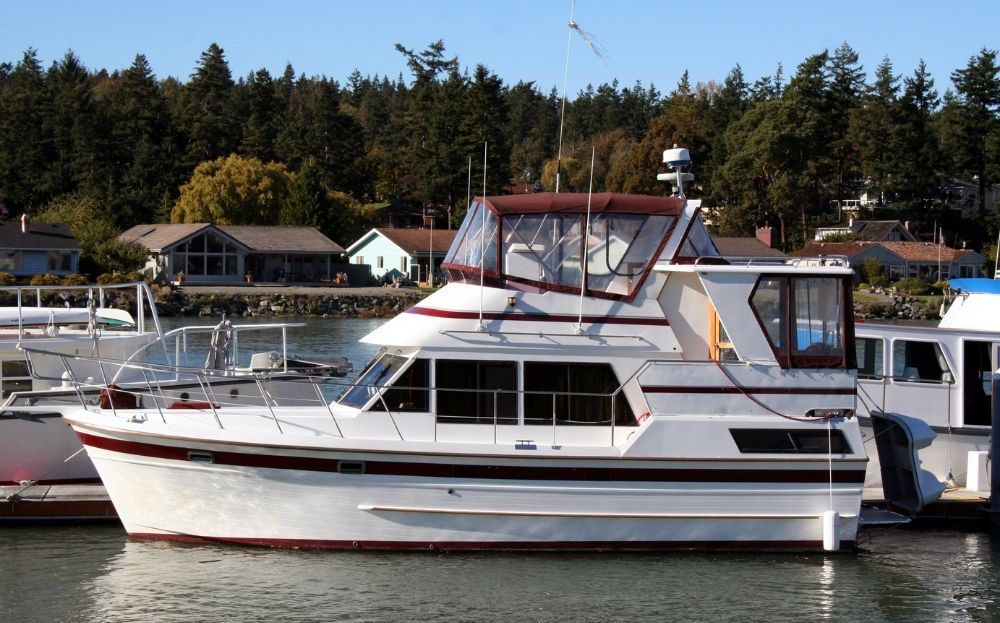 Cabin cruisers are another type of boat that's pretty heavy, alongside the larger sailboats out there. This makes sense since cabin cruisers, as the name suggests, are boats that are better adapted for living in.
They have more beds and dining areas, like an RV contained in a boat, and so they need to be heavier to accommodate that. Cabin cruisers are sometimes described as mini yachts, which is the best way to think of them.
The average cabin cruiser is somewhere between 8,000 and 8,700 pounds.
Smaller models like the Larson Cabrio 274 are 2,000 pounds lighter (weighing in at approximately 6,000 pounds) while larger models like the Rinker Express Cruiser 301 can weigh 12,000 pounds.
Naturally, the capacity of the boat will play a large part in how heavy the vehicle is.
If the boat is just for you, you can get away with a much smaller model than a cabin cruiser that needs to house an entire family. Some cabin cruisers can comfortably accommodate ten people or more!
Just like with larger sailboats, heavy-duty vehicles will be needed to tow them. Some larger SUVs may be up to the task but a truck is the safest bet.
Smaller cabin cruisers can get towed by most SUVs but, as always, check first. The SUVs and trucks need to weigh more than the cabin cruiser they are trying to haul around.
5. Speed Boats – 8,000 Pounds
Speed boats are similar to ski boats and they are often conflated, though there is a difference between them.
Speed boats are sleek and fast – faster than any ski boat out there – and are instantly recognizable after decades of representation in pop culture.
While they are the height of fast-paced, sea-faring decadence – speed boats are too fast to safely perform water sports on them, so you'll need a ski boat for that.
The average speed boat should weigh approximately 8,000 pounds, which is mostly from the powerful motor and mechanics inside the boat.
Lighter models, like the Thunder Cat 32, weigh around 5,000 pounds while boats like the Cigarette Top Gun 38 weigh 9,000 pounds.
Counterintuitively, the faster boats tend to weigh more since they need larger engines and motors to slice through the water and move faster.
Many SUVs and trucks can tow speed boats, with lighter models being more accessible for towing. If your boat is around 5,000 pounds, most SUVs should be up for the job, otherwise, a heftier truck may be ideal.
6. Pontoon Boats – 3,100 Pounds
Pontoon boats are large but light boats that have decks for people to hang out. They are very similar to deck boats, though they tend to be faster and pontoon boats are better for slower, chilled recreational activities.
The average pontoon boat weighs 3,100 pounds. An example of a lighter pontoon boat would be the 2,100-pound NauticStar Angler 193 SC. As for a heavier pontoon boat, the Hurricane 2690 SunDeck weighs over 4,400 pounds.
As you'd expect, the weight correlates with how large the deck is and how many people that deck can accommodate.
In the grand scheme of boating, 3,000 pounds isn't that heavy. As such, pontoons and deck boats can be towed by larger SUVs and trucks with no trouble.
Smaller SUVs and trucks shouldn't be used to haul them around, they may not be up for the task.
7. Small Fishing Boats – 1,700 Pounds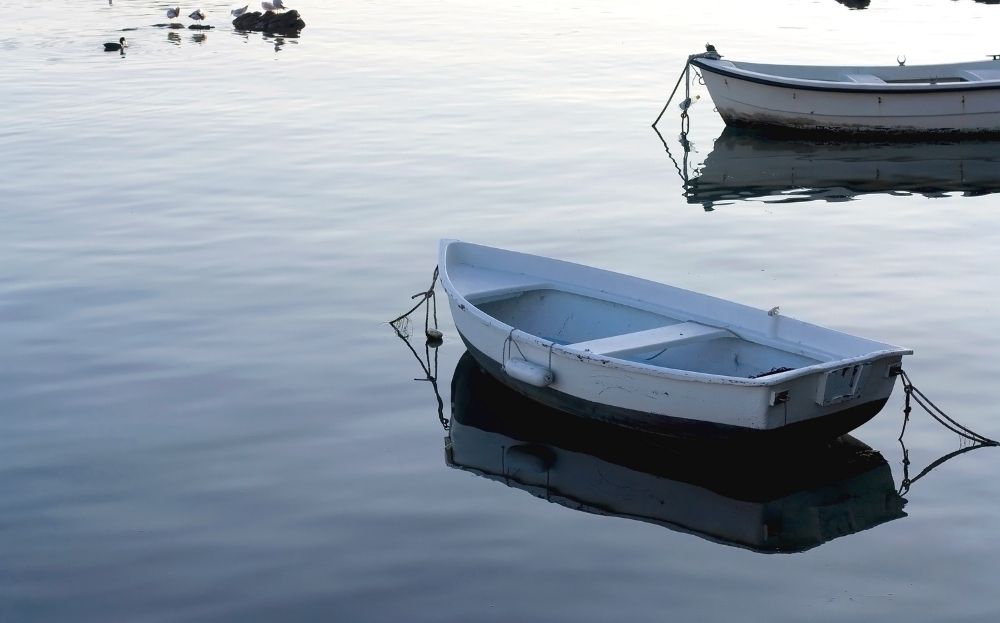 Our last boats are some of the most practical – fishing boats. You're probably not looking to get an industrial-grade trawler, so we're talking about small fishing boats that your average Joe can buy and enjoy.
These are sometimes called bass boats too, and their design accommodates equipment that can be as simple as fishing rods or as complex as a mini radar system.
For these boats, the average weight is 1,700 pounds. Some, like the Tracker Pro 2017 170, weigh under 1,000 pounds while others, like the Bass Cat Jaguar, weigh over 2,000 pounds.
The heaviest fishing boats weigh around 2,500 pounds.
Smaller fishing boats are some of the lightest, which makes sense considering they are designed for fishing trips.
This means they have been made with towing in mind, so the effort is made to keep them light and towable for the typical angler.
As such, many mid and heavy-sized SUVs can tow all fishing boats while smaller boats can be tackled by a smaller SUV as long as the SUV is heavier.
Factors That Affect Boat Weight
As we said at the start of this page, the weights we have discussed so far are dry weights.
This means it's the weight of the boat itself, without many of the amenities or the fuel that it'll get pumped full of, which adds extra weight.
Think of it as the minimum that the boat will ever weigh, which is why it's useful for knowing how heavy the boat is and its ability to get towed when empty.
So, if you want to know the total weight of your boat, you'll need to consider the other factors. Here are some of them:
Fuel, which can add a minimum of 200 pounds to the boat. At most, 500 pounds can get added by a full gas tank on larger boats.
General gear/amenities, which is everything from life vests to snacks and portable storage like coolers. These can weigh between 100 and 500 pounds depending on how kitted out your boat is.
Electronics, particularly things like amps and speakers, and a TV if the boat can accommodate it. These electronics can weigh between 50 pounds and 300 pounds.
Towers, which are usually optional but will be needed for activities like wakeboarding, can add as much as 50 to 300 pounds.
Using those numbers, outfitting your boat can add anywhere between 400 and 1,600 pounds. If you can think of other equipment that you'll add to the boat, it can easily exceed 2,000 pounds added once the boat is ready to be at sea.
If all this estimating is frustrating for you, you wouldn't be the first! Most boats are weighed through calculations and estimates since most boat owners don't have access to industrial weighing scales.
That said, you can hook up your boat and use the same weighing scales that truckers use to measure the weight of their hauls. This will give you an accurate measurement, down to the ounce.
Then you don't need to worry about estimating how much your boat weighs and you'll always match it to the right vehicles for towing.
Conclusion
That should be everything you want to know about the different types of boats and how much they weigh.
We have covered seven of the most popular boat types and given you accurate readings on many different models, along with an average figure for that category. 
Using those, you should be able to figure out how much your boat weighs if you have one already. If not, you can get the right boat for yourself.
Knowing the exact weight of your boat can also be useful, so you can always weigh your boat at an industrial weighing scale if you want more accurate readings.
As a rule, larger boats will weigh more than smaller ones.
The two most notable exceptions come with speed boats and pontoon/deck boats, where the smaller speed boats are packed with heavy machinery while the pontoons are mostly deck, so they are lighter.
Latest posts by Dmitry Shafran
(see all)