There are more different kinds of boats than one can imagine. Unpowered, motorboats, and sailboats are the three basic categories and subcategories into which a boat can be classified.
These groups may now be divided into subcategories, each with its own boat type. Each has its own set of benefits and features. The most common boat types, however, are seen here.
In border enforcement, internal transit, and commercial fishing, boats are employed to assist bigger vessels. The bulk of these boat classifications, on the other hand, are leisure and sports boats.
A boat is a type of watercraft that is built to cross shallow waterways and provides significant mobility benefits over large ships. Ships and boats have traditionally been identified by their size.
Handheld or hand-powered boats, sailboats, and motorboats are the only three types of watercraft. Kayaks, yachts, pontoons, banana boats, and other boats that we like fall into one of the categories described above.
In this post, we'll go through a list of 20 different types of boats so you can understand more about the various modes of water transportation.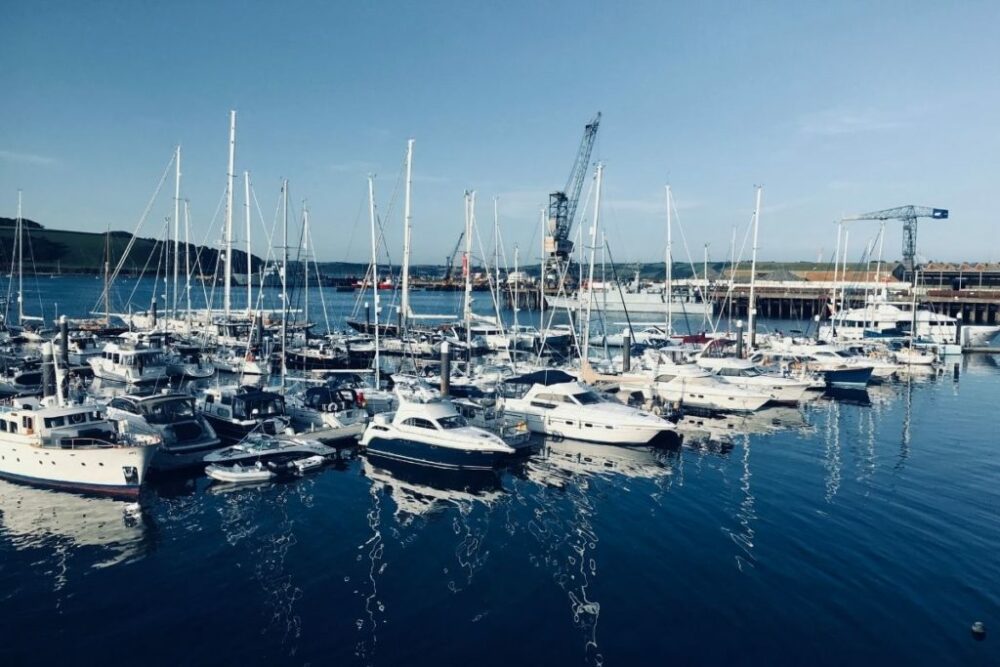 Bass Boat
Bass boats are small boats made of aluminum or fiberglass that are used for recreational fishing in freshwater. A bass boat's level deck, aerated live wells, and a powerful outboard motor are all essential features.
They may also have the following motor for slow-speed activities.
These boats were designed with bass fishing in mind. Sleek fishing is a fish-catching method. This usually needs a boat that has a low profile while creating as little water disturbance as possible.
Three to four anglers may be accommodated in these boats, which range in length from 14 to 26 feet (fishers). It's small, light, and effective on calm water, with good control.
It's ideal for freshwater fishing. Swivel chairs, which allow the user to cast all around the boat, are infrequently fitted. The looping water flow of the aerated live wells allows them to store fish alive.
Because there is little freeboard or high sidewalls, they are less stable by design. Because the bulk of its body is underwater, it floats.
With the exception of the stern and the motor, practically all of its components are outside the water at cruising speed. Despite the fact that river fishing is excellent, rough waves make it difficult to handle.
Bay Boat
A bay boat is a shallow-water utility fishing craft that has been developed using cutting-edge technology. The boat's major features include a center console, V-shaped stepped hull, folding jump seats in the back, improved freeboard, transom ladder, high-power outboard motor, low gunwales, and fish storage.
It is well-known for its versatility and may be used offshore, in rivers, and in interior lakes. These boats are swift, have good performance, and can easily carry four anglers.
They're typically made of fiberglass and range in length from 18 to 25 feet. This allows us to have everything we need for fishing without overwhelming the cottage.
It was designed to fill the gap between freshwater flat fishing boats and seagoing center console boats as a high-performance fishing boat. It will be a boat for sportsmen who enjoy both freshwater and sea fishing.
If casting decks are designed around the central console, anglers will have greater stability and space.
Bowriders
A bowrider is comparable to a runabout boat in terms of design, and a deck boat in terms of qualities. It has an open bow, which allows for more seating area forward of the helm.
It's why they're about the same size as a deck boat but a little longer. They can be propelled by a sterndrive or an outboard motor.
It is intended for family usage and may be used for fishing, sailing, skiing, and other watersports. A swim platform was included on the bowrider, which was helpful for swimming and attaching wakeboards.
This is an excellent boat to have if you want to spend time on the water with your family and friends.
In a range of water conditions, its V-hull shape delivers great performance, speed, and handling. Because it has comfy seats in front of the helm, you could see fisherman casting (fishing) from the bow.
A conventional bowrider measures between 17 and 35 feet in length. Rather than fishing, these boats are generally utilized for traditional watersports.
Depending on the manufacturer, seat belts or a protective barrier may be put on the boat to prevent falls, particularly in the bow seats closest to the helm.
The best thing about this boat is the variety of activities it provides, including water sports, day sailing, and socializing with family and friends.
Catamaran
A catamaran is a watercraft designed primarily for sailing. It has two parallel hulls on each side and is a two-hulled watercraft. Due to its huge beam, it is naturally balanced on its two hulls.
The photographer, for example, has a greater living space, does not yaw, and can sail in low-draught situations thanks to its higher stability.
A catamaran is a much bigger boat that allows for better agility and true room-size accommodations with windows. This makes you feel more relaxed and at peace.
Two independent engines or propellers are mounted on each hull. You have better control and maneuverability because you can turn it 360 degrees in its current place.
This boat's smaller draught (1-1.2 m vs. 2-2.4 m in a standard boat), greater speed multihull construction, and lightweight design allow it to sail faster, and it has better stability and mobility.
Because of its large width, it does not tilt or move much in the water, which is beneficial for people who get seasick.
The multihull design's reduced draught allows it to anchor much closer to the land. Pontoon is built on the caravan design concept, which may surprise you.
Modern catamarans may be separated into two types based on their intended use: a sailing cameraman and a cruise cameraman. Read our comparison of catamarans with monohulls if you are interested.
Center Console Boat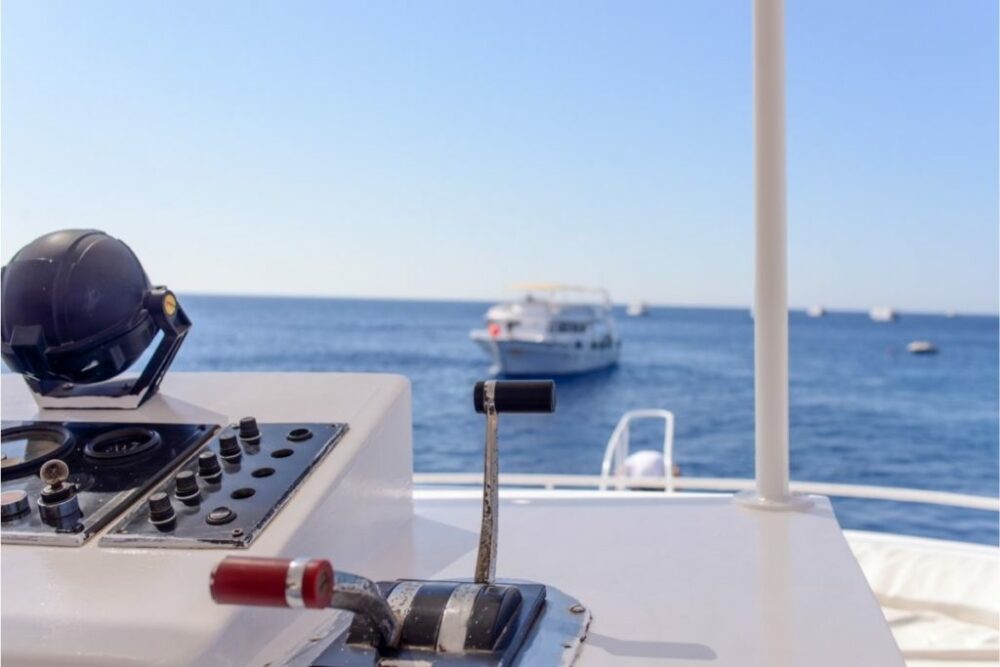 A saltwater fishing boat with a center console may be utilized for fishing as well as other nautical activities. It's mostly for fishermen who also wish to try their hand at other marine occupations.
It has enough operating space for both saltwater and freshwater fishing because it has no cabins and a helm station in the middle. Because the design of the center console prioritizes more working area, any available floor space is transformed to storage or working space.
Depending on the business, it might have a single or double helm seat, with varied head heights.
Its high speed and strong build make it unsuited for racing or other competitive water activities, despite the fact that it was built for fishing.
It can easily attain speeds of 60 knots when equipped with a high-capacity outboard engine. These fishing and day trip boats can seat up to seven passengers and range in length from 18 to 70 feet.
A stereo system, cup holders, USB connections, coolers, and a separate swimming platform are all standard features on even the most modern console boats. The best part about these boats is that you can instantly increase or decrease their speed by chaining together extra outboard motors.
The second feature I appreciate about them is that they can be easily transported on any standard trailer, saving time and effort in the selection process.
Convertible Fishing Boat
This vessel is ideal for recreational sailing and offshore fishing for anglers who want the best of both a fishing trawler and a luxurious Motoryacht. For better vision, it includes an aft fishing deck and a taller helm.
The motorboat features dual mezzanine decks, an outdoor galley, lounge seating, and a comfortable living room, to name a few.
Convertibles are usually 30-35 feet long, although they may be as long as 50 feet in rare situations. It's built for serious offshore sportfishing; it's safe, powerful, comfortable, and doesn't need to be used to raise fish.
It has a cruising speed of 28 knots (32 mph), but in moderate waves, it can easily approach 40 knots.
This boat prioritizes strength above weight when it comes to construction. They're built of fiberglass and can easily crush waves, ensuring that the boat remains steady even in the most adverse conditions.
The flybridge of a convertible is one of its defining features, and it came in useful for keeping an eye on offshore structures such as weed lines and rips, which attract a lot of fish.
Cuddy Cabin Boats
A cuddy cabin boat is great for anyone looking for a family-friendly boat with hidden cabin space that's also tiny and maneuverable. Superior cruise control, increased storage capacity, and even a concealed cabin within the closed deck space are all common features of these flexible boats.
These boats have a cuddy or a small cabin beneath the deck space, which differs from a cabin cruiser in that you don't have to look for a cabin.
V-shaped beds with optional tables, as well as a porta toilet and standard storage space, are included in these cabins. It's basically a comparison between an ideal cabin cruiser and a deck boat.
These versatile boats are generally used to spend quality time with friends and family, in addition to sailing, fishing, yachting, swimming, and other water sports.
The lodgings are small, yet they provide more comfort and space than one might expect. It has a swim platform, water generator, sink, taps, and a cabin, making it an excellent boat for recreational usage.
A typical cuddy cabin boat is between 20 and 30 feet long and has a 500-1000 horsepower inboard or outboard engine. This power might come from a single large engine or a cluster of small engines.
The great thing about this boat is that it's tiny enough to be towed anywhere you choose.
Deck Boats
A deck boat is a motorized boat with an open deck that is distinguished by its unique design, large deck area, and speed. The name "Deck Boat" refers to the extra deck space given by the boat's unique hull design.
This boat is great for fishing, cruising, quality family time, and some water activities, with a length of 18 to 24 feet and a spacious deck area as well as powerful stern propulsion.
Its V-shaped hull provides the extra room needed for a huge open deck and seating arrangement. You can hold tiny parties on these boats since they have so much space.
These expansive deck areas are often utilized for additional seating, but they can also be used to store fishing equipment. The benefit is that they can be hauled to your garage or carport by any ordinary trawler.
As a result, you won't have to worry about trawler size and strength when hauling deck boats. Because of its flexibility, it is popular and widely used along beaches, rivers, and freshwater lakes.
Its hull design also contributes to its increased stability. These boats are simple to operate and need little maintenance.
Once you've gotten the hang of it, it's actually rather straightforward. Depending on what you want from them, you have a range of possibilities. All variants come with a powerful engine, Bimini top protection, an enlarged swim platform, storage space, accessories, and life jackets.
Dinghies
Dinghies are small boats that may be seen on beaches and lakes and are used for a variety of activities including fishing, rescue, sailing, and water sports.
In the case of an emergency, these little boats, which are normally 12 to 15 feet long, are kept and used on major boats and ships.
They're made of various materials, such as strong wood and inflated rubber. Due to their traditional and relatively basic construction, they may be propelled by oars, sails, or an outboard boat motor.
A dingy may be classified into four types based on its shape and mode of propulsion: Whitehall, Dory, and Inflatable rubber boats, which are the most common currently.
Because of their ability to work in even the shallowest of waters with exceptional mobility, they are regularly used by enthusiasts throughout the world looking for a good time in lakes and along beaches.
The same purpose makes it an excellent companion for large boats and ships, allowing it to transfer passengers in an emergency or when the massive boat or ship is unable to dock.
While any inflatable may be used as dingy, rigid-bottom inflatables are the most popular since they can inflate and collapse quickly without threatening other boats in the vicinity.
They are simply more cost-effective, both as a one-time purchase and in terms of continuing care, because they can be easily deflated and kept in a closet.
Dual Console Boats
Dual console boats are one of the most popular choices for day sailing or recreational fishing. The phrase "dual-console" refers to two independent consoles, each with its own set of windshields. Between the eating area at the bow and the entry entrance is a tunnel.
The driver's seat is on the right side, while the passenger seat is on the left. Most fishermen, skiers, and casual boaters favor this boat type because of its adaptability. Because it is much larger than a center console boat, it provides better agility, comfort, storage space, and seating.
It provides additional relaxation and enjoyment of day sailing for casual sunny days on the ocean.
A dual console boat's main advantages are higher capacity, better weather protection, a V-shaped hull, a front seating area, additional dry storage space, and fishability (came with a rod holder, fish box, and live wells).
It also has a carpet-free fiberglass deck with an easy-to-maintain external drain. Outboard motors propel these boats, which can range in length from 15 to 30 feet.
Modern versions often incorporated a separate compartment in the passenger's side console, which was handy for lounging or changing. The twin console boat has less foot room than other similar boat designs since it has more seats.
Ferry Boats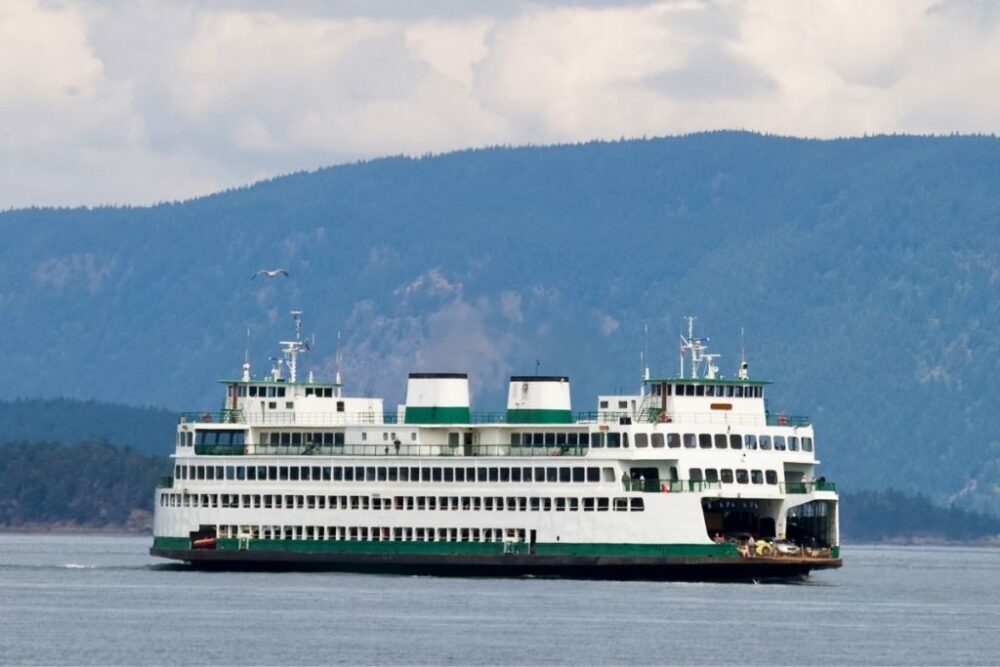 You've undoubtedly heard the term "ferry" even if you don't know much about boats or have never seen one. It's basically a big boat that can move people and cars from one place to another.
Cross-river ferries, which move from one store to another, are common in large rivers.
While the majority of ferries do precisely what they're supposed to, some do include extra features like restaurants, entertainment spaces, brief excursions, and even lodging.
These boats are frequently small in size due to the confined waterways, which adds to their agility. A ferry is an essential component of a public transportation system designed for short-distance travel.
The function or purpose of a ferry distinguishes it from other boat types, rather than its appearance. Ferry boats are divided into four categories: catamaran, hydrofoil, cable, and Ro-Ro.
The most common type of vessel is the Ro-Ro, which is chosen based on the requirements and operational expenses.
The materials used in the building of a Ro-Ro ship and a Ro-Ro ferry are the most important difference. Ships, on the other hand, are designed for international trade and must follow the internationally approved design, techniques, and limitations.
Ro-Ro ferries, on the other hand, are less expensive, have a simpler design, and follow national construction codes.
Fishing Boats
Simply because you may fish from it with some portable fishing gear does not make it a fishing boat. A fishing boat is usually a wooden-hulled vessel with very little machinery. Since ancient times, they have used spears, hooks, and nets to catch fish in both fresh and saltwater.
A commercial fishing boat, or trawler, on the other hand, is a big metal structure that performs the task utilizing sophisticated equipment including trawling engines, trawlers, live wells, and electric power sources.
Trawlers with trolling motors, ropes, and other fishing gear are generally seen near the stern of these massive vessels.
They are no longer restricted to coastal or river waters, because of their sturdy build and modern navigational gear like G.P.S., sonars, and AIS.
They catch their fish by dragging a trawl (a large fishing net) across the water in areas where AIS technology has discovered a high concentration of a particular fish species. These massive boats are normally 20-25 meters long and weigh 30 to 40 tonnes under draught.
They have superstructures, marine engines, propulsion systems, and cargo space, making them more like a ship than a traditional boats.
Smaller bass boats are frequently used in both fresh and salt rivers for low-scale or pleasure fishing. These little boats are designed to give superior agility, comfort, and help while catching fish, rather than striving for quantity like large commercial fishing boats or trawlers.
Houseboats
Houseboats have changed the way people look after their boats, changing them from recreational to exquisite floating residences.
Indeed, in many countries, devoting a significant chunk of one's life to one of them was considered normal. It's gaining a lot of popularity these days in developing countries like ours.
There are two sorts of houseboats: static houseboats and houseboats with motors. While static houseboats are identical to any other lovely property on the water, we utilize the other for luxury parties, vacations, water sports, family time, and tranquil cruising.
A houseboat can be any size, from one or two persons up to four families, each with its own living spaces.
These boats feature specialized engine rooms with a primary engine and power generators, similar to those seen on large ships.
For day-to-day use, it also contains a second freshwater generator. These boats can range in length from 30 to 75 feet, with single or multiple decks.
These boats may not be as fast as smaller boats, but they are still a fun way to spend your vacation. Because of their closeness to nature and ease of use for other water sports, they are the most coveted of all boat types.
Inflatable Boats
Out of all the options, this is the only one that will fit in your trunk. Inflatable boats are built of tubes filled with compressed air and are extremely light. The three materials that may be utilized to produce them are PVC, Hypalon, and polyethylene.
They usually range in length from 6 to 14 feet and may or may not include an aluminum floor bed. Due to their adaptability and ability to take on a variety of shapes, inflatable dinghies, pontoons, life rafts, and other inflatable items are readily available.
For greater rigidity, a rigid inflatable boat has an aluminum floor bed, whereas a soft inflatable boat does not. These boats have an external motor for propulsion once fully charged with compressed air.
These boats are suitable for shallow-water rescue missions and are very simple to deflate and store. This is a fantastic alternative for newbie boaters, emergency services, river rafting, and solo fishing.
Life Boats
In the case of an emergency, a lifeboat is a rigid-hulled inflatable small boat that is used for rescue and search activities. All large ships are required by law to carry a minimum number of authorized lifeboats on board.
These boats are often used to transfer persons to safe regions and are outfitted with anything from tools to first aid and signaling equipment.
The solid hull construction, rather than the inflatable design, makes it more stable, sturdy, and capable of withstanding extreme weather conditions while carrying the most weight.
RHIBs (Rigid Hulled Inflatable Boats) are the most frequent rescue or lifeboat designs, although they are not the only ones.
In reality, many new merchant ships have more closed lifeboats, which provide more safety, but they still have one RHIB-style lifeboat on board, which is used mostly for rescue.
The self-inflicting collar at its top, which surrounds its whole design, keeps it from sinking even if it is mistakenly hurled overboard under high weather conditions.
All lifeboats are manufactured in compliance with the SOLAS and LSA criteria, regardless of their kind. "International Convention for the Safety of Life at Sea," or SOLAS, stands for "Life-Saving Appliance Code," whereas LSA stands for "Life-Saving Appliance Code."
Modern lifeboats come fitted with EPERB, radar reflectors, and SART technology.
Pontoons
The pontoon is one of the boat types that has gained a lot of popularity in recent years. From an unattractive boxy watercraft to a luxurious recreational boat, it's gone a long way.
These outboard-powered boats, which range in length from 16 to 30 feet, are suitable for day sailing, aquatic sports, and freshwater fishing.
These boats rely on three hollow aluminum tubes with tapered ends in front for buoyancy instead of a solid hull. These hollow tubes are used to connect other support systems together.
A flat deck is built on top of these platforms, offering much greater deck space. If you're limited to rivers and lakes, there's no better luxury pleasure boat for the money.
The boat can fit up to 10-15 people on board, making it suitable for any family. The 900-horsepower engine also offers much-needed speed, while the pontoon tube design provides stability. The advantage of pontoons is that they require less maintenance and care than other forms of boats.
It gives your children extra space to play, is perfect for freshwater fishing, skiable, and comfortable. It's safer in calmer waters, lasts longer (10-15 years), and holds more water.
Sail Boats
For as long as there have been sailors, there have been sailboats. One of the earliest and most basic boat designs for transporting people and things across continents using the force of the wind.
It was the only and most efficient mode of long-distance transport prior to the introduction of motors or engines.
Although it is hard to say when the first sailboat was built, archaeologists have uncovered artwork from ancient Egypt and Mesopotamia that depict sailboat-like constructions.
Traditionally, these boats were monohulls, but in recent years, multi-hull designs have gained favor. Two sails (Main and Headsails) are customarily linked to a sailboat by separate lines.
The main and headsails of a sailboat are powered by the wind, which causes them to take on a more foil-like shape, which helps create a positive pressure difference.
The boat is propelled forward by the pressure differential and the drag of the water. The boat will thereafter go in the opposite direction of the wind.
Tug Boats
Have you ever seen a huge vessel nearing a port? If you did, you most likely noticed some small boats arriving to assist with the port terminal's security.
Tug boats are small boats whose main function is to assist large ships in maneuvering through congested regions.
It also functions as salvage boats, icebreakers, and firefighting vessels as needed, in addition to enabling larger ships through tiny waterways or close ports.
Tug boats are often stationed at or near ports, harbors, rivers, and important maritime routes like canals and shallow or narrow waterways.
A tug pushes or pulls a large ship to a safe area by pulling it or using a secured tow line. It can only do so because of its tremendous power-to-weight ratio. Tug boats offer several benefits over other ships and boats, including a high power-to-weight ratio and outstanding maneuverability.
Because of its mobility, it may aid other ships or boats in canals, ports, and rivers. There's also a 3-4 HP four-stroke marine diesel engine to keep it going all day.
Utility Boats
Among the several boat kinds, utility boats are the most basic yet powerful boat designed for freshwater. It is generally composed of aluminum to withstand harsh conditions.
This approach is employed when the water is calm or shallow. This flat-bottomed sailboat may be anywhere between 12 and 20 feet long.
They have an open hull design with seating for two to three people. With such an open vessel and a level bottom, fishing was impossible. It glides over the water rather than cutting through it.
This minimizes the amount of commotion in the water and makes it less likely for fish to run. They're simple, affordable, and easy to keep up with.
Yachts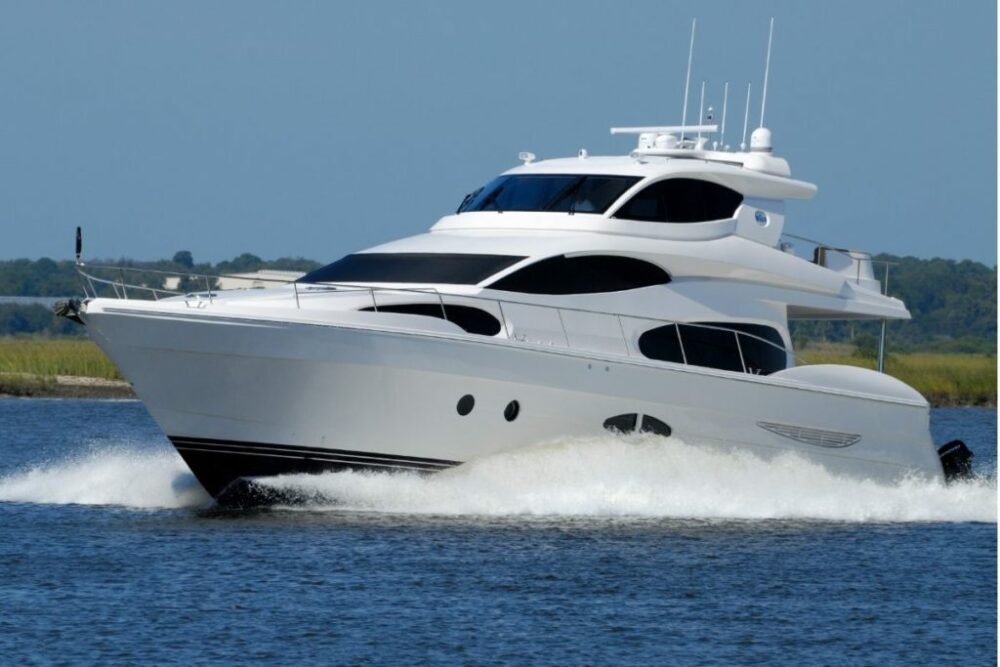 Among these various boat types, the yacht is the only one that embodies elegance and pleasure. It's essentially a high-end motorboat designed for recreational purposes. "Yacht" is derived from the Dutch word "jacht," which means "cruising boat."
They are usually used for the pleasure of organizing opulent parties, aside from cruises or sailing. A normal boat is around 20 meters long and has all of the amenities needed for enjoyment and comfort.
It can, however, be anything from 9 and 100 meters long. These boats use propulsion motors that vary from 105 to 2000 horsepower and can attain top speeds of 20 to 45 knots, depending on their size.
These yachts have been modified to fulfill certain needs and goals, resulting in a subclass within the boat.
The different subtypes are cruising boats, extra luxury yachts or luxury sailing yachts, day sailing yachts, and weekenders. Depending on the requirement, these boats are built as monohulls or multihulls.
Final Thoughts
According to historical evidence, boats have been used for transportation from prehistoric times. However, from the first known boat, known as dugouts, the history of watercraft has already reached beautiful motor yachts.
Apart from recreational purposes, boats have played an essential role in contemporary commerce by allowing the active movement of people and goods over short distances.
Because there are so many various types of boats to pick from, it can be difficult to know which one is ideal for you. Naturally, how you want to use a boat plays a big role in determining whether or not it is suitable for you and your family.
Keep in mind that certain boats are more specialized than others, and some are ideal for one activity but not for another. There exist, on the other hand, a number of models that are intended to be broader.
The first and most crucial phase in the boat-buying process is identifying what sort of ship will best fulfill your requirements and goals, as well as the wants and aspirations of others who will join you on your adventure.
The kind of things you want to do on the water often determine your expectations and desires.
Think about why you want to be on the water, and then narrow down your selections accordingly. Boating is more affordable than you would think.
There are a few practical variables that might help you establish your budget after you've decided on the type of boat you want to buy.
It's time to start looking for a boat while keeping your budget in mind. Begin by searching for boat types on the internet, then refining your search to specific models using manufacturer websites, dealerships, online reviews, and forums.
Don't only rely on your keyboard to get things done. You may also have friends or acquaintances that own or like boats or interests that are similar to yours. Inquire about their personal experiences and benefit from their direct knowledge.
Many boat buyers insist on being able to touch, feel, and see the boat before making a purchase. Working with a dealer might help you save time and money during the buying process.
When comparing yachts, don't forget to look at the dealers as well. The quality and location of the dealership are important factors to consider when purchasing a boat.
When comparing yachts, don't forget to look at the dealers as well. The quality and location of the dealership are important factors to consider when purchasing a boat.
Once you've narrowed down your options and are considering a certain boat, it's crucial to assess other critical components such as the engine, propeller, bilge (the region inside the hull), steering system, electrical systems, and fuel tank.
To check if it's right for you, do a test drive or a sea trial. Consider the long term: the boat you test with two people may act quite differently with the entire family and friends on board.
In the same way, horsepower that looks sufficient in a short test may not be sufficient in the long run.
If you're not confident about your technical abilities, an independent maritime surveyor can help. A surveyor will investigate the yacht from top to bottom and inside out, just like a home inspector would, so you know exactly how it is.
More than a boat's claimed price and features may be learned about the acquisition process. Similar to car sales, there are usually a few extra expenses not included in the sticker price.
Dealer fees, insurance, registration, accessories, storage, and upkeep should all be discussed early in the purchase process with the dealer to evaluate the overall cost of boat ownership and avoid unpleasant surprises later.
Find out what to expect after you've signed the dotted line. What is the delivery procedure? Before you accept the keys, conduct a thorough examination of the boat's systems to ensure that you can operate it safely right away.
When the time comes, you should also ask the dealer's shop about the procedure for scheduling maintenance or repairs. To get a head start, learn more about the first year of upkeep.
Before you go on your first excursion, find out where you can take a boater education course. Learning basic seamanship skills and absorbing some local knowledge will help you gain confidence while you're on the water. You may be eligible for a discount on your insurance if you take a boater education course.
Finally, it's time to unwind and enjoy your new purchase. Get out on the water and enjoy yourself, not just now, but in the months and years to come.
Daily maintenance, ranging from a regular wash and wax to scheduled maintenance, is a crucial part of the pleasure of owning a boat.
Another alternative is to expand your boating knowledge by attending one of the many fun programs offered by local dealers or by consulting an online resource.
Latest posts by Dmitry Shafran
(see all)