Have you ever seen a ship? Have you ever wondered what the heavy equipment mounted on it? Well, they are known as deck machinery.
This article will help you answer every bit of question running through your mind. Hopefully, at the end of this discussion, you will be able to distinguish them every time you see a ship from afar.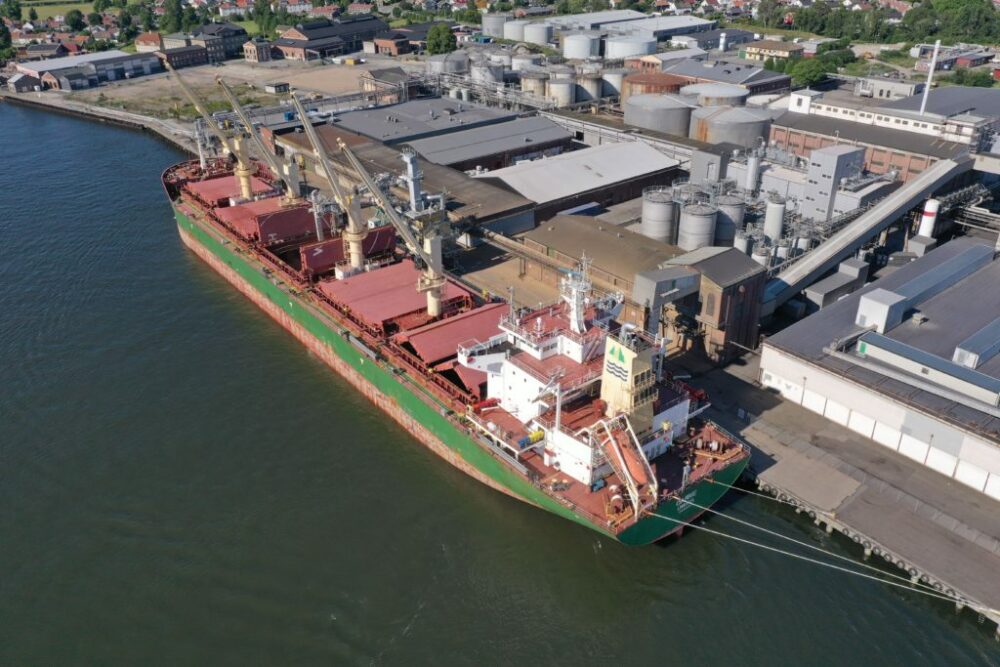 What Are Deck Machineries In a Ship?
Deck machineries are the machines you can find on the vessel exposed deck. They are optimal on ship diverse operation namely cargo handling, vessel securing and even for lifesaving purposes. This equipment is typically operated by the vessel crew under the deck department. Operating such equipment requires certain training and competences to use properly and most safely.
The deck by definition is the level or floor of the ship normally identified from Deck A, Deck B and Deck C. In layman's term the deck is used to refer the weather exposed level of the vessel, for instance, Deck A is the foremost deck where people embark the ship. Deck B commonly is the deck where crew member resides. And Deck C (closest to the bridge) is the floor where officers on board lives specially the captain.
Now that you know what a deck is you can easily define deck machineries. And we are on agreement of the deck machinery definition.
What Is Meant Under Deck Machinery?
As counterpart, underdecks are the succeeding floors below deck A. These decks are dedicated for engine room spaces. Of course, the engine room consists of far more numerous machineries that is essential for ship operation. The under-deck machineries are called such because it is placed below the exposed deck. Examples of it are generators, main engine, purifier, steering gear, coolers, pumps, compressors, boilers and etc.
This equipment can only be operated and is maintained by the people of the engine department which as the competence of maintaining the engine watch.
Types of deck machinery by use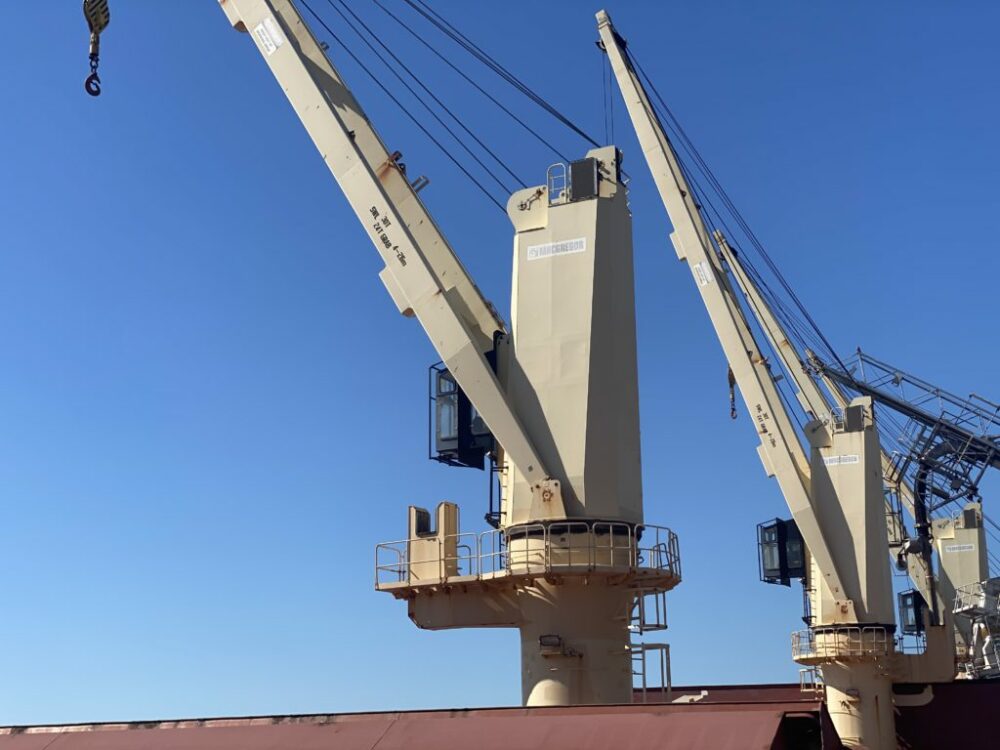 Most deck machineries are used for cargo handling specifically for loading and unloading cargoes in and out of the ships. Cargoes on ship's are extremely huge and it requires heavy machineries to carry them safely and efficiently. Once these cargoes have been loaded it cannot be left bare open on weather and so certain deck machineries as well are used to secure them properly. Cranes and cargo hatches
Vessel movement stops at certain situations called anchorage and berthing. To do so, deck machineries like anchor, windlass and mooring winch are used. These deck machineries work together to keep the vessel secured.
Imagine embarking a vessel with bare hands? Of course, pirates can but we are not so deck machineries are used for us to board ships properly and safely. Gangways are also deck machineries which is used for boarding procedures.
Types of deck machinery by working principle.
Mostly, deck equipment is powered by electric-hydraulic systems. When we say electro-hydraulic the system is composed of electric drive and hydraulic actuators. Electric motor provides power so the machinery can operate. The electric power moves the pump which gives pressure to the fluid thus allowing movement on the machine -hydraulics.
In much cases, deck machineries are so important that they were also arrange to operate even at the event of ship electrical blackout. A hydraulic power pack is readily charged at the machinery position whereas by shifting some valves the movement of fluid is allowed.
List of deck machineries and their use.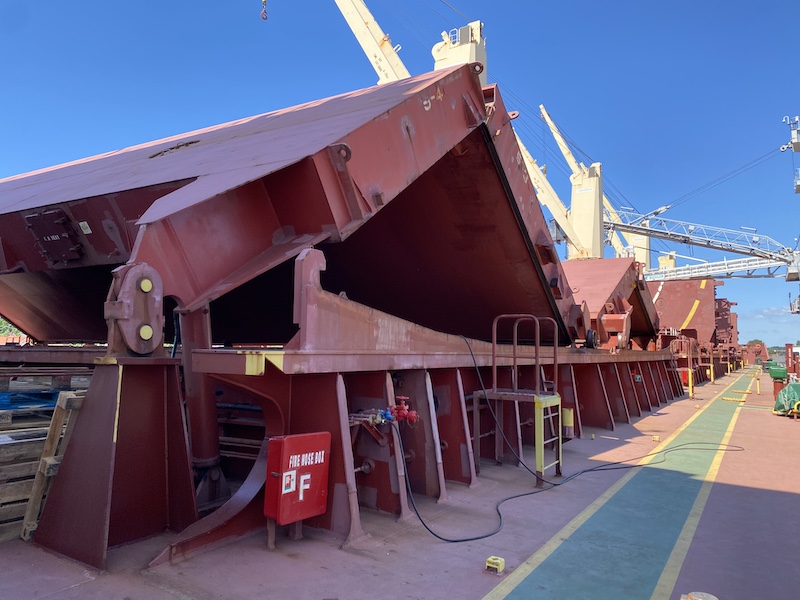 Cargo hatches are the covering of ship cargo holds. These hatches are sealed and watertight. The covers are as huge as the holds so it is operated by a hydraulic unit. With the use of a tiller/ joystick the hydraulic controls the opening and closing of these vast hold coverings. The pressure exerted by the hydraulic fluid keeps the water-tightness of hatches to the hold.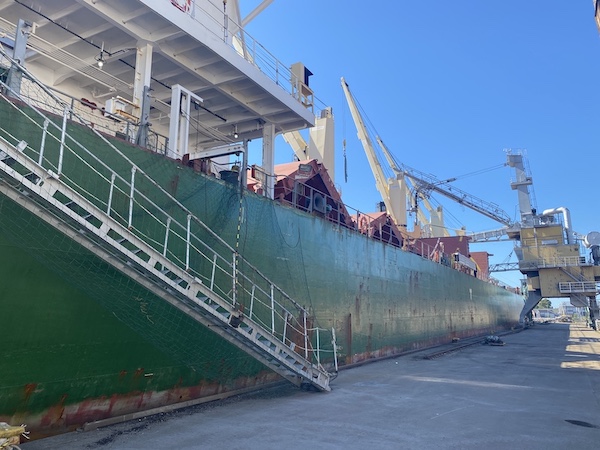 Gangway as mentioned earlier is a ladder used for embarkation and disembarkation. The gangway is lowered and secured using a motor that is slacking or heaving a rope that prearranged to the ladder making it easier to move up and down. The movement is simple yet important since the vessel itself changes draft (height) during loading and unloading and also depending on the tides.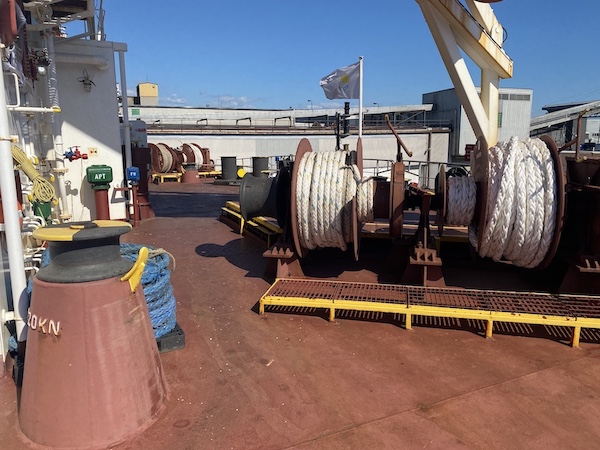 Mooring winch are motor-driven drums that is used to tighten or loosen the rope that is used to fasten the vessel to the quay or even on another vessel. The mooring winch keeps the vessel from being drifted away from its desired position.
Windlass is coupled to mooring winch motors although they are used for dropping and recovering ship anchors during anchorage procedures. Windlass unlike winches are drums that roll the chain (not ropes) going to a certain place known as chain locker. In simple term, the windlass is like a pulley that guides the chain in and out of the locker to the sea.
Anchors are found on either port or starboard side of the ship's forward station. Anchors are dropped to keep the vessel's positioned in a certain area at sea. Once they are dropped, they plow to the seabed to retain and restrain the vessel from drifting.
Mounted at the ship these capstans are vertical cylindrical drums where the mooring ropes are revolved around. This equipment is very similar to mooring winches which are used to pull the ropes and keep the tension on the mooring lines.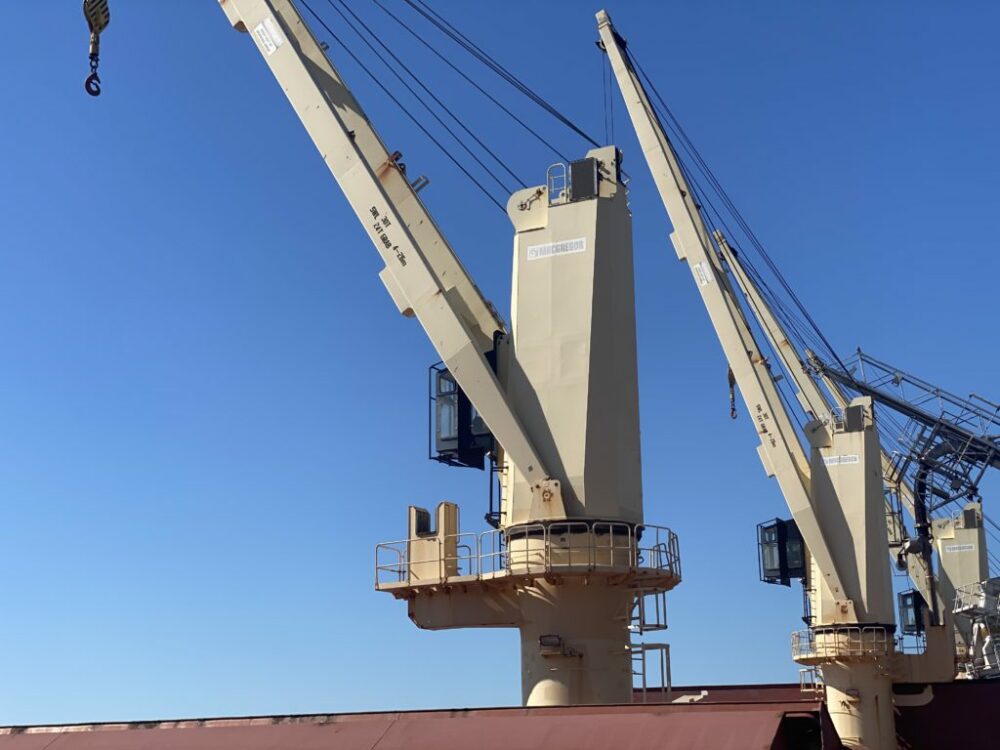 Cranes are used aboard to lift heavy objects depending on their purpose the cranes are named on the deck. Cargo cranes are commonly found on general cargo vessels and handymax-sized bulk carriers- they are used to haul the cargo in and out of the cargo holds. Davits cranes are used for lowering and heaving rescue boats and life rafts aboard. Lastly, provision crane is small cranes that typically has a 2-ton carrying capacity are used to bring up ship provisions food, water, and spare parts.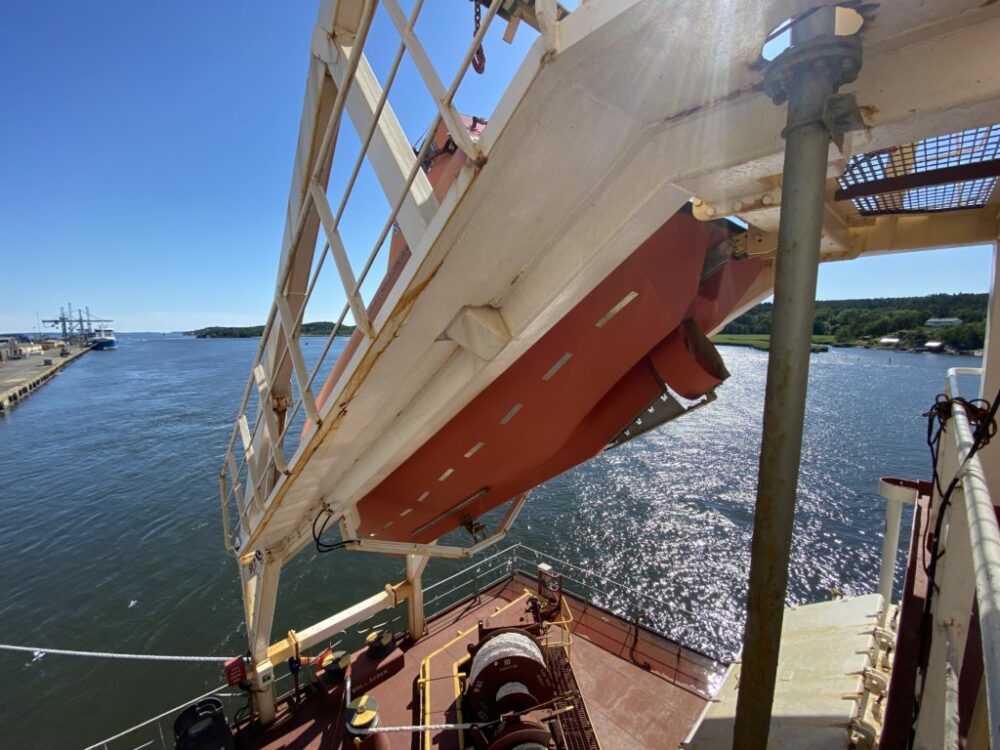 Around the ship's deck, LSA can be found such as rescue boats, lifeboats, and life rafts. They are not really classified as deck machinery however by definition they are. This equipment is used on saving lives at sea. As last resort for vessel crew on evacuating the ship in case of abandon ship situations.
Understanding deck machinery is not so complicated, isn't it? In summary, deck machinery is machines that aid the vessel crew in executing ship operations that are situated on the deck.