Before we set out on this journey, let's answer a crucial question: How much does a cruise cost? But before we dive into the depths of cruise pricing, let's embark on a voyage of understanding this popular vacation choice.
The Cruise Experience: More Than Just a Price Tag
Cruises are more than just a method of travel—they're an experience in themselves. Imagine waking up to a new, breathtaking view every morning without the hassle of packing and unpacking.
You'll have an array of dining options, entertainment, and activities all under one roof—or rather, one deck. However, like any vacation, there are pros and cons.
The Benefits of Cruising
From the moment you step on board, you're in a world of leisure and luxury. A cruise provides an all-inclusive vacation experience, which can simplify planning and budgeting. You get to explore multiple destinations without the inconvenience of constantly changing hotels. Plus, there's an array of onboard activities for every age and interest.
The Drawbacks of Cruising
On the flip side, cruises might not be everyone's cup of tea—or should we say, cocktail? Limited internet access, potential for seasickness, and less time at each destination can be downsides. Plus, while cruises are generally safe, there's always a risk of outbreaks or accidents, especially if you don't follow safety guidelines.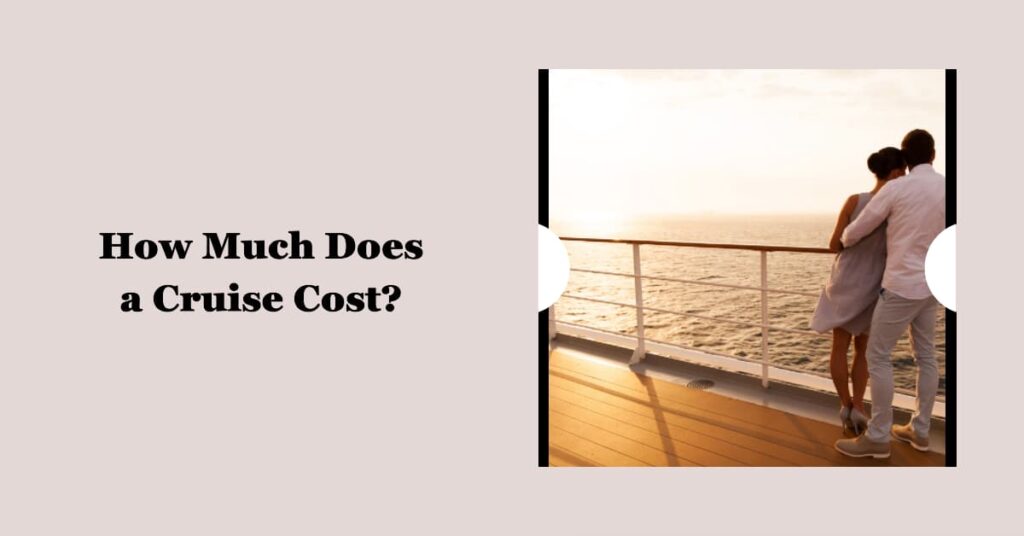 Now, Let's Talk Dollars: How Much Does a Cruise Cost?
The cost of a cruise can vary wildly depending on several factors, such as the cruise line, destination, length of the trip, time of year, cabin type, and additional amenities or experiences.
Let's take a closer look at the cost breakdown of a typical 7-night Caribbean cruise for two people.
Cruise Fare
This is the base price of your cruise, which usually includes your accommodation, meals in the main dining areas, and basic onboard activities and entertainment. The range of $1400 – $2800 can fluctuate depending on your cruise line, cabin category, and time of travel. For instance, a suite on a luxury cruise line during peak season will cost more than an inside cabin on a budget cruise line in the off-peak season.
Gratuities
Most cruise lines automatically add gratuities to your onboard account, covering tips for your cabin steward and dining room staff. The range of $200 – $300 is based on an average of $14 – $20 per person per day. However, these rates can vary, and you can adjust them according to the service you receive.
Shore Excursions
While your cruise fare includes the journey to multiple destinations, it doesn't typically cover the activities at each port of call. Shore excursions can range from a $30 city tour to a $300 adventure activity. Budgeting $200 – $600 allows for a mix of experiences.
Drinks Package
Most cruise lines offer drinks packages that include alcoholic and premium non-alcoholic beverages. These packages can range from $50 – $100 per person per day. If you enjoy a few glasses of wine with dinner or fancy cocktails by the pool, a drinks package can offer significant savings.
Specialty Dining
While your cruise fare includes meals, this usually applies to the main dining areas and buffets. If you want to indulge in specialty restaurants, there's often an additional cost. These dining experiences can range from $25 – $50 per person per restaurant, so budgeting $150 – $250 allows for a few special meals.
Travel Insurance
Travel insurance is essential for any vacation, including cruises. Depending on the coverage level and the travelers' ages, a policy for a 7-night cruise can range from $100 – $200.
Flights
The cost of flights to your cruise's departure port can vary greatly depending on your location, the time of year, and when you book. It's important to factor this into your overall cruise budget.
Transfers
Transfers include the cost of getting from the airport to the cruise port and back again. Some cruise lines offer transfer services for an additional fee, or you could arrange a private transfer or taxi. Prices vary depending on the distance between the airport and the cruise port.
So, when asking, "How much does a cruise cost?" remember to consider all these factors. A cruise vacation includes more than just the cruise fare—it's a package of experiences both on and off the ship.
Let's consider a typical 7-night Caribbean cruise for two people:
| Item | Estimated Cost |
| --- | --- |
| Cruise Fare | $1400 – $2800 |
| Gratuities | $200 – $300 |
| Shore Excursions | $200 – $600 |
| Drinks Package | $400 – $700 |
| Specialty Dining | $150 – $250 |
| Travel Insurance | $100 – $200 |
| Flights and Transfers | Varies |
This is a rough estimate, and actual prices can be higher or lower depending on the factors mentioned earlier.
Smart Sailing: Tips to Keep Cruise Costs Low
While cruising can sometimes be a pricy vacation choice, there are ways to navigate through the costs and keep them manageable. Here are a few tips to help make your cruise adventure more affordable:
1. Book Early or Late
Whether you're a diligent planner or a spontaneous adventurer, you can snag some substantial savings. Cruise lines often reward early birds with discounts for bookings made several months or even a year in advance. This not only secures your preferred cabin and sailing date but can also save you a pretty penny.
On the other end of the spectrum, being a last-minute shopper can work in your favor too. As the sailing date approaches, cruise lines may still have unsold cabins. Rather than setting sail with empty rooms, they often offer these at significantly reduced prices to entice last-minute bookings. If your travel dates are flexible, this could be a great way to enjoy all the perks of a cruise vacation without the hefty price tag. Just remember that selection may be limited, so you'll need to be open to different cabin types and itineraries.
2. Travel During the Shoulder Season
The time of year you choose to cruise can significantly impact the cost. Peak season—when kids are out of school and the weather is most favorable—tends to be the most expensive. Consider cruising during the "shoulder season"—the periods just before and after peak season. You might find cooler weather or a bit of rain, but the savings can be substantial.
3. Choose Your Cabin Wisely
Interior cabins are usually the cheapest option, as they lack a window or balcony. If you're planning to spend most of your time exploring the ship or ports of call and use your cabin just for sleeping, this could be a sensible way to save.
4. Limit Onboard Spending
While your cruise fare includes meals and entertainment, it's easy to rack up additional charges with specialty dining, alcoholic beverages, spa treatments, and more. Set a budget for onboard spending and stick to it. You might also want to avoid the casino if you're trying to keep costs down!
5. Bring Your Own Extras
Check your cruise line's policy, but you might be able to bring certain items on board, like a bottle of wine or champagne, which can save on the cost of drinks. Similarly, bringing your own reusable water bottle can help you avoid buying bottled water.
6. Plan Your Own Shore Excursions
While it's convenient to book shore excursions through the cruise line, these can often be marked up significantly. Consider planning your own tours and activities at each port of call. Just be sure you leave plenty of time to return to the ship before it departs!
We have published a number of articles about shore excursions that you can book on your own, so check these destinations. Start with checking shore excursions in Costa Maya or Puerto Progreso.
7. Watch for Deals and Discounts
Keep an eye out for promotions, which can include onboard credit, free gratuities, complimentary drinks packages, or discounted shore excursions. Some cruise lines also offer discounts for seniors, military personnel, or repeat customers.
8. Use a Travel Agent
Travel agents often have access to exclusive deals or perks that aren't advertised to the general public. Plus, their expertise can help you find the best cruise for your budget.
So, remember: cruising doesn't have to break the bank. With a little planning and savvy, you can enjoy all the delights of a cruise vacation while keeping your costs on an even keel.
Anchoring Thoughts: Is a Cruise Worth the Cost?
Only you can answer this question. If you value convenience, variety, and a hassle-free vacation, a cruise might be worth the cost. But if you prefer exploring at your own pace, a traditional trip might suit you better. As with any journey, the key is to chart your course according to what matters most to you.
So, next time someone asks, "How much does a cruise cost?" you'll be ready to sail them through the answer with ease. And who knows? You might just find yourself longing for the lure of the open sea.
FAQs about How Much Does A Cruise Cost?
How much does a typical Caribbean cruise cost?
A seven-night Caribbean cruise in November costs approximately $424 to $1,158 per person​7.
Are there cruise options for nature lovers?
What is the cost of a short cruise, like a two-day trip from Miami to the Bahamas?
For a six-day trip in an interior cabin, it runs about $759 per person​​.
How much does a cruise on Carnival Celebration cost?
For a six-day trip in an interior cabin, it runs about $759 per person​.
How expensive is a Disney cruise for a family of four?
A 3-Night Bahamian Cruise on the Disney Wish for a family of four varies by room type. Prices range from $3,196 for an Inside room to $6,557 for a Concierge room​10​.