Intergovernmental Oceanic Commission statistics reveal that over three million shipwrecks are scattered on the ocean floor. On estimate, less than 1% of the discovered shipwrecks. Most of these shipwrecks have numerous containers with valuable material possessions such as gold, jewels, silver, tin, copper, weapons, and other cargo.
However, not all wrecks have been discovered, and there is a whopping amount of treasure on the ocean floor. This mostly happens because there is not enough time and money to explore the ocean. Read on to discover the history of the ten most famous shipwrecks with treasure.
1. The Mary Rose
Despite immediate efforts being deployed to prevent the Mary Rose from sinking, this famous vessel sank in about 40 feet, and almost every crew member died. It was a famous English warship that served in the Royal Navy from 1511 before it sunk in 1545. The Mary Rose was used in battles against Brittany, France, and Scotland.
The warship helped defeat the French during the first battle (1512 – 14). During the third battle with the French (1544 – 46), the ship was loaded with additional guns. This raised its capacity from 600 to 700 tons. It sank straight after a firing fleet after a gust of wind blew its side.
Since its sinking, the ship was re-discovered in 1972 and rescued in 1982. Its remains are viewable in a museum in Portsmouth and are regarded as one of the most expensive maritime projects in history. Additionally, over 26,000 artifacts and remains of the deceased were unleashed.
2. 1715 Treasure Fleet
1715 Treasure Fleet was composed of 11 ships that sunk due to a hurricane along the east coast of Florida. Cuban records reveal that over 1,500 sailors perished, and it is regarded as one of the biggest maritime disasters off Florida.
Its treasure was first discovered when a diver William Bartlett found a Spanish gold coin while exploring. He later found many of them, which later made the 1715 Treasure Fleet a treasure trove.
The latest discovery is $1 million worth of gold that was discovered by a family of treasure hunters in the south area. More discoveries are expected as over $400 million in coins are believed to be lying in Florida's Treasure Coast.
These discoveries do possess not only monetary value but also historical heritage as a rare coin for the King of Spain was discovered, among other priceless treasures.
3. RMS Titanic
The "unsinkable" ship is one of the most renowned in the history of shipwrecks which sunk after hitting an iceberg on April 14, 1912. It claimed over 1,500 lives and is remembered as among the most tragic shipwrecks. The Titanic was one of the largest and most luxurious vessels with many precious treasures.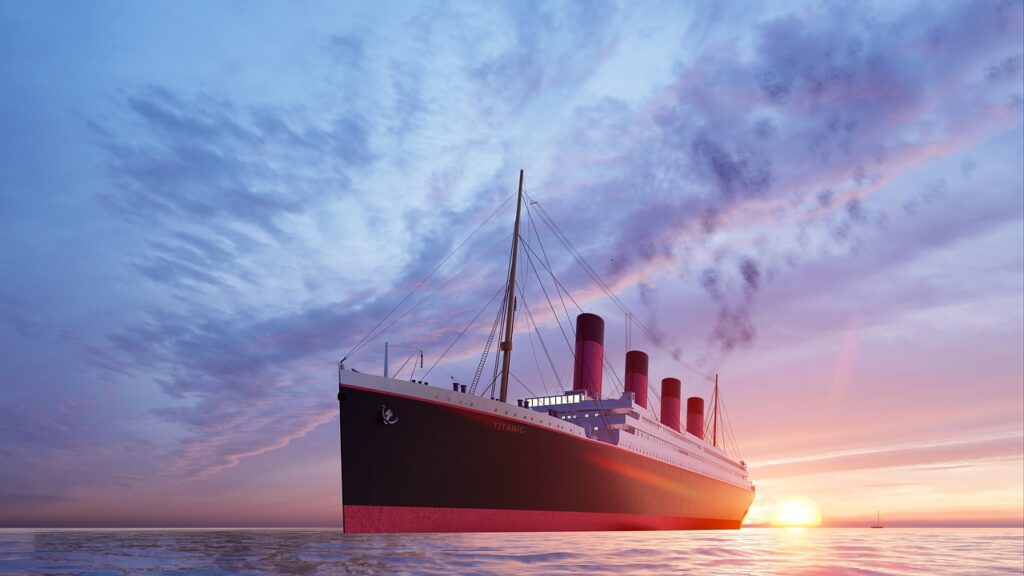 It has also produced one of the most requested artifacts, the Hartley violin, which sold for $1.7 million. More artifacts (approximately 400) have been preserved in the Titanic Museum in Pigeon Forge.
These artifacts were salvaged from the ship's construction and its passengers. RMS Titanic collection is worth millions of dollars, and such artifacts include watches and instruments that help reflect the story of the famous wreck.
If you are curious why you can find the ship prefix RMS before Titanic, then it means Royal Mail Ship. To learn more about please check our article about ship prefixes.
4. USS Arizona
The USS Arizona was launched in 1915 and was an American battleship. It was utilized in various top-tier roles, such as escorting President Woodrow Wilson and responding to Japanese Imperialism. It sunk on December 7 1941 after being bombed by the Japanese, which led to the death of 1,177 crew members and other officers.
The vessel was left to lay on the ocean floor after the Navy decided that the ship was beyond being salvaged. It also acts as a resting place for the hundreds of sailors who perished. A little exploration of the ship's interior has been executed, especially because navigation is quite difficult.
People who have had a chance to interact with the ship state that thousands of gallons have leaked. This is approximately 14,000 to 64000 of oil in Pearl Harbor since its attack in 1941. Estimates from the National Park Service reveal that the leakages could extend for another 500 years.
5. SS City of Cairo
This British steamship was a mixed cargo and passenger ship that experienced its last journey in 1942. During its last trip, the vessel had 296 sailors and mixed cargo, which also entailed 100 tons of silver coins for the UK Treasury. This shipwreck has set the record for being one of the deepest discoveries.
It was recovered from a depth of 17,000 feet which is 4,500 feet deeper than what we saw on the Titanic. The ship was struck by a German U-boat while passing from India to England. A British-led team has helped discover €34 million worth of silver coins.
6. The Black Swan
As the name suggests, the Black Swan shipwreck is one of the greatest gold recoveries that led to endless lawsuits and cases. The Odyssey Maritime Exploration discovered the shipwreck that unleashed a whopping $500 million of gold and silver. Its sinking is believed to have happened in Portugal in 1904. However, its treasure sprang a series of conversations regarding ownership.
After too many negotiations on the right of ownership, the Spanish government won and took rightful ownership of the treasure. The gold was taken back to the Spanish authorities in 2012 and has been displayed in several exhibitions for viewing by tourists.
7. The Queen Anne's Revenge
The ship was an early 18th-century French sailing vessel that was used as a flagship by Edward Teach. It was dubbed the Blackbeard and is prominent for being one of the most intimidating pirate ships ever.
The Queen Anne's Revenge carried 40 cannons and had ample room to accommodate men and loot. Its remains were discovered in 1996, approximately one mile from Atlantic Beach, North Carolina.
During its time, the ship fought almost any Navy warship before it sank in 1718 after hitting a sandbar off of North Carolina. Since then, the ship has become a treasure trove due to its vast possession of treasure such as cannons, weapons, massive anchors, and medical gear.
Most of these artifacts have been displayed for the public at North Carolina's Maritime Museum.
8. The Merchant Royal
The Royal Merchant sank in 1641, and despite the anchor being discovered in 2019, its main shipwreck is still a mystery. The ship is estimated to be carrying roughly 100,000 pounds of gold during its sinking. This has led to its nickname "the ship of gold," as the value of the lost gold is currently worth about €1 billion.
The ship was launched in 1627 and was involved in lucrative deals with the Spanish authorities. While at Cadiz, the ship underwent various maintenance and repairs on the leakages before setting off.
However, after leaving Cadiz, the leakages became profound, and the ship could not withstand the stormy sea. The ship's pumps malfunctioned on September 23, 1641, and the vessel sank off the west coast of Cornwall.
9. Vasa
The Swedish warship was built between 1626 and 1628 and sank after being hit by strong winds and flooding. Vasa is one of the greatest embarrassments in Swedish history, as it sank less than a mile after departing. Although several salvage efforts were deployed, the shipwreck was undiscovered until 1961.
Despite sinking after 20 minutes of setting sail, Vasa was the world's most high-tech warship during its time. It is also regarded as one of the most spectacular warships ever built. In addition, it has a one-of-a-kind aesthetic value, is covered in wooden carvings, and carried 64 bronze cannons during its sinking.
After it was salvaged, the vessel had thousands of artifacts. Its hull was found in pristine condition, and Vasa has become a renowned Swedish attraction. Over 22 million tourists have visited Sweden to view the great warship.
10. RMS Empress of Ireland
The Scottish-built ocean liner summarizes our list of the most prominent shipwrecks with treasure. This tragedy almost equaled the Titanic one and happened on May 29 1914 after the vessel collided with the SS Storstad.
It happened due to thick fog that led to the death of over 1000 souls. The sinking of the RMS Empress of Ireland is a major disaster in Canadian maritime history.
Currently, the Empress of Ireland lies approximately 130 feet under the water. This is within seamless reach by scuba divers, which has resulted in over 100 visits since it was rediscovered.
Divers have discovered valuable items such as brass bells, silver bars, and a stern telemeter. In addition, a tour of the ship's cabins reveals shattered suitcases, oak chairs and tables, and the remains of light fixtures.
Final Thoughts
Shipwrecks have been witnessed since the ancient use of sailing vessels, and most sink with lots of valuable treasure. These wrecks cover a wide array of ship types, such as container ships, warships, tankers, bulk carriers, and cruisers, to name a few.
Although lots of shipwrecks have been discovered, the largest percentage is still lost in the sea. The above post has articulated the history of the ten most famous shipwrecks, how they sank, and the treasure they possessed.