The first bulk carrier "John Bowes" was launched in 1852, and since then this type of vessel has been actively improved and developed.
Modern bulk carriers are significantly superior to their predecessors in terms of size, equipment, and computerized equipment.
Dry bulk carriers, bulkers, or bulk freighters – are vessels for the transportation of only unpackaged bulk cargo in holds (without containers) or simultaneously in combination with liquid cargo.
New technologies allow naval architects to make them as spacious, safe, and durable as possible. There are a number of bulk carriers that can independently carry out the unloading process, while the rest depend on port facilities.
The modern general classification of bulk carriers by design, type of cargo, size, area of port calls, and operations reflects the latest trends in the shipbuilding market. The development directions of the sea and ocean bulk carrier fleet, and the demand for various types of cargo transportation.
More than half of all bulk carriers are owned by Greek, Japanese and Chinese shipowners, and nearly a quarter are registered in Panama. Korea is the largest shipbuilder of bulk carriers.
For maximum automation, packaging equipment has been additionally installed on the bulkers of recent projects. The number of crew varies depending on the size of the bulk carrier: from three people on a small to thirty on a large one.
Largest Dry Bulk Carriers In The World
Major bulk cargo like iron ore, coal, and grains demand the largest ships of this type – VLOC or Very Large Ore Carriers. However, the largest dry bulk carriers are Valemax class ships which are the largest ever built bulk carriers by deadweight and length overall.
This class of ships was designed to carry from 380,000 to 400,000 tons of iron ore and the name comes from the Brazilian mining company Vale, which is exporting iron ore.
Today the largest dry bulk carrier is Sea Beijing (ex-name Vale Beijing). This is the first delivered ship and has two sisterships – Sea Qingdao and Sea Indonesia. All three ships are owned and operated by one of the largest dry bulk shipping companies Pan Ocean and have a deadweight of 403,818 tons.
Here are the main particulars of these three ships from the DNV vessel register:
| | |
| --- | --- |
| Ship Name | Sea Beijing / Sea Qingdao / Sea Indonesia |
| Length Overall, LOA | 361,00 m |
| Extreme Breadth | 65.64 m |
| Deadweight | 403,818 MT |
| Gross Tonnage | 200679 GRT |
| Draught | 22,00 m |
| Freeboard | 5,209 m |
| Main engine | MAN, 7S80ME-C |
| MCR of engine. | 31,570 KW |
| Maximum Speed | 16,1 Knots |
| Classification society | DNV |
| Vessel type | Ore carrier |
Even though Valemax class of dry bulk carriers has impressive sizes, it has its own limitations in trade routes and can carry only one cargo – iron ore. The world's fleet of bulkers is much more diversified and complex than it might look.
Let's take a closer look at what other sizes and types are sailing around carrying cargo on board.
Classification Of Modern Bulk Carriers
There are different sizes of dry bulk carriers used for the international transportation of grains, ores, fertilizers, and other dry bulk commodities. The type of cargo and area of the trade has a great impact on the tasks of a naval architect to design fuel and economically efficient vessel for shipowners.
The smallest coaster bulkers are just a few hundred tons in deadweight and the largest ore carriers are over 400,000 tons, 361 meters in length, over 65 meters in beam, and with draughts of 22 meters.
Dry Bulk Carrier Classification By Size And Deadweight
In recent years, there has been a serious restructuring of the entire world economy. In this regard, there is a restructuring in the world fleet, aimed improvement of environmentally-friendly fleets and increasing the economic efficiency of maritime transport by increasing the number of large ships with a larger carrying capacity.
Projects have also been launched to improve the navigation of the main directions of maritime transport. Currently, the Suez and Panama Canals are being expanded and deepened. In this regard, the "max" and "size" size parameters familiar to everyone are subject to periodic adjustments.
At present moment sizes of these ships are mainly divided into 5 groups by deadweight, however, there are more specific groups by ship size and draft limitations that have their own names and by region of trade and specific port limitations.
Ship operators and charterers classify dry bulk carriers by deadweight as follows:
| | |
| --- | --- |
| Size name | Deadweight |
| Small or Mini bulkers | 500 – 10,000 dwt |
| Handysize | 10,000 – 40,000 dwt |
| Handymax / Supramax / Ultramax | 40,000 – 70,000 dwt |
| Panamax / New Panamax | 70,000 – 100,000 dwt |
| Capesize / VLOC | 100,000 – 400,000 dwt |
Very Large Ore Carriers or VLOC, as well as other ship prefixes starting with Very or Ultra Large, including VLBC, ULOC, and ULBC, are directly related to supertankers and don't have strict minimum deadweight and in different resources can start from 160,000 dwt, 200,000 dwt or 250,000 dwt and generally remain subclass of Capesize bulk carriers.
Shipping companies owning or operating within one or two size gropes can split their fleet list into more specific sizes for easier management. In this case, more common to use size classes with specific limitations. Here are ship classes and region or port subclasses used worldwide in the shipping industry:
Small Or Mini Bulk Carriers
Small or Mini bulkers – are the smallest dry bulk carriers that are often called coasters. Coasters are the smallest sizes of ships measuring the length overall under 110 meters, with drafts under 10 meters and a maximum deadweight of 10,000 dwt. This size allows coasters to enter all major port facilities for loading and discharging. These ships are chartered for short sea shipping overseas, coastal and river trades, and cabotage for shipping all kinds of dry bulk, general, and cargo.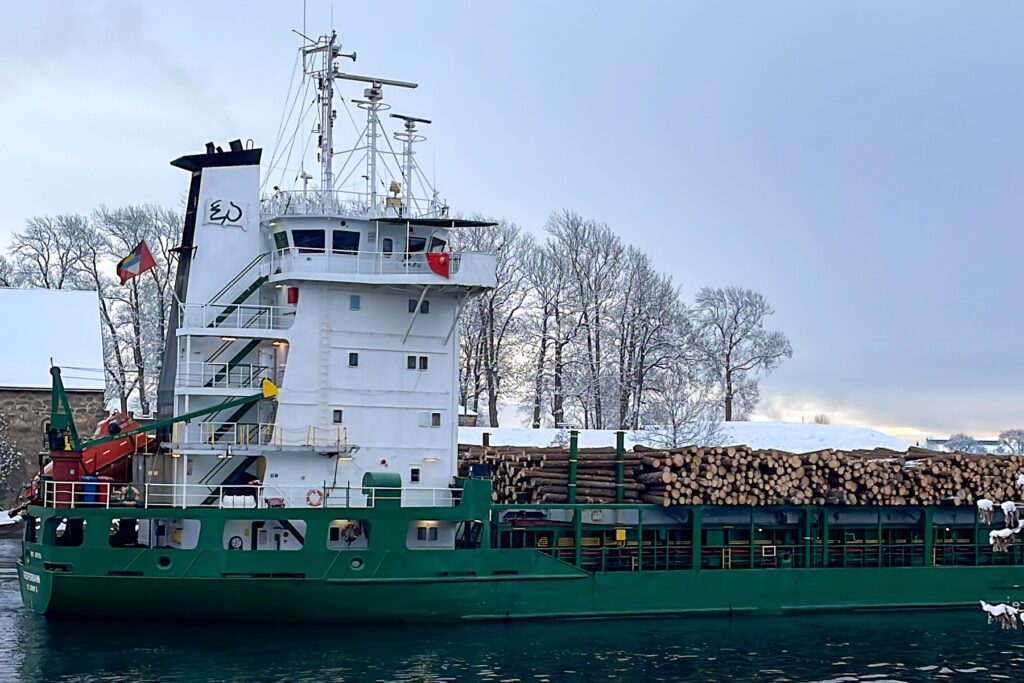 The most common design of such ships is a single hold or box-shaped general cargo ship. These ships may be used for single-type cargo shipment or be equipped with grain bulkheads or tween decks.
Grain bulkheads are portable transverse walls with manholes for access between separated compartments. Bulkheads allow for reducing the volume of cargo space for loading loose grain cargoes or segregating different grades in the cargo hold.
Coasters in most designs are gearless ships and require port facilities for cargo operations. However, you can often meet in Norwegian and the North Sea coasters with 2 cranes, portable excavators, or self-discharging equipment like equipped conveyor-based unloading gear.
Handysize Bulk Carriers
Handysize is a term used by naval architects and chartering and operations managers for medium-size tankers and dry bulk carriers. These are medium-range 10,000 to 40,000 dwt ships with lengths overall from 110 to 150 meters and drafts under 10 meters.
This allows entering most of the small and large ports worldwide carrying general, project, major, and minor dry bulk cargoes. The majority of ocean-going bulk carriers in the world are Handysize and Handymax bulkers.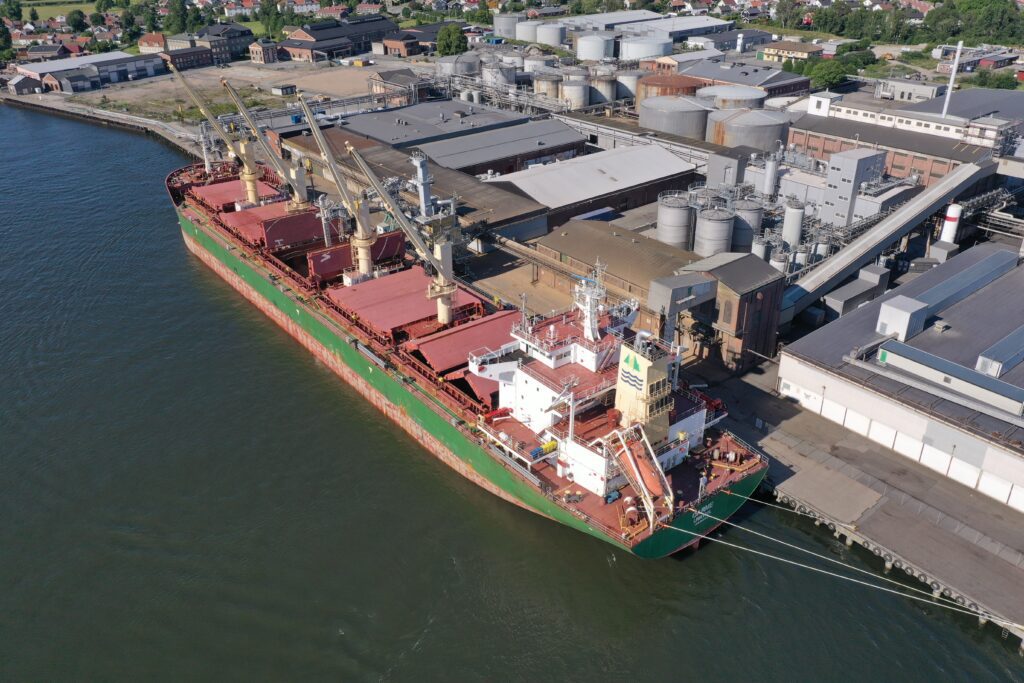 Handymax Bulk Carriers
These bulk carriers are the workhorses in the dry bulk market and are the most in number. This class has its own cargo gear on board which makes them flexible and capable to transport cargo to any port, even without infrastructure.
The Handymax category is defined as ships with a cargo capacity between 40,000 – 65,000 dwt and used for shipping minor and major dry bulk cargoes. Handymax bulk carriers now can be divided into 3 subcategories: Handymax, Supramax, and Ultramax.
Handymax was earlier considered as a subclass of Hadysize class vessels with a length overall from 150 to 200 meters and maximum drafts under 12 meters. The capacity of Handymax vessels is between 40,000 dwt and 50,000 dwt. This class of ships can enter most of the world's ports and is mostly used for the carriage of grain, fertilizers, steel products, ores, and coal.
Supramax Bulk Carriers
Supramax and Handymax terms are often used in close relation, as Supramax is a medium-range bulk carrier that is larger than the Handymax class with a maximum draft of 12.2m and a length of 199 meters. These class vessels are larger than the Handymax class with a capacity of 50,000 dwt to 60,000 dwt.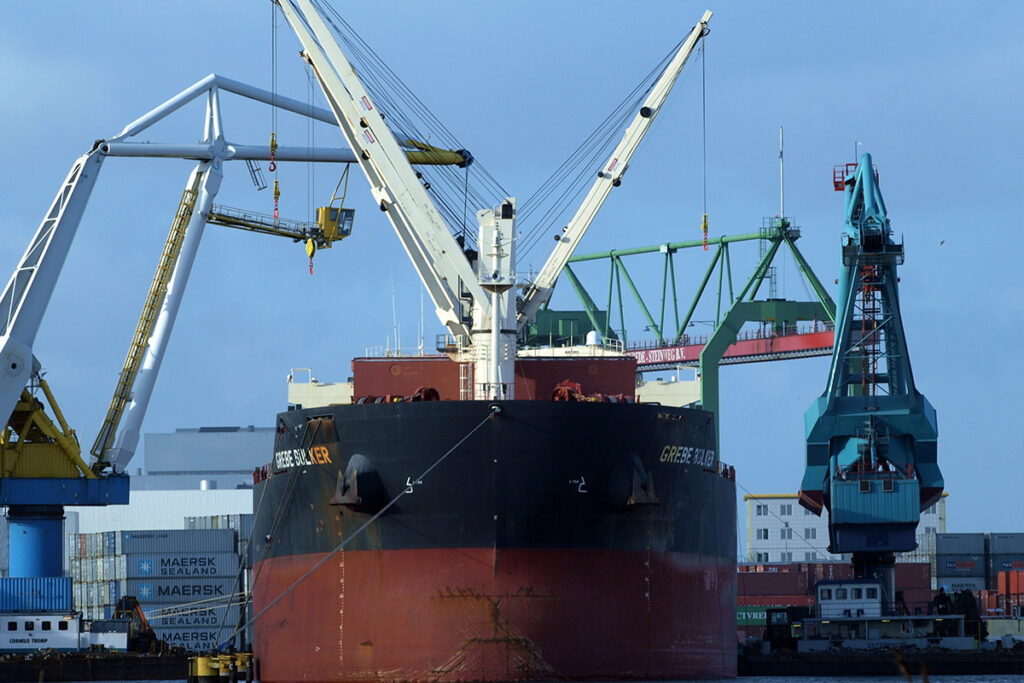 Ultramax Bulk Carriers
Ultramax is the largest class before Panamax. Ultramax bulker class is the newer form of the Supramax and is larger than Supramax. Ultramax bulk carrier has a maximum length of 200 meters, a beam of less than 32,2m, and a summer draft of 13.3m. The capacity of Ultramax class ranged from 60,000 dwt and 65,000 dwt. However, in 2021, Japanese shipbuilder Tsuneishi Shipbuilding released a new Ultramax 66,200 dwt eco ship design.
Handymax, Supramax and Ultramax class bulk carriers are commonly having 5 cargo holds and are fitted with 4 x 30/35 tons cranes and grabs.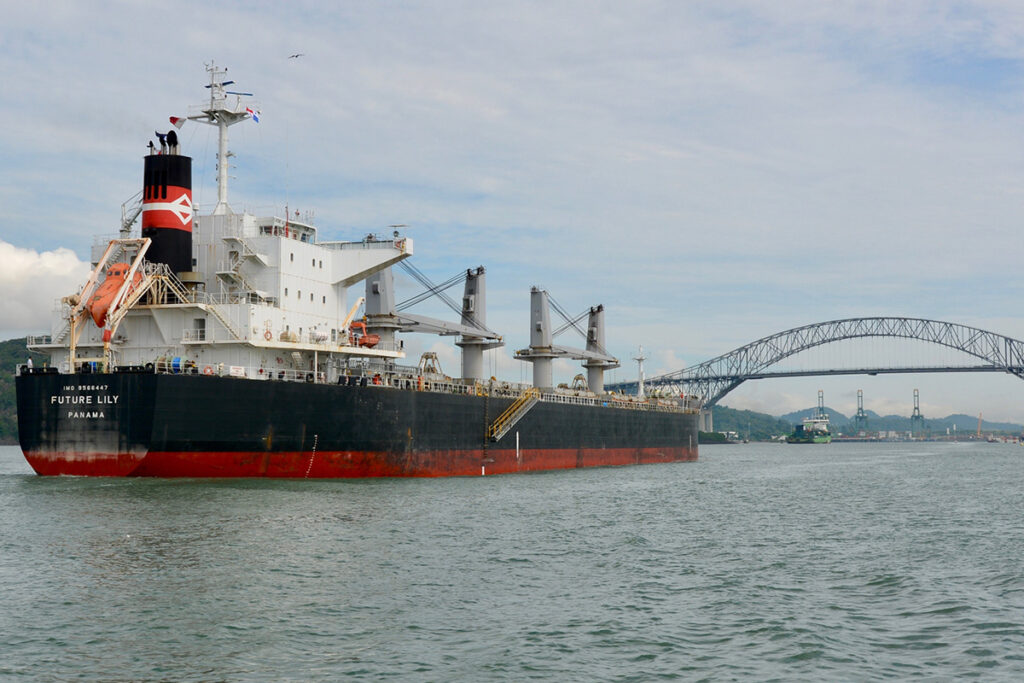 Panamax Bulk Carriers
Panamax and New Panamax are gearless bulk carriers with 7 cargo holds specialized for passing through the Panama Canal. Panamax class bulker has a cargo capacity between 65,000 and 80,000 dwt and is used mainly for transporting coal in the Caribbean and Latin American regions. This definition also applies to oil tankers.
Since 1920, the administration of the canal has established norms for the size of the vessel, which must be observed during its construction. The current locks and the depth of the channel limit vessels to a length of no more than 294.13 meters, a width of no more than 32.31 meters, and a draft of no more than 12.04 meters.
However, after the launch of the project to expand the canal, a new class was created – New Panamax, since after the reconstruction the canal will be able to receive larger vessels. The allowable dimensions have been increased to 427 meters long, 55 meters wide and 18.30 meters deep which led to the appearance of a new vessel class – New Panamax.
New Panamax bulk carriers can use the third set of Panama Canal locks that were opened on 26 June 2016. This class of bulkers has a cargo capacity between 80,000 and 100,000 dwt and theoretically can reach 120,000 dwt overlapping with Capesize class bulkers.
Here is a comparison table of Panamax and New-Panamax classes after the extension of the Panama Canal.
| | | |
| --- | --- | --- |
| | Panamax | New Panamax |
| Length, m | 289,60 | 366,00 |
| Beam, m | 32,31 | 49,00 |
| Draft, m | 12,04 | 15,20 |
| Air Draft, m | 57,91 | 57,91 |
Panamax and New-Panamax main particulars comparison
The hybrid design of 7 holds geared or gearless bulk carrier Kamsarmax is a new Panamax breed. It follows restrictions of the Kamsar port and is often specified for deadweight at two drafts – at 12,04 meters to pass Old Panama Canal locks and maximum summer draft.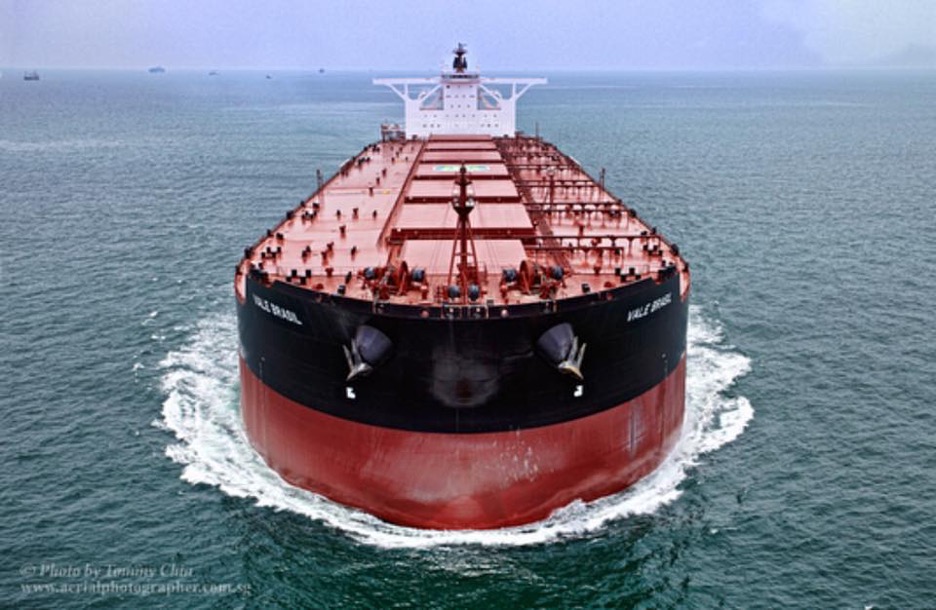 Capesize Bulk Carriers
Capesize is a category of large bulk carriers with 9 cargo holds and a carrying capacity of over 100,000 deadweight tons and includes subcategories VLBC (Very Large Bulk Carriers) and ULBC (Ultra Large Bulk Carriers that are ranging between 180,000 and 400,000 dwt.
The term Capesize is commonly used to describe bulk carriers, but this classification is now increasingly common among tankers.
The smallest subcategory is Babycap bulk carriers ranging between 100,000 and 120,000 dwt and are widely used by the largest dry bulk shipping company – Oldendorf.
Standard bulk carriers of this class have a carrying capacity of 150,000 – 175,000 tonnes (DWT) and are used primarily for the transport of coal and iron ore.
Later, larger vessels with a deadweight of more than 180 thousand tons appeared, and subcategories were added to the Capesize classification:
VLBC (Very Large Bulk Carriers), for tankers – VLOC (Very Large Oil Carriers) with deadweight from 180 thousand to 320 thousand tons
ULBC (Ultra Large Bulk Carriers), for tankers – ULOC (Ultra Large Oil Carriers) with a deadweight of more than 320 thousand tons.
Literally translated, these are very large and ultra-large highly specialized cargo ships, 95% of the cargo they carry is coal and ore. Due to their huge size and deep draft, only today's largest deep-water port terminals can accept them, which also limits their use and defines trade routes.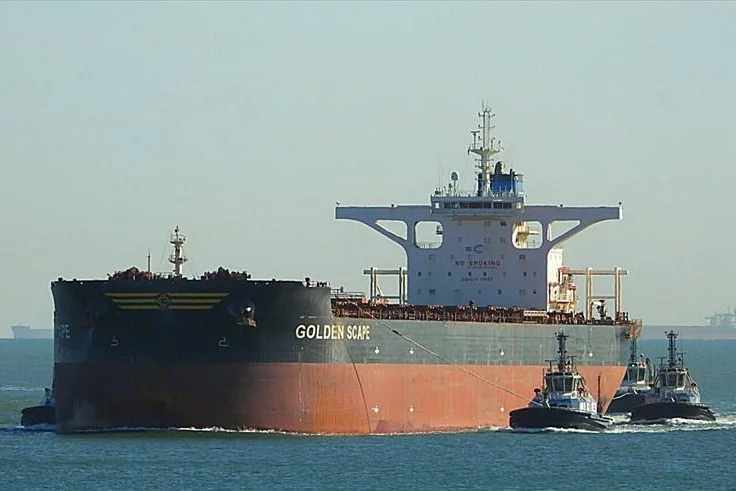 Dry Bulk Carrier Classification By Sailing Area
The depths of the straits, channels, coastal zones, and inland seas, the dimensions of the locks, and the dimensions of the berths are taken into account. The bulk carrier designation here includes the full or partial name of the channel, city, port, sea, or strait:
Seawaymax bulk carriers have the maximum possible dimensions for passage through the locks of the St. Lawrence Seaway, which connects the Great Lakes of North America with the Atlantic Ocean. The maximum hull length is 226 meters and the maximum draft is 7,92 meters.
Kamsarmax bulk carriers are a fairly new type of bulk carrier capable of entering the port of Kamsar in the Republic of Guinea, slightly larger than the Panamax class. Their length is 229 meters, which corresponds to the length of the ore bulk and oil terminals of this port. Kamsarmax fits Kamsar port requirements to optimize bauxite export, however, the main trades are coal, iron ore, and grains. Reading up about Kamsarmax bulk carriers may help you find more details and get more familiar with this size of vessels.
Baltimax bulk carriers are the largest type that can enter the Baltic Sea via the Great Belt in laden conditions. These vessels are limited by a draft of 15.2 meters and an air draft of 65 meters. There is no length or breadth limitations, however, ports in the Baltic sea have their own restrictions.
Setouchmax bulk carriers are the largest type that can sail in the Inland Sea of Japan (Setouch Sea) and have a deadweight of 203,000 tons. These bulkers are limited with a maximum hull length is 299,9 meters and a maximum draft is 16,10 meters for ports in Setouch Sea in Japan.
Dunkirkmax bulk carriers are the largest type that the port of Dunkirk in France can handle, with a carrying capacity of 175,000 DWT. These bulkers are limited by the eastern harbor lock specification in Port of Dunkirk and can have a maximum hull length of 289 meters and a bean of 45 meters.
Newcastlemax bulk carriers are the largest type that can enter the port of Newcastle (Australia), and have a carrying capacity of 185 thousand tons of deadweight, a maximum width of 50 meters, a length of 300 meters, and 20 meters draft.
Malaccamax bulk carriers are the largest type that can pass through the Strait of Malacca with a depth of 25 meters. Under current legal limits, the Malaccamax can have a maximum length of 333 meters, a beam of 60 meters, and a draft of 20.5 meters.
Chinamax bulk carriers are the largest type and have a close correlation with Valemax class bulk carriers. However, it was originally limiting vessels to entering ports of China, later transformed to the term "Chinamax-compatible" for harbors and other infrastructure that are able to accept ships up to 360 meters long, with a maximum 65 meters beam and 24 meters draft.
Valemax bulk carriers have a name that comes from the Brazilian mining company Vale, which is exporting iron ore. These are the largest ever built bulk carriers by deadweight and length overall and meet the requirements of the Chinamax class. This class of ships was designed to carry from 380,000 to 400,000 tons, but the first series of Valemax bulk carriers had vessels exceeding the limits.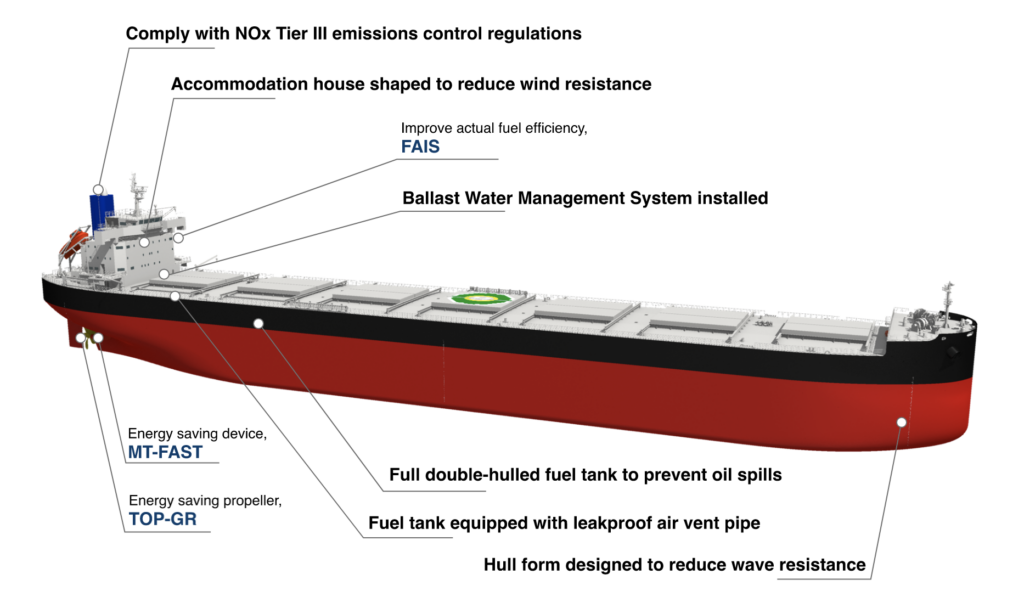 Classification Of Modern Bulk Carriers By Design
Geared bulk carriers – dry bulk carriers with unloading equipment on board – booms, cranes, or conveyor belts, with the help of which loading and unloading are carried out without the use of shore facilities, are able to enter almost any port in the world. Both crew members and stevedores can act as crane operators. Typically mini, Handysize, Handymax, Supramax, and Ultramax class bulkers.
Gearless bulk carriers – dry bulk carriers without unloading equipment and are completely dependent on onshore handling mechanisms, most often they serve a specific line with fixed ports of loading and unloading. Due to the lack of specialized cargo equipment, there is a significant reduction in their cost during construction and maintenance. Capesize and larger bulkers are gearless and require port facilities.
Combined bulk carriers or Ore-bulk-oil (OBO) carriers combine the design features of a bulk carrier and a tanker, making it possible to transport both ore and crude oil products at the same time.
Self-discharging bulk carriers are equipped with a transport conveyor belt with an arrow, along which the cargo is unloaded ashore, or pneumatic loaders (pneumatic method of unloading with suction-pressure loaders, pneumatic conveyors). With all the economic advantages and convenience of this unloading system, there are a number of disadvantages, the main of which is the frequency of belt breakdowns and the cost of their repair.
Lakers or lake freighters are operated in the Great Laurentian Lakes in North America, they are the largest non-marine cargo ships, reaching 300 meters in length and 22 meters in width. Most lakes belong to the Seawaymax class. For greater convenience of passing river routes and locks, the superstructure of the lakers has been moved to the bow. They are used to transport ore, cement, sand, and other bulk cargo. Due to the fact that lake carriers operate in freshwaters, their service life is many times longer than sea and ocean bulk carriers. The oldest laker still in operation is 109 years old. This is a cement carrier "St. Mary's Challenger", which was launched in 1906.
BIBO (Bulk In, Bags Out) bulk carriers are equipped with equipment for packing cargo into bags during unloading. In one hour, almost 300 tons of already packed granulated sugar are unloaded using these systems.
Classification Of Bulk Carriers By Type Of Cargo
Most of the wide variety of bulk cargoes are transported by universal bulk carriers, the smaller part by highly specialized bulk carriers due to serious economic benefits, forming the following classification group:
Universal bulk carriers (multipurpose bulk carriers or MPP ships) are designed to transport all kinds of bulk cargo and account for almost 80% of the entire bulk carrier fleet.
Highly specialized bulk carriers are used to transport one specific type of cargo.
Coal carriers or colliers – single-deck dry-cargo ships with a minimum freeboard, designed to transport coal, appeared in the middle of the 19th century to meet the massive demand for coal at that time in energy, industry, and transport. Carrying capacity varies from 2 to 20 thousand tons. Self-unloading coal carriers equipped with longitudinal belt conveyors in the form of funnels are installed under the holds, with the help of which the cargo is fed to the deck unloader and then to the shore. This type of vessel can be used for the carriage of grains, wood pellets, and other minor cargoes
Grain carriers are singled out as an independent group since shipowners use them exclusively for transporting grain due to the high cost of transporting (freight) grain crops and in order to avoid costs and downtime for washing holds after other cargoes.
Cement carriers are designed to transport cement, the main design feature is the presence of special pneumatic, mechanical, or combined systems for self-unloading.
Oil and ore carriers or OO-type vessels (Ore/Oil carriers) are designed for the simultaneous transportation of oil and ore. In the 70s of the XX century, they were very popular due to cost reduction due to the absence of ballast transitions. However, already in the 80s, the boom in the construction of these ships passed. They are the oldest representatives of combined ships.
Ore carriers are designed to transport various ore materials in bulk and differ structurally from universal ones only in size, almost all of them have a large carrying capacity of over 180 thousand tons of deadweight and the most modern ones exceed 400 thousand tons of deadweight (DWT).