The sea has always been an important part of human history, and seaports have long been an important part of maritime trade. Seaports are more important than ever today, as international trade has become a critical component of the global economy.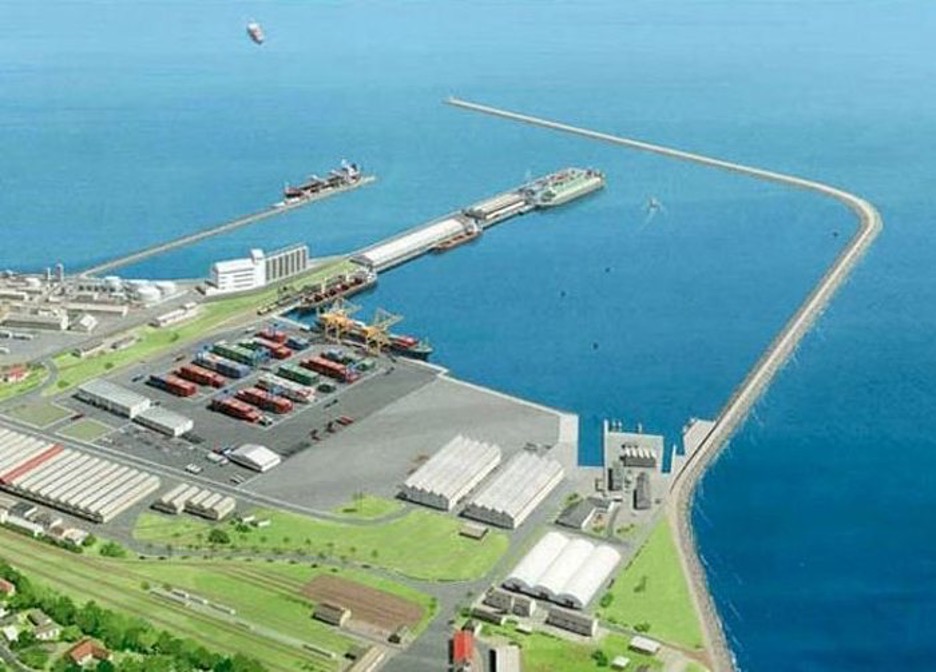 There are several factors that contribute to the importance of seaports. For starters, seaports are necessary for the transportation of goods. They provide an intermodal connection between maritime shipping and the land-based transportation network.
Second, seaports are important for goods storage and distribution because they can accommodate large volumes of cargo and distribute them quickly to a large area.
Ghana is a West African country with a coastline that stretches 560 kilometers (350 miles) from Aflao in the Volta Region to Cape Three Points in the Western Region.
Ghana's economy is heavily reliant on its seaports, which handle more than 90 percent of the country's trade.
Ghana's seaports date back to the early 15th century when the Portuguese arrived on the Gold Coast (the former name for Ghana). They constructed a fort at Elmina, which became the African continent's first European-built seaport. The Dutch, British, and Swedes quickly followed suit, building forts and seaports along the coast.
Currently, Major ports in Ghana are two seaports, the Port of Tema and the Takoradi Port, both of which are managed by the Ghana Ports and Harbors Authority, a state-owned port authority (GPHA).
The Tema Port.
Tema Port was built in 1962 and has a built-in area of 3.9 million square meters, making it Ghana's largest port. The port has berthing capacity ranging from 12m to 18m, with draughts ranging from 8.2m to 11.4m.
Tankers 244m long with a draught of 9.7m can be safely accommodated at the berths.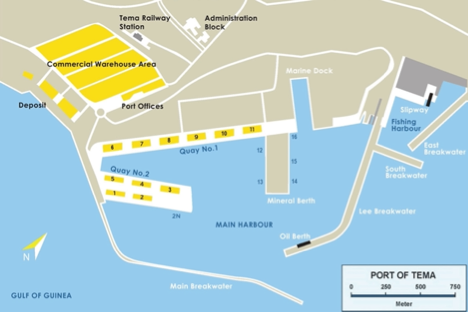 Tema Port, Ghana's largest and busiest seaport, handles 85 percent of Ghana's trading activities with global shipping services via direct and transshipment services. It receives more than 1,650 vessels per year.
Tema port began expanding in October 2016 as part of GPHA's larger development plan under a 35-year concession agreement.
Tema Port Expansion Specifications.
The expansion project will include the reclamation of approximately 120ha of land from the sea, as well as the construction of a 1.4m-long quay wall with a 4m-deep berth to accommodate larger vessels measuring 360m in length.
A 3.85km breakwater facility will be built, as well as a port access channel with a depth of 19m and a width of 250m.
In addition, a 1,400m wharf, 129ha yard area, and an additional facility for next-generation port equipment and information technology, as well as a railway terminal to transport containers to and from the port, are being developed.
Container ships with a cargo capacity of 18,000 containers will be equipped with advanced gantry cranes and operating systems. The refurbishment will allow WAEMAX vessels to berth (West African maximum vessels, with tonnage capacity of between 4,500TEU and 5,000TEU.)
As part of the project, a 1,400m wharf, 129ha yard area, and an additional facility for next-generation port equipment and information technology will be developed." The first phase of the expansion project, which is expected to be completed in 2018, will include the development of two berths.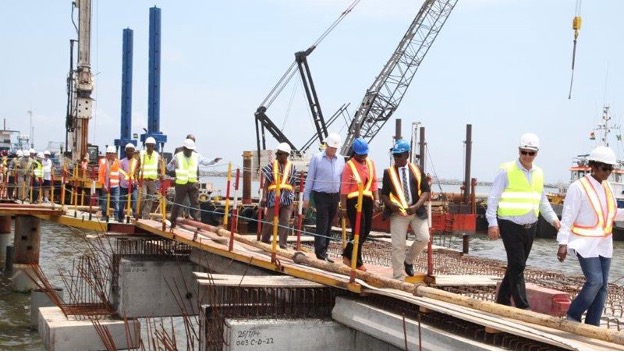 Takoradi's Port
Takoradi Port, located in Ghana's Western Region, is the country's oldest port. Built in 1928, Takoradi Port's strategic location makes it ideal for servicing the international trade of the three Sahelian landlocked economies of Burkina Faso, Mali, and Niger along the routes from Europe, the Americas, and Asia.
In 2021, the Port handled 25% of Ghana's seaborne traffic, 61% of Ghana's seaborne exports, and 18% of Ghana's seaborne imports.
Manganese, bauxite, clinker, wheat, bulk and bagged cocoa, quicklime, containerized cargo, and mining and oil/gas industry equipment are among the major commodities handled by the Port.
Since the commercial discovery of oil offshore in Ghana in 2007, the Port of Takoradi has served as the primary strategic logistics support base for offshore oil and gas exploration and production in Ghana and beyond.
Furthermore, the increase in transit trade volumes of landlocked countries has necessitated port expansion. As a result, construction of a new bulk port for GPHA, which was completed in three phases, began in 2013 and was completed in 2017.
The first phase of the plan included the extension of the port's 1.1-kilometer breakwater, the port's deepening to -14 meters, and the construction of a 200-meter quay wall.
In view of such needs, future expansion plans will. include a new Passenger Terminal, new Food & Fruit terminal, new RoRo Terminal, new Tran-shipment terminal, new Break/Dry/Liquid Bulk Terminals, and an Oil rig and ship repair facility.
Ghana's Shipyards and Drydocks.
The Tema Shipyard and Drydocks Company Limited (TSDCL). operates a drydock and slipway facility in Ghana. It is home to one of Africa's largest shipyards and dry docks.
Tema Shipyard and Drydocks Company Limited is a Ghanaian government parastatal company strategically located on 48.45 acres of land near the Tema Port.
The Shipyard has two (2) 100,000 dwt graving docks and offers dry docking, lay berths, quay fitting out, and preservation services.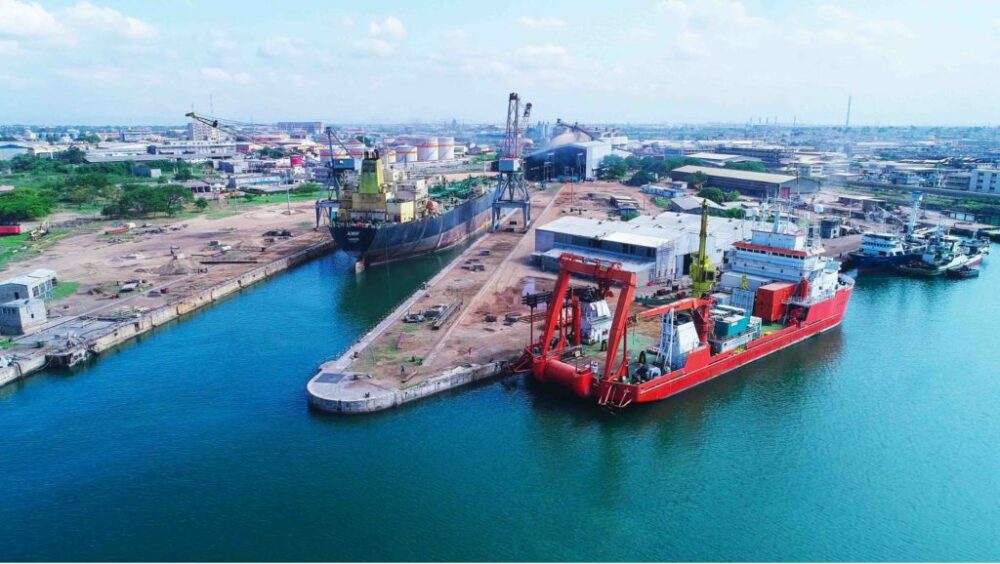 Because of the need for such facilities to service the country's burgeoning oil and gas industry, the shipyards and dry dock industry have now become a critical sector of the country's economy. As a result, the sector is poised for explosive growth, especially with the government's numerous initiatives.
Conclusion.
The seaport sector is a key enabler of economic development and is critical for the growth of any country. It is therefore not surprising that the Government of Ghana has identified the development of seaports as a priority area under the Ghana Beyond Aid agenda.
As a result seaports in Ghana are being repeatedly expanded. As early as 1996, the Ghana Ports and Harbors Authority decided on a further expansion program for the two ports. This project, combined with investment costs of 365 million US dollars, will enable the provision of better port access to the ports of Takoradi and Tema.