Ships carry a wide array of goods ranging from foodstuff, machinery, vehicles, oil, gas, and dry goods. At the port, the goods are unloaded from one vessel to the warehouse or from one warehouse to another that is ready for transportation to the next destinations or put in warehouses as they await repackaging, customs clearance, and distribution.
Stevedores are the personnel at the port in charge of the movement of cargo within and from port to port. A stevedore loads cargo to a ship before it leaves the port, unloads cargo from a vessel that arrived at the port, and coordinates all the activities of cargo movement.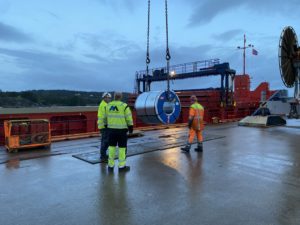 You need technical skills in operating different machines and equipment to do the stevedore job. Some cargo is heavy and requires equipment such as power cranes to transport. Other types of equipment like wheel-loaders, hose and shorelines, conveyor belts, and trucks help in the transport of general cargoes, liquid, gas, and dry bulk cargoes, and knowledge on how to operate them is crucial for every stevedore.
What Are the Functions of Stevedores in a Port?
The roles or functions of stevedores may vary depending on the company or whoever is engaging their services be it a shipper, ship charterers, or ship owner. Here are some functions of stevedores in the shipping industry:
Sorting and storage of containers. Various types of cargo arrive at the port from different parts of the world. Some contain perishable goods in reefer containers like fresh fruits and vegetables, others dry goods like clothes and heavy machinery and vehicles are loaded into dry containers or even on flat racks or open-top containers.
Stevedores sort out the containers and reload them at the terminal and load to final destinations. They also store containers awaiting custom clearance in warehouses simplifying the task of locating one's container as different goods are stored in different warehouses.
Driving transport vehicles. Most of the cargo at the port comes in large quantities and can only be transported by vehicles. A stevedore is skilled in driving vehicles that aid in transportation such as trucks, tractors, cranes, and winches, depending on the type of the goods and storage requirements.
For heavy cargo like vehicles, stevedores rely on winches and cranes to transport them for stowage before they are dispatched to their next destination via road or rail transport.
Pallet fastening and lashing. While loading vessels, stevedores ensure containers are stable by supporting them using pallets. For the pallets to provide firm support, they are lashed and fastened before piling goods on them.
Stevedores stretch the pallets and wrap the containers together to prevent toppling and damage.
Carrying out safety checks on equipment. Equipment used for transportation in ports such as trucks and cranes should be in good condition before starting any loading and unloading activity. A mechanical problem in a piece of equipment can cause vast damage to both humans and cargo at the port.
Stevedores examine all equipment before use to prevent accidents and ensure the safety of all workers in the port.
Sorting and storage of cargo. vessels transport different types of cargo including bulk liquid like oil, dry bulk such as grains, gas, and heavy bulk such as vehicles and machinery.
To minimize damage and accidents during transportation, stevedores sort cargo and store it securely in the vessel.
Positioning of goods in the holds of the ship and ensuring they are secure by strapping them with braces.
Clearing the congestion in the port by ensuring cargo moves quickly in and out of the port.
What Are the Qualifications of Becoming a Stevedore?
Like any other technical job, stevedore has its requirements both in body physique, and skill. For most shipping firms, there is no minimum academic requirement. To qualify for a stevedore job, however, you should be physically able to lift heavy items. Other qualifications include:
You should be 18+ years old with a valid driving license. Driving skills are a must because you need to drive vehicles while transporting cargo.
You should have experience driving commercial trucks and vehicles. Basic knowledge in driving is not sufficient, experience operating heavy commercial vehicles is a requirement.
Adequate skills to operate lifting equipment such as cranes, cradles, and forklifts. You need this equipment to lift heavy cargo such as vehicles before transporting them.
You should possess skills in handling dangerous substances like oil and gas which are highly flammable and other poisonous chemicals while maintaining safety
You should have the basic knowledge to interpret custom and shipping documents.
You should be available to work on-call throughout, including weekends and holidays because ports operate 24/7.
How Much Does a Stevedore Earn?
The annual remuneration of a stevedore differs from one shipping company to another and from country to country. Your earnings as a stevedore will also depend on your highest professional skills and workload.
In the United States, the annual salary range of a stevedore ranges from $19000 to $80500. Australia has the highest remuneration going up to $720000 annually.
Where Do You Find Stevedore Jobs?
Many websites advertise stevedore jobs for different companies and geographical regions. To find these jobs, search online by typing stevedore + jobs on the search box from any browser. You may also include your preferred geographical area before filling out an application form, uploading your resume, and sending it to the recruiting company.
If you live near a port, you can also visit their offices and talk to the human resource manager about your interest in working with them and the skills you possess. Even if the company is not currently recruiting, you stand a chance of being contacted in their next recruitment.
Stevedore jobs are competitive, and therefore you should constantly polish and improve your skills to gain a competitive advantage. Take time to visit the company website before sending your application to know their requirements and update your resume accordingly.
Your output is of greater importance, always work to improve your skills if you are thinking of being one of the stevedores.
Parting Shot
Stevedore jobs are rewarding and offer people a lifetime chance to learn and improve their technical and interpersonal skills. Though they have a greater risk of operating machines and handling poisonous substances, taking relevant precautionary measures will give you a fascinating experience handling cargo from different parts of the world.