As the shipping industry was expanding in the early 2000s, there was a need for vessels more efficient than Panamax-designed ships.
To address this, an innovative idea of a ship was conceptualized around the year 2005.
Hence, the Kansarmax was launched, to carry more cargo, be fuel-efficient, wave and wind-resistant, and still flexible enough to navigate major ports around the world.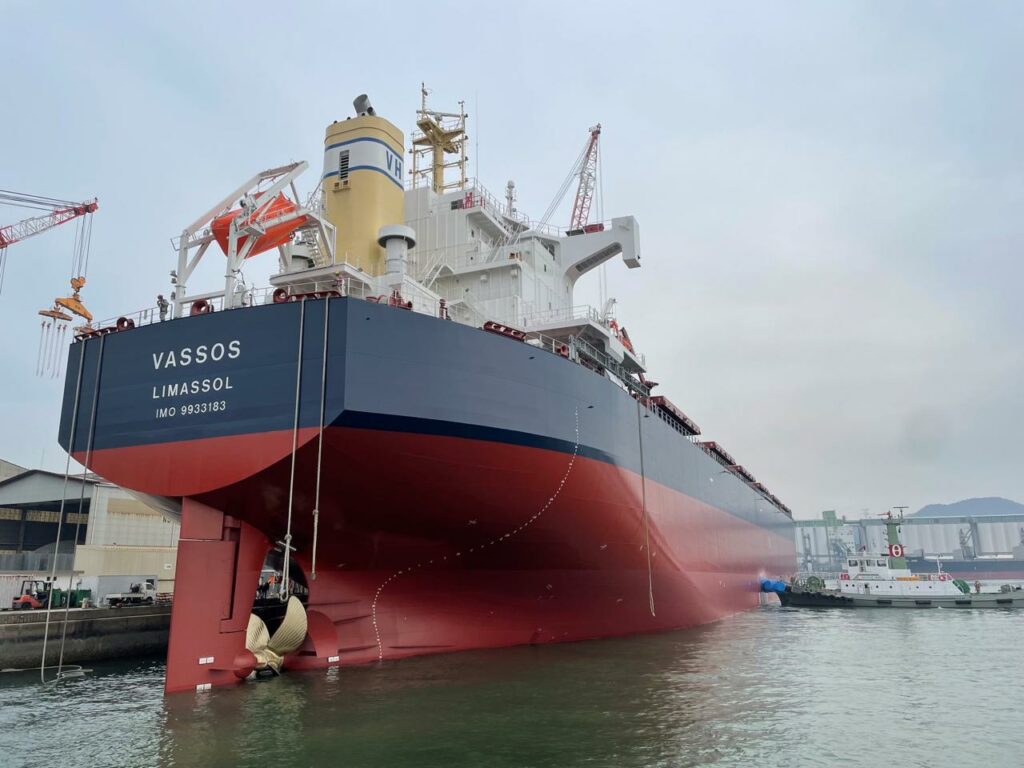 What Is The Kamsarmax Meaning?
Kamsarmax refers to vessels with a maximum LOA (length overall) of about 229 meters. It got its name from the port of Kamsar in the Republic of Guinea located in West Africa. Major port terminals in the area load bulk cargo and have port restrictions of 229 meters. This means only vessels of this size or smaller are allowed entry into port.
Kamsarmax ships are slightly longer than Panamax vessels but are able to carry more cargo. A few upgrades were made to Kamsarmax ships to make them more fuel-efficient.
The bulbous bow was removed at the forepart of the vessel to reduce wave resistance. The purpose of the bulbous bow was to protect the ship in the case of a collision with another vessel or other structures. Unfortunately, this is also an added weight to the ship with a protruding design that affects the wave resistance capability of the ship.
Naval architects reinforce the bow of the vessel with double hull steel, forepeak tank, and forecastle deck. This allows the Kamsarmax ship to experience greater speed and yet be protected in case a collision happens on high waters.
Kamsarmax Size and Deadweight (DWT)
The Kamsarmax is designed to achieve a deadweight of about 82,000 MT(metric tons). Deadweight is the sum of all the weights that a vessel can carry. This would include, cargoes, fuel/bunkers, freshwater including drinking water and ballast water, provisions and stores, crew, and passengers if any. The Kamsarmax has the deepest draft in its category.
Kamsarmax class bulk carriers with varying deadweight tonnage (DWT) and other specifications. The Kamsarmax vessel size is a type of bulk carrier that is larger than the Panamax class but smaller than the Capesize class. These vessels are designed to pass through the expanded locks of the Panama Canal. Kamsarmax DWT is ranging from around 79,000 to 83,000 tons.
Most of the vessels are gearless, meaning they do not have onboard cranes or other equipment for cargo handling, and rely on port facilities for loading and unloading. A few Kamsarmax vessels are equipped with gears for cargo handling like MV Ai Stratis, MV Moudros, MV Canpotex Inspire, MV Pan Energen, MV Gertrude Oldendorff, MV Gebe Oldendorff, MV Gerdt Oldendorff, MV Georg Oldendorff, MV Gretke Oldendorff and MV Gisela Oldendorff.
The majority of Kamsarmax bulkers are constructed in the 2010s. The carriers operate under various charter types such as voyage (VOY), time charter (T/C), and own, with some being bareboat (B/B). Read this article about various charter types if interested.

Kamsarmax Bulk Carrier Size
The Kamsarmax boasts impressive specifications and innovative technology. The maximum length overall is 229 meters while the breadth is maxing at 32 to 33 meters. The breadth of the ship refers to the width of the vessel at the widest point. Extreme breadth is measured to the extreme points of the port and starboard of the ship while the moulded breadth is taken from the inside shell platings of the hull.
It has a cargo-carrying capacity of about 98,000 cubic meters that is being distributed in seven cargo holds. At ballast condition, hold number four is being utilized as a ballast hold. This would aid the vessel's stability.
The shallowest draft is more or less at 15.0 meters while the maximum depth is slated at 20 meters.
The gross tonnage of Kamsarmax can range from 40,000 to 48,000 tons. Gross tonnage is a measure of the ship's internal volume and is the basis on which port dues are charged. More details on ship tonnages you can be read in this article.
Eco Kamsarmax
The Kamsarmax has been designed externally and internally to achieve better fuel efficiency. The hull form was altered to experience lesser wave resistance while the accommodation is shaped to reduce wind resistance.
Additional upgrades were installed to make Kamsarmax ships fuel-efficient. One key design was the energy-saving fins that make propulsion more efficient. These are connected near the propeller and rudder of the ship. It can be easily fitted to either new and existing ships with its compact design and versatility. This allows the Kamsarmax vessel to recover about 5 percent of lost energy due to propeller rotations.
The propeller itself has been upgraded to optimize performance. It reduces fluctuation pressure which caused noise and vibration in the engine room, thereby boosting fuel efficiency.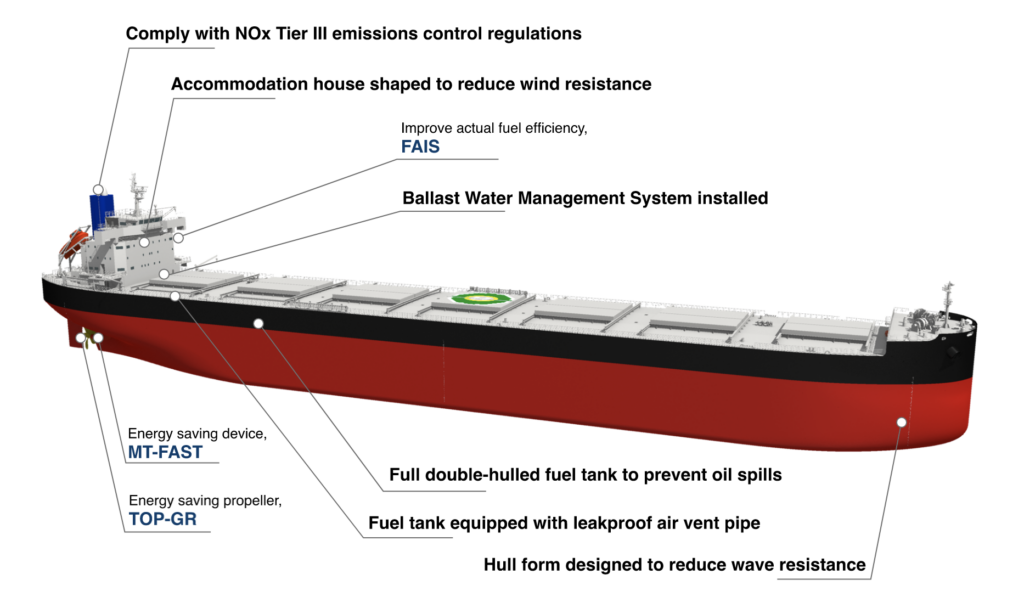 For the main engine, a new system was developed to improve engine combustion that allows the vessel to take in air from outside of the ship. This is the FAIS (Fresh Air Intake System), an air supply structure that improves main engine efficiency. It lowers the temperature being supplied to the engine by about ten percent, thereby resulting in a more efficient process.
Additional turbochargers were also added, a large and small one to interchange engine output. This results in a varying range of main engine outputs which contributes to high combustion and fuel efficiency especially if the vessel is in slow steaming mode.
Lastly, Kamsarmax ships are fitted with environmental technology devices to prevent or minimize air pollution from nitrogen and sulfur oxide emissions and marine pollution from oil spillages.
Karsarmax Vessel Price and Timecharter Rates.
Price on Kamsarmax bulk carrier newbuilding varied in range from $35 to $41 million depending on the shipyard and market demand. In late 2021 MX Bulk sold Kamsarmax's newbuilding at the high price of $40 million right before vessel delivery by Tsunieshi Zhoushan. However, the Indicative Chinese Newbuilding Prices by Hellenic Shipping News is estimated to be $35 million.
Meanwhile, secondhand Kamsarmax Ships are valued at $31 million for 5 years old and at $25 million for 10 years old vessels. For the latest updates, you can check weekly updates by Fearnleys AS.

Timecharter rates remain relatively stable since August 2022. Rates remain currently leveled at the rate of $18,250 per day fixing 1-year TC that is about $10,000 lower than time-charter rates peaking on October 2021 and March 2021 reaching 29,500$ and 27,500$ for 75,000 DWT dry bulk carriers.
Which Is Bigger Kamsarmax Or Panamax? (Kamsarmax Vs Panamax)
Bulk carriers vary in length, drafts, and cargo capacity. They are classified into different categories including small, Handysize, Panamax, Capesize, and very large carriers. Their cargoes vary from grain, wheat, salt, alumina, bauxite, and similar cargoes.
Panamax vessels are generally between 60,000 and 80,000 deadweights and are designed to navigate the locks of the Panama Canal. The Kamsarmax, which was designed after the Panamax ship is slightly longer in length and has a higher cargo-carrying capacity. Kamsarmax can fit through the locks of the Panama Canal and can also be accommodated at the Port of Kamsar in Guinea, West Africa.
This nation has one of the world's largest deposits of Bauxite and Kamsarmax ships were developed in response to this trade. Bauxite is transported from all over the country and then shipped worldwide to countries like China, India, and some countries in Asia.
Kamsarmax vs Capesize
Both Capsize and Kamsarmax belong to the bulk carrier family. They are both built to carry large amounts of bulk cargo. These may include but are not limited to cement, rice, salt, wood chips, grains, and soya.
Capesize class vessels have a length of 230m up to 270m and have a maximum cargo-carrying capacity of 200,000 deadweight tons. Capsize ships cannot be accommodated at Panama Canal and can only be berthed at a few specialized ports around the world.
The drafts of Capsize vessels are also much deeper compared to those of Panamax ships. Maximum drafts for the former can reach up to 18m while for the latter, it is between 13 meters to a maximum of 15 meters.
Capesize ships can have around nine to eleven cargo holds to carry up to 100,000 tons of cargo. It is designed to carry mostly coal, iron ore, and commodity raw materials. While the Kamsarmax can carry about sixty thousand tons of cargo evenly distributed to seven cargo holds. Kamsarmax carries a slight edge on the speed as it is designed with an innovative bow, hull, and accommodation to resist wind and wave effects.