If you're planning a cruise to Mexico, Puerto Vallarta is a must-visit destination.
Located on the Pacific coast, Puerto Vallarta is a vibrant city that offers visitors a taste of traditional Mexican culture, as well as stunning beaches, delicious food, and exciting activities.
In this ultimate guide to Puerto Vallarta cruise port, we'll cover everything you need to know to make the most of your time in this beautiful city.
Getting to Puerto Vallarta Cruise Port
Puerto Vallarta, a charming coastal city on Mexico's Pacific coast, is a renowned cruise destination, attracting numerous cruise lines such as Royal Caribbean, Carnival, Princess Cruises, and sometimes even traveling on cargo ships.
The Puerto Vallarta Cruise Port, also known as the Maritime Terminal, is conveniently situated near the city center, allowing passengers easy access to the city's attractions and activities.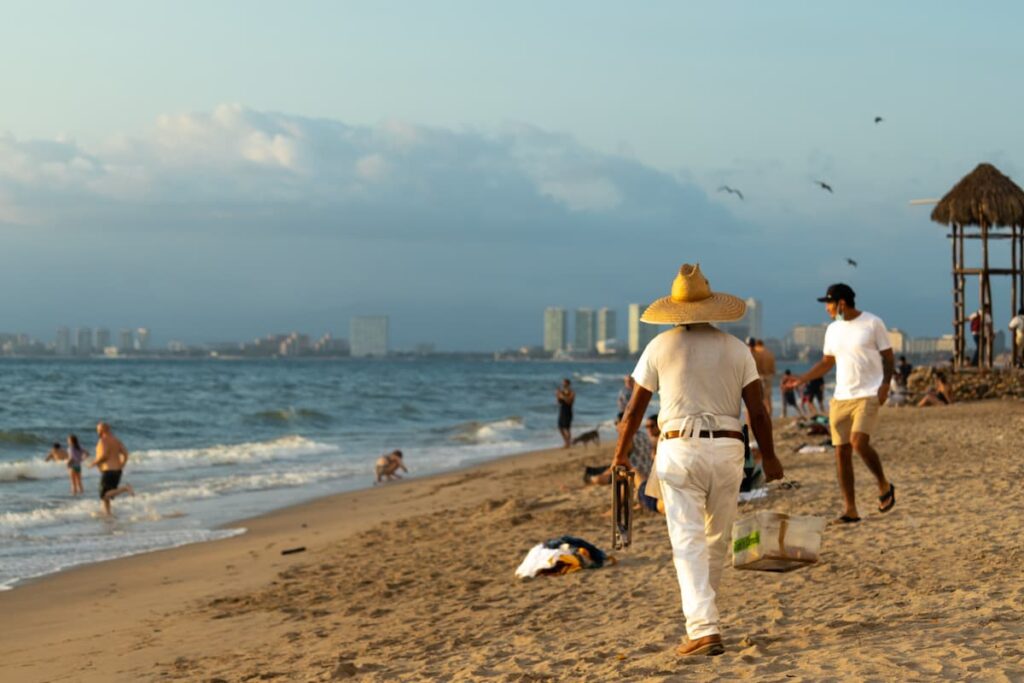 Location and Distance: The Mexican cruise port is located approximately 4 kilometers (2.5 miles) north of the city center, in the area known as the Hotel Zone. This strategic location places the terminal within easy reach of both downtown Puerto Vallarta with great places to eat and the popular beach destinations in the surrounding areas.
Arriving at the Cruise Port: Upon arriving at the Puerto Vallarta Cruise Port, cruise passengers will be greeted by a modern, well-organized facility designed to cater to their every need. The terminal features a variety of amenities, including a shopping center, an information desk, ATMs, restrooms, and dining options. Additionally, the port offers free Wi-Fi to help passengers stay connected during their visit.
Walking to the City Center: As the Puerto Vallarta Cruise Port is just a few minutes' walk from the city center, passengers can easily access the local attractions, shops, and restaurants on foot. To reach the heart of the city, simply exit the terminal, cross the main road, and follow the pedestrian walkway along the picturesque marina. This scenic route will lead you straight into the bustling downtown area.
Taking a Taxi or Shared Ride: For those who prefer not to walk or wish to explore destinations further afield, taxis and shared rides are readily available at the cruise port. Authorized taxi stands are located just outside the terminal, offering fixed-rate fares to popular destinations such as the Malecon boardwalk, the Romantic Zone, and the Marina Vallarta area. Passengers can also opt for rideshare services like Uber or Lyft, which can be easily accessed using their respective apps.
Public Transportation: Public buses are an affordable and convenient way to explore Puerto Vallarta and its surrounding areas. From the cruise port, passengers can catch a bus heading south towards the city center or north to destinations such as Nuevo Vallarta, Bucerias, or Punta Mita. Bus stops are located just outside the terminal, and fares are generally paid in cash using Mexican pesos.
Car Rental Services: For passengers interested in exploring the area at their own pace, several car rental companies, including Hertz, Avis, and Budget, have offices at or near the Puerto Vallarta Cruise Port. To save time and avoid potential language barriers, it is advisable to book your rental car in advance online.
Cruises To Puerto Vallarta
Embark on a memorable cruise to Puerto Vallarta, a picturesque Mexican destination that has something for everyone. With a variety of cruise lines and itineraries departing from different ports, you can find the perfect voyage to suit your travel preferences and schedule. In this section, we will explore some popular cruise lines and their offerings for cruises to Puerto Vallarta.
Royal Caribbean
Renowned for its innovative ships and diverse itineraries, Royal Caribbean offers cruises to Puerto Vallarta from several departure ports, including Los Angeles, San Diego, and Galveston. With a range of voyage durations, from short 4-night getaways to longer 10-night adventures, you can choose the perfect cruise to explore the beauty of Puerto Vallarta and other enchanting Mexican ports.
Carnival Cruise Line
Carnival Cruise Line, known for its fun-filled ships and family-friendly atmosphere, also offers cruises to Puerto Vallarta. Departing from ports like Los Angeles and San Francisco, you can choose from various itinerary lengths, allowing you to experience the vibrant culture, stunning beaches, and delicious cuisine of Puerto Vallarta and beyond.
Princess Cruises
Princess Cruises, a leader in premium cruising, features a variety of cruises to Puerto Vallarta from ports such as Los Angeles, San Francisco, and Vancouver. With a range of itineraries, including shorter 7-night voyages and more extended 14-night sailings, you can immerse yourself in the charm of Puerto Vallarta while also visiting other captivating Mexican ports and Pacific Coast destinations.
Norwegian Cruise Line
Norwegian Cruise Line, recognized for its freestyle cruising concept, offers sailings to Puerto Vallarta from departure ports like Los Angeles and San Diego. Choose from a selection of itineraries, from quick 5-night escapes to more leisurely 11-night journeys, and experience the magic of Puerto Vallarta along with other Mexican Riviera destinations.
Holland America Line
Holland America Line, a cruise line known for its classic elegance and immersive destination experiences, provides cruises to Puerto Vallarta from various departure ports, including San Diego, Vancouver, and Fort Lauderdale. With options ranging from 7-night Mexican Riviera sailings to more extended Panama Canal cruises, you can explore Puerto Vallarta's wonders and uncover the beauty of the broader region.
MSC Cruises
MSC Cruises, a rapidly growing cruise line with a Mediterranean flair, has also introduced itineraries to Puerto Vallarta. Departing from ports like Miami and San Diego, you can embark on voyages ranging from 7 to 21 nights, allowing you to discover the allure of Puerto Vallarta and experience the diverse offerings of the Mexican Riviera and beyond.
When planning your cruise to Puerto Vallarta, consider factors such as departure port, cruise line, and itinerary length to find the perfect voyage that aligns with your preferences and schedule. With numerous options available, you're sure to find a cruise that will allow you to experience the best of Puerto Vallarta and create unforgettable memories.
Things to Do in Puerto Vallarta
Puerto Vallarta offers a wide range of activities and attractions for visitors to enjoy. From exploring the bustling Malecon and admiring the historic Church of Our Lady of Guadalupe to embarking on thrilling zipline adventures and unwinding on pristine beaches, there's something for everyone in this beautiful coastal city.
Explore the Malecon
The Malecon, Puerto Vallarta's iconic oceanfront boardwalk, stretches for over a mile along the scenic Banderas Bay. As you stroll along this vibrant promenade, you'll encounter an eclectic mix of shops, restaurants, and bars, as well as beautiful sculptures and art installations by local and international artists. In the evenings, the Malecon comes alive with street performers, live music, and a festive atmosphere, making it a perfect spot to experience Puerto Vallarta's lively nightlife.
Visit the Church of Our Lady of Guadalupe
The Church of Our Lady of Guadalupe, also known as La Iglesia de Nuestra Señora de Guadalupe, is a must-visit attraction in Puerto Vallarta's historic center. This stunning church features a mix of Gothic and Baroque architecture and is a symbol of the city's rich history and culture. The church's iconic crown-topped bell tower is visible from various points throughout the city. Be sure to step inside to admire the beautiful stained-glass windows, ornate altars, and religious artwork.
Take a Day Trip to Sayulita
Sayulita, a charming beach town located just 30 minutes from Puerto Vallarta, is well worth a day trip. Known for its laid-back, bohemian vibe, Sayulita attracts surfers, artists, and travelers seeking a relaxed atmosphere. Wander the colorful streets lined with boutique shops, art galleries, and cafes, or try your hand at surfing on the town's popular beach. Don't forget to sample some of the delicious street food and local cuisine, including fresh fish tacos and ceviche.
Go Ziplining
For adventure enthusiasts, ziplining is a must-do activity in Puerto Vallarta. Several companies, such as Canopy River, Vallarta Adventures, and Los Veranos Canopy Tour, offer exhilarating ziplining experiences in the lush jungles surrounding the city. Soar through the treetops and take in breathtaking views of the Sierra Madre Mountains, tropical foliage, and flowing rivers. Some tours also include additional activities, such as ATV rides, river rafting, and animal encounters.
Relax on the Beach
Puerto Vallarta boasts some of Mexico's most beautiful beaches, each offering a unique ambiance and an array of activities. Playa de Oro, conveniently located near the Hotel Zone, is perfect for sunbathing and swimming, while Playa Mismaloya, nestled at the foot of the Sierra Madre Mountains, offers a more tranquil setting. For crystal-clear waters and stunning rock formations, head to Playa las Gemelas, a pair of idyllic coves ideal for snorkeling and exploring marine life.
Discover the Romantic Zone
Also known as Old Vallarta or Zona Romantica, the Romantic Zone is a charming, cobblestoned neighborhood filled with colorful buildings, lively markets, and vibrant nightlife. Wander the picturesque streets, browse the local shops for unique souvenirs, and dine at some of the city's best restaurants. Be sure to visit the famous Los Muertos Beach, where you can relax under a palapa, partake in water sports, or simply people-watch as you soak up the sun.
Shopping in Puerto Vallarta
Puerto Vallarta offers a diverse shopping experience, catering to a variety of tastes and budgets. From bustling markets and artisan boutiques to luxury shopping malls, the city has something for every type of shopper. Here are some of the top places to shop in Puerto Vallarta:
Mercado Municipal (Municipal Market)
The Mercado Municipal, also known as the Cuale River Market, is a lively open-air market located on Isla Cuale, a small island in the middle of the Cuale River. This vibrant market features numerous stalls selling a wide array of goods, including traditional Mexican handicrafts, clothing, ceramics, jewelry, and souvenirs. Don't miss the opportunity to sample some of the delicious local cuisine, such as fresh tamales, empanadas, and tropical fruit.
Olas Altas Farmers Market
Held every Saturday from November to April, the Olas Altas Farmers Market is a popular destination for both tourists and locals alike. Browse the stalls for fresh, locally-sourced produce, artisanal bread, handmade crafts, and organic products. The market also features live music and cultural performances, adding to the festive atmosphere.
La Isla Shopping Village
La Isla Shopping Village is a modern, open-air shopping mall located in the heart of Puerto Vallarta's Hotel Zone. This upscale shopping destination offers a range of high-end boutiques, international brands, and specialty stores. In addition to shopping, visitors can enjoy a variety of dining options, a movie theater, and entertainment venues.
Galerias Vallarta
Galerias Vallarta is another popular shopping mall in Puerto Vallarta, featuring a mix of national and international brands, department stores, and a cinema. Located near the cruise port, this mall is a convenient option for visitors arriving by ship. After a day of shopping, relax and dine at one of the mall's many restaurants and cafes.
Romantic Zone Boutiques
The Romantic Zone, also known as Old Vallarta or Zona Romantica, is home to an array of boutique shops and galleries offering unique and eclectic items. Wander the cobblestoned streets and discover one-of-a-kind art pieces, jewelry, clothing, and home decor from local artists and designers. This charming neighborhood is a perfect place to find distinctive souvenirs and gifts.
Marina Vallarta
Marina Vallarta is a picturesque waterfront area that features a variety of shops, restaurants, and galleries. Stroll along the marina's boardwalk and browse the stores selling nautical-themed items, clothing, and accessories. Be sure to visit the Marina Vallarta Art & Market, held on Thursday evenings during the high season, for a selection of handmade crafts, food, and live entertainment.
Shopping in Puerto Vallarta is a delightful experience, offering a mix of traditional markets, artisan boutiques, and contemporary shopping centers. Whether you're searching for authentic Mexican crafts, high-end fashion, or local produce, you'll find a wealth of shopping opportunities in this vibrant coastal city.
Dining in Puerto Vallarta
Puerto Vallarta is a culinary paradise, offering a diverse range of dining options that cater to various tastes and budgets. The city boasts an impressive selection of restaurants, from traditional Mexican eateries and fresh seafood spots to international cuisine and gourmet establishments. Here are some of the must-visit restaurants and dining experiences in Puerto Vallarta:
La Palapa
La Palapa is a Puerto Vallarta institution, serving up delicious Mexican and international cuisine in a stunning beachfront setting. Established in 1959, this iconic restaurant offers an unforgettable dining experience with tables right on the sand, providing unbeatable views of Banderas Bay. Enjoy fresh seafood, expertly crafted cocktails, and live music as the sun sets over the ocean.
El Arrayan
El Arrayan is a highly acclaimed restaurant specializing in authentic Mexican cuisine with a focus on traditional dishes from different regions of Mexico. The menu features a variety of dishes made with fresh, locally-sourced ingredients, including mole, pozole, and cochinita pibil. The restaurant's charming courtyard, adorned with an arrayán tree, provides a beautiful setting for a memorable dining experience.
The Swedes
The Swedes, located in the heart of the Romantic Zone, is a stylish and cozy restaurant serving a delightful fusion of Swedish and international cuisine. The menu offers a variety of dishes, from Scandinavian classics like gravlax and Swedish meatballs to locally-inspired creations featuring fresh seafood and regional ingredients. Don't miss their popular Sunday brunch, which includes bottomless mimosas and a delicious selection of dishes.
Cafe des Artistes
Cafe des Artistes, helmed by renowned chef Thierry Blouet, is one of Puerto Vallarta's most prestigious dining establishments. The restaurant offers an elegant atmosphere and a menu that blends French and Mexican culinary traditions, using the finest local and imported ingredients. Dine in the opulent indoor dining room or the romantic garden terrace, and be sure to indulge in the impressive wine list and delectable desserts.
Tacos Revolucion
For a more casual dining experience, head to Tacos Revolucion, a popular taco joint known for its flavorful and inventive tacos. Choose from a wide range of fillings, including traditional options like al pastor, carne asada, and chorizo, as well as unique creations such as shrimp and pineapple or pork and cheese. This unpretentious eatery is perfect for a quick and satisfying meal.
Mariscos 8 Tostadas
Mariscos 8 Tostadas is a must-visit for seafood lovers. This casual eatery offers a mouthwatering selection of fresh seafood dishes, including ceviche, aguachile, shrimp cocktails, and, of course, their signature tostadas. With generous portions and reasonable prices, Mariscos 8 Tostadas is an excellent choice for a delicious and affordable meal.
Barrio Bistro
Located in the Versalles neighborhood, Barrio Bistro is a trendy and eclectic restaurant offering an innovative menu that changes seasonally. Chef Memo Wulff showcases his creativity and passion for local ingredients with dishes that blend Mexican and international flavors. Enjoy a relaxed, artistic atmosphere and an excellent selection of craft cocktails.
In summary, dining in Puerto Vallarta is a gastronomic adventure, offering everything from traditional Mexican fare and fresh seafood to creative fusion cuisine and international delights. With its vibrant culinary scene and diverse range of restaurants, the city is sure to satisfy every palate and provide unforgettable dining experiences.
Shore Excursions from Puerto Vallarta
There are numerous shore excursions available in Puerto Vallarta that cater to various interests and activity levels. Whether you're seeking relaxation, adventure, or cultural experiences, you'll find plenty of options to choose from. Here are some of the most popular shore excursions:
Las Caletas Beach Hideaway
Las Caletas is a secluded beach hideaway only accessible by boat, offering visitors a day of relaxation and adventure in a stunning natural setting. Once a private retreat of famed film director John Huston, this tropical paradise provides an array of activities, including kayaking, snorkeling, paddleboarding, and hiking through the lush jungle. For those seeking relaxation, indulge in a beach massage or simply lounge on the golden sands. A delicious buffet lunch and open bar are included, making this excursion a perfect day trip.
Sierra Madre Jeep Adventure
Embark on a thrilling off-road adventure through the rugged terrain of the Sierra Madre Mountains on this exciting jeep tour. You'll traverse winding mountain roads, visit traditional Mexican villages, and learn about local culture and customs from your knowledgeable guide. Stop at a local tequila distillery for a tasting session and enjoy breathtaking views of the surrounding landscape. This excursion offers a unique opportunity to explore the region's natural beauty and experience authentic Mexican rural life.
Dolphin Encounter
Experience an unforgettable encounter with dolphins on this incredible shore excursion. At a marine facility, you'll have the chance to interact with these intelligent and playful creatures under the guidance of expert trainers. Learn about dolphin behavior, anatomy, and conservation efforts while participating in fun activities, such as swimming alongside them and enjoying a thrilling dorsal fin tow. This family-friendly excursion is both educational and entertaining, providing lasting memories for all ages.
Marietas Islands Eco-Adventure
The Marietas Islands, a UNESCO-protected marine reserve, offer an exceptional opportunity for snorkeling, scuba diving, and wildlife spotting. On this eco-adventure, you'll cruise to the islands on a catamaran, guided by knowledgeable naturalists who will provide insights into the area's unique ecosystem. Discover the vibrant underwater world as you snorkel or scuba dive, and keep an eye out for sea turtles, manta rays, and colorful fish. Above water, watch for seabirds, including the blue-footed booby, and explore hidden beaches.
Rhythms of the Night
For a magical evening excursion, consider Rhythms of the Night, a mesmerizing dinner and show experience set in the secluded cove of Las Caletas. Cruise across Banderas Bay as the sun sets, and be transported to a world of enchantment as you enjoy a candlelit dinner on the beach. Following dinner, be captivated by the spectacular performance, which showcases Mexico's rich history and mythology through music, dance, and acrobatics.
So, Puerto Vallarta offers a wide range of shore excursions that cater to various interests and preferences. From secluded beach hideaways and thrilling off-road adventures to unforgettable wildlife encounters and captivating cultural experiences, there's something for everyone to enjoy during their visit to this vibrant coastal city.
Best Time to Visit Puerto Vallarta
The best time to visit Puerto Vallarta largely depends on your personal preferences and priorities, as each season offers unique advantages. However, the most popular time to visit is between November and April, when the weather is typically sunny, dry, and pleasantly warm. During this period, visitors can expect daytime temperatures ranging from 75°F to 85°F (24°C to 29°C), making it perfect for beach activities and exploring the city.
November to April (Dry Season)
As mentioned earlier, November to April is the peak season for tourism in Puerto Vallarta, with many visitors flocking to the city to escape colder climates. The dry season offers optimal conditions for sunbathing, swimming, and outdoor activities such as hiking, ziplining, and golfing. However, be prepared for larger crowds and slightly higher prices on accommodations, cruises, and activities during this time.
May to October (Rainy Season)
While May to October marks the rainy season in Puerto Vallarta, it can still be an enjoyable time to visit. Rain showers are usually short-lived and occur in the late afternoon or evening, leaving the majority of the day sunny and warm. During this time, the city is less crowded, and visitors can benefit from lower prices on accommodations and activities. The lush, tropical vegetation is also at its most vibrant, and the warmer ocean temperatures are ideal for swimming and water sports.
In addition to the weather, consider local events and festivals when planning your visit. The Festival Gourmet International, held in November, showcases the city's culinary talents, while the Puerto Vallarta International Film Festival in December attracts cinephiles from around the world. In February, the Festival Sayulita combines surfing, music, and cinema for a unique cultural experience.
Conclusion
Puerto Vallarta is a must-visit destination for any Mexican cruise itinerary, offering a captivating blend of stunning natural beauty, rich culture, and exciting activities. With its pristine beaches, vibrant culinary scene, and diverse range of experiences, the city appeals to a wide variety of interests and tastes.
By following this ultimate guide to Puerto Vallarta cruise port and considering the best time to visit, you'll be well-equipped to make the most of your time in this enchanting coastal paradise of one of the popular Mexican cruise ports.
FAQs
Where is the Puerto Vallarta Cruise Port located?
The Puerto Vallarta Cruise Port, also known as Terminal Marítima, is located just a few minutes away from the city center, making it easy to access the main attractions of the city on foot or by taxi.
Which cruise lines visit Puerto Vallarta?
Many cruise lines include Puerto Vallarta on their itineraries, such as Royal Caribbean, Carnival, Princess Cruises, Norwegian Cruise Line, Holland America Line, and Celebrity Cruises.
How far is the cruise port from the airport?
The Puerto Vallarta Cruise Port is approximately 5 miles (8 km) from Licenciado Gustavo Díaz Ordaz International Airport (PVR), and the journey takes about 15-20 minutes by taxi or car.
Are there taxis available at the cruise port?
Yes, taxis are readily available at the cruise port, making it convenient for visitors to explore the city or travel to nearby attractions.
Can I walk from the cruise port to downtown Puerto Vallarta?
The cruise port is within walking distance of the city center. It takes about 20-30 minutes on foot to reach the downtown area, which includes popular attractions such as the Malecon, the Church of Our Lady of Guadalupe, and numerous shops and restaurants.
Is it safe to visit Puerto Vallarta?
Puerto Vallarta is generally considered safe for tourists. However, as with any travel destination, it is essential to take standard safety precautions, such as avoiding poorly lit areas at night, keeping your personal belongings secure, and being aware of your surroundings.
What currency is used in Puerto Vallarta?
The official currency in Puerto Vallarta, and throughout Mexico, is the Mexican Peso (MXN). However, many establishments, especially in tourist areas, also accept US dollars. It is always a good idea to have some local currency on hand for smaller purchases and local transportation.
Are there any beaches within walking distance of the cruise port?
Playa Camarones, a lovely sandy beach, is within walking distance of the cruise port. It takes approximately 20-25 minutes on foot, or you can take a short taxi ride. Other popular beaches, such as Playa de Los Muertos, Playa de Oro, and Playa Mismaloya, are easily accessible by taxi or bus.
Is English widely spoken in Puerto Vallarta?
English is widely spoken in Puerto Vallarta, especially in tourist areas such as hotels, restaurants, and attractions. However, it is always appreciated if you can learn a few basic Spanish phrases to help navigate your way around the city.
Can I drink tap water in Puerto Vallarta?
It is generally recommended that visitors drink bottled or purified water in Puerto Vallarta to avoid any potential stomach issues. Most hotels and restaurants use purified water for drinking and food preparation, and bottled water is readily available for purchase throughout the city.