From the lively Playa Los Muertos to the secluded Playa Las Caletas, each beach tells its own unique story. Dive in, and let's embark on this sun-soaked journey together.
Whether you're a seasoned traveler or planning your first maritime adventure, our comprehensive guide will help you navigate the best beaches in Puerto Vallarta Near Cruise Port.
Puerto Vallarta, located on Mexico's Pacific coast in the state of Jalisco, is surrounded by some of the country's most beautiful beaches.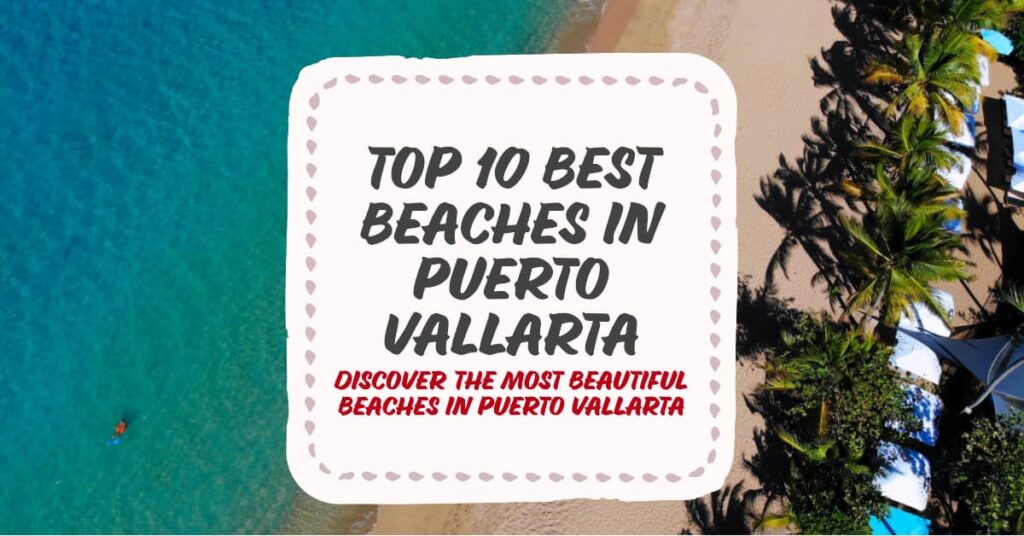 Best Beaches In Puerto Vallarta
Here's a list of the top 10 beaches near Puerto Vallarta:
Playa Los Muertos: Best for Social Butterflies & People Watching
The most celebrated beach in Puerto Vallarta. This lively stretch boasts restaurants, bars, and a pier, making it the perfect spot for vibrant interactions and people-watching.
Playa Mismaloya: Best for Movie Buffs & Historical Exploration
Located south of Puerto Vallarta, it gained fame as the backdrop for "The Night of the Iguana." A must-visit for those looking to relive a slice of cinematic history.
Playa Conchas Chinas: Best for Snorkeling Enthusiasts
A stone's throw from downtown Puerto Vallarta, this beach is adorned with natural pools and intriguing rock formations, making it a snorkeling paradise.
Playa Las Gemelas: Best for Relaxation & Pristine Swimming
Known for its white sands and crystalline waters, these twin beaches are the epitome of tranquility and offer pristine swimming conditions.
Playa de Oro: Best for Water Sport Adventurers
Lined with hotels and eateries, this popular beach is not only great for swimming but also offers a plethora of water sports to dive into.
Playa Las Caletas: Best for Divers & Romantics
Accessible only by boat, its secluded ambiance paired with excellent snorkeling and diving opportunities make it a lovers' favorite.
Playa Boca de Tomatlán: Best for Traditionalists & Off-the-beaten-path Travelers
Both a beach and an authentic fishing village. A gateway to hop on water taxis to explore the secluded southern beaches.
Playa Marietas Islands: Best for Eco-Tourists & Bird Watchers
A short journey from Puerto Vallarta, these islands house the famed "Hidden Beach". Perfect for snorkeling and spotting unique bird species.
Playa Sayulita: Best for Surfers & Bohemian Souls
In Nayarit, Sayulita resonates with a bohemian pulse and is a surfer's dream, boasting consistent waves.
Playa San Pancho (San Francisco): Best for Peace Seekers & Reflective Wanderers
Also nestled in Nayarit, just a whisker north of Sayulita, San Pancho offers a peaceful respite with its expansive beach and contemplative ambiance.
Whether you're interested in water sports, sunbathing, or exploring the local culture, the beaches near Puerto Vallarta have something for everyone. Remember to respect local guidelines and protect the natural environment when visiting these beautiful places.
Playa Los Muertos: A Glimpse into Puerto Vallarta's Gem
Just a stone's throw from downtown Puerto Vallarta, Playa Los Muertos beckons with a colorful history that's as vibrant as its golden sands. The beach, whose name intriguingly translates to "Beach of the Dead", stands as a testament to ancient tribal battles, lending it a hauntingly beautiful aura.
What makes it special? Apart from its unique historical backdrop, Los Muertos boasts stunning natural rock formations that frame azure waters. From sunbathing and beach volleyball to sampling tantalizing local cuisine at nearby eateries, there's an activity for every traveler.
Visiting during the late winter or early spring months ensures pleasant temperatures and fewer crowds. And while basking in this beachy paradise, always heed local safety guidelines, especially during the rainy season. So, why wait? Experience the blend of history, nature, and gastronomy at this must-visit coastal spot!
Playa Mismaloya: Where Nature Meets Silver Screen Magic
Tucked away approximately 20 minutes south of Puerto Vallarta, Playa Mismaloya is more than just a beach—it's a slice of cinematic history. It's where Hollywood planted its flag in the 1960s with the film "The Night of the Iguana", propelling Puerto Vallarta into the global limelight.
But Mismaloya isn't just famous for its Hollywood connection. Sheltered by jungle-clad mountains, the beach is a sanctuary of calm with its crescent-shaped bay cradling crystal-clear waters. Adventure seekers will revel in snorkeling opportunities, witnessing the vibrant marine life beneath the waves.
Foodies, rejoice! The beachfront is dotted with rustic palapas, offering a feast of local delicacies. Try the grilled fish or shrimp tacos, they're a treat. For those wishing to venture beyond, nearby attractions include the El Eden jungle river set. However, always exercise caution when swimming, as currents can be tricky. Regardless of your interests, Playa Mismaloya is a mosaic of nature, gastronomy, and film history, waiting to be explored!
Playa Conchas Chinas: Puerto Vallarta's Secluded Coastal Treasure
A mere 5-minute drive south of the bustling heart of Puerto Vallarta, Playa Conchas Chinas emerges as a serene escape. Its name, which translates to "Chinese Shells", gives a nod to the unique seashells that sprinkle its shores. The beach is a secluded slice of paradise, a juxtaposition of white sands against the dramatic backdrop of verdant mountains.
What truly distinguishes Conchas Chinas are its natural tide pools and rock formations. These exquisite sculptures carved by nature are perfect for explorers and those in search of a serene spot to take a dip. As the tide recedes, tiny aquatic worlds get unveiled in these pools, making them a treat for both young and old.
While the beach itself remains relatively untouched by commercial ventures, you won't have to venture far to indulge in authentic Mexican cuisine. Several boutique eateries dot the nearby areas. When visiting, it's advisable to wear appropriate footwear due to the rocky terrains, and always be cautious of the ocean's moods. Ultimately, Playa Conchas Chinas is a testament to nature's artistry and Puerto Vallarta's diverse coastal tapestry.
Playa Las Gemelas: Twin Jewels of Puerto Vallarta's Coast
Hidden just about 15 minutes south of Puerto Vallarta lies Playa Las Gemelas, or "The Twin Beaches". These two adjoining coves are like nature's mirror – each reflecting the beauty of the other. Cloaked in powdery white sands and hugged by emerald-green forested cliffs, they are true gems on the coastline.
But beauty isn't their only draw. Las Gemelas are celebrated for their calm, crystalline waters which offer a safe haven for swimmers and snorkelers alike. Beneath the water's surface, a ballet of colorful marine life unfolds, making it a snorkeler's dream.
For those who fancy a day of sunbathing, the beaches remain relatively uncrowded, making it easy to find a quiet spot to lounge. While amenities are limited due to their secluded nature, the charm lies in their untouched beauty. Carry essentials with you, and perhaps a picnic to savor amidst the breathtaking views.
If you're in search of a tranquil retreat that echoes the unspoiled beauty of Puerto Vallarta's coastline, Playa Las Gemelas is the destination. And while their beauty beckons, always be conscious of the tides and respect the pristine environment that makes them special.
Playa de Oro: The Golden Stretch of Puerto Vallarta
Situated just north of the town center, Playa de Oro glistens true to its name as "Golden Beach". This sun-kissed stretch in Puerto Vallarta is where the golden sands dance harmoniously with the azure waves of the Pacific.
Unlike some of its more secluded counterparts, Playa de Oro buzzes with life. From parasailing to jet skiing, the beach presents a canvas of water sports, making it a hotspot for thrill-seekers and families. The gentle waves here are inviting, perfect for a refreshing dip after soaking in the sun.
Foodies won't be disappointed either. The beachfront is lined with a smorgasbord of restaurants and bars, each plate telling a story of local flavors. Fresh seafood tacos, zesty ceviche, and cool margaritas—there's a culinary journey awaiting at every corner.
But Playa de Oro isn't just about the beach; it's about the vibe. Evening sees a transformation, as golden hour fades into a tapestry of vibrant nightlife. While the beach's central location ensures accessibility, it's wise to keep an eye on personal belongings amidst the crowd. When in Puerto Vallarta, missing out on the golden allure of Playa de Oro would be a seaside sin.
Playa Las Caletas: Puerto Vallarta's Hidden Paradise
Nestled just south of Puerto Vallarta, reachable only by boat, lies Playa Las Caletas – a secluded sanctuary that whispers the tales of nature's splendor. This private strip, once the home of famed director John Huston, has since transformed into one of the region's most coveted retreats.
What makes Las Caletas truly enchanting is its undisturbed beauty. Sheltered by a cloak of dense jungle, its golden sands and turquoise waters paint a scene straight out of a postcard. As the sun casts its glow, the bay becomes a playground for marine enthusiasts, with snorkeling and diving uncovering a vibrant undersea universe.
Beyond the waters, the beach offers an array of activities. From interactive animal encounters to spa treatments amidst the sound of lapping waves, there's a touch of magic in every corner. And as evening falls, the rhythm of drums and captivating performances take center stage, echoing the area's rich cultural heritage.
While the seclusion of Playa Las Caletas promises an idyllic escape, visitors should remember to book their boat rides in advance and be prepared for limited amenities. But, that's a small trade-off for a slice of paradise, untouched and unparalleled.
Playa Boca de Tomatlán: Where the River Embraces the Sea
Journey just 10 miles south of Puerto Vallarta and you'll stumble upon the quaint charm of Playa Boca de Tomatlán. More than just a beach, it's where the Horcones River kisses the Pacific, creating a unique confluence of freshwater meets salt.
Unlike the more commercial beaches of Puerto Vallarta, Boca de Tomatlán breathes the air of a traditional fishing village. Wooden boats bob gently in the bay, ready to whisk visitors to nearby secluded beaches, while locals cast their nets, keeping the age-old traditions alive.
The beach itself, with its golden sands and gentle waves, invites sunbathers and swimmers alike. And when hunger strikes? Local palapas dish out the freshest seafood. Don't leave without savoring the catch of the day, grilled to perfection and seasoned with local herbs.
What's more, Playa Boca de Tomatlán serves as the gateway to the south coast. Many use it as a launchpad to explore hidden coves and beaches accessible only by boat. While the tranquillity here is palpable, visitors should always be cautious of boat traffic when swimming. All in all, this beach is not just a destination, but a journey back in time to the heart of Mexico's coastal heritage.
Playa Marietas Islands: Nature's Hidden Sanctuary Off Puerto Vallarta's Coast
Venture about 22 nautical miles west of Puerto Vallarta cruise port and discover a secret utopia: the Playa Marietas Islands. This archipelago, born from volcanic activity ages ago, is now a UNESCO protected marine reserve, safeguarding its unique biodiversity.
Arguably the crown jewel of the islands is the "Hidden Beach" or "Playa del Amor". This secluded beach, cocooned by a cavernous opening, remains shielded from the world outside. Only accessible during low tide through a water tunnel, its very inaccessibility renders it all the more enchanting.
Diverse marine life flourishes here. From playful dolphins to majestic humpback whales, the surrounding waters are a spectacle for snorkelers and divers. Vibrant corals, exotic fish, and sea turtles grace the underwater realm, making each dive an ethereal experience.
However, with such pristine beauty comes responsibility. Strict guidelines exist to preserve the islands' delicate ecosystem. Limited permits and adherence to eco-friendly practices ensure that Playa Marietas remains undisturbed. And while the allure is undeniable, visitors should be conscious of the environment, refraining from using sunscreens that harm marine life.
In essence, Playa Marietas Islands aren't just a destination; they're a testament to nature's artistry and resilience, a magical realm where conservation meets exploration.
Playa Sayulita: Surf, Sand, and Bohemian Rhapsody
A little further north of Puerto Vallarta, about an hour's drive, the coastal town of Sayulita unveils its heart: Playa Sayulita. Known widely as the "Crown Jewel of the Riviera Nayarit", this beach is where the bohemian spirit of Mexico comes alive.
Renowned as a surfer's paradise, Playa Sayulita offers waves suitable for both novices and seasoned surfers. Surf schools dot the shoreline, with seasoned instructors guiding newcomers to catch their first wave. But it's not just the surf that lures visitors. The beach is a canvas of colorful umbrellas, vibrant eateries, and artisans selling handcrafted wares.
Beyond its sandy shores, Sayulita's vibrant streets beckon. Murals, boutique shops, and eclectic cafes create an ambiance that's both relaxed and lively. From yoga retreats to moonlit drum circles, there's an unmistakable air of creativity and community.
Safety tip for travelers: While Playa Sayulita is generally safe, it's advisable to be wary of strong currents, especially during certain times of the year. And for those looking to dive into local cuisine? Fresh fish tacos, ceviche, and chilled coconut water await, creating a gastronomic love affair you won't soon forget.
In a nutshell, Playa Sayulita is more than just a beach—it's an experience, a culture, a vibe. It's where Mexico's heart beats loud and proud.
Playa San Pancho (San Francisco): Where Serenity Meets Authentic Mexican Charm
Just a stone's throw north from the buzzing vibes of Sayulita, the tranquil shores of Playa San Pancho (officially known as San Francisco) beckon. This coastal gem is the very embodiment of laid-back elegance, seamlessly blending raw natural beauty with a touch of sophistication.
The beach, with its expansive golden sands set against the azure backdrop of the Pacific, is a haven for those seeking solitude. While surfers carve out waves in the distance, yoga enthusiasts find harmony on the sands, syncing their breaths with the rhythm of the sea.
But Playa San Pancho isn't just about the ocean. It's about the community. The town itself is a melting pot of cultures, with locals, expats, and travelers creating a tapestry of diverse experiences. Wander the streets and you'll find a blend of traditional Mexican eateries, organic cafes, and art galleries that narrate stories from around the world.
Safety tip: The beach, while serene, occasionally experiences strong undertows. Visitors should always heed local advice before venturing into the waters. And as the sun begins its descent, casting a golden hue, the local restaurants come alive. From the rich flavors of mole to the tang of tamarind margaritas, San Pancho promises a culinary journey like no other.
In essence, Playa San Pancho is not just a destination—it's a soulful journey. It's where the heart of Mexico meets the whispers of the world.
Best beaches for surfing
Puerto Vallarta isn't just about lounging; it's about riding the waves too. For surf enthusiasts, Playa Sayulita stands out with its consistent waves. While you're there, don't miss out on the array of snorkeling spots, boasting marine life from playful dolphins to vibrant reef fish.
Adventurous souls might want to try parasailing but remember, safety first! Always ensure you're with a reputable company and equipped with a lifejacket. After all the excitement, unwind at one of Puerto Vallarta's Beachfront Restaurants and Bars. Our comprehensive guide to Puerto Vallarta's cruise port offers more insights.
Top picks for seafood
If there's one thing synonymous with beach life, it's fresh seafood. Enjoy shrimp tacos while you watch a mesmerizing sunset from one of the beach bars. Taste traditional dishes like ceviche and grilled octopus. And if you're cruising with family, you're in luck! There are numerous family-friendly beaches around. Dive deeper into the maritime experience on one of the best 7 carnival cruise ships for your next vacation.
Amenities for children
Traveling with children? Puerto Vallarta has got you covered. With lifeguard-patrolled beaches and calm waters, your kids can play safely. Combine this with nearby family attractions like water parks, and you've got a perfect family vacation. If it's romance you're seeking, however, Puerto Vallarta has some secluded spots, ideal for romantic beach getaways. Picture a sunset cruise followed by beachfront dining for two. Magical, isn't it?
Secluded spots
For those looking to escape the crowds, a sunset cruise might be your best bet. Enjoy the serenity of the ocean, followed by an intimate beachfront dining experience. For more secluded destinations to visit on your cruise journey, our guide to Mexican cruise ports top destinations is a must-read.
Beaches with eco-initiatives
Puerto Vallarta takes pride in its eco-initiatives. Tourists can participate in beach clean-ups or turtle conservation programs. Moreover, you can opt for sustainable accommodations near the beach, ensuring your stay doesn't harm the environment. Every small act helps!
Conclusion
Puerto Vallarta's beaches are more than just stretches of sand. They're stories, experiences, and memories waiting to be made. However, while immersing yourself in its beauty, always practice responsible tourism.
The magic of these beaches lies in their pristine nature; let's keep them that way.
Here is a quick recap of the top 10 best beaches In Puerto Vallarta near the cruise port and what you will find there:
Playa Los Muertos: Probably the most famous beach in Puerto Vallarta. It's a lively beach with restaurants, bars, and a pier, great for people watching.
Playa Mismaloya: Located to the south of Puerto Vallarta, it's famous for being the setting for the movie "The Night of the Iguana" which brought Puerto Vallarta to the world's attention in the 1960s.
Playa Conchas Chinas: Just south of downtown Puerto Vallarta, this beach has natural pools and rock formations, perfect for snorkeling.
Playa Las Gemelas: Characterized by white sand and clear waters, these twin beaches are a perfect spot for relaxing and swimming.
Playa de Oro: A popular beach with hotels and restaurants lined up along its shores, it's good for swimming and water sports.
Playa Las Caletas: A secluded and picturesque beach accessible only by boat. This is a great spot for snorkeling and diving.
Playa Boca de Tomatlán: This is both a beach and a small fishing village. From here, you can catch water taxis to some of the more secluded southern beaches.
Playa Marietas Islands: While technically not in Puerto Vallarta, the Marietas Islands are close enough to be a popular day trip. Home to the famous "Hidden Beach," the islands offer excellent snorkeling and bird watching.
Playa Sayulita: Located in the neighboring state of Nayarit, Sayulita is a popular beach town known for surfing and its bohemian vibe.
Playa San Pancho (San Francisco): Also in Nayarit, just north of Sayulita, San Pancho is a quieter alternative with a wide beach and a relaxed atmosphere.
Frequently Asked Questions (FAQs)
Best time of the year to visit Puerto Vallarta beaches?
November to April offers pleasant weather, ideal for beach activities.
Are there any private beaches?
Some resorts have private beach sections, but all beaches are federally owned and public.
How to respect local customs and traditions on the beach?
Dress modestly when not on the beach, avoid loud music, and always clean up after yourself.