AIS or Automatic Identification System is one of the newest bridge equipment used by merchant mariners. As long as it is turned on for vessels in the vicinity, ships would be able to automatically transmit and receive information from each other.
The main data that are being transmitted and received are bearing, range and CPA. The AIS was fully implemented by the IMO around December 2004, requiring all ships to be fitted with such equipment and maintaining operation at all times except when such usage will compromise ship security and navigational information.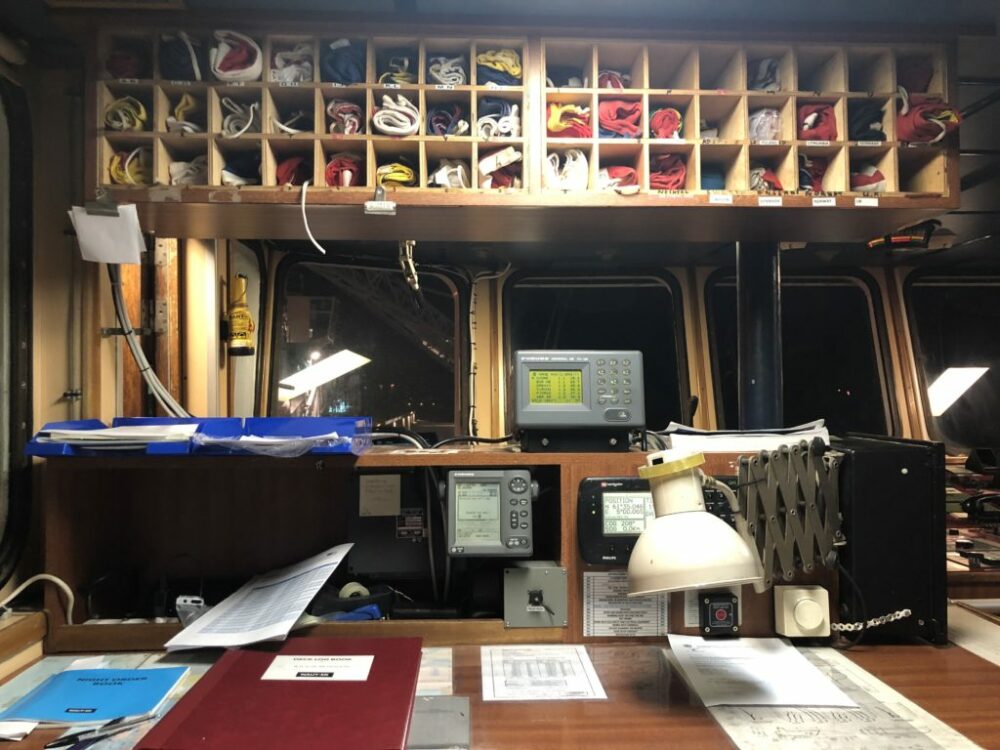 What Is AIS Purpose?
There was a time in the merchant marine industry wherein ships are unable to identify or had a hard time locating ships in the vicinity. They would either use range and bearing or GPS position to know which ship they want to communicate with. Those days are gone.
With AIS, ships would be able to easily identify the ship's name and other related information. They are also used by VTS (vessel traffic services) to identify and locate vessels on the radar. They can easily call out the name of the vessel which has the smallest CPA(closest point of approach) or nearest in range.
The Panama Canal authority uses the AIS to provide rain and wind information to ships as they navigate through the locks.
The AIS provides dynamic, static, and voyage-related information. Dynamic data includes the target's position, course, range, and bearing. These are useful data as an aid for collision avoidance and avoiding close-quarter situations.
Static data on the other hand includes the ship's name and call sign, MMSI and IMO number, and type of ship including length and beam.
Voyage-related data are ship drafts, cargo, port of call, ETA, and route plan. This information may prove vital to officers on the bridge.
There are times however wherein AIS is turned off in pirate-infested areas like east/west Africa and some parts of Asia. AIS, once approved by authorities and companies, is turned off to prevent vital information to be transmitted to the pirates.
AIS has two display modes. First is the target list mode that displays the ship's name, with their range, bearing, and CPA. The radar mode display like a radar where ships appear as an isosceles triangle and are classified as either a sleeping or active target.
Another important function of AIS is to be able to transmit and receive an SMS (short messaging service). Similar to the cellphone, bridge officers would be able to compose a message, send it to a particular ship station, group of ships, or shore station, and receive a reply and confirmation as well. This correspondence can also be used and recorded in the GMDSS log book.
Shore stations can also use the AIS to send information on a particular ship for their NTMs (Notices to Mariners) or to groups of vessels for any tidal and weather information, as well as times of sunrise and sunset.
What Are The Types Of Ais?
As part of SOLAS (Safety of Life at Sea) requirements, all ships with a 300 gross tonnage and above that sails on international waters must carry AIS. Cruise and passenger ships irrespective of their sizes are required to carry AIS.
There are two types of AIS: Class A and Class B AIS.
Class A AIS is mandated for all vessels with a minimum of 300 gross tonnage as well as for passenger ships. It works on 161.975 MHz frequency or VHF channel 87B. It's a simplex frequency wherein only one channel is assigned to transmit and receive communication. The range of a class A AIS is about 40 nautical miles.
The type 2 or class B AIS is carried on vessels that are not covered by SOLAS. It has limited functions and a range of 8-15 nautical miles. It works on 162.025 MHz frequency or 88B channel on VHF.
What Are The Limitations Of Ais?
As much as the AIS is a very helpful tool on the bridge, the OOW(Officer on Watch) cannot at any time solely depend on it during close-quarter situations or for collision avoidance.
Collision regulations state that the use of AIS does not remove the OOW of his responsibility to follow the rules at all times and check whether the risk of collision exists. This means that AIS is only an aid to navigation and must not replace other tools like ECDIS and ARPA radar.
The information received by AIS might not be accurate or only as good as the data transmitted to which the AIS is integrated. This may include the ship's position, range, bearing, CPA, etc. OOW must check other equipment on the bridge like ARPA radar, and ECDIS as well as an actual course on Gyro steering.
Unfortunately, not all ships are fitted with AIS. Vessels like fishing boats, pleasure crafts, trawlers or local wooden boats do not carry AIS but still pose a threat for collision.
In this scenario, OOW must use Radar ARPA/ECDIS to get accurate information when there is a risk of collision, use eyes and ears for actual monitoring of vessels in the vicinity, and use proper alarms to alert all stations.
Bridge officers must be aware that some information on some ships may not be updated or not accurate. Ships like Ro-Ro, car carriers and container ships have multiple ports in their route plan. It is easy for them to miss a particular port/waypoint or fully update because of delays, voyage diversion, or a new route plan. If a vessel is in doubt, she must check with other ships with the use of VHF or Inm-C to confirm information.
AIS And Vessel Tracking Online
With technology nowadays, one would be able to track vessels online around the world using the global AIS network. Some websites offer the real-time locations of vessels worldwide. This may also include information like route, position, speed, and ship type.
It would be wise to know that this information may be delayed at times or inaccurate, thus it is not recommended to be used for navigation.
Some websites that offer these services are marine-traffic, vessel finder, and ship finder. Simply enter either ship's name or port and it would automatically display vessels in the vicinity. Most sites are user-friendly and easy to navigate. These are also used for educational purposes.