To operate the vessel properly, a minimum number of crew members is required. The number varies depending on the factors like the type of vessel, cargo operation, size, local standards, etc.
Modern ships can have a crew of 15-25 persons. However, for the last twenty-five years, the number of crew members is being reduced, more so on brand-new ships.
It is imperative that ship owners and operators complement the ship with a correct number of crew members so that the navigation and operation of the vessel are not compromised.
The Requirement To Minimum Safe Manning
Minimum manning refers to the safe manning of a ship with qualified and experienced seafarers necessary for the safety and security of the ship, crew, passengers, cargo, and property, and for the protection of the marine environment.
It is dependent upon conditions relating to training, hours of work and rest, occupational safety, health and hygiene, and proper provision of food to determine and ensure the safe manning of ships.
Shipowner submits Minimum Safe Manning proposal to flag state, based on which The Minimum Safe Manning Certificate is issued to the vessel in accordance with national and SOLAS requirements. IMO Resolution A.1047(27) Principles of Minimum Safe Manning (2011) describes principles of minimum safe manning as well as provides guidelines for the determination of minimum safe manning and responsibilities of companies.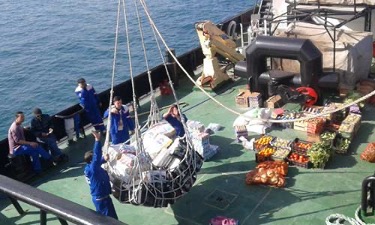 Wood-chip Carrier Crew
Wood-chip carrier vessels would have particulars of about 200 meters in length and 45 meters in breadth. This is a special type of vessel as it is capable of self-loading and self-discharging operations. The main deck is equipped with deck cranes and a conveyor system.
To efficiently operate this type of vessel, she needs a crew of 25 persons. This includes 12 members of the deck department, 2 from the catering department, and 11 from the engine department. This is critically important as the vessel performs loading or discharging operations in port.
The Deck department has the Master, Chief officer, 2nd mate, 3rd mate, as well as 4th mate as the officers. They are supported by Bosun, a Deck fitter, three able seamen, an ordinary seaman, and one deck cadet. This team is in charge of the upkeep and operation of the conveyor system used in discharging.
The Catering department is headed by Chief Steward and assisted by Messman. It is their job to make sure that provisions are always enough and fresh. For vessels on long voyages, a 3-4 month supply is necessary. They ensure that all crew members are provided with healthy and complete meals.
Lastly, the Engine department is managed by the Chief Engineer and assisted by his fellow engineers. They are the 2nd engineer, 3rd engineer, and 4th engineer. They are supported by the engine crew which is composed of Oiler #1, three Oilers, a Wiper, and an engine cadet.
Handymax Bulk Carrier Crew
Handymax bulk carriers are well suited for small ports with length and draught restrictions, or ports lacking transshipment facilities. These types of ships are used in carrying dry cargo such as grain, coal, iron ore, scrap metal, alumina, cement, fertilizer, and finished steel.
These bulkers have a length of 150 meters to 200 meters and about 32 meters in breadth. The total complement would be 20 persons divided into the Deck department, Steward department, and Engine department.
The Deck department is headed by the Captain, Chief officer, 2nd officer, and 3rd officer. They are supported by Bosun, three Able seamen, and a deck cadet. The steward department is composed of the Chief cook and Messman.
The Engine Department of handymax size bulker is headed by the Chief Engineer, 2nd engineer, 3rd engineer, and 4th engineer. They are supported by three Oilers and an engine cadet.
Deck and Engine Cadets
Cadets are a source of future crew members and officers onboard. They are maritime students who have completed their minimum requirements in the Academy and join the vessel as cadets. They tend to complete one year onboard to be qualified for Officer's assessment.
Repair Crew
Repair crew or sometimes called riding crew are tasked to do a specific repair or maintenance onboard. At the port, they may repair major machines or deck cranes. At sea, the riding crew is at times assigned to ballast tanks to perform maintenance works.
Stevedores
An important operation of the ship is when she is in port for loading operation, discharging, taking in provisions, bunkering, stores, etc. During her port stay is when stevedores/longshoremen assist the crew members in repair, maintenance, and ship operation.
One of the main tasks of stevedores is during cargo operation, either by loading or discharging operation. They operate the deck crane, grab buckets, as well as prepare the cargo inside the cargo hold. With the supervision of officers, stevedores handle the cargo with care.