The Starcraft Islander is an offshore aluminum fishing boat, designed for the Great Lakes and for the coastal waters.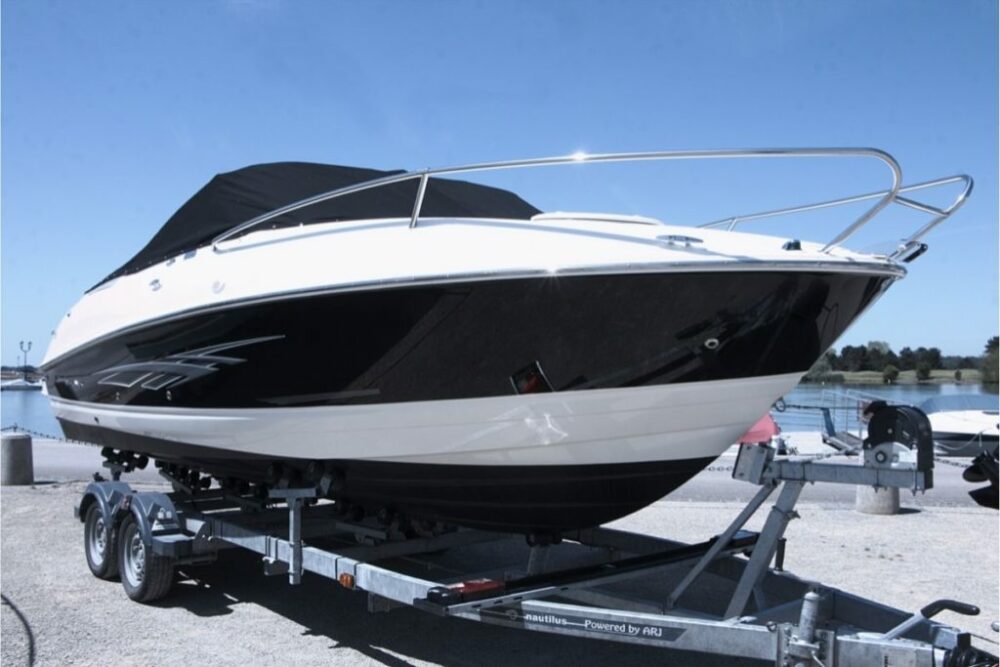 While it bears some resemblance to the ships found in the Navy, it's a lot more quaint, and offers several unique features. Overall, it's widely regarded as an ideal boat for anglers.
But is it the right boat for you? The following article will break down all the specs of the Starcraft Islanders boats, before we give you our thoughts on how this compares to other fishing boats.
We'll be looking primarily at the Starcraft Islander 221, but all the other main types of Starcraft Islander boats will be getting a look-in as well.
Starcraft Islander: The Lowdown
Before we get into the specifics, you might be interested to hear about the history of the Starcraft Islander.
The boat is produced by Starcraft Marine, a boat building company that's been around since 1903, and is currently based in Indiana.
They're often regarded as the leader when it comes to recreational boating, but they started out producing equipment for farms and water tanks. The company is currently owned by Smoker Craft.
If you deem their products reminiscent of tanks, you're not the only one. Starcraft Marine was actually originally called Star Tank Company.
So, briefly, what can you expect from the main Starcraft model we'll be looking at today, the Starcraft Islander? It's a boat made from aluminum, designed for both cruising and fishing in deep waters.
The cuddy cabin is ideal for lounging or avoiding pesky spray, and the bow windows allow for an impressive amount of natural light. It's also a fast boat- but we'll get into the specifications shortly.
Aluminum Starcraft Models
While there were fiberglass Starcraft boats built between 1960 and 1970, the most popular type of Starcraft boats are the aluminum models.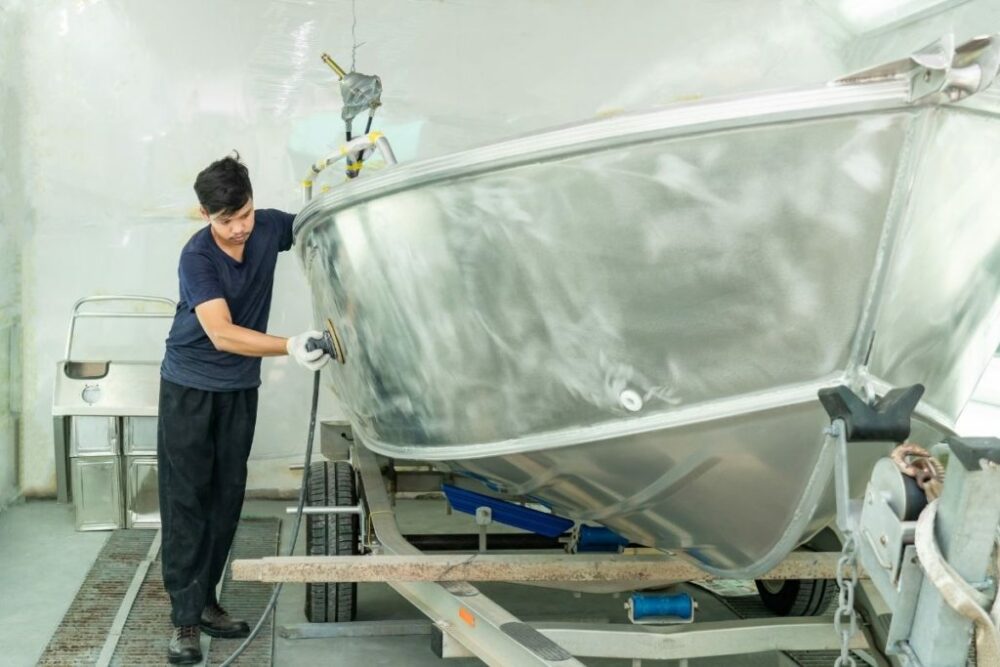 The main model we'll be looking at today is the Starcraft Islander, a cruiser with a cuddy cabin and lengths that range from 18 feet to 26 feet, and is built for both cruising and fishing in deep waters.
But there are a number of other models worth mentioning.
Starcraft Supersport
A Starcraft model with a versatile, open bow hull, this boat was designed for fishing and cruising, but also for water sports, too.
Starcraft Offshore V
The Offshore V is quite a rare Starcraft model and is part of the SuperSport line. It's best suited to open water fishing.
Starcraft Marlin
The Marlin, a model last produced back in 1966, had a closed bow, tiller steering, and wooden bench seating. They measured at either 14 feet long or 16 feet long.
Starcraft Seafarer
The Seafarer models had a hull length of between 12 feet to 14 feet, and bench style seats.
Starcraft Sea Scamp
This was a model very similar to the Starcraft Seafarer, except a little heavier.
Starcraft Jet / JetStar
A light, closed bow runabout boat, the JetStar was designed for watersports.
Starcraft Sunchief
Available with inboard-outboard power, the Sunchief is the biggest of the closed bow Starcraft models.
Starcraft Jupiter
With a closed bow hull, the Starcraft Jupiter had a length of 16 feet.
Starcraft Holiday
The Holiday was a closed bow runabout boat, whose lengths ranged from between 14 feet to 22 feet.
Starcraft Chieftain
The first aluminum cuddy cabin boat on the Starcraft line, the Chieftain ranged from 18 feet to 24 feet.
Fiberglass Starcraft Models
Aluminum Starcraft boats aren't the only models that have been built by Starcraft Marine. Primarily between 1960 and 1970 they also made boats with fiberglass.
These models had side hulls made from simulated wooden strakes, and their outboard engines had capacities that ranged from 45 to 80 horsepower.
Their closed bow tops were made from smooth fiberglass and had a curved fiberglass windscreen.
Let's take a look at each of the fiberglass models produced by Starcraft Marine.
Starcraft Saber
The Saber had a length of 15 feet and a capacity of 75 horsepower. It was produced between 1963 and 1968.
Starcraft Bahama
This was a closed bow fishing/runabout boat, produced in 1964. It was produced in 1964.
Starcraft Lancer
Just like the Saber and the Bahama, the Starcraft Lancer had a length of 15 feet and a maximum capacity of 75 horsepower. It was first produced in 1962.
Starcraft Riviera
A closed bow, 17 feet long boat that had a wood straked appearance, the Starcraft Riviera was produced in 1965.
Starcraft Arrow
The Arrow was a fiberglass boat with a length of 14 feet, and could use an outboard engine with a capacity of 45 horsepower. It was produced in 1968.
Starcraft Mustang
The Mustang is very similar to the Starcraft Arrow, in that its length is 14 and its capacity was 45 horsepower. It was produced two years prior to the Arrow, in 1966.
Starcraft Newport
This fiberglass ski boat measured 16 feet, and had a capacity of 120 horsepower. The Newport had Mercruiser I/O sterndrive, and was produced in 1968.
Starcraft Safari
The Starcraft Safari looked quite a bit different to most of the other fiberglass models.
It was 16 feet long and had an appearance that was both smoother and more contemporary, especially when compared to the wood strake hulls of the other fiberglass boats. The Safari was produced in 1966.
Starcraft Siren
Most similar to the Mustang and the Arrow models, the Siren also had a length of 14 feet. It was produced in 1965.
Starcraft Caravelle
Produced in 1968, the Starcraft Caravelle had a length of 15 feet and was compatible with outboards engines that had a maximum capacity of 80 horsepower.
Starcraft Tri Star
The Tri Star model had a tri-hull and its fiberglass design was far more modern than the models that came before it. It was 17 feet long, and produced in 1978.
Starcraft Imperia
Produced in 1968, the Starcraft Imperia measured 18 feet long and was powered by the Mercruiser I/O sterndrive engine, with a maximum capacity of 165 horsepower.
Starcraft American
Finally, the Starcraft American measured 15 feet long and, like the Tri Star, had a sleeker, more modern design, rather than the hull sides of faux wood which were standard for most models.
They were produced by Starcraft Marine in 1973.
Key Features Of The Starcraft Islander 221
There are a number of notable features on the Starcraft Islander 221. Firstly, the slide tracks on each of the decks have a length of 72 inches.
If you want to remove them, you'll be able to insert any mix of planer board supports, rod holders, or downriggers. In terms of storage, there's a substantial hinged locker within the stern floor.
The boat also comes with an optional fish box tray, which is best suited to those fishing for salmon.
Within the boat, the depth is 30 inches, which is ideal if the waves are getting choppy. There's a number of bow windows, providing the cabin with a generous amount of natural light.
Under the driver's chair and under the jump seat, there's a box that measures at around four feet. Another fish box can be found under the passenger chair and the jump seat. Plenty of built-in storage.
If you're on waterways where conditions are likely to be changing quickly, rough waters will be no match for the boat's open cockpit and its vinyl flooring.
Starcraft Islander 221: The Specs
When it comes to the length of the Starcraft Islander 221, it comes in at around 24 feet and six inches, with a beam of eight feet. Its dry weight is 2,023 pounds, and its capacity is eight people, or a total of 1,200 pounds.
It can hold 52 gallons of fuel, has a maximum horsepower of 200, and the boat is NMMA (National Marine Manufacturers Association) certified.
Now let's get into how the boat actually runs, specifically with a Mercury OptiMax 150 horsepower engine, a Mercury Laser II stainless three-blade propeller (14 x 19), a total of three passengers, and 35 gallons of fuel.
Within these conditions, the top speed of the Starcraft Islander 221 was 45.4mph, with 5,150 revolutions a minute.
The time to plane was four seconds, and the time it took for the boat to reach 30 miles per hour was 9.2 seconds. The minimum plane was 18 miles per hour, at 3,100 revolutions per minute.
Let's break down the power curve. At 1,000 revolutions per minute the boat traveled at 5.4 miles per hour, with a sound level of 64. At 2,500 revolutions per minute the miles per hour was 11.1, with a sound level of 73. 4,000 revolutions per minute was 32.3 miles per hour with a sound level of 78, while 5,150 revolutions per minute was 45.4 miles per hour and a sound level of 84.
Benefits Of The Starcraft Islander Boat
It's important to be aware of both the advantages to a boat, and the potential disadvantages, when in the market for a vessel.
We'll be looking not at the Starcraft Islander 221 specifically, but at the Starcraft Islander boats in general.
So: the pros. Starcraft Islander boats offer decent reserve buoyancy, and they're lightweight, which makes them a lot easier to tow- they're one of the best fishing boats when it comes to highway travel.
Because they're so lightweight, you won't struggle loading them and unloading them from your trailer. The boat's deck is deep, which makes for a dry ride even if the waters are rough.
It's a durable boat, too, thanks to its strong hull.
The fuel efficiency is notably impressive, and it's well protected from not just the water, but adverse weather conditions, too.
Finally, the boat comes with an abundance of tackle storage. All of these benefits add up to a great resale value, especially compared to most other fishing vessels.
Potential Downsides Of The Starcraft Islander Boat
As with any boat, there are a number of disadvantages to Starcraft Islander boats.
Are they enough to outweigh the benefits? Not in our opinion. But they're worth taking note of regardless.
Because of how the boat is designed, it tends to pound quite a lot when on choppier waters.
If the weather is even a little rough, the boat is likely to be blown around quite a lot because of its weight, low bottom, and high profile.
While it is a sturdy vessel, the corner guards and nose guards, both made of cast aluminum, have the potential to shatter if your boat hits the dock.
Starcraft Boats: The Warranty
Each Starcraft model, whether it's a Starcraft Islander or any of the other vessels listed in this article, has a warranty.
You'll be able to find more specific details regarding the warranties by contacting Starcraft Marine themselves, but these are the basics. The type of warranty offered depends on the type of boat you're looking for.
There is a 10-year limited hull warranty, a lifetime limited warranty on models that include both floor and cabin bunk tops, a five-year limited warranty on models with marine-grade carpet, a lifetime limited warranty on models whose seams are double riveted, and finally, there is a three-year limited warranty on Starcraft models that have vinyl upholstery.
Older Starcraft Models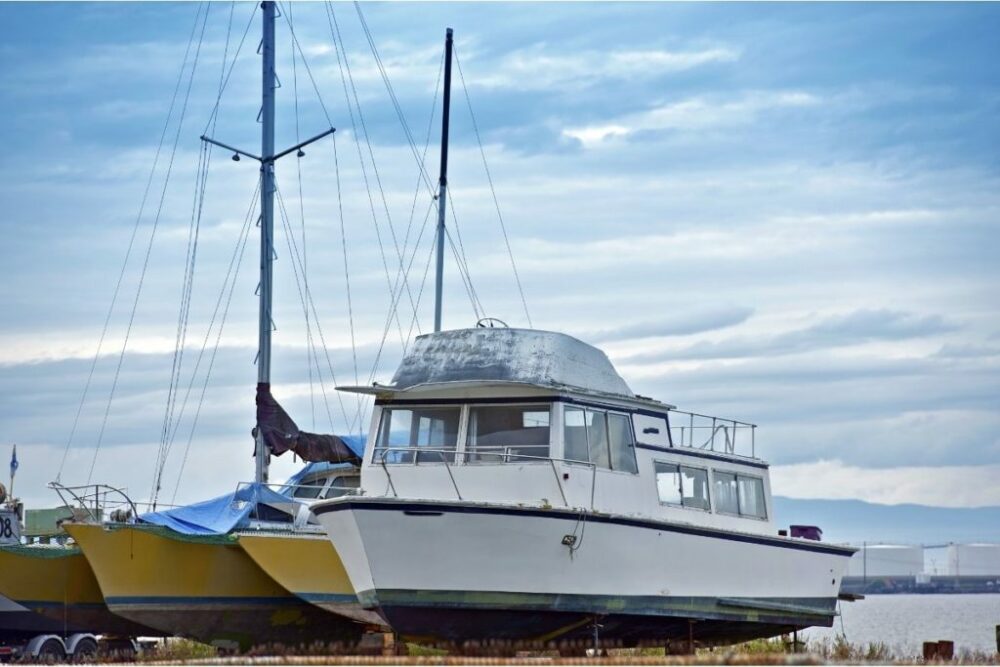 It's important to know what to be wary of if you're considering acquiring one of the older Starcraft models- they've been around for more than a century, after all, so some of the boats go way back.
Generally, a lot of the Starcraft boats produced before and during the early 1970s were known for having weaker transoms compared to the Starcraft models of today.
This meant they could only support outboard engines under a specified weight.
At first this wasn't an issue, because outboard engines had limited capacity until the 1960s, but eventually larger outboard engines were being produced, and that's where the transom problems began.
Another issue quite common with the older models is that they were very stern heavy, meaning rides would be rough in very choppy waters. This problem was eventually solved via the introduction of Power-Trac.
For the most part, though, older models are highly regarded, despite the company changing owners multiple times over the years.
While there are older, used Starcraft models available, you might have trouble locating replacement parts. While
Starcraft Marine have multiple legacy catalogs on their official website, there is no such catalog dedicated to parts that are obsolete to newer models.
In some cases replacement parts have been found through the dealer network, and in other cases, owners of older models have reportedly had success by going through the company themselves.
There's also a Facebook page devoted to the owners of Starcraft boats, which could be worth a look.
Newest Starcraft Models
As of 2022, several new lines of Starcraft models have been released. A full list of all the most recent models can be found on the Starcraft website's online showroom.
These include the SVX line (featuring a four speaker stereo and bimini top), the Star Step IO (featuring a flip-up rear lounger and vinyl furniture), the Limited OB (featuring an open floor plan), the LX (featuring a custom molded console and sea weave flooring), the SX (featuring synthetic teak bow & stern floors), the CX (featuring a number of different layouts), the MX (featuring luxurious upholstery and a touchscreen display), the EX Fish (featuring swivel fishing seats), the EX (featuring five different layouts), the SLS (featuring HMX tubes for better lift), and many, many more.
Frequently Asked Questions Regarding Starcraft Boats
Will A Starcraft Boat Hold Its Value?
Compared to the majority of boating brands, Starcraft models tend to hold up fairly well, generally. Obviously it can differ depending on a number of factors, but it helps to look at some examples.
The aluminum 2015 Expedition Sport 186 had a price tag of $23,470 in the year it was released. At the time of writing, most of these models have a resale value of around $19,070.
A depreciation rate of 19% over 6-7 years isn't too bad (bearing in mind that the vast majority of boats go down in value over time).
Another example worth looking at is the fiberglass 2015 Limited 2000 Fish model, which had an original market price of $25,104.
These models now have an average resale value of roughly $20,330, matching the 19% depreciation rate of the 2015 Expedition Sport 186.
A boat with a slightly higher depreciation rate is the Majestic Starliner 256, a pontoon boat that had an original market price of $58,658 in 2015.
Its current resale value, on average, is $45,700, meaning its depreciation rate is 22%.
Do They Still Make Starcraft Boats?
Starcraft boats are still in production and are currently owned by Smoker Craft.
Starcraft Marine produces a wide variety of boats, with their vessels split into four categories: fishing boats, deck boats, pontoon boats, and utility boats.
There are nine lines of pontoon boats, seven lines of utility boats, eight lines of deck boats, and seven lines of fishing boats.
Overall there are almost one hundred Starcraft models- and that's just the models that are currently available.
Starcraft boats are built at Smoker Craft's plant in New Paris, Indiana. The company employs more than 500 people.
Conclusion: Starcraft Islander Specs And Review
Starcraft boats, primarily made with aluminum, are designed to be lightweight and durable, and the Starcraft Islander is no different.
The key features of the Starcraft Islander are the airy cuddy cabin and abundance of storage, but there are a number of things that make this model a standout.
The Islander is most suited to cruising activities and fishing in deep waters.
Overall, whether you're eager for deep water fishing, cruising, or water sports, Starcraft Marine is likely to have a model for you.