In the wake of the 9/11 attack in the United States, the International Maritime Organization (IMO) developed the International Ship and Port Facility Security Code (ISPS Code) as a comprehensive set of measures designed to respond to perceived threats to ships and port facilities. Part A of the Code and SOLAS Chapter XI-2 mandated contracting governments to authorize a Recognized Security Organization (RSO)  to undertake certain security-related activities on their behalf.
A Recognized Security Organization (RSO) is an organization with relevant security skills and knowledge of ship and port operations that is authorized to carry out an assessment, verification, approval, or certification activity required by SOLAS chapter XI-2 or part A of the ISPS Code.
Maritime security is a critical issue facing the maritime industry today It involves the management of threats from criminals, terrorists, and environmental hazards as well as protecting vessels and their cargo from theft or damage.
To ensure proper levels of security for roles in the maritime industry, it is important to understand what security requirements exist and how they are implemented in different countries around the world. In this article, we shall look at who RSOs are, their role in the maritime industry, and their benefits as well as their disadvantages.
What Is a Recognized Security Organization (RSO) in the Maritime Industry?
A Recognized Security Organization (RSO) is a body that is accredited by a government to provide security services in the maritime industry. RSOs are responsible for security audits, security training, and the development of security plans for ships and other maritime facilities. They are typically private companies that are contracted by shipowners and shipping companies to provide security services.
RSOs must meet certain requirements to be recognized by the government. These requirements typically include having a certain amount of experience in the maritime security industry, as well as meeting certain training and certification standards.
RSOs must also pass a background check and be licensed by the government. These services can include armed security guards, security patrols, and other security measures.
Recognized Security Organizations also play a key role in advising governments on maritime security matters. RSOs must meet certain requirements to be recognized by the government. These are set out in sections 4.2 and 4.3 as follows:
Designated Authorities
4.2 Contracting Governments may identify a Designated Authority within Government to undertake their security duties relating to port facilities as set out in chapter XI-2 or part A of this Code.
Recognized security organizations
4.3 Contracting Governments may authorize a recognized security organization (RSO) to undertake certain security-related activities, including:

1 approval of ship security plans, or amendments thereto, on behalf of the Administration.
2 verification and certification of compliance of ships with the requirements of chapter  XI-2 and part A of this Code on behalf of the Administration; and
3 conducting port facility security assessments required by the Contracting Government.
The Different Security Levels and Challenges that RSOs Must Deal With.
Security requirements in the Maritime Industry are constantly changing and evolving as the industry becomes a target for crime, terrorism, and other threats.  To protect cargo, ships, and seafarers from these risks, various security levels have been established that must be met.
Security organizations provide professional services tailored to specific maritime risk situations that meet certain standards of expertise and compliance with international regulations.
For Recognized Security Organizations to receive accreditation they must pass rigorous examinations of their abilities which includes continuous training sessions for their personnel in addition to complying with the International Ship & Port Facility Security Code (ISPS).
The accreditation process ensures that any organization given approval will demonstrate high-quality standards of safety procedures and can adequately respond to potential dangers onboard vessels.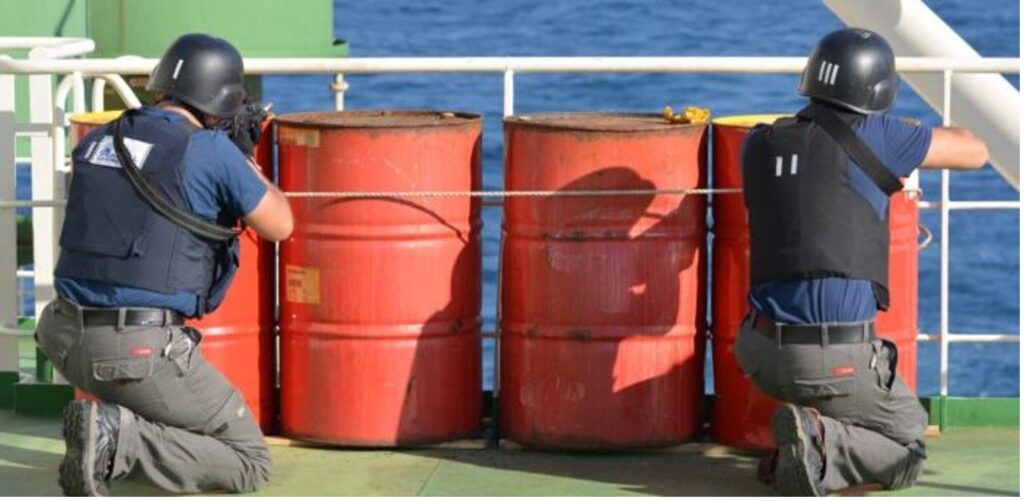 Recognized Security Organizations offer a range of services including ship vetting inspections, onboard escort services, armed guards on board merchant vessels, secure transportation for goods by land or sea as well as providing additional support during port calls when necessary. They also monitor radio traffic frequencies through the use of scanners in order to detect suspicious activities quickly if need be
The role played by Recognized Security Organization is multifaceted, ranging from its primary duties mentioned like escorting ships while at sea or conducting vetting checks prior to departure. But it doesn't stop there; risk management and formulating strategies used should a pirate attack occur, plus helping create plans to mitigate those same risks before even leaving harbor makeup core tasks usually assumed by RSOs.
 They are also required to have the capability to manage many types of scenarios found on the ocean especially ones centered around criminality, piracy, hijacking, fraud, smuggling, etc.
Expected Competency for Recognized Security Organizations.
According to Section 4.5 of the ISPS Code RSOs which could be accredited by Flag States should have the following competencies:
expertise in pertinent security areas;
appropriate knowledge of the ship and port operations, including knowledge of ship design and construction if providing services related to ships, and of port design and construction if providing services related to port facilities;
their capacity to assess the likely security risks that could occur during ship and port facility operations, including the ship/port interface, and how to minimize such risks;
their ability to communicate effectively in English; and
their abiding commitment to the highest standards of ethical behavior.
.their capacity to uphold suitable safeguards against unauthorized disclosure of, or access to, security-sensitive information;
their familiarity with the provisions of this Code's Chapter XI-2 and Part A, as well as with pertinent national and international legislation and security requirements;
their awareness of current security threats and patterns;
their proficiency in the identification and detection of weapons, dangerous substances, and devices;
their ability to recognize, without bias, the traits and behaviors of people who are likely to pose a security threat;
their understanding of how to get around security measures, and.
their understanding of security and surveillance tools and systems, as well as their operational limitations.
Conclusion
In conclusion, this article has explored the role of Recognized Security Organizations in risk management and security maintenance procedures onboard ships. We have seen that these organizations provide a variety of services ranging from security requirement accreditation in the maritime industry to approval of Ship Security Plans, or amendments thereto, on behalf of the flag state administration.  
Moreover, these organizations are also responsible for reviewing safety procedures and implementing strategies to minimize risks. This article has provided insight into the roles and responsibilities of these organizations, which help ensure the security of our oceans and seas.
Latest posts by Dmitry Shafran
(see all)