While diving into the future technologies in the maritime industry let's implement what exactly it stands for. The technological future of the maritime industry focuses on the innovation of technology aiding in both emission reduction and autonomy in the maritime sector which includes areas such as vessel navigation, maritime recruitment, and crew management.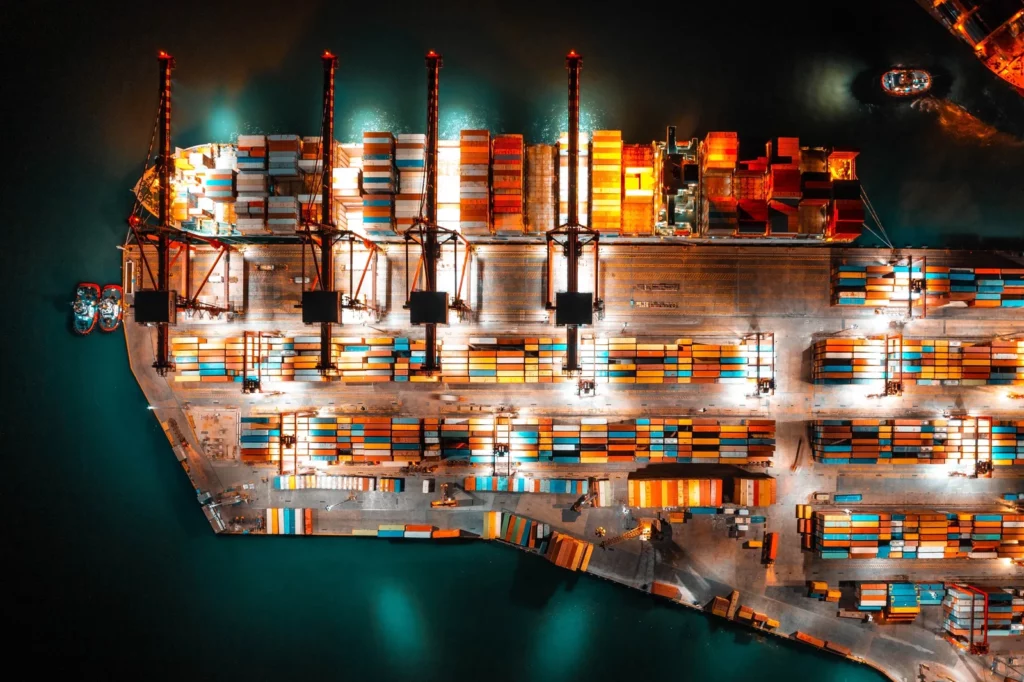 Also, by saying it also involves the development of better hull forms, weight-saving methods, and much more efficient propulsion systems which can deliver better outputs than the traditional ones.
Let us get into the details to find out more.
Importance Of Technical Advancements In The Maritime Industry
In today's age and time, where technology and its derivatives such as artificial intelligence, robotics, drones, the internet of things, machine learning, etc, are taking their biggest leaps to help us achieve results that require way less manual mechanism.
It not only decreases the need for extra hours but also requires a minimal amount of resource utilization that is in some cases, very valuable.
The maritime industry is going through its largest technological revolution as compared to the previous decade.
This is good news and must be embraced with concerns to a better ability to be able to bring more viable and conservative alternatives to the face of shipping.
For example, it has offered a number of strategies that can help improve the entire mechanism of the industry by being introduced alternative fuels, enhanced durable materials, efficient hull forms, and robotics which would transform the transportation system drastically.
Marine maintenance is another huge factor of concern in the maritime industry, even after the vessel has been docked. To maintain the durability of the vessel, the amount of hard work that goes into fuel and oil change, along with monthly cleanings, is no longer a pragmatic approach.
Several parts of the vessel also require not just maintenance but some also need to be replaced. With a majority of labor-intensive work being done by robots replacing human beings, this could be considered a huge achievement. It ensures the safety of people working in hazardous and risky environments.
These tasks are sometimes extremely unsafe due to the regular exposure to toxic chemicals and gases along with a standing risk of explosions. Some practices such as surface coatings and blasting are already being carried out by robotics arms in a few of the world's biggest shipyards.
The Influence Of Technology
The maritime industry is one of the oldest and most traditional industries. Channeling any form of change, even in terms of technology, could result in great resistance to the dated attitudes from some quarters.
In spite of traditionalism, the world is at a new age. Young and upcoming seafarers of this new generation, coming of new ranks, fostered in the face of computers, smartphones, and social media, would be more welcoming and experimental with the marine technology and the various scopes it brings to the table for the life at sea and its office operations.
New Technological Advances In The Maritime Industry
Having Wi-Fi on board facilitates a huge advantage not only for professional, practical purposes on vessels but also for personal and recreational accessibility for seaman's and woman's life at sea.
Though Wi-Fi can not exactly be classified as remarkable technology these days, it still is an integral part of any advancement. It helps enhance the daily lives of crew members by allowing them to be more socially connected with their dear ones, be resourceful, and remain entertained even from offshore.
Thus, it helps maintain their well-being, which as a result ensures better productivity and would most likely guarantee their arrival back at the shipping company.
Self-Driving or Autonomous Ships
If autopilot motor vehicles could exist and stride forward, there is no exception to believe that the same step forward can be seen in the case of marine technology-based autonomous ships.
This is undoubtedly going to be a part of the future of marine technology. It could mean that vessels or sailor-less ships could be remotely controlled from ashore.
But that does not imply that human necessity can be negated as stated by industry specialists, which is hopeful for the aspirants currently training and working for maritime jobs.
Though the advancement of an autonomous ship is a promised addition to the future of the maritime industry, it will be a paced one as it does have a few challenges to overcome in terms of cyber security issues and following up with international regulations.
Software as a Service Model (SAAS)
Though SAAS has been around in the world of technology for a while, it could mean a great deal, especially in the case of the maritime industry where both offshore and onshore control is intergraded.
SAAS is a simple and straightforward technology where it is not necessary to download any new software to your computer for accessing any tool that you need to do your job on the internet. Just by entering the SAAS website address, you can log into the required system and access the software.
SAAS is a cloud service, implying it's secure and accessible. It also saves up on the storage space in your PC at the same time giving the opportunity to run it via other devices such as your computer, smartphone, tablet, etc since you log in online with no other software or app required.
Maritime Technology Powered By Connectivity
The future technological opportunities in the maritime industry speak volumes about how the current prospects of technology such as IoT, robotic shipping, and artificial intelligence can be used to enhance connectivity at sea. Connectivity will dictate the next maritime revolution.
IoT or the Internet of Things, at its base, is a system of multiple devices that are connected, sharing reliable and extensive data within the system. They are devices with sensors, software, and processing ability. The system has already been implemented in some vessels using remote monitoring devices.
IoT does the job by sensing any abnormality and overhauling the data responsibly from both offshore and onshore sources. This is also considered far more practical than that compared to human comprehension.
Artificial Intelligence and Robotics
According to the Global Marine Technology Report 2030 reports, three new robots are strategized to be on vessels by 2030. Each of the robots, 2 robots and one mini-bot, will serve its own unique and highly resourceful purposes.
The first robot will aid in informing practical decisions based on the data collected from sensors that are tethered onto the vessel. The second will be a practical robot, maneuvering physical objects around the ship. Finally, the mini-bot performs to indicate the hazardous and acute environments.
Though the robots are functioning with their own technological systems using sensors, it still requires some form of connectivity to function. This can be performed by a human controlling the sensors onshore or onboard.
An inevitable progression of the amount of data collected and transmitted leading to be exponentially higher, it could result at a higher obligation for IT infrastructure. Which automatically asks for more valuable storage space onboard, for insourcing large racks of equipment. This could not only be impractical but also leads to the risk of damage and breach in unfortunate situations.
With sound connectivity, data can be meticulously stored and retrieved from onshore locations. Cognitive systems act as an interface data interpreter between people and machines and help streamline the process.
As per the reports from the Global Marine Technology Report 2030, at least one in ten ships will be completely automated. This can be deemed successful with the backing of data-driven services like vessel performance metrics and weather routing.
These modern smart ships are expected to guarantee better safety and maintenance for the vessel. It does so by being a combination of several technological algorithms that support operational efficiency, regulatory compliance, and environmental responsibility.
Thus, stable and sensible connectivity plays an integral role than ever before to ensure maritime operations. Connectivity will result in a steadfast system that enables us to find the most efficient routes considering the weather, currents, and traffic along with other probable decision-making factors.
What Do The Future Technologies In The Maritime Industry Look Like?
It is said that we are looking at the possible beginning of the fourth industrial revolution. This opens up a horizon for a new and outstanding technological revolution in the maritime industry and creates a new definition of global shipping forever.
A huge contributing factor that influences the advancement and progression of the maritime industry is climate change and other variable environmental elements along with the maintenance of the vessel.
Within the time frame of the next ten years, the maritime industry will witness highly visible technological advancements. The effectiveness of these future technologies will determine whether jobs at sea will still be available for seafarers or be replaced by robotics.
Summary
Future technologies will definitely change the way how the industry is running at the moment, giving more efficient and feasible solutions through which each and every process will be more transparent. It also ensures a reduction of human error or effectiveness at work so as to increase productivity at all levels of operations.