True, when you first witness a sailboat race, you might believe it's too confusing and chaotic (it can be both). But, like with anything new, you may ease into it gradually. This is intended to allow you to take several actions at once.
Racing a sailboat is a lot of fun. It blends the excitement of sailing your own boat with the raw rivalry of trying to beat another boat of comparable size. Racing also teaches you boat handling and sail trim in a manner that cruising cannot: by comparing your speed and handling to those of other boats.
Let us jump into the article to learn more about sailboat racing.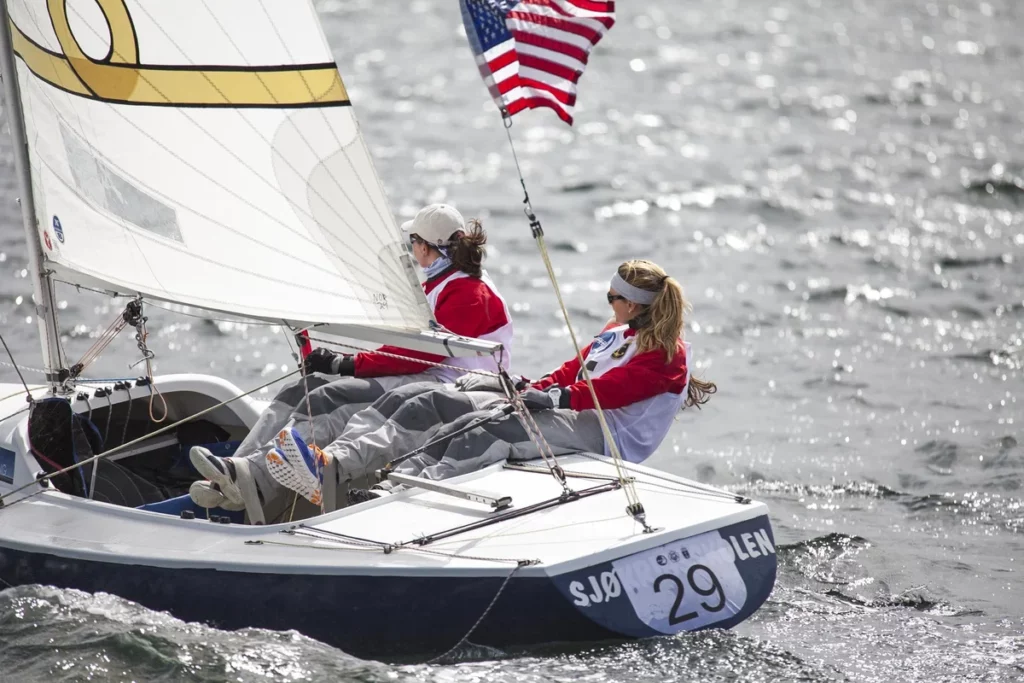 Basic Insights Into Sailboat Racing
Sailboat racing may be separated into three parts: start, headwind, and tailwind. During a sailboat race, it is important to ensure that the beginning of the race must be strong. The start determines the overall outcome of the race and thus is considered very crucial for the race. It brings great advantage to the competitor and this is often very underrated.
As soon as the countdown is complete, it is necessary to make sure that the competitor has crossed the starting line effectively. Generally, warnings are given at 5mins and subsequently at 4mins and 1min.
Another very important aspect to consider is the path. The competitor must be able to determine a clear path to sail through and the direction of the race course must also be perceived correctly to ensure a favorable outcome. Free lanes enable the competitor with ideal angles to the wind with which they can easily navigate without having to go against disturbed wind or wind shadows from rival boats.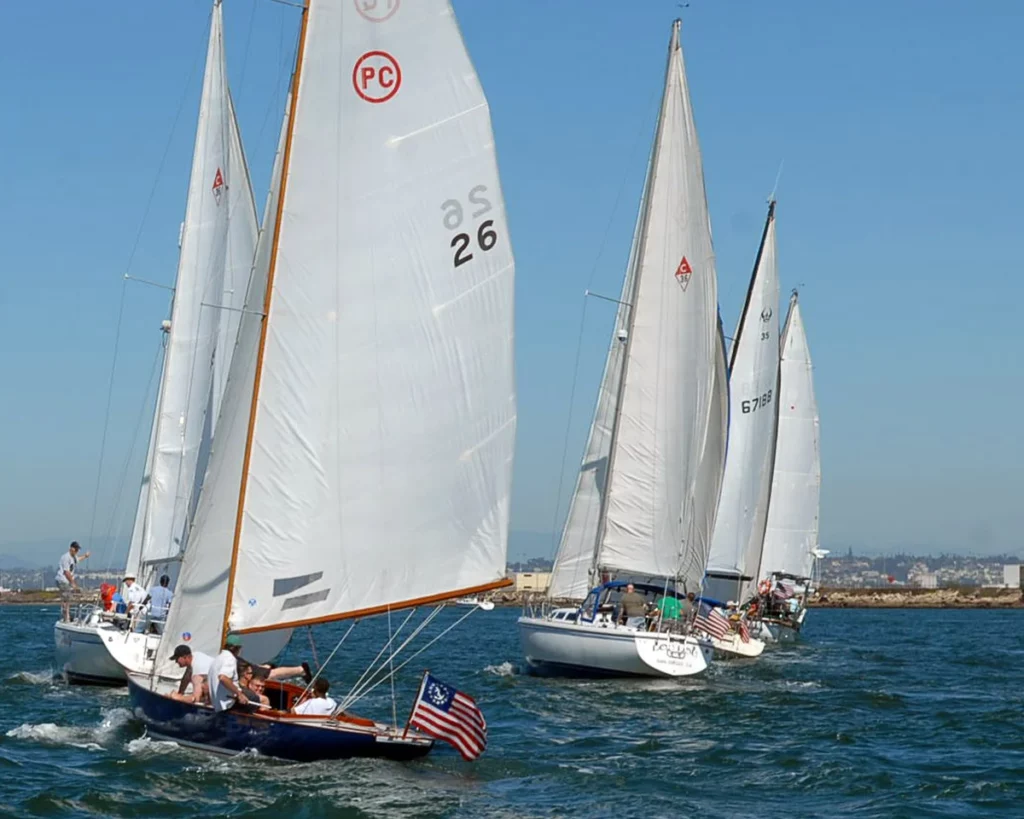 The Starting Line
Oftentimes, the first leg of the race will be upwind, after the starting line is crossed. At this point again, it is important to note that starting strong is crucial for an upwind race as more free lanes are accessible the further ahead the competitor is in the convoy.
The necessary determinants to be noted and kept in consideration throughout the race for effective upwind sailing strategies are the following factors: wind direction, wind speed, and rivals. But the last aspect can be tricky as everyone's goal is ultimately to win.
Competitors need to base their choices for sailing downwind on the same findings, but with a few minor variations. Being at the forefront and tagged by rivals can be seen as a mode of suffering when the competitor must keep sailing in the wind shadows of all the boats behind. Here, there's an advantage to be thought of if the competitor can position themselves at the rear. Any lane can be chosen at proper intervals to make up for the lost ground.
However, usually, down winds result in shorter wins and losses than up winds. This is because there is less transverse separation during down winds when compared to up winds.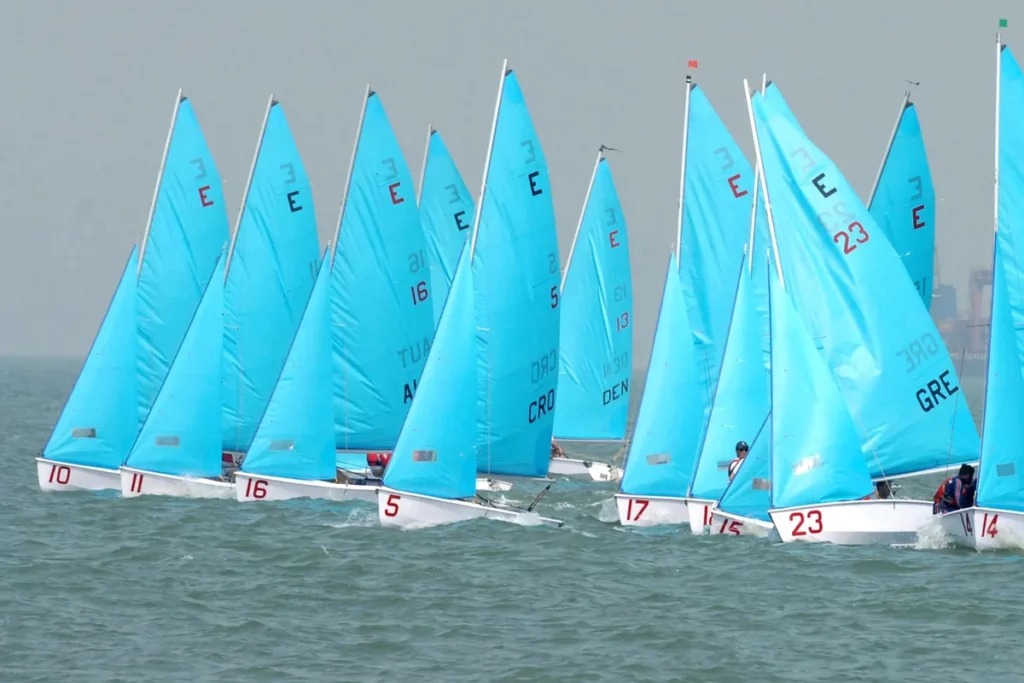 Different Types of Sail Racing Classes
Sailboat racing can be done in different ways. Each race lasts for about 45min to 1hr and is conducted on a course marked by buoys mounted by the racing committee. One can also take part in "distance races". In this case, the "natural" surroundings will typically provide the race course.
‍The points of sail during the race depend on the predominant wind direction factors on the day of the race, which is the other major variation besides the length. While racing on the course, the race committee places the buoys in such a manner that the race course is adapted to the wind, this mostly enables the competitors to accurately identify which sail has to be deployed for the upcoming leg.
At the race course and during the distance races, the sailboats that participate are usually of various types and are commonly very diverse. As a result, the organizing committee frequently employs intricate "handicap" mechanisms to even out variations across boat types. The system is often country-based and it has been developed based on the most common types of boats in a country. The RC, ORC, and IRC systems are the most widely used on an international scale.
These systems compute a factor that should be multiplied by the exact time required to sail one nautical mile using complex formulas. They are based on the dimensions of the boat's length, weight, sail size, types, and design of the boat along with the materials used.
To find the adjusted race time that can be used to compare with other competitors, this factor is multiplied by the amount of time it took you to complete the race and the distance of the race.
It is very necessary to remember that these systems are not entirely accurate and they cannot be completely relied on. They can only be used to a certain extent for performance comparison. Hence it is advised that one must compete in races where the competing boats are similar to accurately assess the racing skills of the competitor.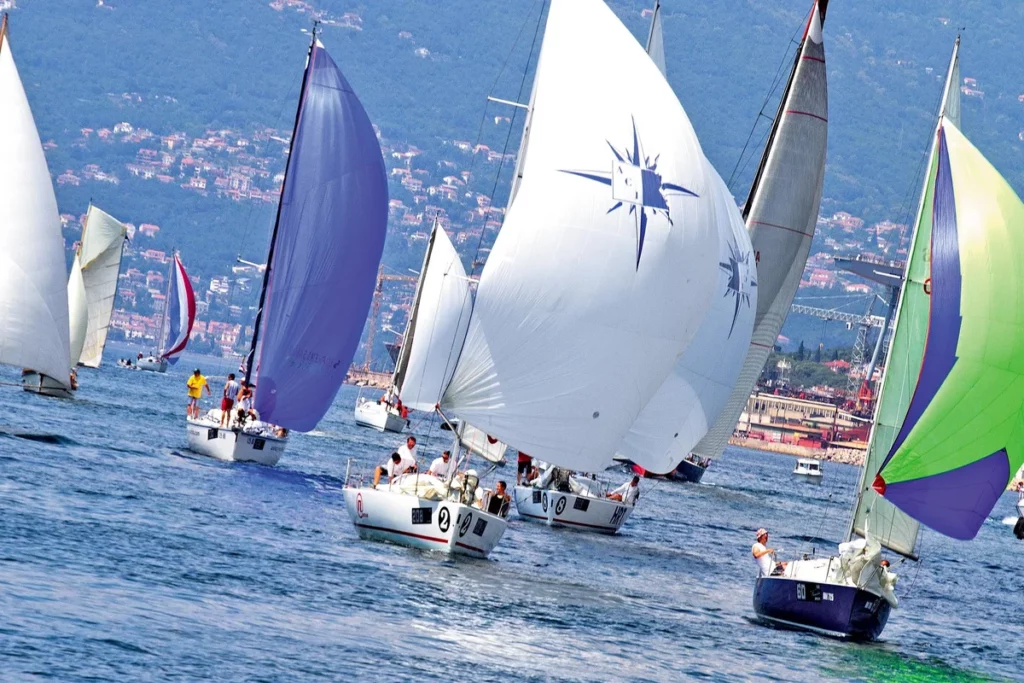 Main Rules in Sailboat Racing
These races are administered and authorized by the International Racing Rules of Sailing. It lays down rules and safety measures to sail safely across the race course along with the entire fleet, whose goal is to sail successfully during the race as well.
A rulebook is laid down with fundamental rules providing explanations and specimens about ensuring how to maintain and regulate according to the laws during a variety of circumstances that can arise between competing sailboats during the course of the race.
The most fundamental rule is that vessels with their starboard side windward must give way to vessels with their port side windward. This implies that the port-tack boat must either tack or bear away to pass behind the stern of the starboard-tack boat when two boats on opposite tacks come together. The leeward boat always has the right of way over the windward boat when there are two boats on the same tack.
Although this is the case, it is essential to note that the boat with the right of way must always ensure to leave other sailboats adequate space and time to avoid collision and accidents. While trying to maintain contact with other competitors, one must be very safe and secure as a significant level of rule interpretation can be enforced.
Violation of any rule can cause you to self-forfeit from the race. Hence it is advised to make amends and surrender upon having committed a conscious foul. Most admitted fouls are looked over following a penalty turn of 360 degrees or 720 degrees. Sailing instructions can be seen as a guide in all circumstances to find more detailed information about the same. A few rules can also be helpful when it comes to knowing what to be worn during the race apart from obvious determinants like the weather and climate conditions.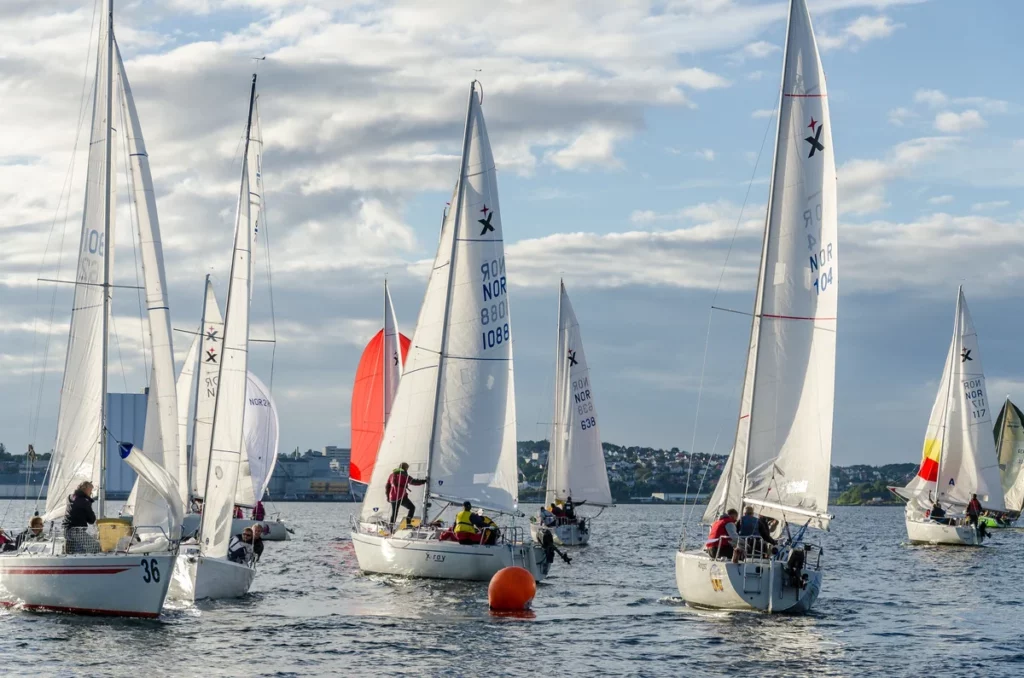 Main Equipment Used In Sailboat Racing
The sport of sailing is generally very physically taxing and hence requires extraordinary energy throughout the course of the race especially while rounding marks and sailing downwind.
When the atmospheric temperature falls due to wind-chill effects, it makes much colder winds frequently. In such circumstances, making use of a windproof outer layer will guard against the wind chill and this material is also breathable. Such measures must be ensured to avoid being cold and clammy. Wearing boots can also ensure to keep yourself warm and comfortable.
Looking into the technical aspects, sailboats need to ensure they are fully equipped with communication and navigation devices such as VHF, GPS, Sat Phones, and so on.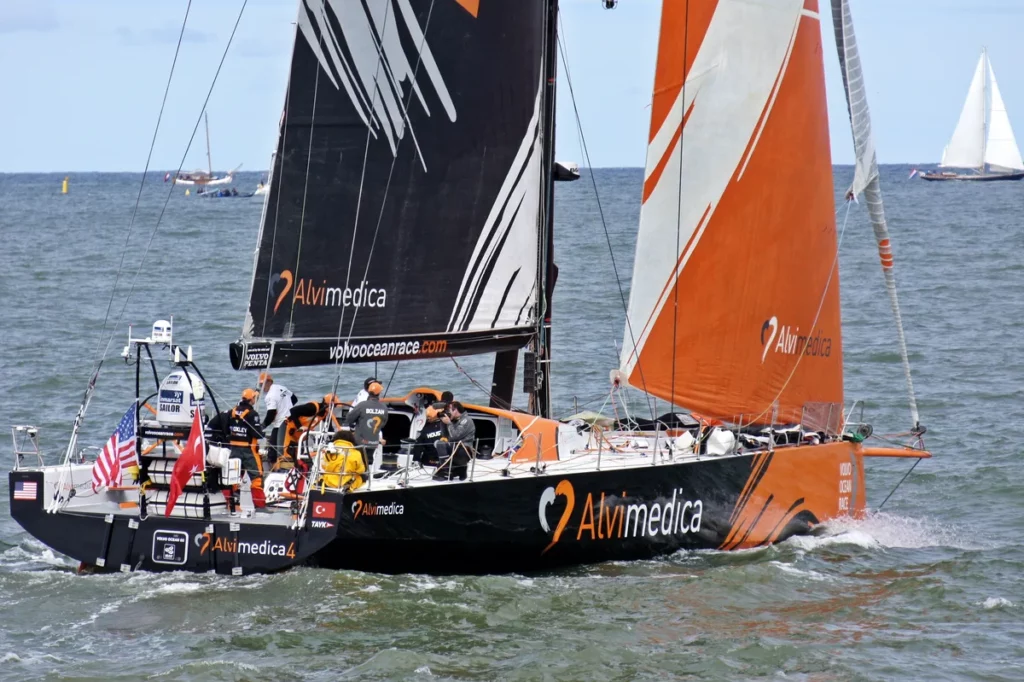 Different Types Of Sailboat Races
Sailboat racing is a diverse and dynamic sport that encompasses a wide range of different race types, each with its own unique rules, tactics, and strategies. Understanding the different types of sailboat races is crucial for sailors looking to compete at a high level and succeed in this exciting sport.
One of the most common types of sailboat racing is fleet racing, which involves a large number of sailboats competing in a single race. In fleet racing, the sailboats start together and sail a predetermined course, with the first boat to cross the finish line being declared the winner. Fleet racing often requires a high degree of tactical maneuvering, as sailors must navigate around other boats and adjust their tactics to account for wind shifts and other factors.
Another popular type of sailboat racing is match racing, which involves two sailboats competing head-to-head in a series of races. In match racing, the emphasis is on tactical maneuvering and outsmarting your opponent, rather than simply being the fastest boat on the course. Match racing typically involves a complex set of rules and regulations governing how boats can interact with each other on the course, and sailors must be highly skilled at reading wind shifts, controlling their boats, and outmaneuvering their opponents.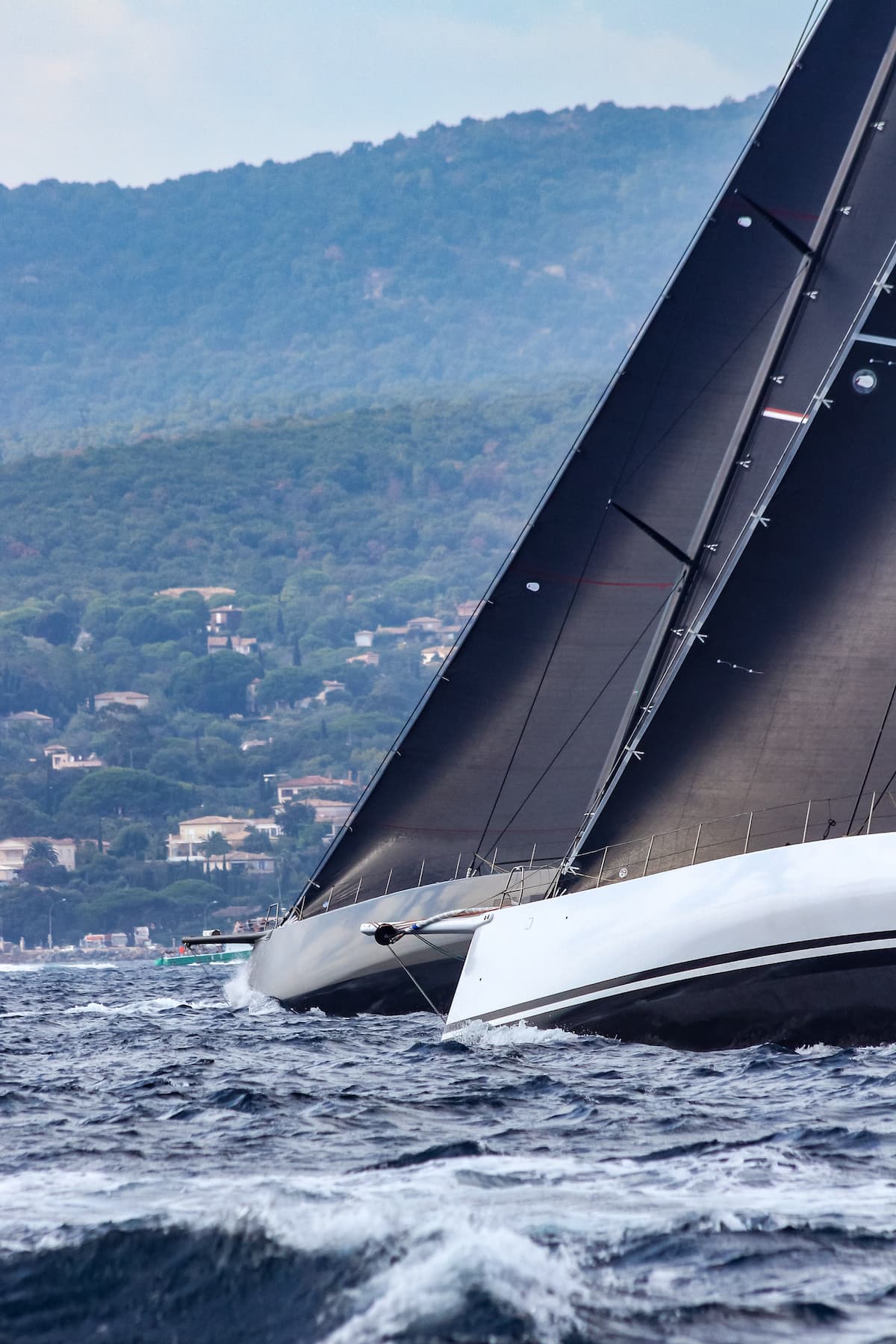 Team racing is another type of sailboat racing that involves multiple sailboats competing against each other in a team format. In team racing, each team consists of multiple boats, and the team with the best overall performance across all of its boats is declared the winner. Team racing often requires a high degree of coordination and strategy, as sailors must work together to achieve a common goal and coordinate their tactics to maximize their chances of success.
In addition to these main types of sailboat racing, there are also a variety of specialized race types that are popular in different parts of the world. For example, ocean racing involves sailing across the open ocean over long distances and requires a high degree of skill and endurance. Inshore racing, on the other hand, takes place in protected bays and harbors and often involves short, fast races with frequent wind shifts and other challenges.
Regardless of the type of sailboat racing, one thing remains constant: the need for skilled and experienced sailors who can navigate their boats through a wide range of conditions and challenges. Whether you're a seasoned veteran or a beginner just getting started, mastering the different types of sailboat racing can be a highly rewarding and exhilarating experience, and can lead to a lifetime of excitement and adventure on the water.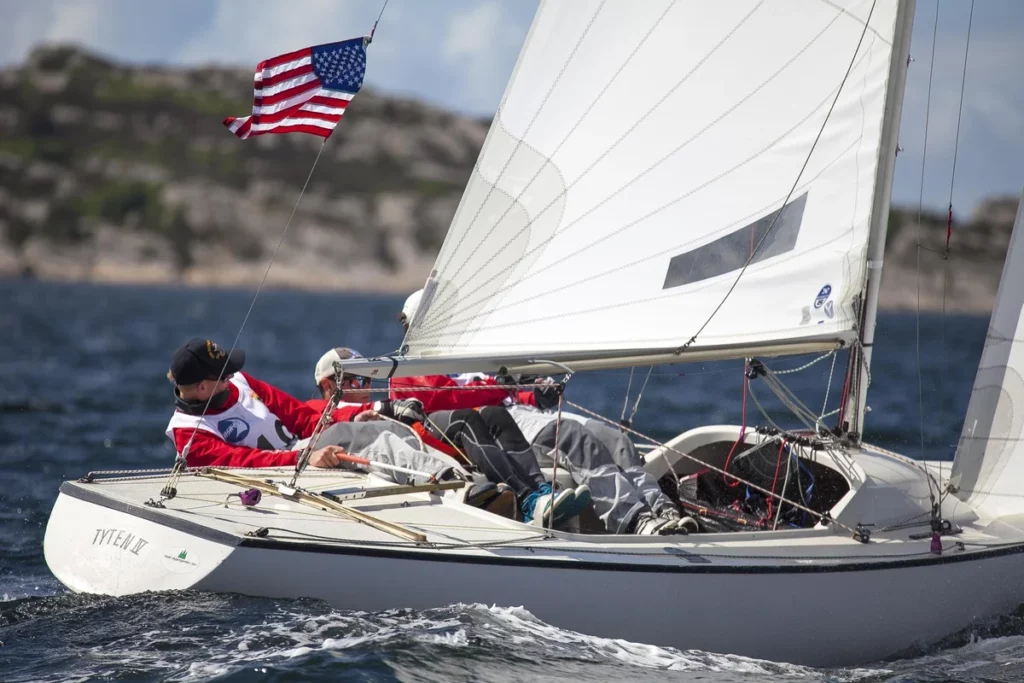 Classes Of Sailboats Commonly Used In Racing
Sailboat racing is a highly competitive and dynamic sport that encompasses a wide range of different classes of sailboats, each with its own unique characteristics, strengths, and weaknesses. Understanding the different classes of sailboats used in racing is crucial for sailors looking to compete at a high level and succeed in this exciting sport.
One of the most common classes of sailboats used in racing is the dinghy, which is a small, lightweight boat typically sailed by one or two people. Dinghies are highly maneuverable and responsive and can be sailed in a wide range of conditions, from light winds to strong breezes. Popular dinghy classes include the Laser, the 420, and the Optimist, each of which has its own unique rules and specifications.
Keelboats are another popular class of sailboats used in racing, and are typically larger and heavier than dinghies, with a fixed keel that helps to provide stability and control. Keelboats come in a wide range of sizes and designs, from small one-design boats like the J/24 to larger performance-oriented boats like the TP52. Keelboats are often sailed by a crew of several people and require a high degree of coordination and teamwork to sail effectively.
Multihulls are another popular class of sailboats used in racing and are characterized by their multiple hulls providing greater speed and stability than traditional monohull sailboats. Multihulls come in a variety of different designs and sizes, from small catamarans to large trimarans, and are typically sailed by a crew of several people. Multihulls can be highly competitive and exciting to sail, but also require a high degree of skill and experience to handle effectively.
In addition to these main classes of sailboats, there are also a variety of specialized classes that are popular in different parts of the world. For example, in Australia and New Zealand, the 18-foot skiff is a highly competitive and popular class of sailboats, characterized by its large sail area and high speed. In Europe, the Dragon is a classic one-design keelboat that has been popular for decades and is known for its elegant design and excellent performance.
Regardless of the specific class of sailboats used in racing, one thing remains constant: the need for skilled and experienced sailors who can navigate their boats through a wide range of conditions and challenges. Whether you're racing a dinghy, a keelboat, a multihull, or some other type of sailboat, mastering the unique characteristics and challenges of your boat is key to achieving success on the water.
To become a successful sailboat racer, it's important to not only master the technical skills needed to sail your boat effectively, but also to develop a deep understanding of the rules, tactics, and strategies that govern sailboat racing. By immersing yourself in the world of sailboat racing and learning from experienced sailors, you can build the skills and knowledge needed to succeed in this exciting and challenging sport.
Summary
In conclusion, participating in a race can be very enjoyable in both cases. The first case is where someone is learning the art of sailing or like in the second case where one could be trying to gain some prior expertise on the sea.
If winning the race is one's main aim then the key thing to remember is to make sure that you tack at the right moments. To trim the sails to completely catch the wind and last but not least, to communicate well with the rest of the crew.