Ship transport is among the three main modes of transportation that are useful for large-scale transportation of goods and services around the world. In business, about 75% of goods are transported by ships. Formerly, ships were less popular because of their low speed, but modern ships have advanced, and some move at higher speeds than vehicles.
The fastest ship in the world is HSC Francisco. This High-Speed Catamaran was constructed in Tasmania, Australia, by Incat Shipyard and named after Roman Pontiff Pope Francis. The ship was officially released in 2013, moving at about 58.2 knots (108.1 km/h). Its passenger capacity is over 950 and can carry over 120 cars.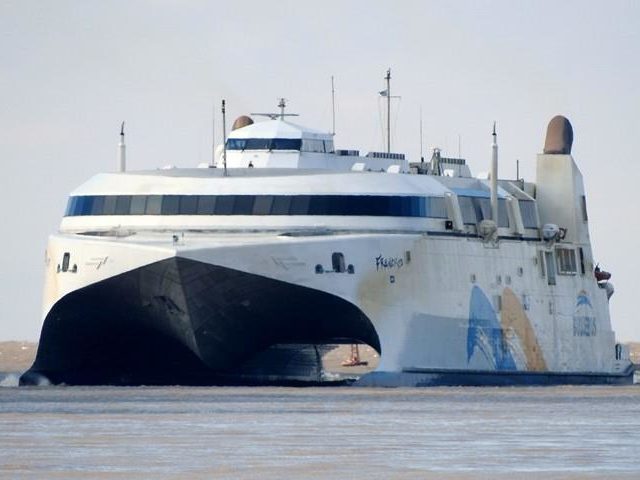 Read on and find out some interesting facts about the fastest ship in the world, its speed, and the factors that determine the rate of a ship.
How Fast is the Fastest Ship in the World?
The fastest ship in the world, HSC Francisco moves at a speed of 58.2 knots (or 58.2 Nautical miles per hour), an equivalent of about 58 mph or 108.1 km/h. The speed is higher than any passenger ship, whose speed ranges between 20 and 30 knots.
Although the maximum speed is extremely high and is a record, performing daily voyages on her route, the maximum speed is much lower. It is very rare when the ferry goes at a speed of more than 45 knots, that is about 52 mph or 83.3 km/h. We wrote about how to convert and how fast is a knot in this article.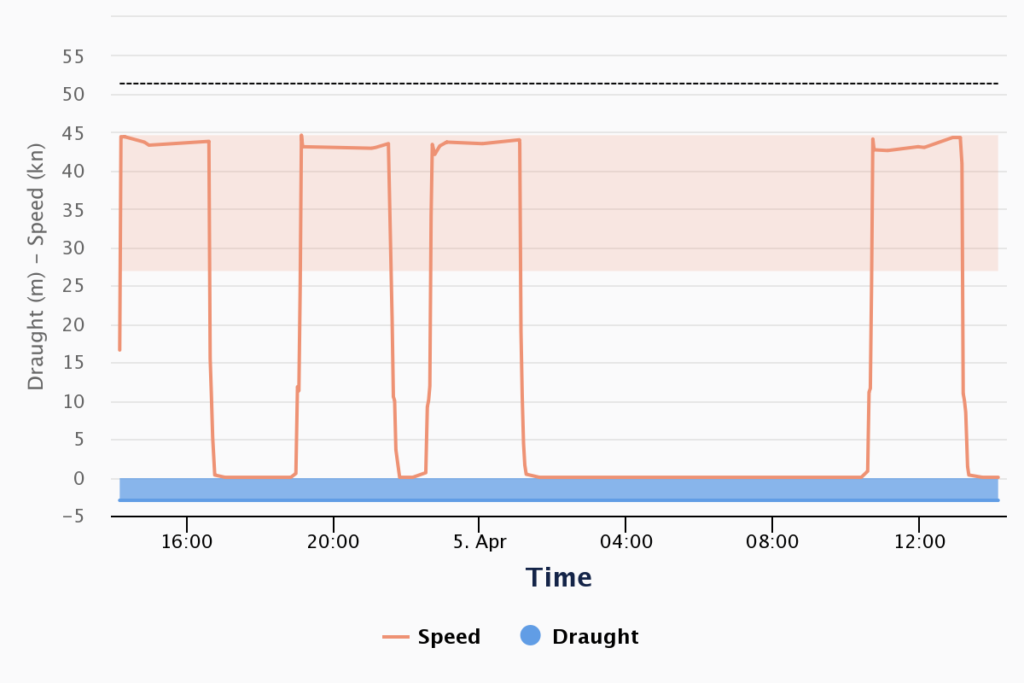 Some features which make HSC Francisco the fastest ship include:
Two gas turbines propelled by GE energy were designed for marine distillate and liquid natural gas.
Advanced GE LM2500 water jets capable of controlling high propulsion
Two tanks for storing the liquid natural gas are enough to supply the ship with energy.
Four fuel tanks, two on each hull, for a constant supply of energy
Its engine is fitted with water jets and gas turbines which rotate forward and backward increasing efficiency
The fastest naval ship in the world is the American Zumwalt class destroyer. Zumwalt class destroyer comprises three ships made to destroy missiles. These three ships were built to work concurrently. When one is in the waters, another one is under maintenance while the third one is on the lookout.
Zumwalt class destroyer is operated by an electric system, with over 7000-hertz power and about 5000 turbine generators. This one comes with two propellers that are driven by electric motors and moves the ship at speeds above 42 knots.
Initially, Zumwalt was designed to move at a speed of 80 knots, but the cost of maintaining the high speed was too costly.
What Factors Affect the Speed of a Ship?
Different types of ships move at different speeds depending on their structure, size, and the cargo they transport. Cruise ships have the highest speed of about 24 knots, while bulk carrier ships have the lowest speed among the fleets of about 12 knots.
Factors affecting the speed of a ship include:
Magnitude & direction of the wind. Wind can propel a ship to move at high speed if the direction of the wind is in line with the moving ship. If the direction of the wind counters that of the moving ship, the ship's speed decreases.
Structure of the ship. Some ships have only one propeller while others have more. Those with more propellers move at a higher speed.
Location of the ship. Ships far away from the shore cruise at higher speeds than those near the shore. As a ship approaches the coast, captains lower the speed to curb emissions from going to the land. Also, the ship's speeds decelerate when crossing canals for safety.
Prevailing weather conditions in the sea. Calm weather favors cruising, while turbulent weather obstructs the movement of a ship.
Draft. The design and size determine the amount of cargo to be loaded onto the ship. A ship with more cargo moves slowly while one with less cargo moves faster.
Do Different Ships Move at the Same Speed?
Different ships can move at different speeds depending on the cargo they carry and their size. Generally, passenger ships move faster than cargo ships. Passenger vessels have to keep to a schedule and are mainly chosen for routes with additional possibilities to sustain bad weather conditions. On the other hand, cargo vessels are utilized to ship cargo at the most economically effective speed and cost.
Here is a table summarizing the common types of sheep and their average speeds.
| | | |
| --- | --- | --- |
| Type of sheep | Cargo | Average speed |
| Container ships | Containers with the dry, refrigerated, project, and general cargoes | 25 knots |
| Tanker ships | Crude oils, petrol products, chemicals, and liquified gases | 18 knots |
| Bulk cargo ships | Grains, ores, coal, and similar cargoes in bulk, and project or heavy goods such as heavy machinery | 12 knots |
| Roll-on/ Roll-off ships (Ro-Ro) | Equipment with wheels such as cars, trucks, tractors, and trailers | 21 knots |
| Passenger / Cruise ships | Passengers, cars, light cargo, and pets. | 26 knots |
The largest ships in the world are oil and gas tankers, dry cargo bulkers, and floating liquefied natural gas platforms (FLNG) are also among the slowest in the world's fleet.
How Do You Ensure Personal Safety While Cruising on High-Speed Ships?
While cruising on high-speed ships, it is important to ensure safety not only for you and your family or colleagues but also for your cargo. People travel by water for different reasons. Some of the reasons include:
Vacating and breaking away from daily routines individually.
Lack of alternative means of transport
Traveling with heavy cargo that needs a lot of space
View natural phenomena such as the northern lights
Whatever the reason for cruising, the weather is unpredictable. To ensure safety while on a cruise, consider the following safety measures:
Ensure you have safety equipment such as headgear, shoes, floaters, and gloves
Avoid any ignition which may cause open fire, especially near flammable goods.
Carry a first aid kit for dressing minor injuries while cruising.
Stay away from heavy luggage, especially directly above you, to avoid getting injured if they topple.
Before using a ladder, ensure it is in good condition and can support your weight.
Stay away when dangerous cargo like petrol and other flammable goods or poisonous substances are loaded and offloaded.
Avoid walking on bulk containers and follow instructions from the crew
Always wear a mask and gloves before touching surfaces to minimize exposure to harmful substances.
Avoid using electronic gadgets, especially in an area with a poor network connection.
Final Thoughts
At this point, you have learned important information regarding the fastest ship, history, and other ships that cruise at high speeds.
Of course, ships play a crucial role in the transport sector. Most imports and exports are ferried by ships, and technological advancement in the shipping industry is necessary. Also, ships offer the best ways to go vacating and detach from your daily routine. Different scenes we view from cruises are rarely visible from other means of transport.